You are ready to sell products on Amazon, have enough inventory, a great store webpage, and a marketing strategy. Everything is set to go. However, stop for a moment. Do you know your real Amazon return on investment?
It may seem an obvious duty, but rechecking the figures prior to "pressing the button" to sell items in the marketplace, is a brilliant idea. Unfortunately, most new merchants make the mistake of not including the expenses that come with digital trading. It delivers them a higher and false Amazon ROI (return on investment).
This article post goes out to AMZ merchants handling getting a good ROI in their FBA business. It should be all of you, correct? You are all trying to end up with a good indicator and earn money, right?
This blog post will cover Amazon ROI and selling merchandise through Amazon FBA. So, check it out.
What Is ROI on Amazon?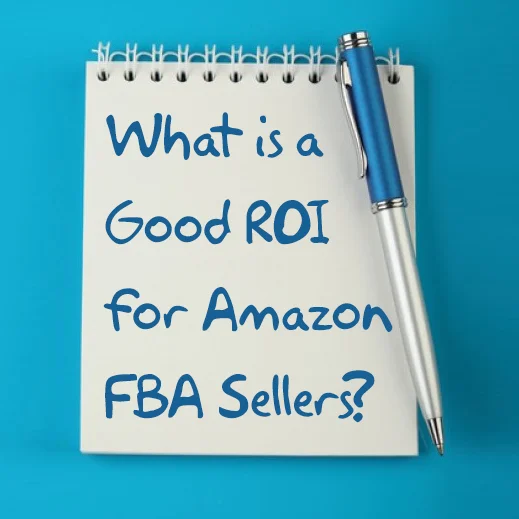 Before we get a bit further, let's clarify a general definition of Amazon ROI, so we are all on the same page:
Regarding Amazon FBA, return on investment refers to the amount of money that sellers get in profits from their stock investment. So you can regard the ROI of your company as a whole, and you can check the ROI of each individual product you're selling.
ROI is estimated as a percentage. This is because you're comparing the returns you make to the purchase cost of the product you sell. The formula for the Amazon ROI calculator is net revenues divided by the purchase cost of your product, then multiplied by 100 to get the percentage.
Here is an easy example for you to understand the ROI meaning: 
You purchase ten units of the product (for instance, some vases for interior design) and send them to AMZ. The cost of each product, including shipping to the platform's fulfillment center, is $10. The product cost, or your investment, is $100. AMZ sells such vases for $50 each. Amazon's charge for each product sold is about $20.
After you sell all the vases, you end up with $300 from the marketplace. Your net profit will be $200. Your ROI will be 200%. It means you will get your investments ($100) and receive 200% profit ($200).
What can one do with these returns? You can spend it or… invest it! Purchase two times more vases to double your sales next month: if there's sufficient demand.
What Is a Good ROI for Amazon FBA?
A good ROI is assumed to be at least 100%! An indicator of 100% lets you double the revenue. In addition, though, the return on investment of 50% is also assumed to be sufficient for steady growth. With such an indicator, you will double your income in 2 months.
The ROI you may personally consider acceptable is based on many aspects and your long-term selling strategies. For instance, you may be comfortable with a return on investment of 10% for some period if it indicates that you will finally have a more significant market share or higher rankings.
What Factors Affect Amazon ROI?
Recently, the entire digital commerce market has been shaken by unexpected events, from supply chain problems to the global pandemic. Now, some other aspects are compounding these challenges.
Inflation
In America, 84% of clients say their spending has changed due to rising inflation. So the methods by which consumers are saving money result in big implications for companies. Nearly 50% are changing brands to keep money, and about 40% are purchasing less specific goods or doing without some items entirely.
Consequently, companies have lost their strategic predictability. A buyer likely to buy from your business even a couple of months ago might not be purchasing your item now. Besides, once-loyal clients may turn to other companies if the price grows. It creates an increased risk for your business to notice a decline in conversion rates on AMZ and, eventually, ROI.
As clients react to inflation by choosing lower pricing instead of brand loyalties, there is also an opportunity to capture those buyers who might have counted your company out before. However, with clients diversifying the channels for finding and buying goods, businesses also face diversifying ads. It may mean more costly test campaigns to draw new channels.
As 63% of clients begin their product searches at AMZ, social media has steadily become more popular for digital shopping. When examining products, 32% of buyers now begin on YouTube, 26% on FB, 21% on TikTok, and another 20% on Instagram. Usually, social media brings consumers to product pages, even when searching for discounts and products associated with a typical platform's sales event, for example, Amazon Prime Day.
Companies have necessarily pursued as the eCommerce channels clients use to buy have expanded. Within a few years, such change has changed advertising portfolios, built pathways to fresh audiences, and motivated marketplaces like AMZ to present shoppable content such as live streams.
In addition, this expansion signifies brands are handling more budgets, campaigns, channels, and reports. It indicates that more agility is needed to concentrate on the best-ROI efforts as social media emerge, rise, and even fall. 
Consumer privacy
At the beginning of 2021, App Tracking Transparency (ATT) went into force, allowing Apple device users to opt out of third-party monitoring. Unfortunately, what became a boon for client privacy protection was a hit for most social media that counted heavily on third-party data for advertising targeting. 
A few months after it was launched, social platform advertisers were witnessing 15-20% income drops as advertisements became less efficient. However, for marketplaces like Amazon that depend on first-party information, ad targeting was mostly unaffected by this rollout. Instead, it has made AMZ a popular platform for businesses to funnel their advertising budgets from social media. However, such a rise in AMZ ad spending indicates more competitors for placements on the already-packed marketplace. More bids by new advertisers and higher bids from existing ones can result in increased costs for all and lower ROI.
How to Maximize Your Amazon Return on Investment? 
As soon as your brand enters Amazon or has grown sales on the platform, you should check your ROI and evaluate if you are happy with the sum you are making. When your brand delivers a higher return on investment than expected, is it possible to invest more money in AMZ advertising? Though this cost might hit your ROI at once, it may result in higher sales and higher ROI in the long term. The Amazon Flywheel model states that the more we feed the marketplace, the better results we can expect.
Otherwise, if you're disappointed with the indicator, you might need to rethink your selling strategy. For example, reducing prices to beat competitors or trying AMZ bundle selling and other flexible techniques. However, don't lower prices to the point where you cannot profit. Again, utilize your ROI estimates to make your final decision.
Below are more tips to enhance returns on your digital selling strategies and the services you use to carry out them.
Examine the price points of your top products
With most clients actively changing brands due to tight budgets, product prices will feed into your paid and organic promotions. Lower prices are one of the main reasons clients buy online instead of in-store. Track the price points of the goods that are showing the best results right now. You might find that once best-selling items with a higher average selling price are now being outperformed by goods in the lower price range. Refocusing your budget from advertising more expensive items to promoting goods at lower prices can help grow your AMZ ROI.
With SellerSonar, you can track prices on your and your competitors' products round-the-clock. Besides, getting an instant Amazon price notification is an opportunity to respond quickly to the changing market situation and suggest better buyer options.

Check out new targeting strategies and advertising products 
Last year, returns for AMZ advertising campaigns faced a downward trend overall — but one advertising format did not follow suit. Whereas RoAS for Sponsored Products and Sponsored Brands declined, this indicator for Sponsored Display advertisements rose 68%.
Sponsored Display advertisements can become a valuable investment in advertising money your company is looking to move out of social media with the option to promote your goods both on and off the platform. To maximize your ROI on all the campaigns and allow your business to compete against other sellers, consider trying out different PPC targeting types and integrating video into your advertising creative if possible.
Do the math on your eCom tool investments
Your business simultaneously must: 
1) invest in services to help boost the ROI of your AMZ strategies 
2) tighten the budget, making it more critical to secure such services and have a good ROI. 
Some tools might streamline and optimize numerous tasks, ideally for multiple teams, and remain user-friendly to smoothly integrate into your workflow. More importantly, choose services you rely on to shoulder the tasks whenever you can.
For example, when it comes to feedback management, there is no better alternative than SageMailer. The tool sends automated emails asking for a product review or seller feedback to all your buyers. Such proactive communication increases the percentage of customers who leave reviews, improves your Amazon rating, and minimizes the chance of getting negative reviews. Amazon email automation also positively affects customer service and lets customers know you care about them.
Ready to try? Register for a free 30-day trial here!