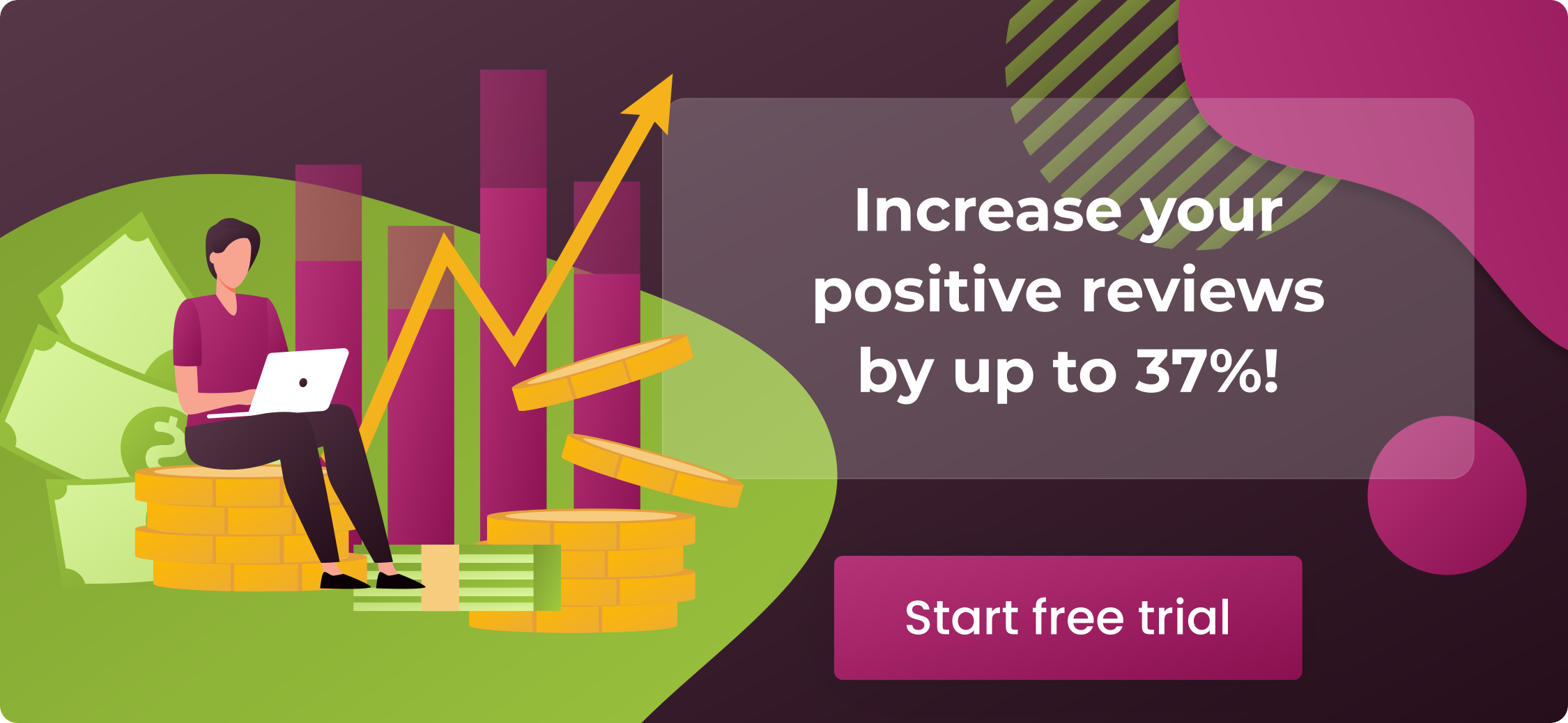 When you purchase something in a shop, you get what you see. You can check the product for yourself, ensure it works, and communicate with the seller before you buy it. You know what you are going to walk out of the shop with.
However, it's not the same when you buy online. Shoppers cannot see goods before they make a purchase, so they need to take the seller's word for it. But how can a client know they can rely on the seller?
When selling on Amazon, it might be tricky to develop this level of trust as they cannot meet their clients face-to-face. Instead, they need to rely on eCommerce review systems and online customer service to build trust that makes people willing to purchase from them.
Creating your seller image like this is no less crucial than any Amazon user's other duties. Prioritizing the relationships with online clients is critical as it ensures that you keep existing shoppers and encourage new ones to buy.
The essence of curating your online reputation is not always intuitive. Many factors contribute to a client's impression of a seller. So, check out how to look up seller reputation on Amazon.
How to See Seller Reputation on Amazon: First Things First
How to check a seller's reputation on Amazon? To begin with, Amazon FBA clients can share comments, feedback, and more on items and sellers. If you're a third-party merchant, they can rate your company from one to five stars. Goods can be rated on the same scale.
The essence of this rating system is rather intuitive to understand. Products and merchants are evaluated to show clients what other visitors think about them. The lower the rating, the less attractive your business and merchandise are to existing and new customers.
Product reviews also play into this system. For instance, if your goods quickly break, a client leaves a negative review. In turn, it can impact sales if a potential client notices a comment mentioning the issue they care about (product breakage, delivering the wrong item, or something else).
While AMZ might not have the finest reputation, this platform is most shoppers' go-to. For better or worse, it's a convenient solution with consumer-friendly shipping options. Thus, your reputation as a seller on this mega-corporation platform matters.
Your Online Seller Reputation Matters
Have you heard 94% of online shoppers check online reviews when buying? So while not all potential clients are pondering product details and considering every option, most will at least look through the feedback to make sure a merchant and their goods are going to be about what they wish and expect.
Hence, if your feedback does not tend to have four- and five-star ratings, you should reconsider your business model. Sub-four stars mean that users become wary of a product or sellers. Sub-three stars mean more clients are unhappy with your merchants than satisfied.
It might create a vicious cycle. Profits go down, and your business struggles. It becomes more challenging to serve clients well, and your reputation is damaged even more.
Merchants need to care about their reputation before facing issues and promptly addressing concerns. While not every client complaint is reasonable, your goods should at least function as advertised and endure for a proper length of time.
Improving Your Amazon Seller Reputation
You might now ask how to develop an AMZ store reputation or grow your seller ratings. The good news is that much of reputation management is intuitive.
We will discuss some tips and tricks in more depth below; however, consider hiring an eCommerce marketing agency or using third-party tools. Improving weak client relations and sellers' reputations requires skills most entrepreneurs might not excel at. Besides, even if you are qualified, it requires time you might not have.
Whether you attempt to enhance your AMZ seller reputation on your own or with extra help, we recommend leveraging a few common tricks.
Address issues fast
It is estimated that 1 in 25 dissatisfied customers will complain to a brand. The essence of this complaint might differ, but a negative comment or low rating is a usual approach. At the same time, if your support agents solve an unhappy client's problem, 70% of those customers will purchase with your brand again. 
Keep product descriptions accurate 
What is worse than a poor-quality item? One that is not marketed as such. Clients understand cheap goods do not have so many bells and whistles; however, when you say an item has certain features, it should have them.
If some of your existing product listings are misleading or inaccurate, correct them. If your clients felt blind-sided by an item's features or the absence of a certain trait, mention it. There are proper ways to promote low-end merchandise, but misleading visitors is the right way to tank your reputation.
Do not count on Amazon
It might sound like a strange recommendation to say you should not rely on the marketplace to grow your AMZ seller reputation, but it is true! There exist tricks and tools outside of the platform that can raise your Amazon reputation.
For instance, check how to automate your email campaign right. Simple things like building a comprehensive email list and communicating deals and new items to potential clients who have already demonstrated an interest in your brand can do wonders. In addition, you can attract visitors with a positive impression of your business to your product listing, thus helping you acquire some positive feedback!
Ask for feedback
Do you know that 67% of clients will share a review in case of a positive experience? So don't be afraid to ask for feedback! 
Encouraging clients you suspect are content with your goods to review them might be an awesome way to level up your reputation. Remind users who adore your goods that they may support you with a review. Feel free to use third-party tools to put this process on auto-pilot. 
Leverage negative feedback
Do not dismiss the dissatisfied client as a lost cause when you get negative product feedback. Instead, regard this negative rating as your chance to make the client happy and rebuild their trust in your brand by solving their problem as promptly as possible.
Send the client a message with brief yet sincere apologies and your suggestions to fix their issue. Take some time to comprehend their problem to address it correctly. The most effective way to send the response is to follow these "Resolving Feedback" actions in your Seller Central.
If you are worried about these negative reviews decreasing your seller rating and damaging your reputation, here is the great news — Amazon gives clients the power to delete their poor seller feedback. All the client needs to do is sign into their AMZ account and proceed to the 'Your Submitted Feedback' tab to find the review and delete it.
In case a client replies to your email, follow up with a polite request to delete their negative feedback. Resolve the client's problem before making a request to give them a proper reason to delete their negative comment. Clients are only provided with 60 days after leaving their reviews to remove them, so ensure you send the initial message immediately after getting the feedback.
There is no guarantee that the request will end in review removal, but fortunately, your success in resolving their issue will make the client happy to meet your request. Your rapid answer and resolution of the customer's issue will fix their impression of you and motivate them to purchase from you again.
Track Your Reputation Management Progress
Getting positive messages and a good feedback rating from clients is not enough to keep your reputation as a merchant. To maintain your shoppers' positive impression of your business, you must also monitor your reputation-building efforts to check which actions bring positive results.
Below are a couple of questions to ask yourself that will help you iterate on developing seller reputation:
Which of my review solicitation actions is bringing the most

customer reviews

?

Does generic or customized messaging to shoppers result in more engagement?

How long after an order should I ask for reviews?
Answering such questions will help you determine where you should devote your time and energy to enhance your reputation the most.
Another excellent way to start monitoring your seller reputation is by studying the Performance tab on your Seller Central home page.
It gives merchants quick access to useful insights, like account health and customer feedback rating, which show whether the brand is leaving a proper impression on clients.
Consumer behaviour is always changing, so what improves your Amazon seller's reputation today may not be as efficient a few months late. Thus, consistently monitor your reputation to determine what works and needs improvement.
Look up a Seller Reputation on Amazon: Final Thoughts
The short of this article is that your AMZ seller reputation is vital. You want visitors to have positive things to say about your brand and quality products. Thus, you all but need a four or five-star rating.
If you wish to start down your path of improving the seller's reputation, contact SageMailer. We will help you generate more client reviews, communicate with your visitors, win Buy Box and boost sales.
Interested? Don't miss a chance and register for our free trial.