Back then, starting your own T-shirt business is almost impossible if you don't have a factory and lots of blank shirts. Today, however, it's becoming easier, and one online platform makes that a whole lot easier: Amazon.
Selling T-shirts on Amazon is an easy task and a great way to start a business online. Amazon created a program called Merch by Amazon which allows anyone to sell print on demand Amazon Merch T-shirts on their platform. With this platform, you can upload your design and start your online store anytime you want.
What You Should Know about Merch by Amazon?
Before we get into the details on how you can start selling t-shirts online, let's first know what Merch by Amazon is.
Basically, it's a POD (print on demand) platform which lets you sell t-shirts by uploading your own design. It not only covers the simple t-shirts, but it also includes other upperwear such as hoodies, sweaters, and long sleeve tops. The program was launched in 2015 with the original intent of helping out application developers sell their apps.
How it works
Once you have created your own account, you can then start uploading your own designs into the platform.
After that, simply choose which merchandise you want to sell.
After uploading your design unto your chosen product, simply select the color that will complement your design.
Set a price and give it a title as well.
Publish.
After that, your product will then become searchable within the Amazon website. If one of them gets sold, you'll receive a royalty in the form of money.
At first, the platform was available for everyone. However, as more and more people are signing up, Amazon has to limit the registration. Today, you can only get inside the platform if you receive an invite. Keep in mind, however, that it may take a few days or even weeks for your application to get approved.
If you managed to get inside the program, you'll be offered a number of "slots" where you can upload your designs. Once you filled all of them, you will no longer be able to upload more until the products with your designs get sold.
You can think of this as the "first tier". After you pass it, you'll then proceed to the next tier where you can have more slots for your designs. As you progress even further, you'll have even more slots. Also, you'll enjoy an increased daily upload limit for each of the tiers. If this sounds interesting for you, then you should sign up for the program and ask for an invite now!
How to Get Started?
The process of signing up for the Amazon shirt printing program will only take you 10 minutes or less. Here are the steps you should follow:
Step 1. Prepare your business contact information, bank account numbers, and social security number or tax identification number.
Step 2. Request an invitation. You can do this by going to https://merch.amazon.com/landing. Look for the orange "Request invitation" button and click on it.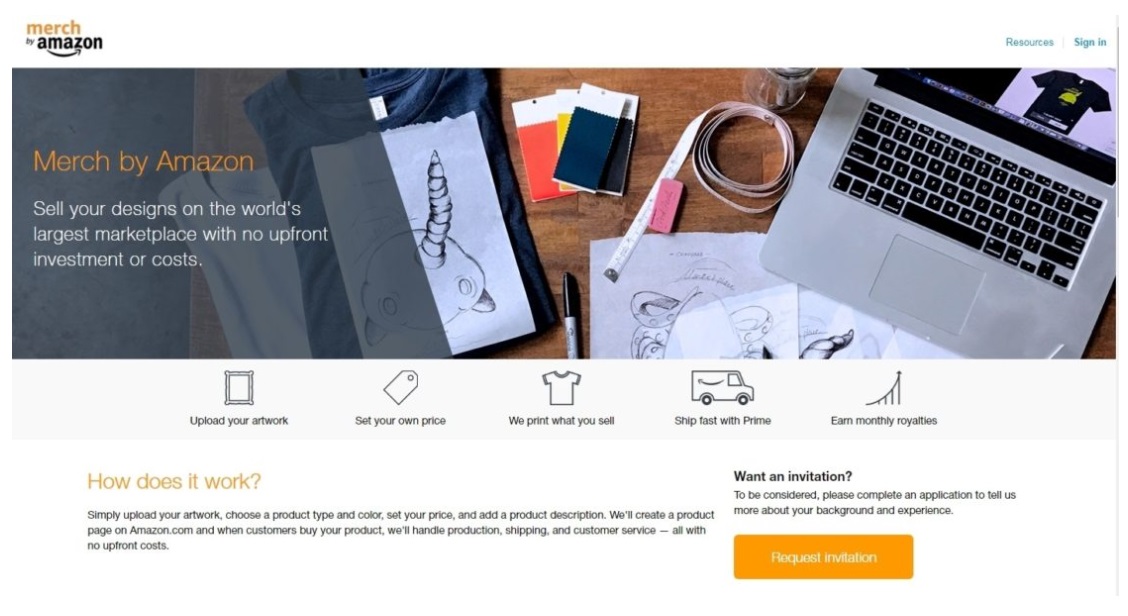 Step 3. Sign in to your Amazon account. It can be an existing buyer or seller account. You can also create a new one which is made specifically for the program.
Step 4. Fill out the application form. Make sure you fill in the following fields:
In the Company Profile tab, you can use your real name as the business name.
For the Tax Information, if you are not based in the US, the company may withhold a percentage of your profits as withholding tax. If you are based in a country that has a tax treaty with the United States, it is possible to lower the withholding tax. For this, you'll have to contact the IRS to proceed.
Step 5. Finish the Request Invitation form.
For Industry Type, if you have previously answered with your name, it is recommended to pick "novelty T-shirt business". If you have answered with a company name, choose "small business".
For Organization Name, enter what you have previously put in the business name. It is either you put your personal name or your company name.
For Additional Information, this is the most crucial part of the application that will give you a higher chance of getting into the program. It is best to be honest and transparent as possible. If you do not have previous experience in the print on demand industry, tell them. It is also a good idea to reason why you are interested in joining the program and how you will market your product to Amazon's customers. If you do have previous experience in the industry, cite your previous works, trademarks, and connections.
For the website, link it to your website if you own one.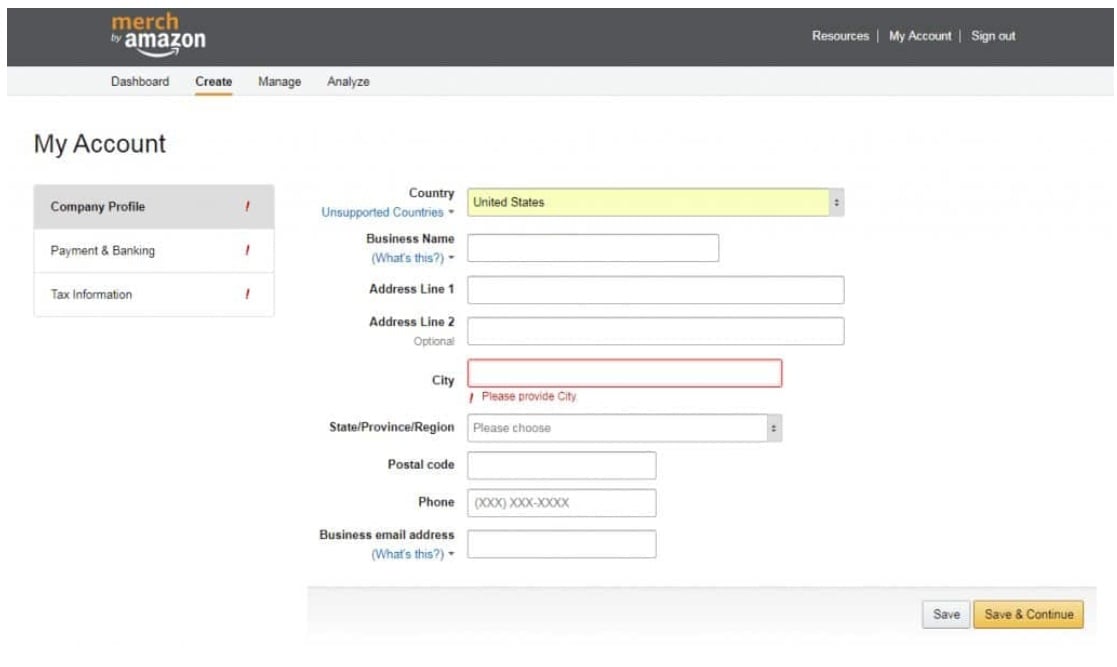 Step 6. After submitting your application, you can download templates for the program and create new designs.
Just make sure to be honest as much as possible if you want to improve your chances of getting an approval. You may also want to prepare around 5-10 designs and links to your previous works. If you don't have experience with design, you can try to outsource it. Some of the best examples include Spreadshirt, Teespring, Zazzle, Redbubble, and more.
Keep in mind, however, that NONE of them are required to get approved in the program. Instead, they'll just give you a head start and even increase your chances.
After submitting your application, you may start to download the template for Merch by Amazon. This way, you can start uploading your designs right after you get accepted into the program.
How to Navigate the Amazon Dashboard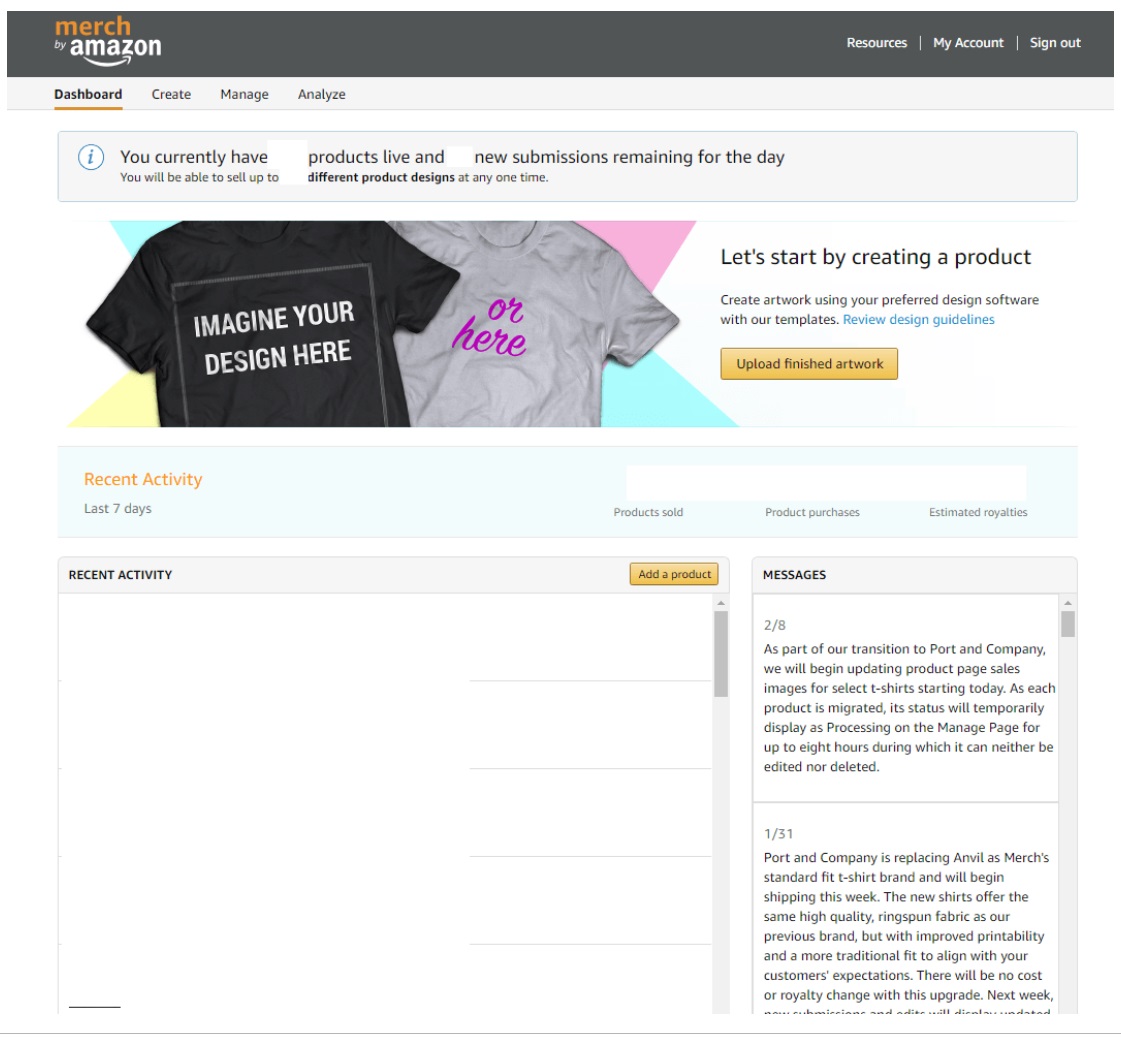 The Merch by Amazon dashboard can be a bit confusing if it's your first time. Once you have access to your account, Amazon will give you 10 slots to fill up with your designs. The tier structure has a starting base of 10 slots, and once you have made 10 sales and filled up most of your given slots, you will level up to the next tier. As you level up in the tier system, you'll get more freedom to upload even more designs. The tier system is as follows:
Tier 1 - 10 designs
Tier 2 - 25 designs
Tier 3 - 100 designs
Tier 4 - 500 designs
Tier 5 - 1000 designs
Tier 6 - 2000 designs
Tier 7 - 4000 designs
Tier 8 - 8000 designs
There are cases when people jump to a higher tier. This happens when they made more sales than expected. For example, if you're in tier 1 and you made 10 sells, you may jump to tier 10 immediately. However, such cases rarely happen, but they do happen.
The Merch by Amazon page has six tabs namely Dashboard, Create, Manage, Analyze, Resources, and My Account. Let us see how each tab works:
1. Dashboard
In the Dashboard tab, you can view all the products you have for sale. On the top portion of the page, you can view how many products are up, the number you can put up during the day, and the number of available slots. These can be seen under "recent activity" which is located on the left side of the page.
Meanwhile, you can view messages from the Merch team and information about new product types on the right side of the page.
2. Create
This is where you upload new designs. In this page, you can see how your design will look like on various product types. You can choose what product type you want by clicking on the drop-down menu. It will also show you a mock up so you can simulate your design on it.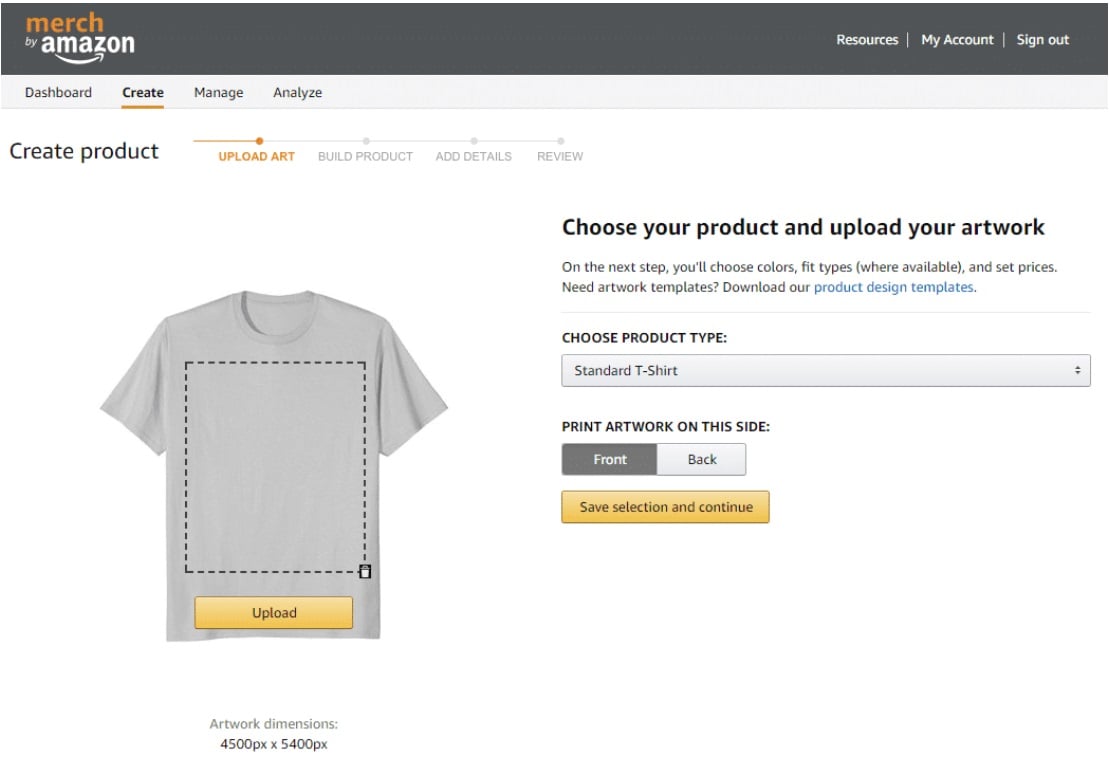 3. Manage
The Manage tab helps you track all the products you have up including the designs you have uploaded. It includes information such as when you uploaded the design, how much you set your price, the status of the product, and an option as to whether you want to edit or delete a product.

If your design is not purchased in 90 days, Amazon will remove it to maintain their catalog clean. If you are able to sell t-shirt designs, Amazon will sell it forever.
Upon uploading your first t-shirt, it will be labeled as "Under Review". Once the system has reviewed your submission, it will then proceed to "Started Processing" and "Processing" afterward. This only means that your submission has passed and is now live in the Amazon marketplace and ready for purchase.
You'll notice a Live status once it's already available. You can then click on the link to take you to your t-shirt listing which your customers will see.
4. Analyze
In this tab, you can see what products were sold and when. You can also see what kind of royalty and earnings you have. These are located in the Earnings tab just below the Analyze tab. Amazon gives out payments the month after you received your earnings.

I would recommend checking the Earnings tab at least once a day to check if you've sold anything.
5. Resources
In this tab, you can view the content policy, the Frequently Asked Questions, and some documents to read. These are important information to read as they can ensure the success of your t-shirt business.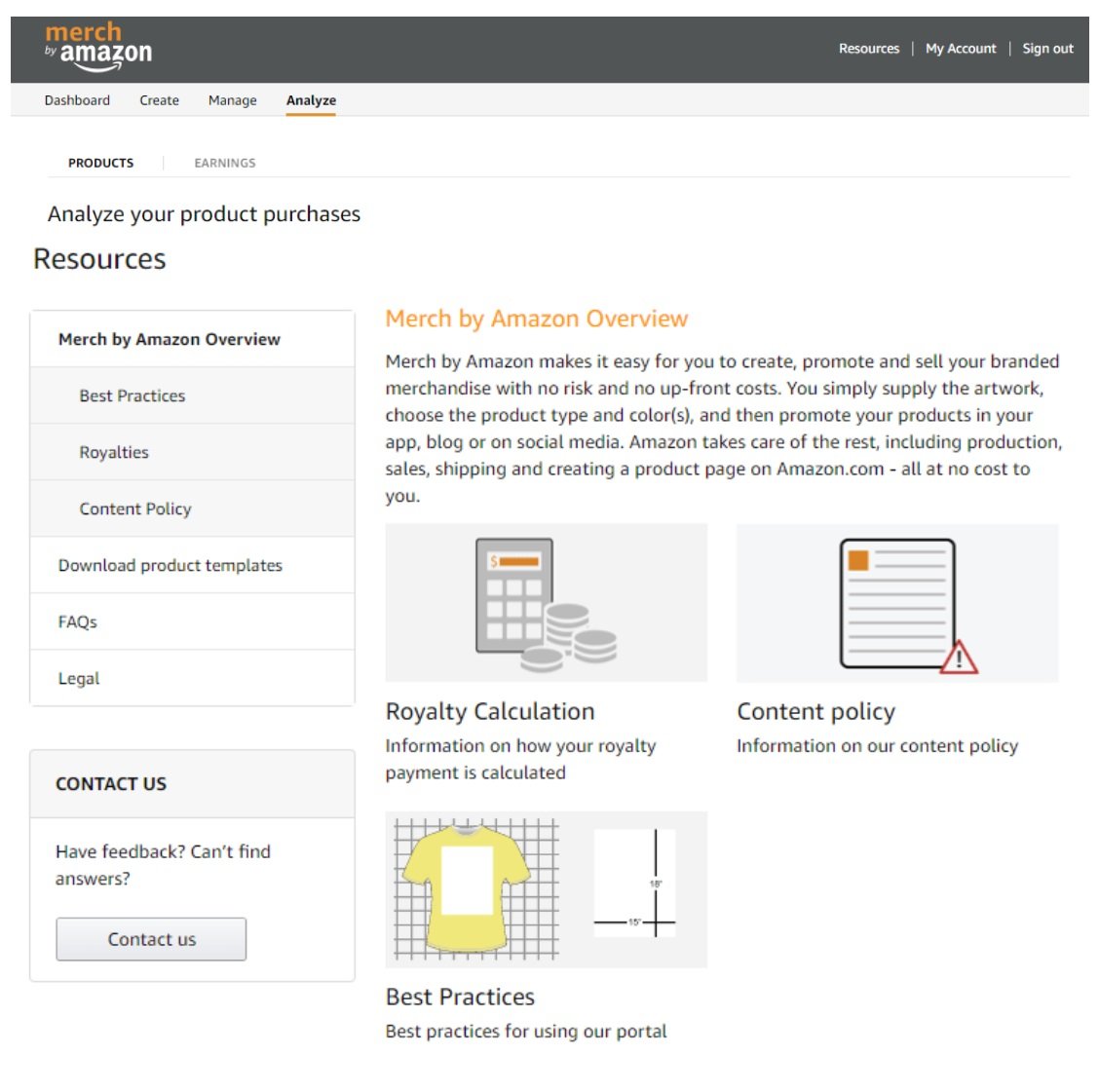 Although it can get somehow boring, all of the information in here is important. You can view the content policy here: https://merch.amazon.com/resource/201858630
6. My Account
This is where you can see all the information you signed up with. You can edit some of your information if changes are needed. For example, you can update your business email address if you want, although you'll have to grab your tax documents after that.
These are what comprise the dashboard. After getting familiar with all of them, you'll find it a lot easier to use.
Copyrights and Trademarks
When you get into the program, you need to learn the two most important aspects: the Copyright/Trademark and Amazon BSR (Best Sellers Rank).
Copyrights protect artistic works and materials while trademarks protect names, logos, and branding. These will protect you from others plagiarizing your works, and at the same time, protect others from you copying their designs. If you are found to be copying others' work, you will be removed from the site. You have to think thoroughly of how to start a t shirt company and research to avoid conflict for your branding when it comes to creating t-shirt company names.
Also, when you upload your designs on the program or any POD site, you should NEVER use the designs created by other people. This is considered a copyright infringement and will prompt these platforms to ban you. As much as possible, you should never practice doing this on Amazon.
However, as long as you don't copy other people's work or use theirs, then copyright shouldn't be an issue. Trademark, on the other hand, is something you might have to think carefully. For example, trademarks such as "Aged to Perfection" can't be used since it's protected. You should be careful when doing so.
You can use either Trademarkia or USPTO to run the variations and texts of your design so you can protect yourself from any trademarks issues.
Amazon Best Sellers Rank (BSR)
Amazon's BSR is a metric used to measure how well each of their product is selling. It's shown by using a number on each product in relation to the number of sales it has received in a specific category.
However, this number is a variable since it will depend on the number of products selling under the same category. Since listings made via Merch by Amazon are within the Clothing category, you'll be able to find out how BSR will equate to sales once you start earning.
To search for a product's BSR, simply go to a product's listing and check its product description. After that, look for the Amazon Best Sellers Rank section. This will give you information on that product's BSR and category.
To give you an idea of how many units a product can sell every day, a BSR of 100,000 in the Clothing category equates to around 1-2 units sold every day. The lower a product's BSR, the more units it can sell every day. Therefore, if your t-shirt has a BSR of around 40,000, it would mean it can sell around 5-8 units per day.
Also, a #1 Merch by Amazon product in the Clothing category can make around 5,000 to 10,000 sales every day. With a royalty of around $4-$7 per sale, you can see how they earn money and how much.
Amazon Merch Research
Handling your Amazon t-shirt printing business can be a handful, so it helps to do some merch research. Keep in mind that you need to cater to what your customers want. A good tip is to view the best selling t-shirts to get an idea which Amazon shirt printing company is selling a lot and what products they offer. Your goal is to make your products stand out and make them sell.
In conclusion, venturing into this type of business might have its challenging moments. However, it can be worthwhile if you get the hang of it. Hopefully, this informational guide will help you out with your Amazon shirt printing business.
Creating your own t-shirt designs is great but it's only half the battle. Now you should get customers and sales, and product reviews is the thing you need the most in this case. SageMailer, in its turn, will help you with this, moreover, you'll need to spend just 5 mins as everything is automated. Try this on your own with free 21-day trial!