There are a lot of beneficial programs Amazon has created for sellers and buyers. Moreover, being well aware of modern marketing trends, the marketplace has also created an opportunity for bloggers and influencers, inviting them to join the Amazon Influencer Program. Let's find out how it works and what benefits it can promise for AMZ influencers, sellers and buyers.
What Is an Amazon Influencer Program?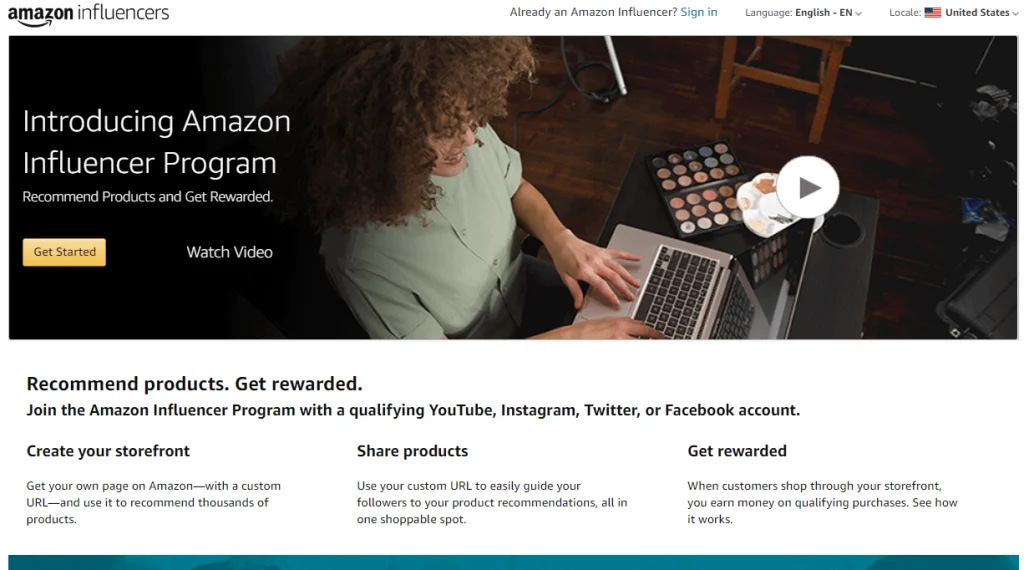 As the name suggests, an Amazon Influencer program is one of the marketing opportunities the platform creates for sellers, brands, and even third-party advertisers. The core idea of this program is inspired by affiliate marketing. If you aren't sure how the affiliate program works, we will explain it in a nutshell.
Affiliate marketing is an opportunity to promote somebody else's products via your website and earn commissions each time the website visitors make qualifying purchases using an affiliate link that connects the advertiser's website to the product's owner's website. 
Influencer marketing, in turn, means that a blogger or an opinion leader can promote the products of any seller and earn a commission for each qualified purchase. The influencer program comes with a whole set of beneficial features for bloggers, helping them create even more engaging content. 
After joining this program, bloggers and content creators can create a branded influencer storefront within an AMZ to better showcase the products they would like to promote. An Amazon's influencer storefront will have a branded link that the influencers can share across their social media profiles to redirect their subscribers to it. They can create idea lists of recommendations from their storefront and get commissions when qualifying purchases are made. When a subscriber makes an order on the branded pages using influencer links, an influencer earns a commission.
How Much Can You Earn? 
The commission rate you can earn depends on the category of Amazon products you promote. For example, you can make the highest commission – 20% from each sale by promoting video games. The luxury products also promise an opportunity to earn decently – up to 10%. The most popular categories, such as toys, home items, pet products, fashion, and others, allow you to make 3% from each sale.
Plus, there are Amazon bounties – the goods and services you can recommend as an add-on to the main goods. These are all kinds of subscriptions and kindle books.
While a commission rate seems to be not so high for most product categories, you still can make solid profits from an Amazon Influencer program since the more visitors you lead to your storefront, the higher your income is. 
How to Become an Amazon Influencer? 
So, how to be an Amazon influencer? Indeed, there is nothing complicated with becoming an Amazon Influencer. Logically, you have to be an opinion leader already since this opportunity isn't suitable for aspiring bloggers. Then, you have to apply for the program and start filling in the profile details.
At this stage, you have to share your social media profiles with Amazon, and the marketplace will instantly verify whether you are eligible or not. It is an automatic check, but if you have more than 10,000 highly engaged followers, there is a good chance of passing it. 
Amazon Influencer Program Requirements and Qualifications
The trick is that AMZ doesn't share eligibility requirements for this program. It has no min-max limits for the number of followers, doesn't restrict the niche you produce the content for, and doesn't care how famous you are as an influencer. So, the conditions to join this program are pretty vague. The only thing that one can say for sure is that you should have a Facebook, Instagram, or YouTube profile to apply for the program. 
Still, the experts suggest that those bloggers with highly engaged followers have better chances of getting their applications approved. That's why the platform will check your social media profiles and evaluate your audience engagement level, taking their behavior factors into account. The posting frequency, the number of comments, likes, and shares matter even more in this case than your number of followers. 
How to Promote Your Amazon Storefront?
How to get an Amazon Influencer storefront? Creating such a storefront on AMZ is free. However, you still have to promote it to attract as many qualified leads as possible. The good news is that you have nothing new to do to boost your storefront – just proceed with creating top-notch content your audience engages with and share your independent opinion on the products you would like to recommend. 
You are welcome to create stories, videos, and posts with the items, show their use cases, and redirect your leads to the storefront. Also, don't forget to share your branded link in your bio or channel description so that your followers can easily find and use it. 
For Amazon Sellers – How to Make Use of Amazon Influencer Marketing
Perhaps, there is no need to say that influencer marketing is one of the dominating digital marketing directions in 2022. However, the truth is that people believe people more than they believe in ads, so combining your usual Amazon store promotion tactics with this type of marketing makes a lot of sense.
Below is a short getting started guide to help you boost your product sales with the help of such a winning combination.
Reach out to the right influencers

. There are a lot of famous bloggers, but not all of them are equally right for your business. If you are just getting started with influencer marketing or AMZ business, pay attention to micro-influencers. They are likely to have closer and more personal relations with the audience. Also, choose an influencer from your niche so that the product they recommend is relevant to their audience.

How to find

the right bloggers? Try Lemlist or other intuitive services.

Prepare the list of products you would like to promote with the help of an influencer.

One of the best practices is to shortlist the bestsellers your audience already loves. In this case, there is a better chance that the influencer's followers will also love them.

Make sure your products are attractive and promotable.

No opinion leader valuing their reputation will recommend products of poor quality or counterfeits. So, your task is to persuade a blogger that your items are a

good fit

for their audience's expectations and their quality is high enough. Most likely, you will have to send some samples to an influencer, but to make the first impression, choose the products with the best rating from your range.
Conclusion
Amazon Influencer Program is a winning opportunity for bloggers from different niches to monetize their content and create an additional income stream. For sellers, partnering with opinion leaders also makes sense since this is the option to attract already loyal users using the power of influence. 
But to make your product more attractive to bloggers, make sure to keep your product's rating as high as possible. SageMailer is software aimed to help you get more credible reviews from your buyers. With the help of this tool, you can send them a kind request to leave a review using attractive email templates. SageMailer also notifies you of each new testimonial to always be aware of your customers' opinions and quickly respond to them.
Interested? You are welcome to test SageMailer. It's a free trial and proceeds with building your influencer marketing strategy using the ultimate power of social proof.