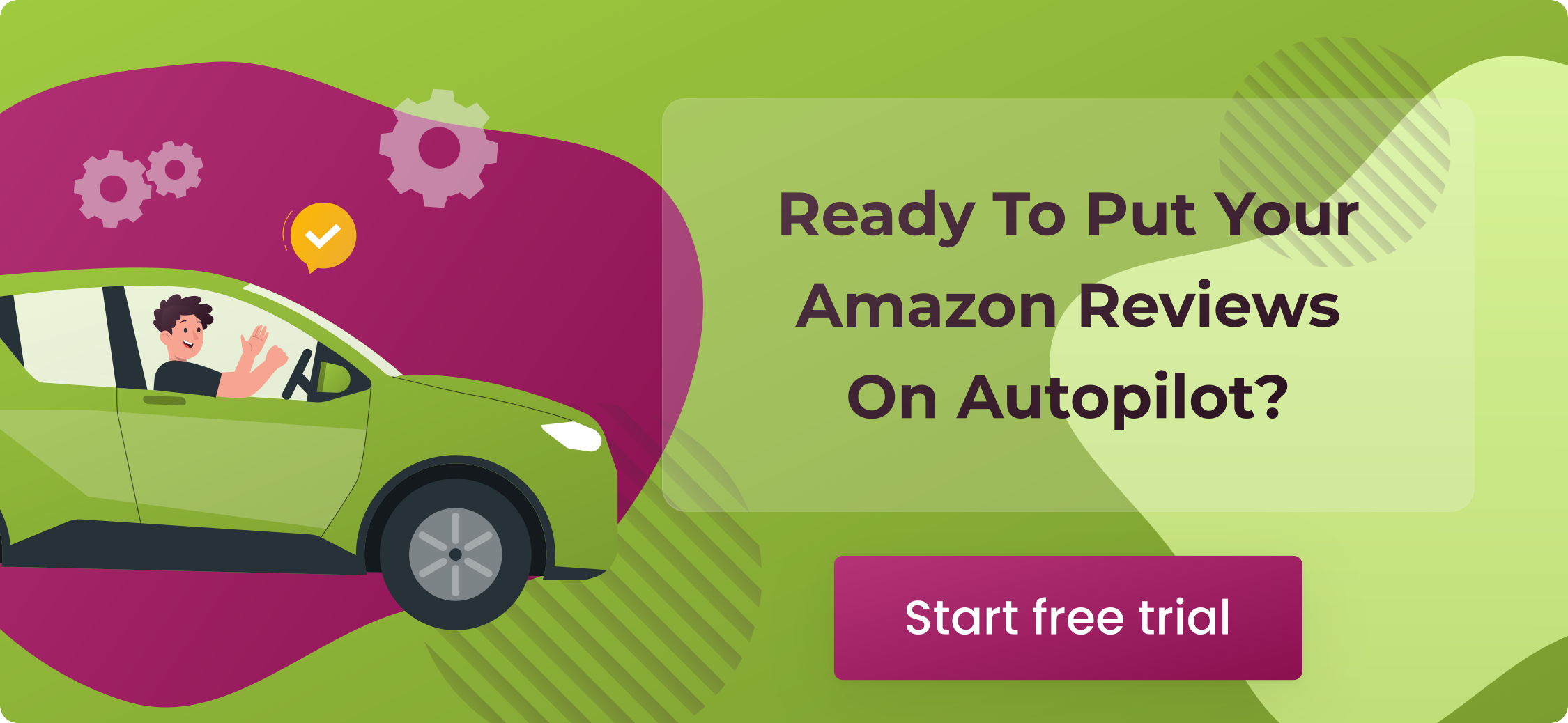 An eCommerce conversion rate is the most important indicator for evaluating an online store's success since all your marketing actions have the same goal – make users buy, get back and buy once again. But, what figure is good for eCommerce sales, and what eCommerce conversion rate optimization steps can you take right now? Let's find it out. 
What Is Amazon Conversion Rate?
Your AMZ conversion rate is the percentage of clicks on the ad that converts into sales. It indicates how many shoppers buy a product directly after viewing the listing. Knowing that data can help you identify potential issues that might be getting in the way of your sales.
Amazon benefits from some of the highest rates across all eCommerce platforms—that is why companies are attracted to selling there. A good Amazon conversion rate for non-Prime customers is 10-15%. This number drops to 3.32% among the top 500 merchants due to the core of how often they're viewed. The rate for Amazon Prime clients is even juicier, 74%.
No wonder Amazon Prime is so booming. Simply put, the profoundly client-centric convenience program makes the indicator above the average.
The "Amazon Prime" solution is one of the most influential contributors to the brand's success. With Prime, the participants get:
Free 2-day shipping

E-books

Digital Music

Movies

Television shows via Amazon's instant video service
The perks are remarkable for a price of $99 per month, and the number of registrations AMZ receives is sky-high.
In 2015, the platform ranked second among global online retailers, with Alibaba the first. After that, however, this well-known digital marketplace took to reclaim its throne hugely.
According to the study by Millward Brown Digital, amongst the top 500 internet merchants, Amazon Prime participants engaged or interacted with the Prime options more and converted 74% of the time. On the other hand, for others, it remained at 3.32 percent.
Astonishingly enough, even visitors who are not a part of the AMZ Prime Program still convert better than the average. It's nearly four times the average rate, converting 13 percent of the time.
In addition, the platform has not only achieved a value that is 22 times better than the usual standard but it's also topped the list. 
How to Measure eCommerce Conversion Rates?
Let's get started with the eCommerce conversion rate definition. An eCommerce conversion rate is an indicator that you can calculate by dividing the number of your actually placed orders within a certain period of time by the number of your website or app sessions and multiplied by 100%. 
Let's suggest you have 100 sessions per day and 20 placed orders. Here is how to calculate the eCommerce conversion rate in your case:
20/100*100% = 2% (which is the average eCommerce conversion rate)
So, the average conversion rate for eCommerce sites is 2-3%. Still, many factors affect typical eCommerce conversion rates so let's find out a good conversion rate. 
E-commerce Conversion Rate Trends and Statistics
There are many approaches to defining an eCommerce conversion rate benchmark since conversion rates vary depending on the industry, the device the customers use, the dozens of external factors like trends, sentiments, upcoming holidays, and so on. However, it is possible to find out average eCommerce conversion rates being guided by historical information and sales projections. 
eCommerce Conversion Benchmarks by Industry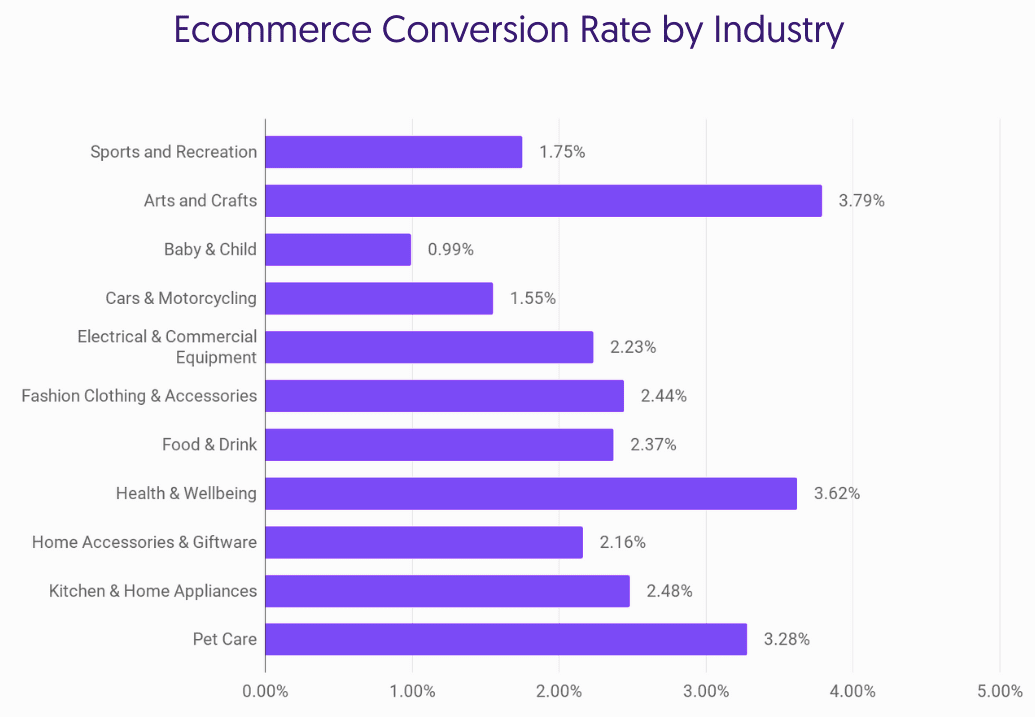 As you can see, conversion rates by industry fluctuate significantly. While childcare products have the lower average eCommerce conversion rate, such industries as arts and crafts have the highest figure. All other sectors have a 1-2% ratio of transactions. 
Retail Conversion Rates by Device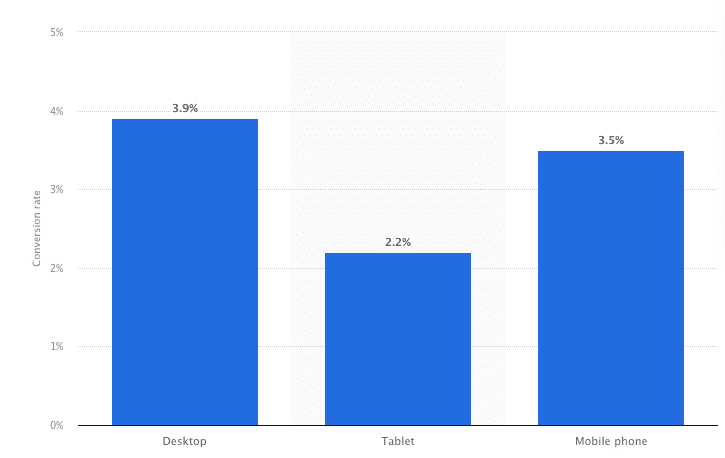 The traffic sources and used devices also matter for improving eCommerce conversion rates. According to Statista, desktop shopping sessions are more likely to lead to the conversion, mainly because, in this case, the shoppers can attentively learn all the product's specifics, look at the image on a larger screen and make a purchase in a calm environment of their homes.
Still, the desktop conversion rate isn't much higher compared to mobile phone usage. So, mobile commerce is the trend that is here to stay. That's why making your landing pages mobile-optimized is essential in 2023 and beyond. Also, pay closer attention to the mobile experience your online store delivers to improve the average conversion rate of your eCommerce business. 
Mobile eCommerce Conversion Rates
How to increase conversion rates eCommerce on mobile? Offering your users a native mobile app for instant shopping can be an option. In this case, you have to develop a mobile app tailored to the operating system most of them use. So, make sure to get started with research.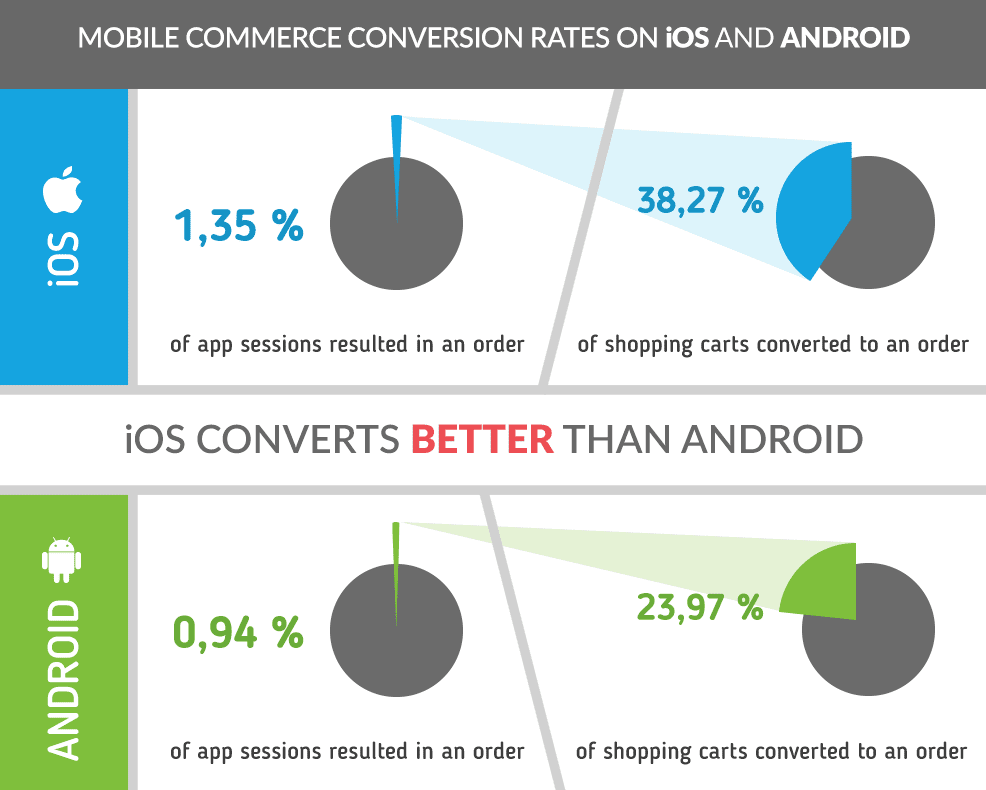 Meanwhile, the study has revealed that iOS users are more likely to make a transaction than Android ones. One of the possible explanations for this trend is the higher solvency of Apple owners, plus iOS apps are always more powerful technically than Android ones. Therefore, an eCommerce business's mobile app created for iOS users is more likely to deliver a top-notch shopping experience since the technical requirements of the App Store are more strict compared to the ones of Play Market. 
Omnichannel Conversion Rates

Digital marketing strategies using the omnichannel approach are likely to significantly improve eCommerce conversion rate since they create more touchpoints than the marketing strategy that uses only one channel. They keep communicating with prospective buyers across different marketing channels, for example, eCommerce store website, mobile app, social media, instant messengers, and SMS.
Indeed, such an approach requires using sophisticated software for data gathering and analysis, and Google Analytics isn't enough in this case. Nevertheless, using three or more channels is an opportunity for increasing conversions up to 287%, according to the research. 
eCommerce Conversion Rates by Country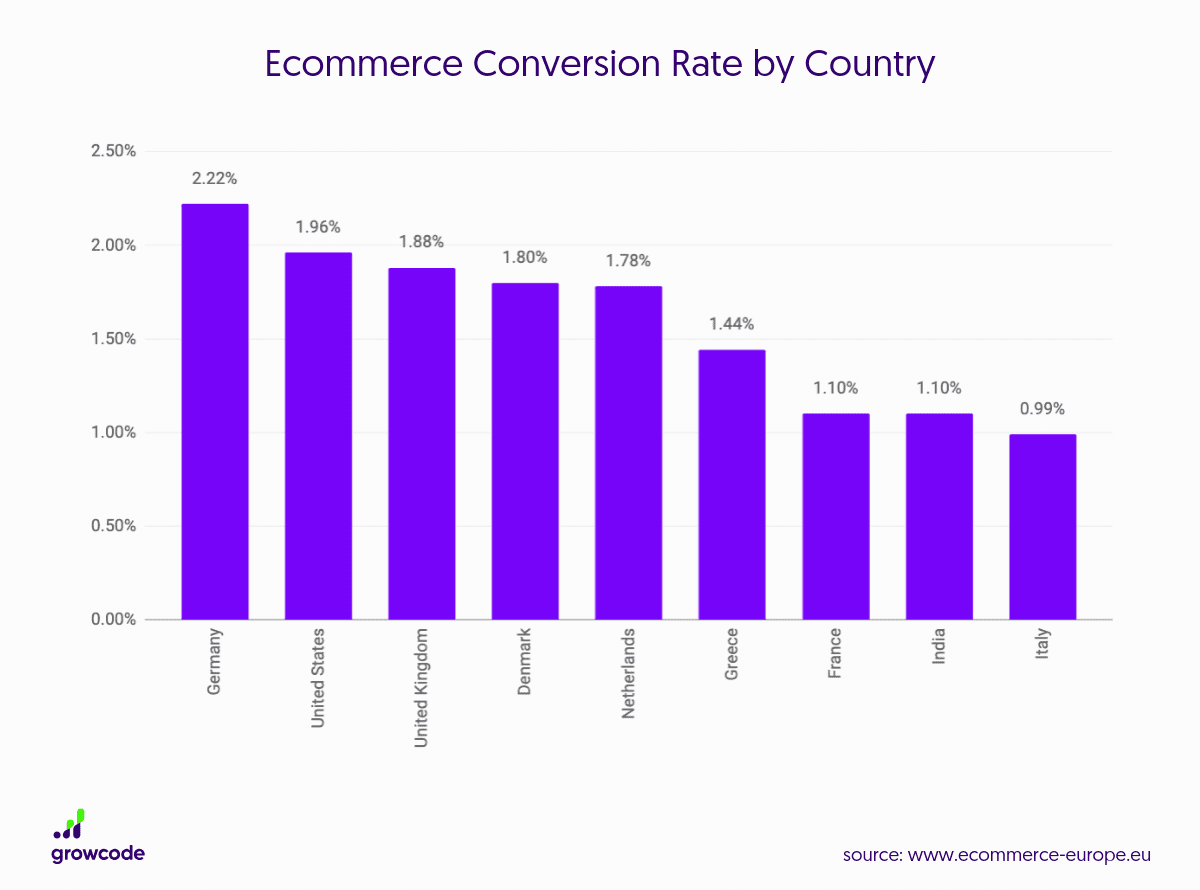 The users from different countries add the products to the shopping cart being driven by pretty different reasons, beliefs, and expectations formed by the cultural environment they live in. Keep it in mind if you are running an international eCommerce business. For example, use several Amazon marketplaces, and let's look at an eCommerce conversion rate in different European countries. We will find out that the users from Germany show the best patterns while shoppers in Italy are the latest to expect a conversion boost from.
How to Segment eCommerce Conversion Rates
An eCommerce conversion rate is a figure that fluctuates depending on various factors. How to increase your eCommerce conversion rates? Get started with metrics analysis. When analyzing your success indicators, make sure to evaluate this rate according to the following criteria. The numbers you get can be pretty insightful for developing your future marketing approaches. 
Product type

. Different types of products have different conversion rates – this is visually shown on the chart segmenting it by industry. You can also segment your conversion rate depending on the products you offer in your store and find out which ones are selling better than others. 

Product cost or average order value.

Product price also affects conversion rate. 

Traffic source

. You can attract traffic from different sources – for example, from organic search results, social media, PPC ads, influencer campaigns, and so on. Still, each user's group will show different behavioral factors that directly influence the conversion rate depending on the traffic source. 

Device (mobile, tablet, or PC)

. The device your shoppers are using to purchase also matters. PC is the preferable option for making online purchases. At the same time, mobile devices can also promise a good conversion rate when your mobile experience is worth it. 

Platform (Windows, Mac, iOS, Android, etc.).

The conversion rate depending on the platform is an essential indicator for both e-commerce websites and mobile apps. But, make sure to analyze them separately to get a clear picture. Pay closer attention if one of the platforms shows a lower conversion rate than an average indicator for others – it can be a sign that users face a stumbling block. You are better to find and remove it asap. 

Location.

Users from different locations are also less or more likely to convert. To analyze your conversion rate according to the area, get started by comparing it for several countries you are targeting in general, and then move to the more specific indicators, taking into account location and any of the important factors described above. 
Conclusion
Optimizing your conversion rate is a never-ending job, especially if you are running an Amazon store. Fortunately, there is one more effective tip for Amazon store owners. You can significantly increase your conversion by building solid social proof for your store. Get started by collecting as many positive and verified reviews as possible. 
SageMailer can help you with this task. This is a dedicated app for Amazon reviews requesting and managing, allowing you to be smarter with your feedback. SageMailer instantly notifies you of each new review and makes the process of asking for them automated. 
Give it a try for free right now! Register to access a 30-days trial and find out how SageMailer works!