These days, Amazon has gained a lot of traction being a platform where not only small sellers can post their items on, but brands and startup entrepreneurs as well. In fact, many people have turned Amazon into this one big marketplace wherein they can run their own online business without having to own an e-commerce website.
In fact, Statista gives us some figures on sales by third party sellers. Statistics would show that 53% of all Amazon sales this 2nd quarter of 2018 came from third party sellers. This shows that Amazon has attracted a lot of entrepreneurs wanting to make money off the platform.
Of course, Amazon had foresight of this which is why they already introduced a loans programs a few years back to cater to this rise in e-commerce entrepreneurs.
What is Amazon Lending?
Actually, Amazon Lending isn't something that's just been introduced. It's been there ever since 2012 and is the Amazon seller loan program to help give long term sellers a boost for their businesses. This is their way of encouraging the growth of the platform and the sellers by allowing them to carry more merchandise and enhance their operations. When the sellers increase activity, they get more money. When the sellers make more money, then Amazon also makes more money. It's a win-win situation for everyone!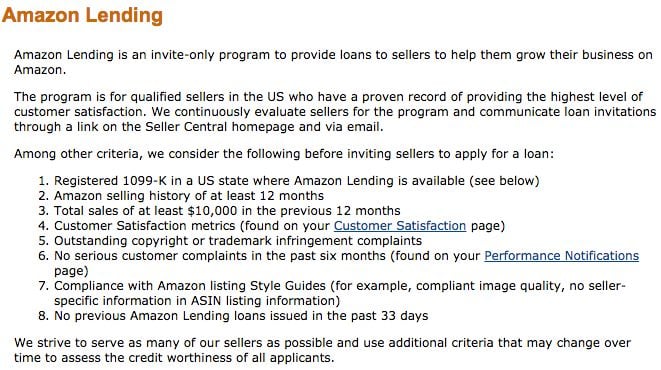 Now, you might be thinking that Amazon small business loans are like traditional business loans from banks or financial loan companies. However, Amazon is a little bit different as compared to what you may be used to. We'll explain that in the section below.
What's the Difference Between Regular Business Loans and Amazon Lending?
To know the difference between the two, you must first know how both of them work. Let's start by taking a look at how a regular business loan works.
Regular Business Loan
When you want to apply for a regular business loan, the first thing that you have to do is look for a possible lender. You can check out banks and other financial institutions so that you can apply for one. The next step is to obviously, start applying. Most financial institutions will have two criteria when they decide to approve your loan or not. These are credit history and your business plan.
If you're after making a startup or if your business has been in operation for less than 3 years, the institutions will usually like at your personal credit score. If it has been in operation for more than 3 years, then they'll most likely just look at the business' credit history. Take note that the credit history is a part of your requirements so you have to get a copy of it from your local credit reporting agency.
Aside from that, you also need to prepare your business plan. Financial institutions will always ask for your business plan and may also ask you to do a presentation of your plan before they grant you a loan. This is for them to assess whether or not your business can make enough to repay them the interest and balance in full on time.
Once you have your credit report and business plan ready, you can submit it along with your application. Now, another thing that you'll need would be the collateral. The collateral guarantees the bank or lending institution that they will be repaid even if you can't pay in cash. So in the event your business fails and you can't pay back your loan, the institution will just take your collateral. Collaterals are usually high demand and high value assets such as land titles, cars, or possibly even high value jewelry.
Once the process is done, you can pass the application and wait for it to be approved. When it is approved, it is only then you will receive the money. You will then have to work with the financial institution on how the payment scheme will be and how much you'll be paying them per month. Take note that you will have to pay the principal amount plus the monthly interest. Interest rates are quite high for bank or financial institution loans so you might have to pay quite a big sum. However, it won't be so tight on your wallet every month if you stretch out the payment period (e.g. 3 years to pay).
Amazon Lending
Amazon Lending, on the other hand, is the opposite. In the Amazon Lending program, Amazon is the one that picks the people who are eligible to take up the loan. Amazon has a list of criteria that they use when they select people who can take the loan. Criteria include sales amount, activity history, and customer rating. With these criteria, Amazon will be the one to contact the sellers to see if they are interested.
Also, Amazon will determine how much the potential applicant can borrow. Amazon will give the maximum amount that they can lend out plus the interest rates that they're willing to offer for the loan.
Here are some of the Amazon lending terms to take note of:
Amazon Lending is available for anyone in a US state 1099-K registered.
Amazon Lending is available to sellers with history of 12 months
Amazon Lending is available to sellers with high customer satisfaction rating
Amazon Lending is only available to those with sales of $10,000 in the last 12 months
No seller is to have any complaints in the last 6 months
No seller is to have any copyright or trademark issues
All criteria in the quality listing Style guide must be followed
So if you happen to be a long time seller with a good record, then you're most likely already eligible to take the loan. Mostly Amazon Prime members are the ones that avail the loan because of the long term nature of their activities.
Pros and Cons of Amazon Lending
Now that you know what Amazon Lending is, it's time to investigate whether or not it's worth trying it.
Pros
Are you planning to get an Amazon loan? Then, you might be happy to know its advantages:
First of all, the application process is so easy as compared to getting a regular small business loan. With getting a small business loan, you still have to go through a long review process wherein your business plan and credit history has to be assessed. There is even no guarantee that you'll get the loan even if you apply.
With Amazon Lending though, you can get the loan right away since Amazon is the one that selects which person is eligible to receive the loan. Amazon has pre-existing criteria in which they'll use in order to pick people. So once Amazon picks you, you're sure to get the loan.
Bank loans and loans from financial institutions usually have really high interest rates. Compared to Amazon Lending, Amazon Lending keeps its interest rates competitive and significantly lower than the usual bank rates making it a more viable option if you want to do business.
The whole point of getting the Amazon loan is to increase your inventory on the platform—and that's exactly what it does. With more inventory, you'll now have the chance to acquire more sales at a much faster rate rendering you with more profits. You'll also be able to build your brand faster with this loan.
Cons
Before you get an Amazon loan, it pays to know what you're getting yourself into. Here are its limitations:
Can Only be Used in Amazon
Of course, this loan also comes with a few cons. One of them would be that it can only be used in Amazon. Now, if you are a full time seller in Amazon, this wouldn't be a problem. But if you're not, you won't really appreciate the loan. So this loan is only really targeted toward the full time Amazon sellers in the platform.
Fixed Payments and Auto Debit
One of the biggest cons of taking the loan would be the auto debit feature of fixed payments. When Amazon collects your repayments every month, they auto debit a fixed payment from your account. If you're not able to make that amount in that month, then you'll owe them for the month. When this happens, Amazon can possibly hold your inventory or do some other things until you pay.
Basically, you're at the mercy of Amazon unless you pay the fixed amount monthly. Unfortunately, it's hard to negotiate loan payments with Amazon so you might have a hard time if you have consecutive slow months.
Is Amazon Lending for Me?
So now that you know what Amazon Lending is, how it works, and what the pros and cons are, is it something that you should accept? Well, the loan is definitely a good opportunity for you to gain a lot more sales and to expand your business further because it kind of gives you capital infusion. You can also get the loan right away and you don't have to pay too much interest to service the loan. Basically, it's a more advantageous type of business loan that can give you an edge in your Amazon business.
However, it's also something that you have to be very careful about because it can get you trapped in a bad situation if you don't know how to handle it. We mentioned above about the fixed payment and auto debit function that this loan has. This is the rather dangerous thing that you have to watch out for. If you don't have enough money in your account to service the loan plus interest, then you're going to be in for some consequences.
That said, the only way to help with this issue is to make sure you always have a buffer in your account in the event that you're predicting a slow month. With this loan, it's really all about anticipating the slow months and making sure there's always ready cash in your account so that you won't be locked up by the loan.
So if you're pretty confident that you can take on those terms, then this loan is definitely for you. However, if you think that your sales might not be enough to help buffer the loan from time to time, then it may be a good idea to look for another source for more infusion if you want to continue to expand.
How to Grow Sales By Increasing Product Reviews
One of the most effective and inexpensive ways to increase sales is by increasing the number of product reviews for your selling items. And what if I told you that you can automate this process with a few clicks? With SageMailer you can automate sending personalized emails to all your customers, politely asking them to leave a product review or seller feedback. Sign up for free 21-day trial to start growing your sales today.
Is There Another Alternative to Amazon Lending?
If you don't think that Amazon lending is for you, is there another way for you to get more inventory into your Amazon account so you can make more money? Well, there's always the option to get the regular business loan, but that'll take too long and cost too much, as we've mentioned above.
What other Amazon entrepreneurs do is that they get themselves Amazon credit cards so that they can get more inventory on credit.
There are two types of Amazon credit cards that you can choose to avail. These are the Amazon Prime Store Card and the Amazon Rewards Visa Signature card. The great thing about this option is that the Amazon credit card pre approval process is really simple without that many steps.
When you get the card, you'll have an existing credit limit which can be increased. As you continue with your purchases and your credit card payments, you can eventually get an Amazon credit increase, which is advantageous if you're a seller on Amazon so you can buy more merchandise.
Other benefits to having this card is that you'll have smaller foreign transaction fees when you buy stuff from other countries and you don't have to pay the usual credit card annual fee. You can also make balance transfers from your Amazon account to your card very easily if you want to take out money.
If you're using the prime rewards visa signature card, probably the most advantageous thing about it is that you'll be able to get some rewards for not just your Amazon purchases, but also from purchases outside. With your Amazon Prime rewards Visa card, you can get a rewards rate of up to a max of 5%. This would be a 5% cash back on your Amazon purchases, 2% cash back on purchases made in drug stores, restaurants, and gas stations, and a 1% for all items.
So if you're re-selling stuff you bought in Amazon, then you'll not only get your profit margin for when you sell them, but you'll also get that extra 5% cash back. If you buy stuff from outside and sell them on Amazon, you'll get that 1% cash back plus your profit.
The Amazon Store card, on the other hand, will give you 5% on Amazon purchases plus special financing for purchases $149 and above (special payment terms). With the Store Card, you'll also have a 0% Amazon Credit Card interest rate 12 month equal pay financing for selected Amazon items.
Is the Amazon Credit Card Better than Amazon Lending?
While we can't say that the Amazon credit card is better than Amazon Lending, it'll really be all up to you. One of the things that you'll have to take note of is that you have to be an Amazon Prime member to get the card and a membership for Amazon Prime costs $119 per year (but you do have additional perks that go along with the membership).
So if you do decide to take the credit card, then you already have to include the annual cost of the Amazon Prime subscription. You can compare the total costs and the pros and cons of taking the card and taking on the loan to make your decision.
The Bottom Line
As we mentioned above, the decision as to whether you would want to take the loan or take the alternative will all depend on your own computation and calculation as to whether it is worth it or not. From an entrepreneur's perspective, Amazon Lending is definitely something that any business minded Amazon seller will take. It's an easy loan that doesn't require that many processes and has the potential to have a high amount. It's also got a low interest rate.
If you do decide to take this loan, then you just have to make sure that you're confident in your ability to sell in the platform so that you won't get trapped by the auto debit and fixed payment scheme. Of course, planning also plays a big role in this because you always need to have yourself a buffer, as we've mentioned above.
For those who think they can handle that kind of loan, then they should definitely accept it because it's a great opportunity to help boost sales and also help in overall promotion of the brand.
The alternative, which is the Amazon credit card, is actually a safer option because you don't need to worry about having any buffer or any fixed payment and auto debit function done on your card. You just need to make sure that you pay for the annual subscription for Amazon Prime and the credit card bill.
Out of the two, only you can decide which one is best for your Amazon business. Consider each of these options carefully. Which one can you afford? Which one fits your business best?