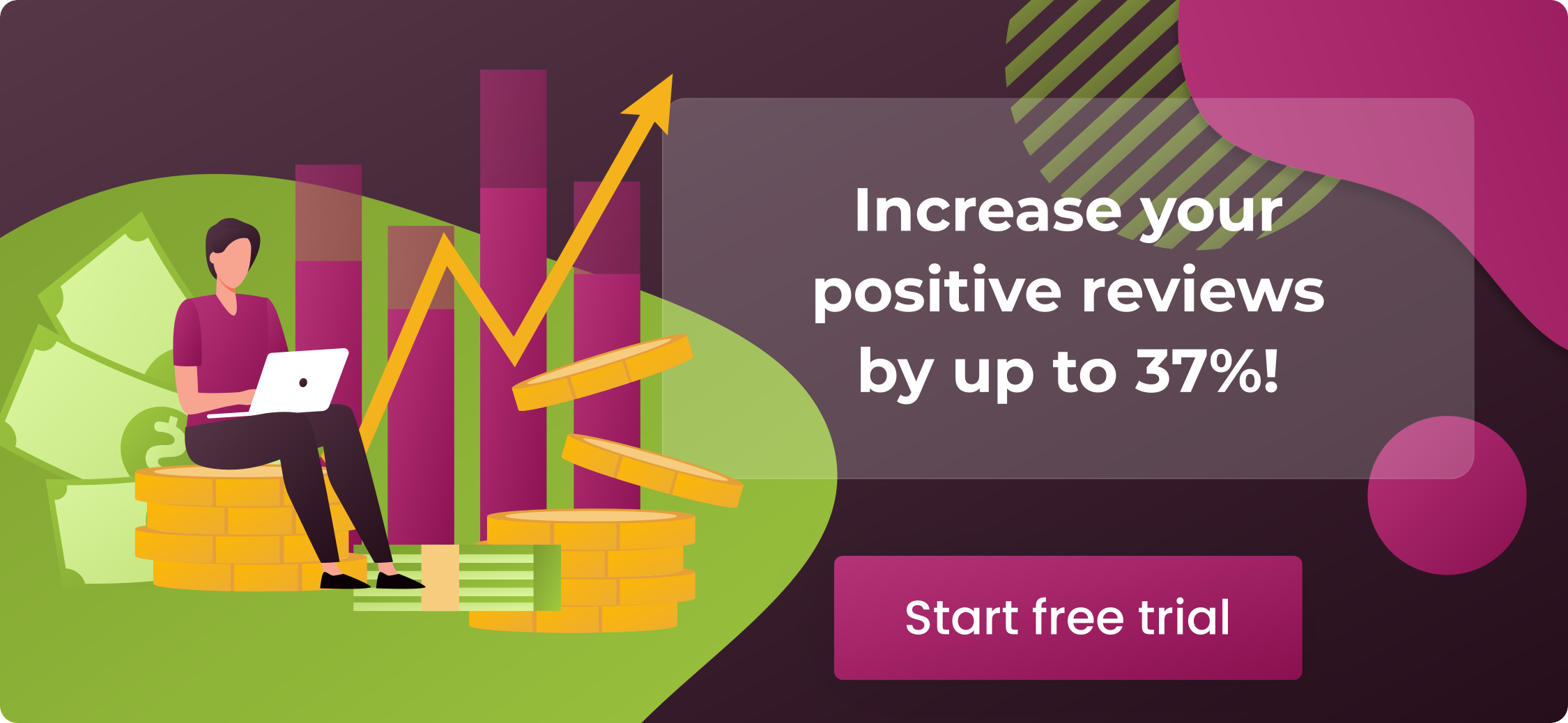 In 2022, U.S. eCommerce sales increased by 7% compared to the previous year, reaching $870.8 billion. Of those total sales, nearly 40% of all transactions were in the Amazon marketplace. To put this market share dominance into perspective, its next closest competitor, Walmart, accounted for just 6% of all online sales.  
Within the digital platforms, Amazon reigns supreme. And for merchants, it is the place to be. Not just due to its massive client base but also because of the perks afforded by AMS's end-to-end Fulfillment by Amazon (FBA) solutions. 
Becoming an Amazon seller is one of the most effective ways to develop a sustainable brand and earn passive income. However, you may be wrong if you're dreaming of "getting rich fast" as a newbie. It takes money, time, and continuous effort. In this article, we have shared a novice's guide on how to sell on the platform. We have covered every element, so you do not miss anything important.
So, how to become a seller on Amazon? What are the requirements to sell on Amazon? Let's get started here.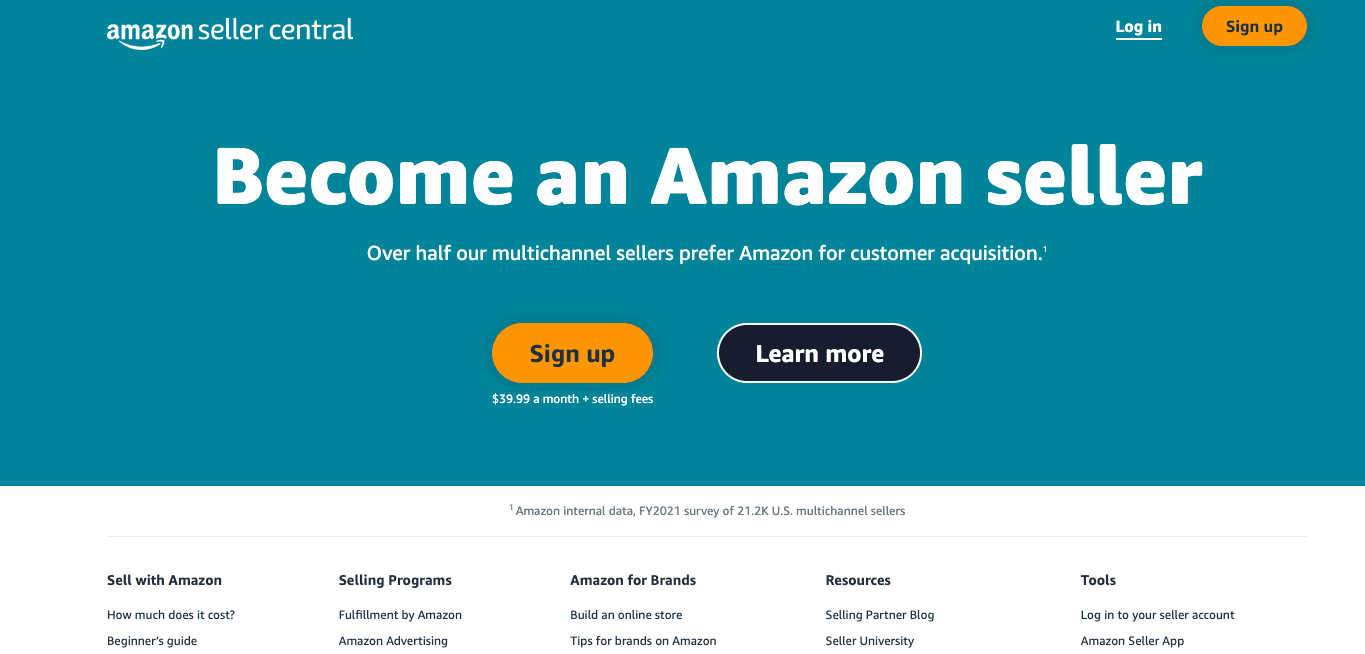 Why Become a Seller on Amazon?
Why sell on AMZ versus another platform like Etsy or eBay? Or why not only sell via your website?
Here are the main reasons we see to consider AMZ as your selling platform:
Brand recognition — Shoppers trust Amazon, and many are suspicious of purchasing from other platforms they have never used.
Enormous reach — Millions of buyers go to AMZ first when they are looking to purchase something. You can sell goods without any real promo in most cases.
Do not need a website — While users can also have their website in addition to moving goods on Amazon, anyone can launch a business selling only via AMZ.
Fraud protection — The platform takes care of getting payments and has outstanding fraud protection tools minus one headache for merchants to worry about.
Scalable — The platform can easily manage changes in stock levels and spikes in traffic. They can even do fulfillment if you choose Fulfillment By Amazon (FBA).
A level playing field — Part-time and small merchants have the same opportunities as the big brands. You still benefit from the FBA service even while you are just learning the ropes. However, if you were moving goods on your website, you would never be able to compete with more established and bigger companies. No one would spot your "measly" merchandise if your site was on page 25 of Google!
Although there come a few disadvantages, like having less control, there are numerous big perks of selling through AMZ. If you are cautious of solely depending on Amazon, you can always use it on the side.
How to Sell on Amazon for Beginners? 
It might initially seem challenging to become a successful AMZ FBA seller. However, it is not complicated if you prepare well and think the process through.
Many merchants operate on Amazon, and there is a well-established registration procedure.
Step 1. Register an Amazon account.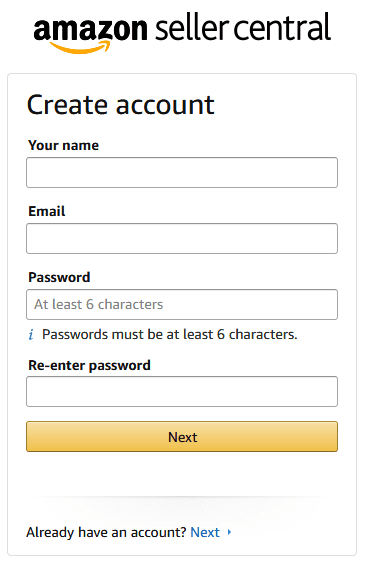 How to open a selling account on Amazon? To start working on Amazon, you will need an account. To be an FBA merchant, you first need to launch an Amazon selling profile if you do not already have one.
Amazon offers two seller profile solutions – Professional or Individual.
The individual option has no subscription commission but charges a fixed sales cost per product.

The professional option sets a fixed monthly cost regardless of your sales volume.
Thus, the Professional subscription works out better if you move more than 40 products per month.
Both profiles charge the same sales fees in addition to this.
Once you have a profile, you can list goods in the Amazon marketplace. It's done with a Global Trade Item Number (GTIN) – for example, an ISBN, an EAN, or a UPC. It lets listings be standardized between merchants. You then fill in your prices, inventory, and descriptions.
Moving to FBA is a straightforward process. First, enroll for the service with AMZ and choose which product you wish to move to FBA (you can keep some as merchant fulfilled).
These FBA goods must be appropriately labeled, prepared, and shipped to the platform's facility. You continue to manage the marketing, pricing, and inventory. In turn, Amazon will handle storage, delivery, and customer service. Yet, such services come with an extra fee.
Step 2. Carry out thorough market research.
As with launching any business venture, proper market research is everything. You wish to research what items to sell, their current pricing, and ways to promote your goods.
Some main things to keep in mind when analyzing the current market:
You might want to choose items that align with your skills or interests. Many users find it easier to promote products they are passionate about or knowledgeable about. You might prefer, though, to spot an excellent niche opportunity.

Check the AMZ Best Seller Rank (BSR) for items. Higher ranked products see higher demand but also have more competitors. Look at the spread across goods within the same niche. A niche dominated by a few goods might be challenging to break into.

Consider your pricing range. Lower-priced goods (for example, under $10) will need more sales and inventory to profit significantly. Instead, higher-priced products (for example, over $50) might be slower to sell, as they are less tend to be impulse purchases. For novice sellers, the right choice is somewhere in between. Don't forget that you can always extend the product offering later.

Research your competitors. Just as you can fast become an AMZ merchant, so can others. Don't ignore the potential competition.

Develop a unique selling point (USP) and get on top of the competition. Could you modify an existing item, combine goods, or apply different marketing techniques?

You may wish to avoid goods with tough competition, such as famous brand-named items. You should check negative testimonials to see where other merchants are struggling. It might be a USP or area you may enhance.

Think about opportunities to market goods other than proper use of AMZ descriptions. You may pay for ads, link up with blogs or relevant websites, or develop your social media channel to promote products.

Keep in mind that there are competitors outside of the marketplace. You need to benchmark yourself against other AMZ FBA sellers, but you can also find out about the market from other retail platforms.
Step 3. Define a clear Amazon FBA business plan.
All businesses require a plan. An AMZ FBA business isn't an exception.
The right planning will allow you to budget, prepare for the future and handle potential issues.
A good FBA business plan must include:
Complete business description and profile. It can include business goals, products provided, and your business value proposition.

Financial estimates. Coverage should consist of expected fees, sales, and revenues. What profit and turnover are expected over various periods?


Use SellerSonar's free calculator to estimate your business financials in a few clicks.

Description of your target audience. Who are the people you are trying to sell to?

Business budget, both long and short-term ones.

Advertising and marketing costs and plans.

Your operational business plan. Such information shows how the brand will operate, including shipping, using Amazon FBA, and supply.
Step 4. Pick and source products to sell.
Once you have selected an item to sell, you should establish your supplier. For most products, there will be a broad range of possible sources.
The merchant's responsibility stays – Amazon won't help FBA merchants with sourcing.
There exist many methods to find a manufacturer or supplier. Trade publications, trade shows, and online listings are good sources. AMZ could even become a source of some goods. Besides, check out online wholesalers, such as Alibaba or Tundra. These provide lots of wholesale items and can assist you in accessing overseas suppliers.
Developing direct relationships with a supplier has its benefits. It will make it more effortless to discuss varying orders or to add new items in the future. Keep in mind that you can always modify suppliers further down the line.
Step 5. Make your product listings.
While waiting for the initial order to come at the FBA fulfillment center, you have time to create your AMZ listing. You will have to get high-quality product images. It's better to engage a photographer for this. You will also have to prepare your listing copy, the bulletins, the product description, and the title.
See both the text and images in your product listing to show your item's strengths. Adding the proper keywords to appropriately position your product page according to AMZ SEO is also important. It takes skills to balance writing the most influential text for your listing and incorporating the right keywords.
You will have time to figure this out from when you source your initial batch to be produced until it's delivered to your Amazon FBA warehouse.
Step 6. Package & deliver your goods to Amazon.
Under FBA, the marketplace will handle your products' ongoing storage and delivery.
First, you will have to get your stock to an AMZ warehouse. Once you are set up for the FBA solution, it is a simple procedure. You may assign products in your store to FBA. The platform will then provide packaging instructions and shipping labels. All products should be labelled with an AMZ-provided barcode (hiding existing labels).
Then, products are packaged into pallets and boxes for larger shipments. Each of such boxes and pallets is then labelled for delivery. The platform will arrange for collection based on your location and shipment size.
You should keep in mind that labelling and packaging items can take some time, especially if you have several products. Therefore, when deciding whether AMZ FBA is suitable for your business, you need to consider this.
Step 7. Promote your goods.
Amazon FBA will handle fulfilment, delivery, and customer service, but only you can move your goods. As a result, successful promotion techniques and costs will differ between markets and products.
Some things to keep in mind and possibilities when planning promotion include:
Use the AMZ listings to the fullest. It's the main way to promote your goods and keep them appearing in proper customer searches. Describe your product well and include relevant keywords.

Add high-quality pictures to your product listings. Images matter and they can improve your reputation and brand. Include plenty of different photos to display all relevant item details.

Carry out your research and become different from other sellers. Many merchants may provide the same goods. As part of your marketing research, identify methods to improve and ensure it's reflected in your promotion.

Think about popular keywords. Search terms are critical for getting your products found in AMZ searches. There are different tools available, for example,

Google Keyword Planner

. Such services help you analyze keywords, their alternatives, and their.

Pay for targeted advertising. AMZ advertising is possible, as are Google Ads. Begin small – you may set budgets and try out different campaigns to check what brings success.

Develop web content connected to your goods. Apart from your product listings, think of other methods you can spark interest in and promote your items. Social media pages, forums, and blogs are a good and low-cost way to do this. You may link with existing platforms or start your own.
Step 8. Provide excellent customer service.
Delivering great customer service is crucial for any business, but it's especially important for AMZ. Its clients expect a high level of service, so it is necessary to provide it.
The most effective way to deliver excellent shopper service is to reply to customer inquiries promptly. Furthermore, it's beneficial to provide customer support via various channels, such as email, phone, live chat, and social media.
Step 9. Leverage Amazon feedback.
Reviews are essential in growing Amazon sales, as clients rely heavily on testimonials when purchasing decisions. So if you have positive reviews for your items, it will help boost your sales.
To get more positive feedback, you should ensure excellent customer service. Reply to reviews quickly, address client complaints, and thank shoppers for their feedback. You may also consider using third-party services like SageMailer to put the feedback management process on auto-pilot. 
The tool allows sellers to set up automated follow-up emails to be sent to customers after they make a purchase. These emails can be personalized and tailored to request feedback on the product or ask customers to leave a review. 
Moreover, Sagemailer provides a range of pre-designed email templates that are optimized for requesting product reviews. These templates are customizable and can be modified to match the seller's branding and tone.
All this allows sellers to get up to 37% more* Amazon reviews and seller feedback. Register for a free 30-day trial to explore the tool's opportunities. 
How to Become a Seller on Amazon: Final Thoughts 
This blog should give you a good starting point on how to become an Amazon seller. This entire procedure may take an enormous amount of time. You may spend months just picking a niche and determining product opportunities before starting to develop and promote them. 
However, if you choose to sell on AMZ, the way that you manage your business will determine how successful it is. For example, when selling on the platform, reviews become critical. Of course, delivering a great product and shopping experience is a great place to start, but you can also follow up with clients with third-party tools to increase your number of product reviews. SageMailer can help you to put this process on auto-pilot in a few minutes. Register for a free 30-day trial to explore its opportunities. 
If you have always wanted to become an Amazon FBA seller but hesitated, now is the proper time to get your feet wet and forge ahead.