Can you sell handmade items on Amazon? YES! 
Amazon Handmade is a dedicated space for artisan traders on Amazon. It is special because here, buyers find unique products that differ from the rest. Amazon Handmade products listed cannot come from mass production. Here is only what the artisan created with his own hands. Consequently, the artisan account of these sellers is different from the rest. Moreover, their business as a whole differs from other merchants.
So what you can find on Amazon Handmade:
handmade soap;
cutting boards;
handbags;
accessories;
decor elements;
gifts.
In short, there a buyer finds everything that artisans can create with their own hands and make it unique.
Let's figure out exactly:
how handmade at Amazon works;
what are the advantages of this business;
what are the disadvantages an Amazon handmade seller can face;
why Etsy is different;
how to find handcrafted products for sale.
So, now we will find out how to sell handmade items on Amazon, tips for selling on Amazon handmade, and online tools that make the process more progressive.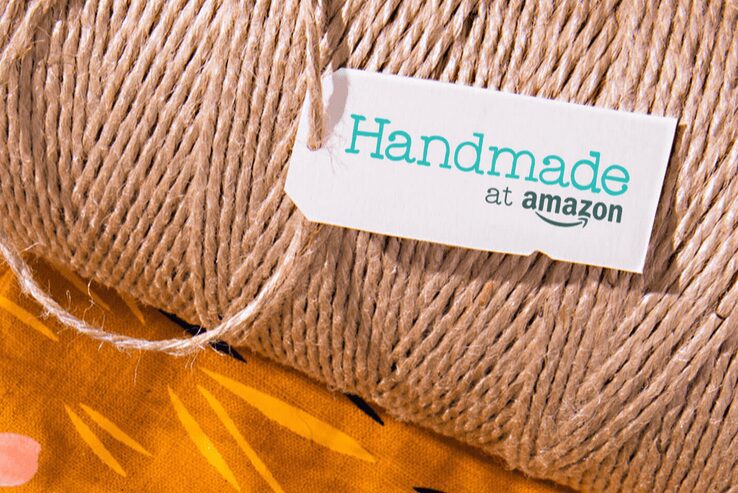 What are Amazon handmade seller's steps to start selling
Even a beginner has no difficulty in doing this. So, a few steps and you are ready to start selling online:
Make the product yourself

. That is the first and essential step. The product's marketability and consumer demand depend on the quality and appearance of a product.

Answer the questions in the Amazon application form

if you want to apply to sell. Your answers about the business there testify to your qualifications as a seller.

Decide on the shipping method

. It doesn't take much time and knowledge to make an informed choice since there are only two delivery methods –

FBA and FBM

. First of all, check out the pros and cons of each and the fees. 

A bit of shipping information:

FBA differs from FBM in how much the seller is involved in the process. More precisely, with Fulfillment by Amazon, the platform does everything for the merchant (packaging, preparation of goods, shipping, customer service). Thus, Fulfillment by Merchant implies using the seller's resources for all of the above processes.

Track your sales success

and grow your business that way. How to track it? For example, use the special program

SageMailer

!
Is selling handmade items on Amazon right for you?
Any newcomer to the business must allocate resources to get started. Therefore, they need to assess the potential, risks, and platform for sales. Let's take a look at the pros and cons of selling on Amazon handmade.
Amazon handmade market pros
More excellent customer coverage compared to others.
Amazon shop reaches over 3 billion visits per month in terms of consumer coverage. Plus, nearly 90% of American Amazon shoppers make purchases on the website more than once a month. That is, if a merchant wants a successful business, then Amazon is a good option.
High profitability.
In 2021, the profitability of 33% of handmade sellers reached 20%. This figure is higher than that of other platforms.
Affordability in terms of commissions.
Even though some people think Amazon is not cheap. Amazon Handmade does not charge a listing fee. You pay only 15% for one operation (purchase). Another advantage is the absence of a monthly fee (unlike Seller Central's $40).
Designed for artisans only.
The submission of an application by each merchant is a guarantee for buyers that the product is handmade. That is, the Amazon team must confirm this fact before allowing the user to trade. Thus, consumers have no doubts about the exclusivity, authenticity, and quality of the purchase.
Customization options.
As an artisan, you can create a profile to make it different from everyone else. Also, sellers often tell the story of the creator. Is there any customer looking for something special? It is also possible. Offer products on demand.
Fulfillment is easy.
The Amazon FBA service we discussed is convenient to serve Amazon customers, as it is not your responsibility. It is essential to note that selling handmade products does not imply the expiration of listings and Universal Product Code for sale.
Amazon handmade market cons
Difficult to manage dashboard.
If you are an experienced user, then this flaw does not concern you. However, the dashboard can be problematic for beginners since using some of the features requires skill.
Application submission is not as fast as it could be.
Production of goods and handmade are two different things. Hence, the Amazon team wants to make sure you are the creators. For this reason, the confirmation process takes up to 14 days.
Receive payment later.
Until you mark the order as sent, you will not receive your money. Only after that, expect the receipt of payment.
Deferred Payment. 
You get paid if you marked your order as shipped. And then, you need to wait for the receipt of money to the seller account.
Sale of only certain types of goods.
Amazon Handmade only allows a limited number of products in a handmade category.
Customer interactions also have limitations.
You cannot get customer information. What does it mean? It is impossible to compile a list of emails for your business from Amazon users. Amazon Handmade, like any other platform, has strengths and weaknesses. However, depending on your potential and plans, you assess its convenience and suitability.
Should you sell on Etsy or sell on Handmade Amazon?
Both platforms are suitable for artisans to monetize their creativity. However, there is no doubt that they are different, which you can now explore in the following table.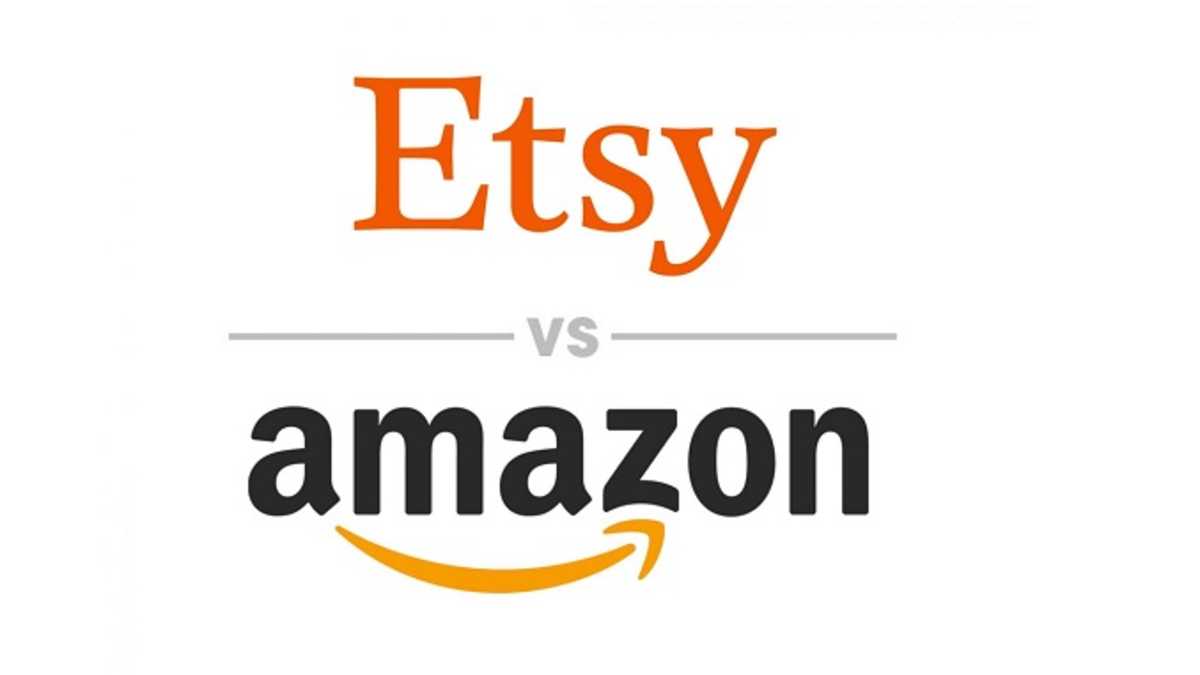 Amazon Handmade
Etsy

Transaction fees

Referral commission is 15% (for one sale)

Amazon does not charge

listing fees

for artisans

There are no commissions that the platform does not warn the merchant about

No subscription fee

Listing costs $0.20 (updated every 4 months)

There is also no subscription fee (however, you can use the Plus service by paying $10 per month)

For a payment of $0.25, you pay an additional 3%

Sales commission is 5%

Listings

The number of items for listing is unlimited

Amazon Handmade does not charge listing fees

You don't need UPC

Listings have no expiration date

Setting up listings is difficult, sometimes

The number of items for listing is unlimited

You pay $0.20 per item

The listing expiration date is 4 months

You don't need UPC

The interface is understandable even for beginners

Social media

advertising policy

Pay Per Click Advertising

Advertising only on the Amazon platform

Pay Per Click Advertising

Off-platform advertising is available

Payments

The artisan can use the funds only after being marked assent

Payment frequency is 14 days

You receive funds immediately after the sale is completed

The

marketplace

may request daily disbursements

Categories

The seller has 14 categories for product placement

The seller has over 160 categories for product placement

Approval

The artisan has to go through the application and audit process

The team includes fewer than 20 workers, and the products are hand-made

Account registration

is easy

Possible cooperation of the seller with "production partners"

Users do not go through the approval process

Storefront
Remember, you can choose both platforms to sell products. After all, 9% of Amazon artisans have already started selling on Etsy.
On Etsy, the competition for handmade products has been on the rise since 2005. In contrast, Amazon Handmade has more of a filing requirement. Consequently, there are not many sellers here who are your potential competitors.
What is the advantage of using multiple platforms? First, consumers can find your products in several places. In addition, you can measure the success of sales on different websites and abandon those that generate less profit.
How to launch your Amazon handmade sales?
Already have handmade products? The next step to an organized business is setting up an artisan account. We already mentioned that the verification process is thorough. It is because Amazon Handmade does not allow mass-produced goods to enter the market.
Amazon Handmade includes only:
Handmade (created by the hands of the creator).

Manual changes (you had a product that you changed in some way, such as drawing a print on a T-shirt).

Handcrafted custom-made (buyers order engraving or anything else to their liking).
What questions from the Amazon team should you be ready to answer?
What type of Maker are you?

Tell us about your work.

Describe the product creation process.

What is the percentage of products created by you or your employees?

Tell us in detail about your products (here you talk about techniques, materials, terms of creating a unit of order).

Show photos of your

handmade items

(here,

Amazon requires

an image of both the product and the process of its creation).

What is your product category?
Finding Items To Sell On Amazon Handmade
For the high profitability of a business, it is necessary to study the goods.
Exploring each handmade category on Amazon.
According to the search results, the artisan can find out which products are the most in-demand. If you see the Bestseller badge, then Amazon marks this product as the best selling one.
Amazon handmade seller reviews.
The more reviews, the more sales history the product has. Buyers are not always active, as on average, only 2 out of 10 write about the user experience.
"Most recent" filter.
By filtering products by this indicator, you will learn about the stability of sales of a particular product. For example, the last review was a year ago. Presumably, this handmade is not very popular now.
Demand.
Here are the ways to check it:
Amazon Handmade and Etsy – If there are reviews for the product that you plan to sell, this means a good sale.
Google Trends – Here you can see the trends at the moment. Moreover, find out the dynamics for a specific period. For example, check sales three years ago and now.
SageMailer – It is a quality review tool. Here, users can also track customer satisfaction with a particular product. Still, you can increase your income using this application. More on that later in the last section.
The process of creating a product.
Several factors are essential to consider. Not to mention that the products must be of high quality.
Make sure you decide on a lead time. It would help if you started with what you already know how to do. Creating something new takes more time and effort, which can affect your productivity.
Another recommendation is a responsible approach to materials for delivery. Make sure you have everything you need to pack and ship your order.
How to Sell Handmade on Amazon? 
Create your selling account
It is the first step to being able to sell handmade products on Amazon. The professional account needs complete registration. Your monthly subscription fee is $39.99. The marketplace will provide recommendations to get you started with a Pro selling plan for your store.
Complete your application and audit process 
You will need to answer questions about your merchandise and include images of them. You will also have to describe the steps that you take to produce the items.
Develop your artisan account 
As part of the registration procedure through Seller Central, you will make an artisan profile with a photo. It will help boost your business within the craft community and help clients identify you in a future search.
You can also create a banner for your shop within the larger handmade store and feature up to four of your best handmade products.
Decide how to fulfill the orders
Since you will be shipping from your current location, you should choose how your goods are delivered and the terms for what clients will pay.
If you dispatch goods every business day, you may use Seller-Fulfilled AMZ Prime. It's an advantage, as your handmade shop will show the Prime banner. Otherwise, you may use the marketplace's FBA. With this model, artisans deliver their goods to an AMZ warehouse, and the merchandise is shipped from the platform. 
List your merchandise
Product listings should be made one at a time. It is a learning curve and may be time-consuming. You should pick the category where your items will appear. Some niches may overlap. For instance, you may pick the Jewelry category instead of the Gift category for your handmade necklace.
Share the news
Inform your existing clients via social media account that you have joined the AMZ businesses selling in the Handmade marketplace. You may also make an announcement using a newsletter.
Grow your client base
On AMZ Handmade, you can provide URLs of any other platforms you have. It will help more clients find you and see each product you manufacture and sell.
Sell handmade on Amazon with SageMailer
With SageMailer, you get more organic reviews as an Amazon artisan. So what do you get as a result? First and foremost, you get an increase in sales compared to your competitors.
So you can:
track sales performance;

increase customer activity by motivating them to leave reviews;

exchange messages with clients;

receive notifications on your device as soon as a consumer leaves a review;

respond to users using ready-made templates.
In conclusion, SageMailer helps track handmade products sales and establish trust with Amazon customers. If you subscribe now, you can enjoy a free 30-day trial.