Selling items on Amazon can be one of the most profitable business ideas in 2023 and beyond. The marketplace continues to grow, expanding its influence and service coverage. But despite the simplicity of the idea of launching an Amazon store, you still have four essential tasks to solve:
Do product research and find a winning item

Choose the best categories to sell on the platform

Make use of Amazon FBA and other beneficial programs

Promote your products with a clear marketing strategy in mind.
This article will review Amazon's best-selling categories to help you understand revenue, competition, demand, and supply. 
Amazon Categories Brief Overview
What makes Amazon in 2023 so popular, and what's the secret of its success? There are a lot of answers to these questions. The widest possible choice of the products listed in different Amazon selling categories is one reason that drives prospective users to this marketplace. To date, there are 36 Amazon niches, but not all of them are equally popular.
Still, this doesn't mean that you can't join a specific niche instead of competing in the best-selling categories on Amazon. A winning Amazon product that meets specific customer demand also has excellent chances to be successfully sold. To get the first impression of Amazon's environment, let's review the top-selling categories on Amazon, find out what makes them so popular, and reveal the winning tricks to join them.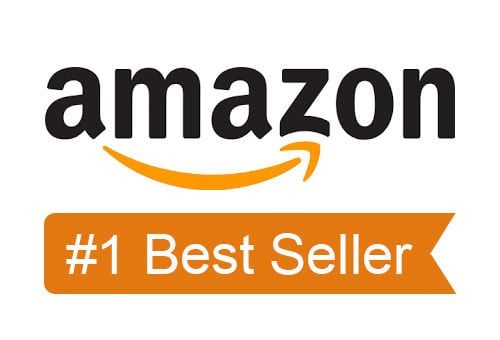 The Most Popular Categories on Amazon
There are 10 of the most top-selling Amazon categories. So what makes the products featured in them so popular? Perhaps, you have already guessed it – the top categories on Amazon host the products targeted on the mass market. What's more, the most popular categories and subcategories on Amazon cover the basic shopping necessities of an average person. 
An average person uses electronic devices, perhaps has kids and pets, needs clothes, shoes, and self-care products, and possibly can be fond of video games and sports. All these goods are available on Amazon. And that's why the categories we will list below are the most profitable Amazon niches.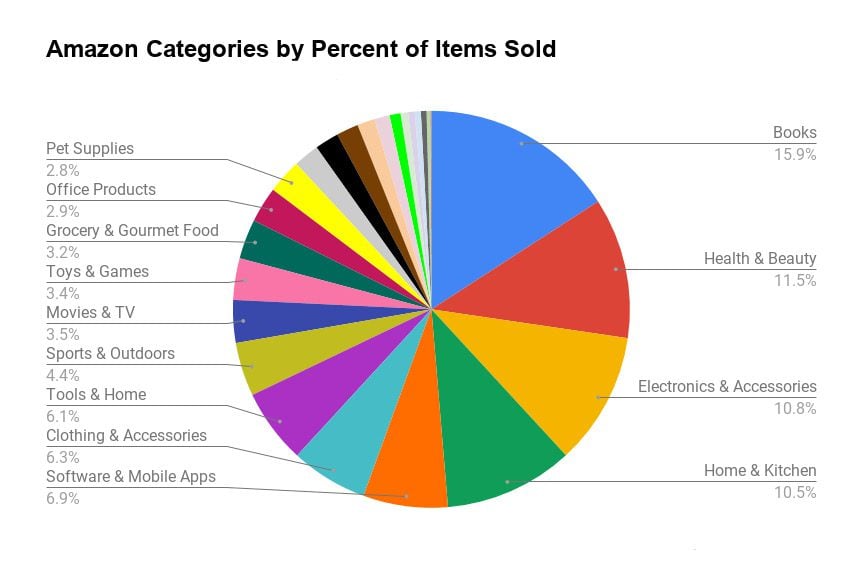 Electronics products
This is the top Amazon category that offers all kinds of home appliances – from something simple to intelligent, AI-powered, and voice-managed devices. In addition, the opportunity to shop for electronic devices at a better price makes this category leading on Amazon. Still, a lot of users complain about quality and report counterfeits instead of white-label goods. 
Tip! Focus on Quality and Uniqueness
To succeed in this category, try to offer the users something unique and outstanding. Still, make sure to focus on quality and buy the product you will resell from reliable manufacturers with the private label only. Check the items with the Manufacturer's Part Number and add it to your product descriptions to improve discoverability in the search results.
Toys & Games
Next popular category on Amazon that offers kids and games for kids of all ages. Again, there are fun, educational, and creative games, plush toys made from different materials. Indeed, parents may find it easy to get lost in this category. To succeed in it, try to highlight your top-selling products with one of the essential features of toys and games for kids. Yes, we are talking about engagement. 
Tip! Focus on Engagement
Most parents want their kids to be busy with their toys and games for as long as possible. So it can become the competitive advantage of the products you intend to sell in this category. As one more tip, focus on safety and eco-friendliness – these are two important choice factors for modern parents as well. 
Camera & Photo
The popularity of visual social media and video content makes users buy the latest equipment for taking photos and videos. However, this Amazon category can also satisfy users with different budgets, preferences, and goals. To sell successfully, persuade them that they will receive what they need. 
Tip! Focus on Samples
The quality of the content that the users can create with their photo and video devices is decisive. Show them the real samples in your product descriptions so that the users never feel the expectation vs. reality mismatch. This simple tactic will also additionally protect you from negative reviews. 
Books
Fortunately, 65% of the American population still prefer reading printed books. And Amazon can supply them with the literature of all genres. What's more, selling books is the most straightforward idea you can realize on this marketplace. You only need a book itself and a compelling description that makes users want to read it. 
Tip! Offer eBook Versions
One more benefit of selling books on Amazon is the opportunity to sell the Kindle version for a very affordable price. Make use of this feature to resell the book again and again without the risk of running out of your inventory. 
Learn more selling books on Amazon tips and secrets to grow your business in a competitive environment.
Clothing, Shoes & Jewelry
Perhaps, this is the category with the feistiest competition. Modern customers want to look stylish but still shop at a reasonable price. So of course, Amazon satisfies this high demand best. But there is a pitfall – this is just the category with the largest number of returns, mainly because of a wrong size or expectation vs. reality mismatch. Still, there is a simple tip to protect your business from returns, refunds, and negative reviews. 
Tip! Add Videos
Showcase the item as it is with the help of a video. Amazon already allows additional videos to product descriptions, plus you will be able to reuse them on your website and social media. 
Sports and Outdoors
The recent pandemic created the greatest demand ever for home fitness products. This trend is still relevant since many people aren't willing to get back to crowded gyms. And this is your opportunity to offer them durable and nice sports products for their home training sessions. 
Tip! Focus on Usability
Some users are frequently disappointed with sports products' quality. So stand out by pointing out the usability and durability of the ones you offer. 
Video Games 
Video games are on the rise in response to eSport development. 40% of the global population play video games. This figure is enough to explain why video games are among the most popular Amazon categories. 
Tip! Just Sell. 
Actually, there is no advice to add. Gamers are well-aware of what they would like to play, so there are no special tricks beyond the basic selling campaign you can run on Amazon.  
Beauty and Personal Care Products
Amazon also offers a lot of beauty and personal care solutions. Still, there is a category of exceptionally trendy goods. You guessed it right. These are natural, eco-friendly, non-GMO, and vegan care products that come in recyclable packaging. 
Tip! Focus on Naturalness
Offer your customers something powered by natural ingredients only to meet the trend of taking care of yourself with sustainable beauty solutions. And don't forget to attach the necessary documents and lab test results (which should never be carried out on animals).  
Home and Kitchen
The whole world has spent 2020-2021 at home. That's why the products from this category have become especially popular, and Amazon supplies people from almost all over the world with exciting home and kitchen solutions. 
Tip! Focus on Design
Being stuck at home, many people realized the necessity to surround themselves with pleasant, enjoyable, and stylish interior items. Consider offering them something that comes with a truly outstanding design since the desire to be unique even at home is still relevant. 
Pet Supplies
The increased demand for pet products is the logical response to another trend Millennials follow. More than half of them prefer having pets instead of having kids, plus their decent income allows them to choose top-notch products for their cats and dogs. 
Tip! Focus on Safety
A lot of people treat their pets like their kids, choosing safe and quality products. Highlight these features in your popular product descriptions. Did you know about the new Amazon pet profiles feature that comes with a bundle of benefits for users? Read our blog and learn how to sell products for cats and dogs more effectively.
The Importance of Choosing the Best FBA Categories to Sell on Amazon
In the perfect picture of the world, aspiring Amazon store owners would like to join the hottest niches and watch their sales skyrocket. However, in Amazon's reality, it works differently. The niche matters but your product matters as well. What's more, there are many other success factors, such as your seller's ranking, the campaigns run by your competitors, your product discoverability, its rating, and much more. 
So, if you are sure about your product quality and want it to enter a trendy category, get ready for the fierce competition. But there is good news – most Amazon shoppers are price-driven. So, to win the first customers, consider offering them coupons, gift cards, and discounts and proceed with building their loyalty step by step. 
Ask them for the reviews – you can do it easily with the help of SageMailer. Then, manage their feedback and respond promptly – this opportunity is also built-in. Plus, start building your online reputation by spotting fake reviews and instantly resolving the negative ones. 
Simply put, the only way to succeed in a trendy category is to offer top-notch products enhanced by excellent service and not expect instant results. Creating a sales flow on Amazon requires time, patience, and strategy, regardless of your chosen category.
How to Choose What Products to Sell? 
If you are about to choose items you wish to sell on Amazon, consider the following tips: 
#1. Look at the best-selling Amazon categories and find trending goods for each.
#2. Go for goods with high demand (or at least some demand): a product does not need to be sold in massive amounts per day. Nevertheless, at a minimum, any merchandise you plan to sell should get at least ten daily orders.
#3. Avoid being too seasonal or trendy so you can enjoy consistent sales throughout the whore year. Selling goods in demand 24/7/365 will help you achieve sustainable growth.
#4. Don't pick heavily-saturated markets. Instead, think of international markets.
#5. Discover a niche with constant demand: in general, customers often do not just 'browse' on the platform but search for something particular, e.g., "Cookbooks for air fryers" is more precise than "Cookbooks." You can use a third-party tool extension to research goods in a niche market to estimate monthly sales volumes on items or items with low competition.
#6. Think of products with a small number of competitors that might indicate an untapped niche (selling goods with big-name brands will mean too many competitors). There may be high demand for some merchandise, but not many merchants are providing it. Why not swoop in and deliver an excellent version of that product?
#7. Pick items that are easy to deliver: be careful about products that are fragile, perishable, breakable, and prone to damage.
How to Find Least Competitive Amazon Categories
This tip is simple – skip the trendiest ones, and you will get 26 less popular. Still, keep in mind that the product you will sell is no less important than the category you would like to list it in. That is, don't be guided by trendy categories only. They are already teeming with successful sellers on Amazon and similar offers. 
Instead, be guided by the product. Try to offer something outstanding and targeted at a specific audience. Successful Amazon business is possible beyond Amazon's top categories since many users are looking for a highly specific product on the platform they are already used to.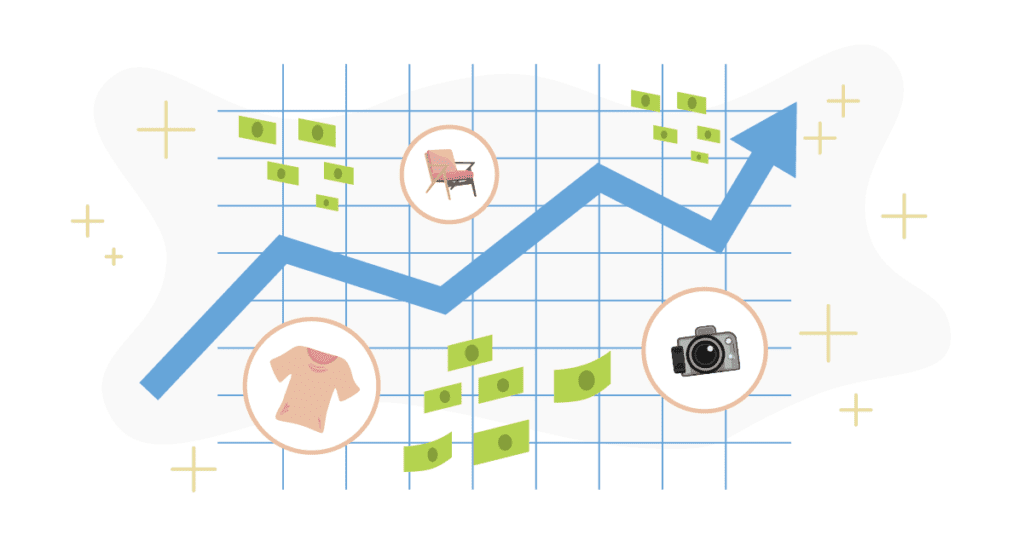 Conclusion
You are welcome to join the top Amazon categories. What's more, you already have some hints on what to focus on when marketing your store within them. Still, please don't cut off the less competitive niches since they are more likely to have the supply gaps your product can fill. Instead, get started by ultimate research and business strategy development. Only then decide on the category, and invest in the product you would like to resell.  
Sage Mailer is here to help you with effective review management and price monitoring regardless of the category you choose! Register and get a free 30-day trial right now!