Marketing plays a vital role in determining the success of any business. It is the key to building a meaningful connection with your target audience. However, knowing which strategy to use can be challenging with so many tools and techniques available. One effective method that many businesses are using is retargeting.
Retargeting on Amazon is a powerful tool that can increase incoming traffic to your website and help to boost your conversion rates. By showing ads to users who have already interacted with your brand, you can remind them of your products and entice them to purchase.
But how exactly does Amazon retargeting work? And how can you use it to improve your sales? In this article, we'll explore everything you need to know about retargeting on Amazon and how to make it work for your business.
What Is Amazon Retargeting? 
If you're an Amazon seller looking to boost your conversion rates and increase your impressions, retargeting is a technique you don't want to miss out on. By displaying your ads to people who have previously engaged with your brand or products, you have a higher chance of converting them into customers.
Retargeting goes beyond just advertising on Amazon, allowing you to showcase your products on third-party websites and apps. It means that even when potential customers browse other sites, they'll still be able to see your products and potentially make a purchase.
Interestingly, while Amazon refers to this technique as "remarketing," it's essentially the same as retargeting. Regardless of the terminology used, the important thing is that you can effectively reach your target audience and increase your chances of making sales.
How Does Amazon Retargeting Work in Detail?
Retargeting on Amazon involves a process that begins with collecting sufficient data. The user must have previously viewed the product to start an ad campaign using retargeting. It doesn't matter whether the user came from Amazon or through paid advertising, as long as they have viewed the product detail page and a "cookie" has recorded that the product was acquired.
Retargeting campaigns track users even if they leave Amazon and continue surfing the internet. Amazon DSP provides seven different targeting options to deliver the right ads to the user. With retargeting on Amazon, you can effectively target potential customers who have shown an interest in your product and increase your conversion rates.
ASIN retargeting options
Product Searches
It allows sellers to target users who have entered specific keywords associated with the promoted ASIN. However, these keywords are determined by Amazon's algorithm and cannot be manually selected by the seller.
Unfortunately, Amazon does not provide specific information about the keywords used in product search targeting. Despite this limitation, this targeting option is still a powerful tool for sellers to reach potential customers actively searching for similar products.
Pro tip: Use SellerSonar to track your keyword rank and find the search terms your customers use the most. Utilizing the right words is the best way to launch the most effective marketing campaigns and get more traffic from Amazon's search engine.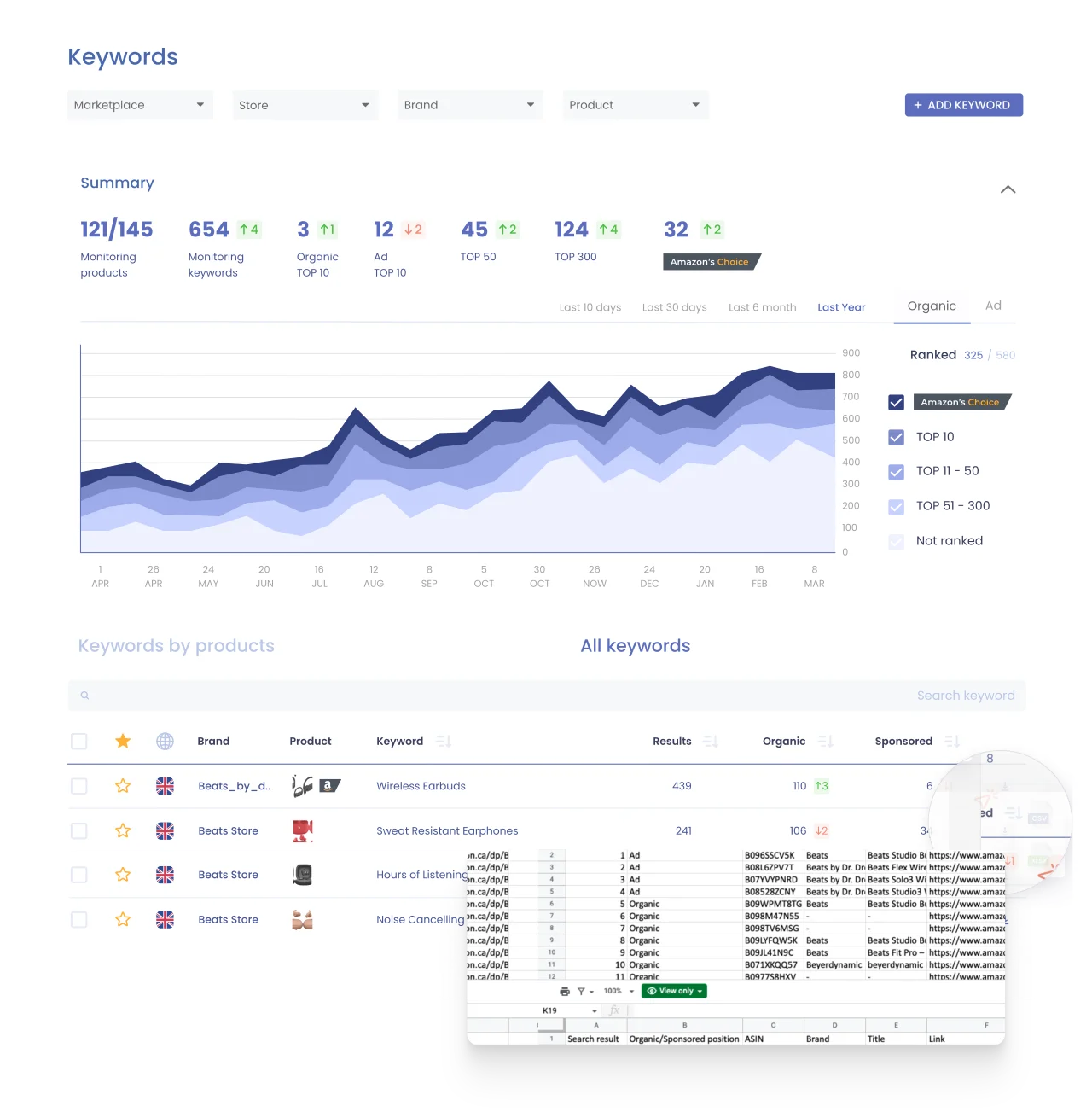 Brand Views
It allows sellers to specifically promote their brand's products to users who have viewed them for a specific period. This type of targeting is particularly useful for brands with complementary and well-matched products. For example, a shaving balm and aftershave can be marketed to users who have previously viewed them.
Brand Purchases
This method can promote other items from the same brand, making it a great opportunity for cross-selling and up-selling. In addition, targeting users who have already made a purchase gives you a better chance of increasing their loyalty to the brand and their likelihood of making future purchases. 
Product Views
It involves displaying ads to users who have viewed a product but have not yet purchased it. These users will continue to see ads until they either make the purchase or drop out of the ad campaign. This technique is highly effective in encouraging users to complete their purchase, as it keeps the product top of mind and provides an extra nudge to make the final decision.
Product Purchases
Retargeting on Amazon allows for promoting ASINs that users have already ordered, making it a practical option for consumer items like furniture, clothing, cleaning supplies, and electronics. This technique targets customers who have already made a purchase and can help to increase brand loyalty, repeat purchases, and encourage cross-selling of related products. By displaying ads for previously purchased products, retargeting helps to reinforce the customer's decision and encourages them to consider other products from the same brand.
SIM Product Views
When a user views items similar to yours from a competitor, Amazon's algorithm selects which ASINs to target for your ads. This technique can help you reach potential customers who are actively researching products similar to yours and increase your chances of winning the sale.
Competitor Conquesting
Retargeting based on interests allows Amazon sellers to target users who have shown an interest in products related to their brand or industry, regardless of whether they have interacted with their products. This option allows for greater flexibility in targeting and can be useful for expanding the reach of your ad campaigns. In addition, unlike targeting based on competitor ASINs, with interest-based targeting, you can select the specific ASINs you want to target.
Why Is Advertising Retargeting Important? 
Retargeting ads have many benefits in the AMZ industry. They help you reach clients off the platform and develop brand awareness more efficiently. 
So does it work?
Firstly, they allow sellers to focus their advertising efforts on potential customers who have already shown an interest in their products or brand. Retargeted ads have a higher chance of converting into sales because they are being shown to people who have already engaged with your business.
Secondly, retargeting ads can help increase brand awareness and keep your brand top of mind with potential customers. By repeatedly showing ads to people who have already shown an interest, you reinforce your brand message and increase the likelihood that they will eventually make a purchase.
Finally, retargeting ads can be a cost-effective advertising strategy. Since you are targeting a specific audience, you can avoid wasting ad spending on people who are unlikely to convert. It means you can get more bang for your buck and potentially achieve a higher return on investment (ROI) compared to other forms of advertising.
Overall, Amazon Advertising Retargeting is an important tool for sellers looking to increase sales, build brand awareness, and make the most of their advertising budget.
How to Launch Your AMZ Retargeting Ads?
Setting up retargeting ads on Amazon is a simple four-step process. Start by accessing the Sponsored Products button in Amazon Seller Central, then choose "Create campaign" and fill in your campaign name, duration, and budget. Since Ad Retargeting is only available through automatic campaigns, choose Manual Campaign as the campaign type.
If you sell on the US platform, your profile will get the option of Retargeting Ads. Tick the box saying "Remarketing" next to the "Automatic Targeting" radio button.
It's worth noting that this feature is still in beta, so it may not be available every time you try to access it.
And that's it! AMZ will do the job for you, redirecting customers who click on your ad to your product listing.
While simple, this process lacks some essential tools and granular control over the campaigns.
What Else Should Sellers Know Before Starting Ad Retargeting Campaign?
Planning and preparation are key to a successful product launch. Seeking advice from pre-launch consultations and post-launch tracking can help set you on the right path. However, it's not just about the pre-launch activities and content. To achieve success, it's essential to understand the buyer experience and what factors differentiate a successful launch from an unsuccessful one.
Before launching an ad campaign, ensuring that your inventory is in sync with your ads is crucial. However, running out of stock after starting a campaign is not ideal. To avoid this, ensure your ad campaigns are set up to shut off automatically when you're sold out. This way, you won't waste ad spend on products that aren't available, and potential customers won't be disappointed by clicking on unavailable items.
Boost brand awareness
The Sponsored Display Views Remarketing feature is an excellent example of how Amazon tools continuously evolve. With this feature, sellers can target buyers who viewed but did not purchase a product and those who browsed through a product category or viewed products similar to the ones being advertised. These expanded targeting options are ideal for upper-funnel strategies to build brand awareness and generate impressions. With Sponsored Display Views Remarketing, Amazon sellers can reach potential customers interested in similar products and increase the chances of converting them into buyers.
Refine views 
With Amazon's advanced targeting options, advertisers can filter their target audience based on various characteristics such as Prime eligibility, star rating, brand, and price tier. By effectively filtering their audience, advertisers can easily select a category target for a particular brand or product, which provides them with a baseline to work from and gives them greater control over their advertising campaigns.
Targeting specific brands or types of products can help businesses attract potential customers and create a niche that their competitors cannot match. By doing so, businesses can effectively position themselves in the market and increase their chances of success. In addition, with Amazon's tools evolving, advertisers have greater flexibility and control over their campaigns, allowing them to reach their target audience and achieve their business goals.
Create a convincing copy
In addition to creating an irresistible story and using high-quality images, it's important to highlight your product's unique benefits and features in the ad copy. It can help differentiate your product from competitors and convince potential buyers that your product is the best choice for them.
Another key factor in a successful ad is targeting. Utilize the various targeting options available on Amazon to reach your ideal audience. It can include targeting based on keywords, interests, demographics, and more.
Finally, track and analyze the performance of your ads to make data-driven decisions and continually optimize your campaigns for better results. With the right combination of story, images, targeting, and analysis, your Amazon ad can stand out and drive significant sales for your business.
Why Should You Care About Customer Reviews? 
Amazon is a customer-centric platform; customer reviews are crucial in building trust and credibility with potential customers. When shoppers see positive reviews from other customers, they are more likely to trust your brand and make a purchase. 
In fact, AMZ encourages sellers to incorporate customer reviews into their advertising strategy. Amazon Sponsored Products ads, for example, allow sellers to display star ratings and the number of reviews in their ads. This can be a powerful way to showcase social proof and encourage shoppers to click through and make a purchase.
Additionally, Amazon's retargeting ads can be targeted to shoppers who have viewed or interacted with your products before. By incorporating positive customer testimonials into these retargeting ads, you can remind shoppers of your products and services and build trust and credibility with them, increasing the likelihood of a conversion.
SageMailer can help to generate customer reviews by providing a convenient platform for communicating with your clients and requesting their feedback. The tool allows you to automate review requests by sending emails to customers after they make a purchase.  With the help of our service, you can send review and feedback requests and create campaigns tailored to the order status or specific ASINs. Ready to try? Check out our free 30-day trial!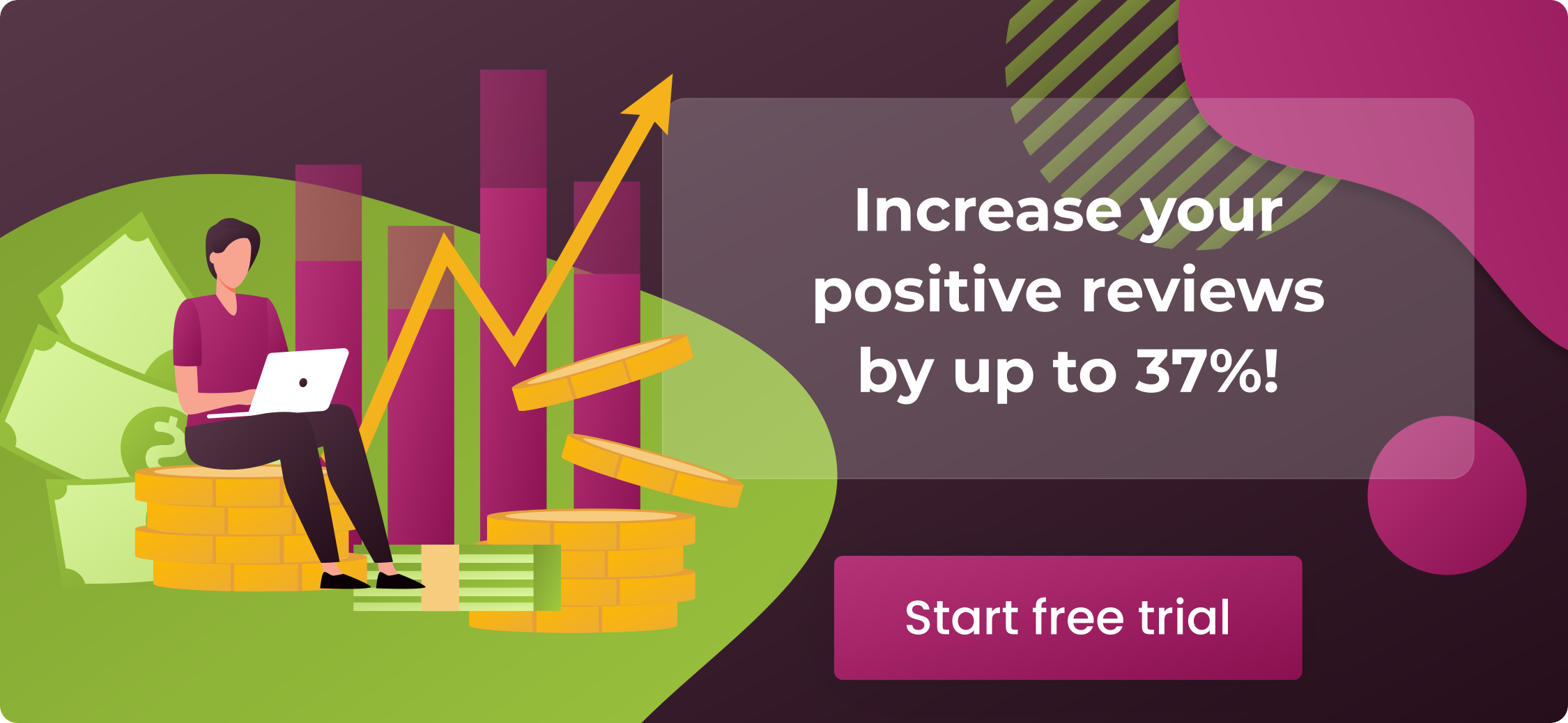 Moreover, you can segment your email list based on customer purchase history or behavior. It allows you to target specific customers who are more likely to leave a review, increasing the chances of receiving positive feedback. For example, you can automatically stop sending your emails to dissatisfied buyers until you solve the issue.
Retargeting on Amazon: Final Word
Retargeting is a powerful tool in Amazon's advertising arsenal, and it's a must-have for marketers who want to take their campaigns to the next level. With Amazon's guarantee, you can rest assured that you'll never miss an opportunity to win back customers or keep existing ones.
One of the greatest benefits of retargeting is that it can help you build awareness without breaking the bank. Targeting customers who have interacted with your brand can boost your ROI and increase conversion rates. You can even improve the lifetime value of your customers by showing them ads for complementary products.
But with so many advertising options on Amazon, knowing where to start can be overwhelming. That's where third-party tools like SageMailer can help. By automating your review request process, you can save time and ensure compliance with Amazon's rules. In addition, it's quick and easy to set up, so you can focus on creating a winning selling strategy instead of manually clicking.