There are over two million merchants currently active on Amazon.com. With so many marketplace users, the competition within the platform is highly stiff! Yet, that's where AMZ Sponsored Products come in.
Customers on the Amazon platform are willing to buy, so the Sponsored Products option is the best way for eCommerce companies to reach their target audience.
If you have ads scattered all over Facebook, Instagram, or eBay-promoted product pages, adding AMZ advertising to the marketing strategy is the next critical step. Even if you are new to digital marketing, Sponsored Ads on Amazon are a perfect place to commence your strategy.
What Are Sponsored Ads on Amazon?
Amazon ads are most likely AMZ Sponsored Products. Such advertising boosts conversion rates, sales rates, click rates, and visibility of your AMZ listing in the platform's search results.
Technically, sellers with a good reputation for product quality and competitive prices get the chance to advertise their goods through Amazon ads. 
When you notice any sponsored advertisement in the marketplace, they have to buy the ad space to show their goods on top of similar product pages.
Are AMZ Sponsored Products Good?
To begin with, Sponsored Products are generally the best goods in the marketplace. It's because merchants with poor reviews, bad ratings, fulfillment problems, or who do not deliver on time do not have such an option.
Thus, you should not underestimate the significance of feedback management. SageMailer, one of the most popular third-party services in this field, can help improve your seller reputation by automating official AMZ review requests with their Amazon review tool.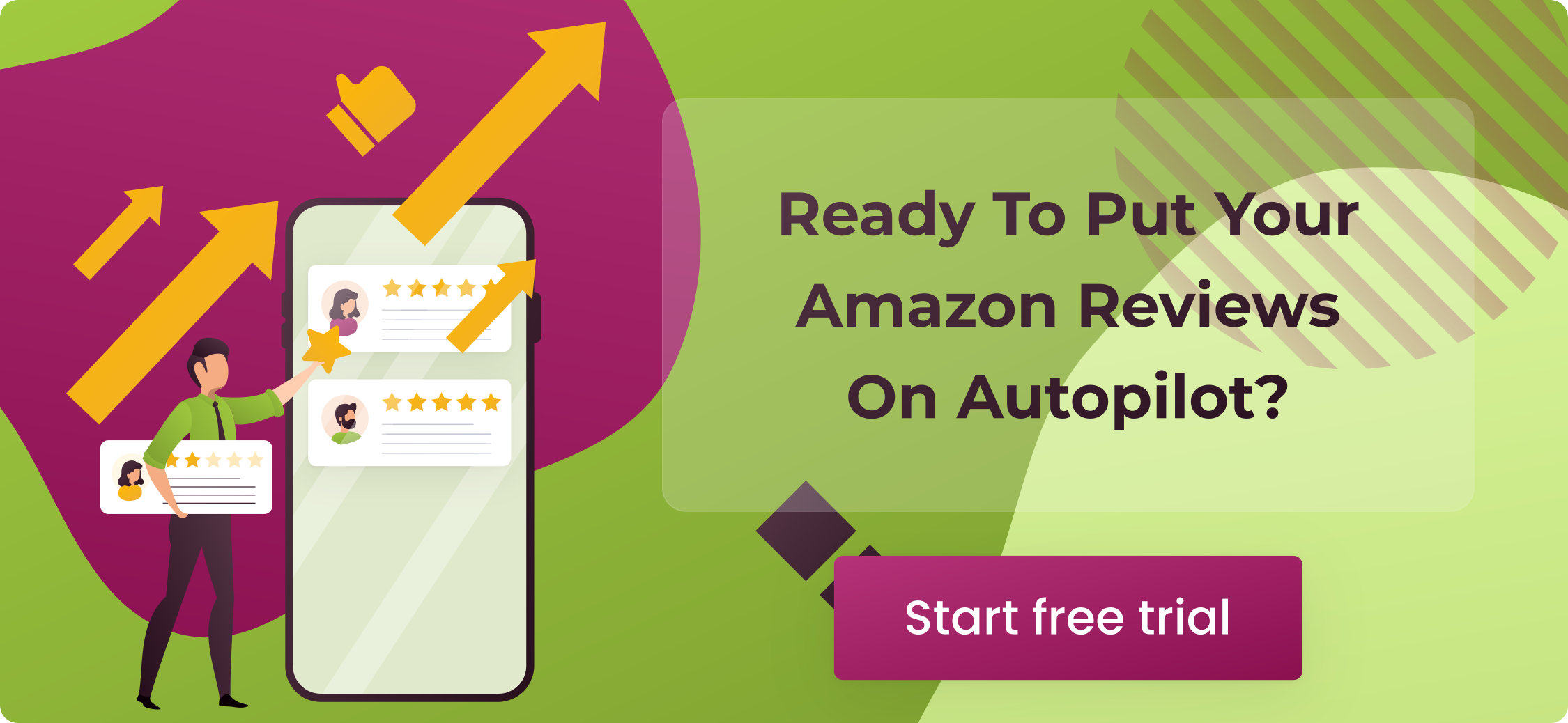 Besides, merchants must meet harsh criteria for items to be eligible for Sponsored Products. Hence, the platform guarantees that customers get the top-quality things they want.
Usually, a shopper buys Sponsored Products since AMZ recommends them due to the seller's good reputation, reliable delivery, and product quality.
Plus, clients who have bought those items already left positive reviews and ratings, which makes them more trustworthy to other visitors. The platform checks the overall performance of the seller's business while selecting them for Sponsored Ads.
That is why you can count on Sponsored Products by AMZ as a buyer.
How Do Amazon Sponsored Product Ads Work?
So, you got to learn what Sponsored Ads mean on AMZ. Now, let's learn how this type of advertising work to attract more customers.
Like Google Adwords, AMZ's Sponsored Products also operate with keyword-depending targeting. Yet, the marketplace uses a different  Sponsored Products requirements and strategy than Adwords to drive the ads.
Amazon finds the relevant keywords automatically. Otherwise, sellers can provide their suitable search terms if they want.
Next, you need to pay AMZ a per-click cost whenever a client clicks on the product advertisement, but the platform allows you to choose how much you want to spend per click. 
Nevertheless, it does not indicate you can get the best result from the ads even when you bid low. The higher your bid is, the higher place you obtain on the search results. Just like that, if your bid is low, your Sponsored Ads might not appear anywhere in AMZ search results.
When clients click on your advertising, the marketplace directs them to your product page, where they can purchase your goods. But unlike the Display Ads, you cannot drive your traffic from AMZ to other websites.
Still,  whether shoppers purchase any product from you or not, Amazon will get the amount as soon as someone clicks on the ad. 
What Goods Can Be Sponsored on AMZ?
Any item you see on the platform– from gadgets to clothes, makeup, and even food– may be sponsored, but the merchant should be eligible to use the advertising feature.
When you buy any item from AMZ or click on it, you will see Sponsored Ads with similar goods in the marketplace. If you wish more product recommendations from sponsors, you may search for products on standalone grey boxes marked as 'Sponsored.'
What Are the Criteria for Sponsored Products on Amazon?
These advertisements are similar to search results and come up on the Amazon search results pages with the 'Sponsored' tag. Below are some requirements the platform follows when selecting the items for Sponsored Ads to make sure your product is eligible for this solution.
Your AMZ account should be active and in perfect standing with the platform.

You need a valid payment method.

The account type must be Professional Seller, Vendor, or Direct Publishing Author.

You must be ready to deliver to the states where you are advertising.

Whatever item you are promoting should be in your inventory and Buy Box.

The goods shouldn't be refurbished or used.
Difference between Automatic and Manual Campaigns
We want to emphasize that Amazon merchants can use automatic and manual campaigns to get the most out of their targeting. They both are useful, and both have some drawbacks.
Automatic campaigns are excellent for keyword research
Let's begin with automatic campaigns wherein AMZ uses your product information to target the ads to all applicable searches. Thus, sellers cannot choose keywords and need to leave their bids in the hands of the platform.
Such campaigns are great for newbies because of their simple setup. Besides, they bid on words you would have never guessed clients search for. It is like having your personal advertising campaign manager.
Advantages of automatic campaigns:
They are good for PPC beginners because of the effortless setup in the Seller Central profile.

They allow you to skip the hassle of filling in keyword bids and spend more time focusing on business tasks.

If you launch an automatic campaign, AMZ will collect statistics for you to apply to the next campaigns. The platform tracks spending and clicks. It might take up to four weeks to compile enough data to check which campaigns are doing well.

Automatic campaigns provide for experimentation without putting in so much effort.

They help you show up for long-tail research you might have never guessed somebody would search for.
Manual campaigns provide more control over bidding
Manual campaigns allow you to set your own search terms. 
When creating a manual Sponsored Products campaign, you will get more control of the bidding price and be able to tailor your bids to hit the target ACoS or maximize revenue.
Although hitting the ideal ACoS and maximum profit is your end objective, conducting a manual campaign is not as easy as a Sunday morning.
Merchants bid on the exact keywords or broad phrases; however, it is hard to know which are profitable before proper keyword research.
Advantages of manual campaigns:
They are good for PPC professionals who have time to fine-tune manual campaigns.

You can boost your sales volume and improve your ACoS.

Bidding on keywords provides more precise targeting and can lead to more sales if you're successful.

It is easy to lower bids or stop low-performing keywords.

AMZ suggests bids next to every search term you want to bid on, making it more manageable for the merchant.

If you have some keyword ideas you wish to test, manual campaigns let you do that.
Automatic and manual campaigns can work together
Manual and automatic campaigns create an unlikely friendship while working together. If you are new to Amazon PPC, we suggest using the Research-Peel-Stick-Block (RPSB) approach.
For this, you need to create an automatic campaign for your item, wait for the statistics to roll in so you know which search terms are profitable, and fill in them in a manual campaign with bigger bids. You simply utilize automated campaigns for your keyword research and manual ones for customizability.
How to Set up Sponsored Products Ads?
1. Setting up both manual and automatic campaigns on Amazon is rather simple. First, in your Seller Central account, go to the "Advertising" section, then click "Campaign Manager," and proceed to "Create Campaign."
 2. First, in your Seller Central account, go to the "Advertising" section, then click "Campaign Manager," and proceed to "Create Campaign."
3. In the "Choose your campaign type" tab, click on "Sponsored Products."
4. Under "Settings," fill in your campaign name, targeting type, daily budget, and date range you want your ad to run.
5. The next tab is where you specify your bidding method. We recommend selecting "Dynamic Bids, down only" for manual AMZ campaigns, as you will have more control over your data and bidding for each search term. However, if you pick 'up and down,' your daily budget might run out quickly. 
6. Then, create an advertising group with a custom name. It will allow you to stay organized if you launch more campaigns. 
7. For instance, if you run a phrase match, exact match, or broad match campaign for your goods, name your ad group depending on the match type. 
8. Then select the item(s) you would like to advertise. 
9. Pick your targeting type: keyword or product. When first starting, we suggest choosing keywords. 
10. Under this targeting type, AMZ will show a list of suggested search terms to target and the possibility of selecting the match type. In this case, we are only going to include a broad match type. 
11. Next to your suggested section, you can fill in your keywords from your own research. 
12. After you enter your keywords, the platform will show the recommended bid amount per search term. 
13. They may be a bit conservative, so we suggest raising your bid to 25% over the recommended one to get as many impressions as possible — if it is within your budget, of course. 
14. Finally, you will have the option to include negative keywords. These are keywords you do not want your ad to come up with because they are irrelevant or are not converting. For example, if one search term is earning lots of clicks but no sales, you can include it in your negative keyword list, so your items no longer appear for related searches, and you do not have to pay for clicks that do not perform. 
15. Your last step is to click "Launch Campaign," and you are good to go! 
Are Amazon Sponsored Ads Worth It?
To put it shortly, yes! AMZ Sponsored Ads are worth the effort and investments you spend on them. Still, you need to remember that they are not about creating it and forgetting it.
Sellers should be active and work on their advertising campaigns to ensure that ads perform well and profitably. If you forget about your merchandise advertisement after setting it, you will probably get more clicks by making no orders and spending more money.
That is why you should check your campaigns frequently to ensure they are going well, keywords are performing well, and, more importantly, that you are making orders through ads.
Merchants, not brand registered, are perfect for using this Amazon feature to promote the visibility of their goods, build awareness among clients, and grow the selling rates.
Want to know how to boost your Amazon sales even more? Leverage the power of social proof with SageMailer. Our comprehensive feedback management tool will facilitate your review generation and customer communication. Sign up for a free 30-day trial to learn more.