Amazon search engine can rightfully compete with Google. The companies strive to deliver the best content and user experience possible. So, both search engines do their best to tailor the user request to the resulting page perfectly. While there are many specific rules for Google SEO, Amazon SEO also has its best practices for Amazon seller keywords and Amazon search terms optimization. Now let us share some of the best Amazon search terms tips to pick winning keywords for your product and make it more visible in search results. 
What are Amazon Search Terms?
As the name suggests, Amazon search terms are the keywords on Amazon used by shoppers to find the product they are interested in. The platform matches client search terms with merchant keywords in this field and shows the most relevant items. What's more, search terms on Amazon cover many specific use cases and intentions the users may specify right in the search bar. For example, some use the long-tail keyword, such as "anti-wrinkle night cream cheap." In contrast, the others may just browse the assortment and compare the prices using the "night cream" query. 
What is the Difference between Amazon Search Terms and Backend Keywords? 
Amazon Search Terms are several keywords buyers type into the platforms' search engine to find some products. People commonly refer to them as backend keywords as they're hidden in the backend of the Amazon listings. So, backend Amazon Seller Central keywords are the search phrases that aren't visible on your product detail page. While it is impossible to predict and cover all the Amazon search terms keywords, it is still possible to pick the most winning ones and add them to your product description at the backend.
Unfortunately, many sellers forget to fill backend keywords as they're not visible to the client. Still, backend keywords can instantly enhance your seller rank in search results. Your Amazon listing is still ranked in response to them, and your prospective buyers use them to find your product listed on the marketplace. So how to add Amazon Seller Central search terms? 
To fill in backend keywords:
Select one of your items in the Manage Inventory tab of your Seller Central account.
Pick a product you wish to add backend keywords for and choose Edit.
Choose the Keywords section in the Edit window, which shows the keyword entry form.
You get two main options to select from – Platinum Keywords and Search Terms. The first box is only for a few merchants who have reached the Platinum Seller Status (as of 2016, this program is no longer available). You can ignore this field and use only the one for Search Terms. Here you can fill in all your Amazon Seller Central keywords.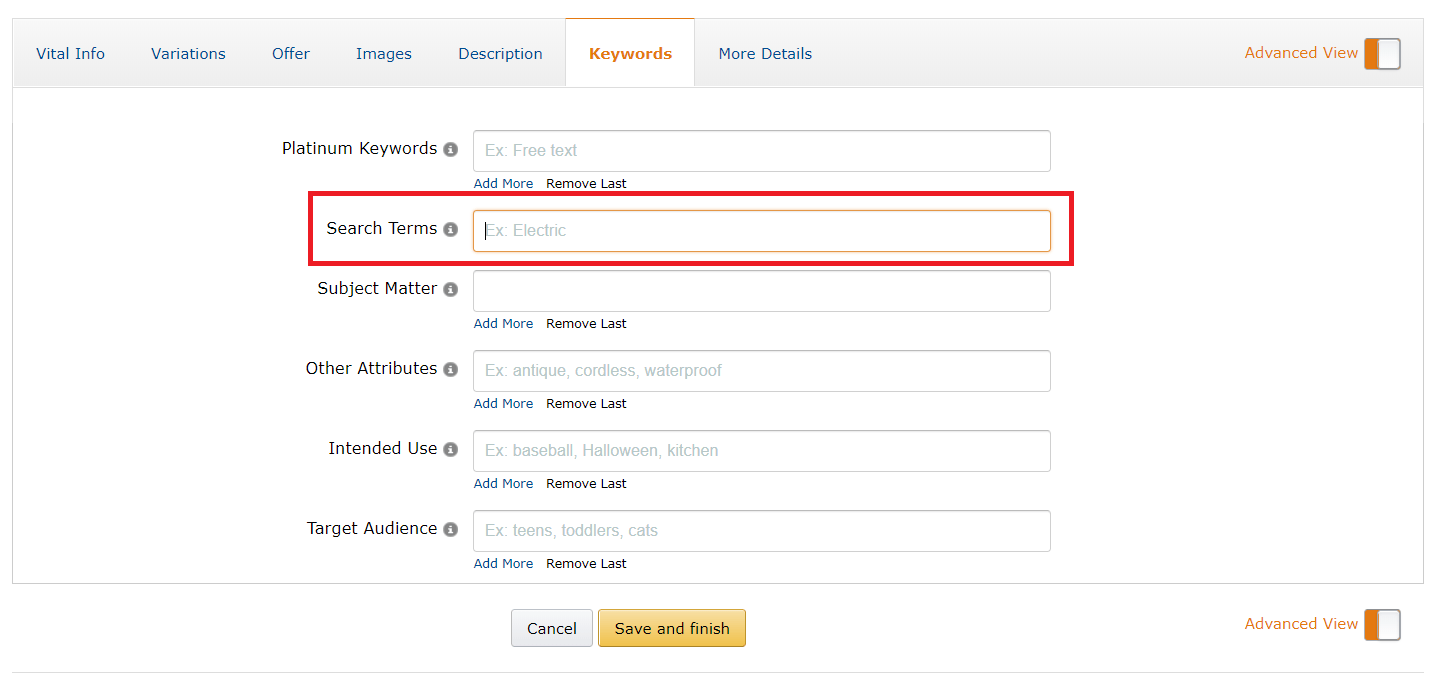 Efficient Amazon SEO Strategy: How to Choose Keywords for Amazon? 
For your Amazon SEO strategy to be effective, you need to follow a few fundamental principles. It all starts with keyword research. First, you need to know what Amazon customers are looking for and use relevant (i.e., applicable to customer queries) words in your listing to allow people to find your product. The keyword here is appropriate. Because it doesn't matter how high-frequency queries you use if customers don't end up buying your product. Once you have selected relevant keywords, your task is to strategically place them in the title (title) of the product, as well as in the "features" (features), "description" (description), and "search terms" section.
Remember that even when you've optimized your listing, the work isn't over yet. Optimization is a continuous process, which means that you will constantly go through the cycle: "optimize – analyze – repeat." To be successful, you need to track which words convert well into sales and increase the volume of those words in your listing. Of course, you can always add more keywords to the listing or edit the current list to make the queries more relevant.
We often consider some query relevant, but it does not convert into sales. In such cases, it is worth updating the listing to better highlight the feature of the product mentioned in the request. However, there are also reverse situations when you find unexpected keywords that convert well. In this case, you can concentrate on these new keywords. Either way, your goal is to find what works well and move your listing in the right direction. Now, let's discuss how to use Amazon keywords. 
How to Use Search Terms in Amazon Seller Central
It is vital for Amazon sellers not to miss the important element of search engine optimization on Amazon. Currently, you can fill in up to 250 characters in the Search Terms field on the platform, including spaces. Your goal is to specify as many searches as possible so that the customers can easily find your products. 
You will need all the direct and indirect keywords you found during the search to do this. Don't duplicate keywords. Use cognates, commas, or punctuation. We recommend writing all the searches in small letters because it looks neater and easier to work with. Here is an Amazon search terms example: cool unique heavy cute creative shelf organized desk stand fancy. 
It's essential to take some time to set up search terms because your search metrics depend heavily on them. If you don't include a keyword, shoppers might miss your items. With Amazon search terms, you can add additional queries and increase your potential audience. So if you optimize everything right, it can become an advantage over competing listings. 
Now let's find out how to use Amazon keywords in a search terms field and how to choose keywords for Amazon to promote your products better. 
Pick the right keywords first
Get started with Amazon keyword research. It is both a technical and creative process requiring gathering all the potentially suitable keywords and phrases the buyers can use to look for a specific product. First, brainstorm the most relevant search queries on your own. Then, back up your ideas with more competent research using a mix of the tools for SEO and Amazon. In addition to using dedicated apps for Amazon search words analysis, using basic SEO tools also makes sense to find search terms for an Amazon seller since many Amazon and Google queries overlap. The only difference is that Amazon shoppers have a more clear purchase intent. 
Don't use filler words
Your Amazon search words should be as specific and straightforward as possible. That's why don't use filler and watery worlds – they make no sense and can promise no effect but only take your Amazon search terms limit. As for Amazon search terms example, in this case, it is better to use the keyword "night cream" instead of "cream for night care" since only the words "night" and "cream" make real sense for the search engine. 
Mind Amazon search terms limit
There is a strict limit for your Amazon search terms keywords. You have only 249 characters, including spaces and punctuation, to specify the keywords in Seller Central that will match your product and the user's query. So, you have to be wise when using them. Experts recommend omitting punctuation, quotation marks, and hyphens. There is also no point in using upper case – it doesn't matter for your keyword search. 
Balance long-tail keywords
Long-tail keywords are pretty winning for Google SEO since they allow you to almost instantly occupy the top search position according to the specific query. But it would help if you were careful with them when using long-tails for Amazon SEO. Most users tend to search with more general keywords with higher search volume and are more competitive. So, the task is to balance the most relevant general backend keywords with more specific long-tail ones to cover all the possible search intents and user behavior patterns. 
Add style keywords
Style keywords on Amazon are other search terms that you can include in your product listing. Compared to other keywords, they are used to put products into certain categories. In addition, such keywords respond to filters that clients can apply in their search bar to better sort during the search process.
Different style keywords on Amazon must include subject matter, target audience, intended use, and other attributes. When adding such search terms to the Amazon listing, the platform offers specific options that sellers can select via the drop-down menu. Your item can only appear in the filtered search results when filled in this classification. Thus, ensure you do not miss out on this traffic.
Track the performance
Tracking the performance of your keywords is still essential for finding out which of them are working better for your store and are used by the shoppers more frequently. For this purpose, many dedicated solutions can help you get an insight into what key queries are the most performant. 
Also, there is one more great way to improve your search positions. When combined with the right Amazon SEO strategy, it becomes ultimately effective. To improve your product ranking and seller rating, which Amazon considers when showing your product in the search result, get started by gathering social proof from your previous shoppers.
According to Amazon shoppers themselves, the opportunity to read real users' reviews before buying an item is one of the reasons that drives them to Amazon and the best pricing options and wide product range. So, get started by improving your search positions with the help of users' feedback.
SageMailer can help you with this task. As an Amazon feedback management application, it allows you to contact your previous buyers, ask them for a review, and get a notification when they leave a new critical, positive or negative review. Sage Mailer also has an option to spot fake feedback, plus additional features you will find extremely useful for your business growth.
Conclusion: Amazon Search Terms Optimization
Following a smart Amazon keywords strategy is essential for your store discoverability, sales, and growth. Proper Amazon SEO will increase the positions of your listings in the search results, bring more visitors, and increase conversions. But, at the same time, your work here doesn't stop with initial Amazon search terms settings. No matter how slowly competitors move, they will gradually improve their positions, adapt to changing rules, and bypass you. So to prevent it, track the main metrics using third-party tools and adjust the SEO strategy if necessary.
Indeed, this is not the only task you have to solve to become a successful Amazon seller. Gathering authentic social proof and sharing it with prospective leads is another best practice for explosive sales growth. Get started with SageMailer to streamline this task – the app comes with all the necessary features to effectively manage and strengthen your online reputation.
Try Sagemailer for free right now!