If you sell on Amazon EU marketplaces, you've probably already faced a situation where the buyers ask you to send them a VAT invoice. For example, in France, Germany, and the United Kingdom, buyers often request invoices, even for inexpensive items. This also applies to cases where the purchase was made on business expense and a buyer needs an invoice in order to claim the VAT return from the government.
How to generate an invoice from Amazon
The first logical thought that comes to everyone's head is that Amazon has already taken care of this. But, unfortunately, it is not. In matters of invoices and taxes, it's every man for himself. Amazon does not issue VAT invoices and all responsibility for compliance with all legal requirements for issuing VAT invoices ultimately falls on the sellers.
At first glance, it seems plain and simple. You can create an Amazon FBA invoice template, type in customer's details and calculate the VAT rate manually. But imagine that you need to do this for dozens, hundreds or even thousands of orders per month! And do not forget that different EU countries have different VAT rates! Sounds scary, isn't it? But don't despair, we got your back. Meet the EU VAT Invoice Generator which has been made to simplify your Amazon Europe invoicing. And like all the features in Sagemailer, it's extremely easy to use.
Say goodbye to manual Amazon invoicing! Now all you have to do is fill in a couple of fields, once and for all!
How does Amazon invoice generator work
First of all, you need to fill in information about your company, which will be used in invoices, and also to list all the VAT numbers your company owns in EU.
Go to the menu in the upper right corner of the dashboard, and click Edit Profile.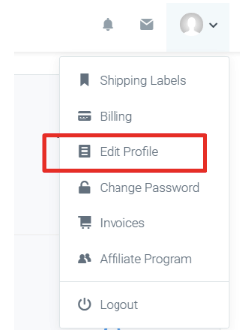 Fill in information about your company and VAT numbers. Click Save.

If you want to send an invoice for each order automatically, then simply activate the Attach Invoice option on the corresponding letter's editing page.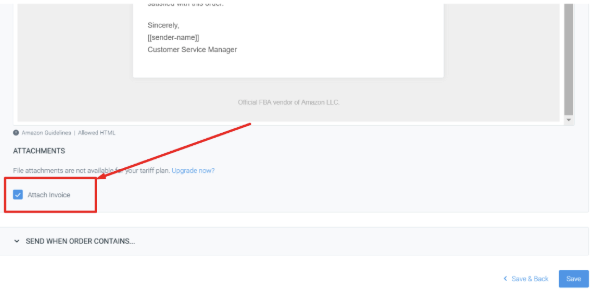 How to send Amazon invoices manually
Find the corresponding order in the list of all Orders and open its page.
Then you can either choose to send the invoice using your email client, to do so – just download the invoice for this order by clicking Download Invoice.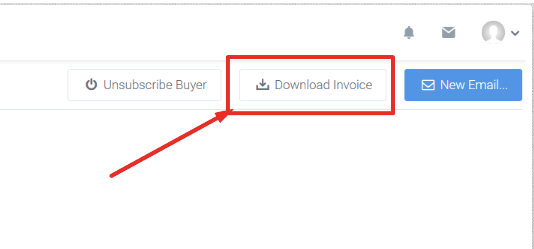 Or send an invoice manually directly through SageMailer by clicking New Email…

On the letter page, activate the Attach Invoice function and write a short message for a customer. You can also use a pre-saved template for such cases. This greatly speeds up the process 🙂
When everything is ready, click Send.
Calculate VAT rates automatically
Have you noticed that you didn't enter any tax rate or calculate it manually? That's right, SageMailer counts all your VAT rates and uses EU VAT Invoice Template for every EU country automatically.
Get rid of invoice worries on EU Amazon!
Although VAT invoicing is a rather tangled and time-consuming process, but as long as you have activated a "Create an Amazon invoice" function in your profile, SageMailer will do it for you on full autopilot.
The Amazon invoice generator is available starting on Pro+ plans. Subscribe to our free 21-day trial and see how Sagemailer can simplify your invoice routine in a few clicks!