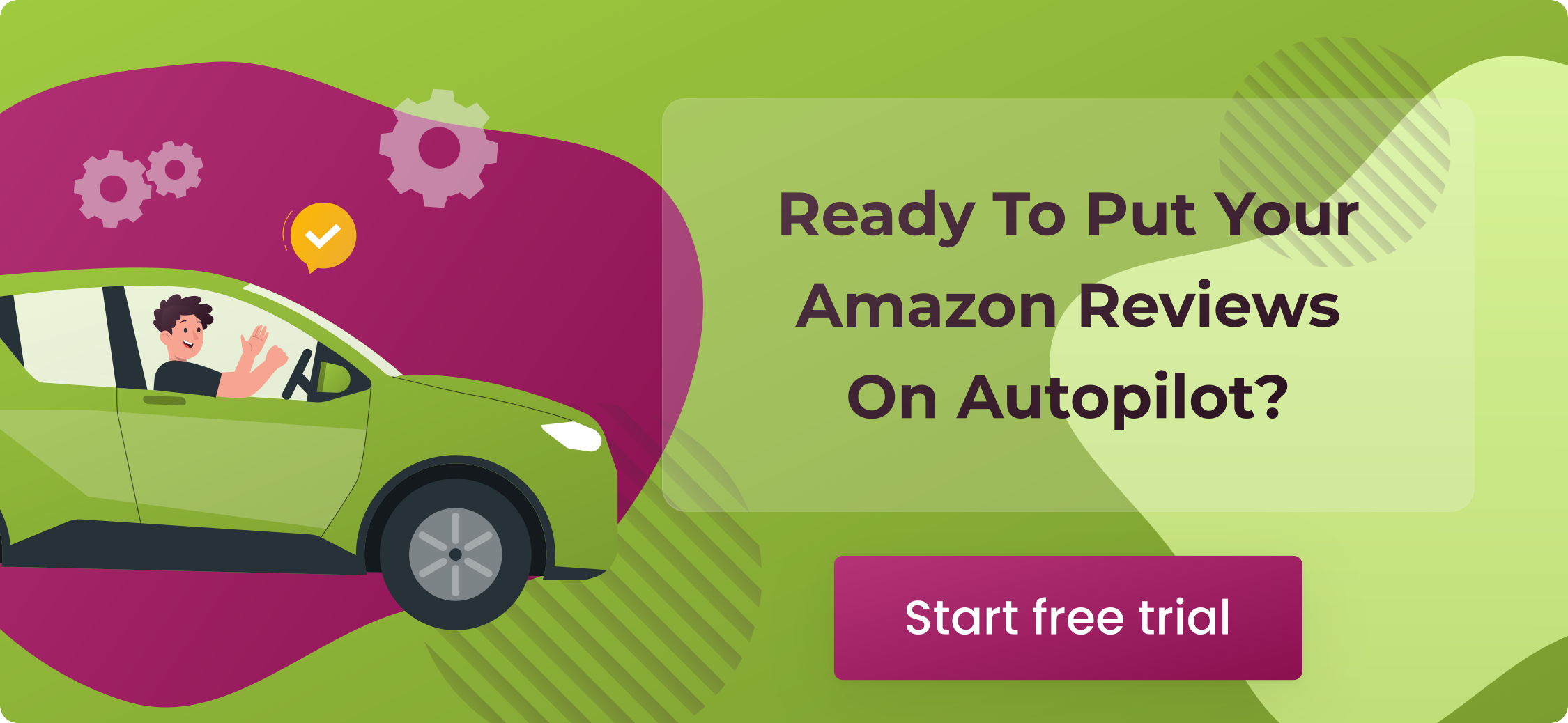 Before you start selling your products on Amazon, you might want to take the time to think about your niche. Even seasoned Amazon users, who may have already retailed a product or two before, are often puzzled about what categories to trade in.
Often, folks will ask me what I sell on the platform, and I gladly confess that any item that will make me an extra buck is on my list. However, they are primarily unappeased by my rebuttal, as the hunger for the details on the types of these items is great.
Thus, in this post, I will strive to dive into details on the different categories of items one can retail on Amazon. Just remember that some of Amazon's restricted categories require you to get approval from AMZ first. Many sellers find the licensing procedure quite long and tedious, but the competition in the confined section is low, with fewer sellers approved.
Believe it or not, even though it might need some additional effort, it's still possible to trade in one of Amazon's FBA-restricted categories. Indeed, according to a recent survey, 7% of platform sellers are successfully working with restricted items on Amazon.
Nevertheless, such categories do have specific regulations and rules.
In this article, we will delve into different restrictions imposed by the platform and explain what to do to neither violate Amazon rules nor engage in illegal, unsafe, and inefficient activity.
What does gated mean on Amazon? Let's get into the details of what gated products on Amazon are and what you can and cannot sell on the platform, right?

Why Does Amazon Gate Some Categories?
The first step in ungating is understanding why the platform has certain categories restricted in the first place.
AMZ has a customer-centric view where protecting its consumers is the top priority. For the platform to secure its reputation, it limits and verifies the sellers of specific goods.
By doing this, Amazon can lower the risk of counterfeit products selling on its platform. Furthermore, such practice benefits all parties as clients become more willing to buy products on AMZ without thinking twice.
Think of eBay or other online platforms; you might double-check before buying an expensive product and only reserve your business to history-proven and top-rated merchants.
Ungated Categories: Open to All Sellers
Before we examine the procedure of getting an AMZ restricted categories approval, let us check all the categories open, even to the new sellers.
20+ categories of products on the platform are listed as open ones. Such categories require no specific permission to be sold. Besides, some of them only allow for new product listings. Such products listed can be used or refurbished. Please, note that sometimes a particular category is open. However, some products or brands within it can be restricted again.
Below we provide an ultimate list of the ungated categories that the platform has recently officially released.
They comprise the following:
Camera & photo
Baby
Beauty
Consumer Electronics
Fine Art (however, new seller submissions are fixed)
New & Used Books (excluding Collectible Books)
Office Products
Pet Supplies
Home & Garden
Outdoors
Kindle Accessories
Health & Personal Care
Musical Instruments
Personal Computers
Software
Sports
Video games
Toys
Tools & Home Improvement
So what do you sell on Amazon? For starters, you might want to focus on products covered under one or more of the categories above. A good number of items for sale on AMZ are in the Amazon gated categories, though. If you want to apply for Amazon-restricted brands and categories, it is paramount to seek approval immediately. The marketplace also limits what you can and cannot sell during a festive period.
Retailed Items in the Open Categories
The open categories attract attention, eagerness, interest, and curiosity, primarily drawing many sellers. The top categories include the Beauty and Health division, Health and Personal Care, Toys, and Home & Garden. Competition is tougher in these categories. However, the markets are also wider as they invite more potential customers.
Usually, we find ourselves cherry-picking our niche. It is, in fact, advisable to do so. But first, you must carefully research your target market and competitors before settling on a niche.
Also, the niches listed above are too broad. Instead, you have to specify exactly where your products belong. For instance, under the Beauty category, you need to identify your products into subcategories, e.g., Beauty & Grooming or Heath & Household. Then, under Beauty and Grooming, you need sub-sub-categories, e.g., Men's Grooming, All Beauty, Luxury Beauty, Professional Skin Care, or Salon & Spa.
Health & Personal Care: Restricted or Not?
For some time, restrictions had been applied to the Health & Personal Care categories, including beauty products. As a result, the only sellers participating in Fulfillment by Amazon FBA that had unlimited access to it were the pioneers who had started retailing in the section since its inception. Conversely, Amazon policies were reviewed on these categories, and platform users were approved to sell without requiring exclusive concessions.
It is imperative to differentiate between a brand name restriction and a category restriction to avoid the generalization that the whole category is banned. While Health & Personal Care is no longer a restricted category, subcategories like over-the-counter medication will still require permission, and AMZ may levy some commissions on that. Restricting sensitive subcategories is done to limit the upsurge of illegal drugs that have begun popping up on the platform.
One may have to pay a hefty fee for an endorsement in these restricted categories. You can't simply be granted free access to a number of these categories. In a different circumstance, one may need explicit consent from a particular brand, requiring you to pay even more fees. Since it is more expensive, sellers don't usually opt for this method.
Toys: Gated Category on Amazon or Not?
Like the Health & Personal Care category, the Toy category is also awash with incorrect information regarding their product listings in the restricted or open categories. Only recently did toys attract restrictions. How? Sellers who wanted to sell straight from their warehouses have contradicted the Fulfillment by Amazon (FBA) understanding. If a trader selling on Amazon is operating in line with the FBA program, there are no constraints on both the fresh and seasoned sellers.
Divisions that Attract Restrictions on Amazon
After knowing the categories open to all sellers, we must dive into the specifics of the Amazon Prohibited products or those that are out of bounds for casual retailers.
Amazon Prohibited Items categories include the following:
Grocery & Gourmet Foods
Collectible Books
Gift Cards
Clothing & Accessories
Automotive & Powersports
Industrial & Scientific ( the BISS category)
Sports Collectibles
Major Appliances
Luggage & Travel Accessories
Watches
Jewelry( currently locked by AMZ for new sellers)
Shoes, Handbags & Sunglasses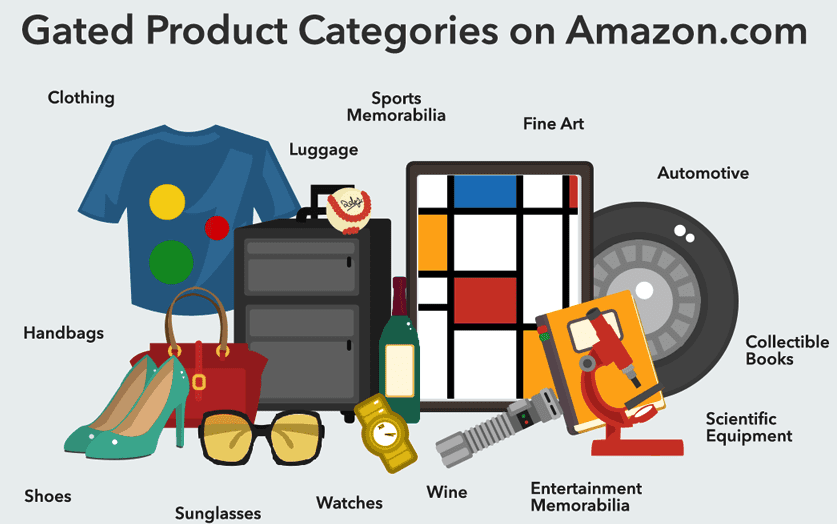 The niches mentioned earlier are gated in other sections on Amazon. However, they are not restricted, even though many BRANDS need permission to sell their products.
Restrictions Grounded on Product Condition
Previously owned items are not eligible for sale under these AMZ products requiring approval:
Jewelry
Toys & Games
Beauty
Clothing, Accessories & Luggage
Grocery & Gourmet Food
Health & Personal Care
Watches
Shoes, Handbags & Sunglasses
Amazon has, for a while, bootlegged the retailing of toys in 'USED' status but would permit traders to poll them in the Collectible condition division. It creates a technicality where traders buy and sell the 'used' toys.
Items Sold in the Restricted Categories
The platform's ungating service allows a trader to sell some products listed in the gated categories on Amazon. Among these items are Groceries and Clothing & Accessories. Groceries are easier to access because you can prove the good condition of the product by simply checking the expiry dates. Thus, Amazon seller requirements in the Grocery category include a detailed on-the-counter checking of the expiration dates before and during the dispatching of products to a fulfillment center.
Reasons for Gated Categories on Amazon
To avoid counterfeits, AMZ imposes regulations on categories restricting brands and products sold daily. Applicable laws and regulations help in curtailing the liability of trading fraudulent items. Mock products like duplicated DVDs, fake name-brand handbags, replica jewelry, and similar beauty products would easily pass as authentic on other eCommerce platforms. Amazon, however, seeks to verify that traders on their platform are genuine, decent, and impartial before giving them the selling privileges to trade products in sensitive categories.
Different Forms of Restrictions
Amazon Restricted Items cover three primary things: condition, categories, and brand. For example, products under Amazon niches like Grocery are closely monitored. Not only are the brands under these Amazon Product Categories thoroughly screened, but their products are also tested to verify their condition. Amazon will require you to apply to get licensed to trade your products.
Established brands work with AMZ in the restricted category to get their products sheltered. Thus, if you are a trader selling a brand or product that is not your own, you might have to get approval from the brand or company before you can begin selling on Amazon.
The Key Procedure for Getting Ungated on Amazon
Your request for approval will rarely get an immediate positive response. If by chance, it does, Amazon will be vague on the specifics about which brands and categories you will have access to.
Still, if you want to access restricted Amazon categories, you might need to follow the steps below for requesting permission:
Step 1: Select Add a Product in Seller Central by clicking on the inventory link.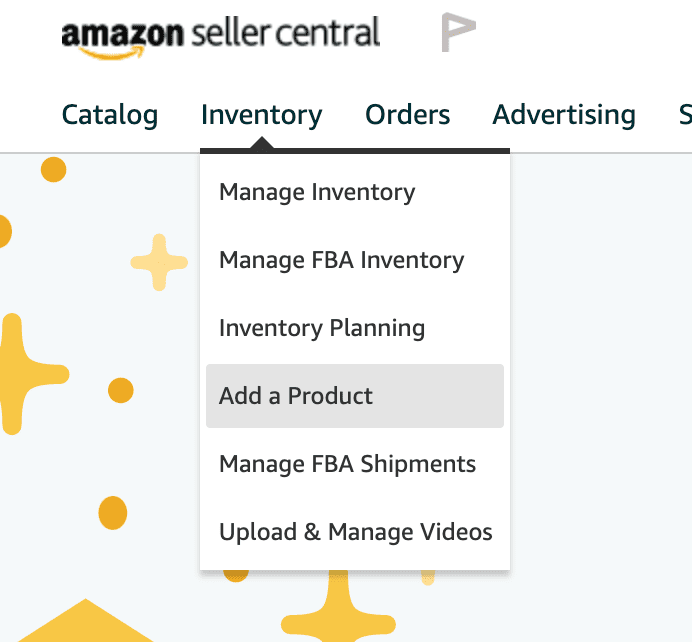 Step 2: Perform a search for the product you want to sell or any item that you are sure is classified in the category you are looking for.
Step 3: Click the Listing Limitations Apply link in the search results
Step 4: Start the process of application by selecting the Request Approval button.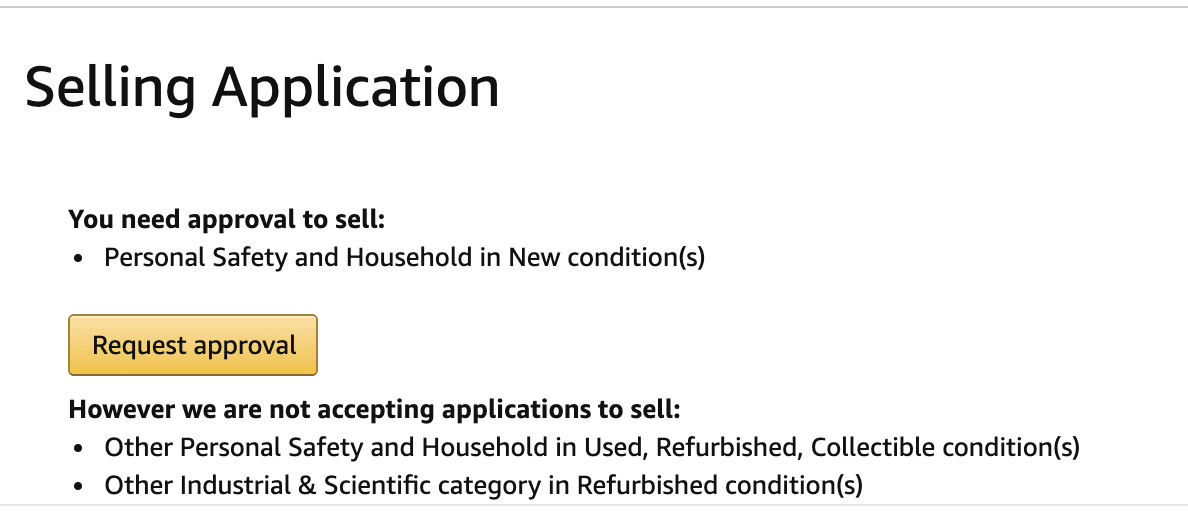 Step 5: To track the status of a request, select back to Add a Product tool and click the Selling application status link near the top of the page.
Step 6: Once you've asked permission to access the restricted category permission, you can proceed by clicking the request approval button.
How to Bypass Restrictions in the Grocery Category
Grocery & Gourmet Food is the restricted category that sparks the most curiosity among sellers just starting. The category contains a wide range of items that are not new to the traders. They are easily available and attract substantially lower capital to venture into.
On Seller Central, Amazon explains one effective way of sending your submission to apply for permission to trade in this restricted category. Traders have reported relative experiences on their interaction with the licensing process outlined by Amazon, and one can do a few tricks to make the process faster and easier.
Firstly, you need affirmative seller metrics, paperwork ascertaining that you bought the items, and several other documents.
Seller metrics entail:
Transform to a PRO MERCHANT – by paying the due rate of $39.00 per month for the seller account you are in possession of.
Late shipment rate: <4%
Pre-fulfillment cancel rate: <2.5%
The above conditions are easy to subscribe to because they are designed to work for the traders on Fulfillment By Amazon or FBA Amazon as opposed to those on Merchant Fulfilling, who are guided by a different set of factors such as shipping schedules, late shipment rate, and so forth.
Paperwork Required to Rid Off Restrictions in Grocery
If you want to sell items classified under the grocery category, you need to present to Amazon several important documents. Countercheck the details to ascertain that the information in the invoice does not contradict that of the account that you use when selling on Amazon. Vital details, such as your business location, should be uniform with those registered in your seller account. Otherwise, Amazon will not approve your application.
Often, people intending to have brands or products sold on Amazon have been turned down because the location and address of their enterprises do not correspond with that on their seller accounts. It is, therefore, of supreme importance that traders give their formal business address.
However, the invoice should not be taken as a replacement for a receipt offered from the barter stores. It should include crucial details such as the name, contact number, address, and, most importantly, the website of the enterprise. It has been noted that excluding the website on the information in the invoice will not augur well with Amazon because the platform relies on the website to get all the information to establish the legitimacy of a seller.
Further, the website should hold this information on its first page to make it easier for Amazon to find the details on the first search because they will not spend much time trying to look for the information on the other consecutive pages on the website.
Among other details that a seller may be required to produce is a recent tax/business license. Even though Seller Central does not inform the traders about this requirement in advance, it is still crucial to produce this documentation in that case that you are asked for further verification.
On Amazon seller categories, standard exhibitions of ten different items of a product have been necessary. It is up to the seller's discretion to choose which distribution channel to use because Amazon does not require traders to confine themselves to one. Among the most used channels include Amazon Boot Camp and Hot Shots Hot Sauce, which traders have used to buy items and, in turn, successfully present the invoices to Amazon for approval for a less costly tag of about $50. Price Master has also been utilized as an alternative channel. Although the cost is higher as it requires a minimum of $200 on all the purchases made via the channel.
In summary, the primary elements that will get a fresh trader ungated are:
Buying more than ten units of a product
Getting the official invoice and presenting it to Amazon accompanied by an updated business license.
Confirming Invoice from Amazon
If you can't buy more than ten units of a product to get ungated, you can use the second option. How do you do it? Here are the most important guidelines that you need to know:
One: Confirming that the Items You Intend to Buy are on the Amazon List
It is of essence that you list an item on Amazon. Also, the items need to be cataloged in that particular category that you are seeking approval in. By far, the most efficient method to achieve this is by navigating to seller central and selecting Add A Product. Amazon will inform you what category the product is placed in immediately.
Two: Waiting for Official Invoices from Amazon After Delivery of Order
During the delivery of your order, Amazon will attach an invoice inside the package that you ordered. This is the formal invoice that you will require when asking for permission, so you can have the invoice scanned and send the copy to Amazon.
Three: Checking the Invoice for Details
You need to write the Amazon Standard Identification Number (ASIN) of each item that you are sending to Amazon. Also, inscribe a footnote if there is a mix-up on the number of units that you have purchased.
Frequently Asked Questions Regarding Amazon Restricted Access Approval
Can't I simply pay for approval?
You can't unless you are paying someone to make your order on Amazon, which is not necessary since it is easy to do it yourself. It is not advisable to pay for approval because Amazon requires official invoices. These invoices are attached to your package after you made the required ten orders while seeking approval.
Paying for approval endangers your chances of being approved because you are more likely to be paying for forged documents, and Amazon has strict penalties for submitting fake paperwork. The absolute punishment is not being allowed to trade on the platform, and this beats the logic of why you are trying to pay for approval in the first place.
Is approval guaranteed?
There are no guarantees for approval. Even traders with the right paperwork will sometimes have to make multiple submissions. It is, therefore, advisable to send in a couple of requests before giving up on the prospect of being approved.
Is a business license necessary?
It might be confusing because some sellers submit a license and others don't. It varies as per Amazon discretion. Some sellers are required to produce an updated business license prior to the approval, but some manage to get the approval even without it.
As a new seller, will I get approved?
Well, some new sellers have had the privilege of getting approved while some have been sent back. However, a little experience on Amazon will increase your chances of getting approved faster.
Are receipts from platforms like Target accepted?
Do not bother with these retail receipts; they DON'T work especially for approval in categories.
If I trade from China, are my invoices valid for approval by Amazon?
It is very rare for Amazon to admit invoices of Chinese origin. You better stick to the approval method we mentioned because Amazon will be very reluctant to approve you based on Chinese invoices because it is very difficult for them to ascertain the authenticity of the documents.
Is it possible for me to sell the ten products I purchased when seeking approval?
You are free to sell the products as you may wish. You may not get to make a resounding profit, but you can at least get some of your money back.
Am I limited to selling only to the wholesaler who is listed on the invoices I presented to get approved?
There is no limitation because Amazon is no longer counter-checking your invoices after they permit you to trade. Therefore, you can trade with any approved supplier on Amazon as per your discretion.
Amazon Revisions on the Product Restrictions
Amazon revises restrictions more often than you think. This forces traders to keep a vigilant watch on the changes made each time. The restriction revisions happen so often that it is difficult to effectively establish which category is gated and which one is not. Therefore, the perfect method to be certain which products you can sell and can't sell is by scanning the product with The Amazon Seller App. If you are not using a desktop computer, click Add A Product, and a pop-up will alert you of any restrictions on the individual item.
What Happens if Sellers Break the Rules?
With the effort and time it takes to get approved, it is easy to get tempted to cheat the AMZ system. However, bypassing the rules could put your brand at risk, as Amazon may:
Cancel or delete your product listings

Impose more restrictions as to what you can list or sell

Prohibit you from making new listings

Restrict your Seller Central account
Once you are suspended, it is costly and difficult to get reinstated. If you made a listing for an item that suddenly became restricted, AMZ would alert you. You will get an email that contains different options you can follow to fix the issue fast.
And if there is a complaint about that product listing, you will find it in the Policy Compliance section of your Account Health dashboard. So, ensure to check your Policy Compliance page every once in a while to catch any complaint against any product pages you have just ungated to avoid suspension.
Final Thoughts
Now, as a new seller, you will know how to sell things on Amazon without restricting what you can trade in because I assume that from the guide above, you will learn how to get approval.
I am confident that, as a new seller, you can now comfortably make a viable list of the products you intend to sell on Amazon. Now, your next problem is how to make a sale. If you want help reaching out to your target customers, SageMailer can help you.

Try SageMailer's free 30-day trial to increase your product reviews and boost sales!