Trying to run successful PPC ads with Amazon's Campaign Manager alone can be quite challenging, especially if you sell multiple products or have a limited budget. However, various tools can assist you in setting up, managing, monitoring, and optimizing your campaigns. From simple dashboards to complete automation software, these tools can make your life easier and help you achieve better results.
With so many Amazon PPC software options available, keeping up with the best tools and features can be tough. This blog post aims to review the best Amazon PPC software tools, compare their features, and determine which one would be a great fit for your business. So, let's dive in and explore the various options to help you improve your ad campaigns.
All right, let's dive right in.
What Is Amazon PPC Management Software?
Amazon PPC software can be a valuable asset to your advertising efforts, helping you to manage campaigns and track performance data effectively. The best software utilizes advanced AI algorithms to analyze campaigns in real time and make adjustments to optimize your results by minimizing ACoS and maximizing ROAS.
However, not all software is created equal, and it's important to research before choosing. A good PPC tool should offer features such as campaign automation, bid optimization, and easy-to-use reporting and analytics. It should also allow for customization and flexibility in campaign management.
Ultimately, such software can streamline your advertising efforts, saving you time and money while improving your overall results.
Why Use Amazon PPC Automation Software? 
Amazon Advertising tools have become essential for businesses of all sizes to boost their sales. Sellers can direct attention to their products and increase revenue by using these tools. Whether you want to focus on promoting your best-sellers or new products, Amazon PPC advertising allows you to target potential customers who are interested in similar products. You can achieve outstanding results by optimizing your product page with A+ content, SEO-optimized descriptions, and reviews. Amazon PPC tools can help you become a top seller in your niche when used wisely.
What to Look for in an Amazon PPC Tool?
When choosing an AMZ PPC tool, there are several key features and characteristics to look for. These include:
Automation

: A good tool should have automation features that save you time and effort. Look for tools that automatically adjust bids, create campaigns, and optimize your listings.

Reporting and analytics

: Your Amazon tool should provide you with detailed reports and analytics that help you track your campaigns' performance. Look for tools that offer real-time data, custom reports, and insights into your campaign's performance.

Keyword research

: Effective keyword research is crucial to the success of your ad campaigns. Look for tools with keyword research functionality, such as identifying profitable keywords and finding new campaign opportunities.

Integration

: It l should integrate seamlessly with Amazon's advertising platform, making it easy to manage your campaigns directly from the tool.

Customer support:

Look for tools that offer excellent customer support, including training resources, online documentation, and responsive customer service.
Overall, you should choose an Amazon PPC tool that meets your specific needs and budget, provides the functionality you require, and delivers the best results for your business.
5 Best Amazon PPC Software Options
There are numerous Amazon PPC software tools available on the market, but five have gained popularity in recent years. If you're looking for the right tool for your business, it's important to know the unique features and characteristics of each one. So keep reading to learn more about these top tools and determine which one is the perfect fit for your Amazon business needs.
Teikametrics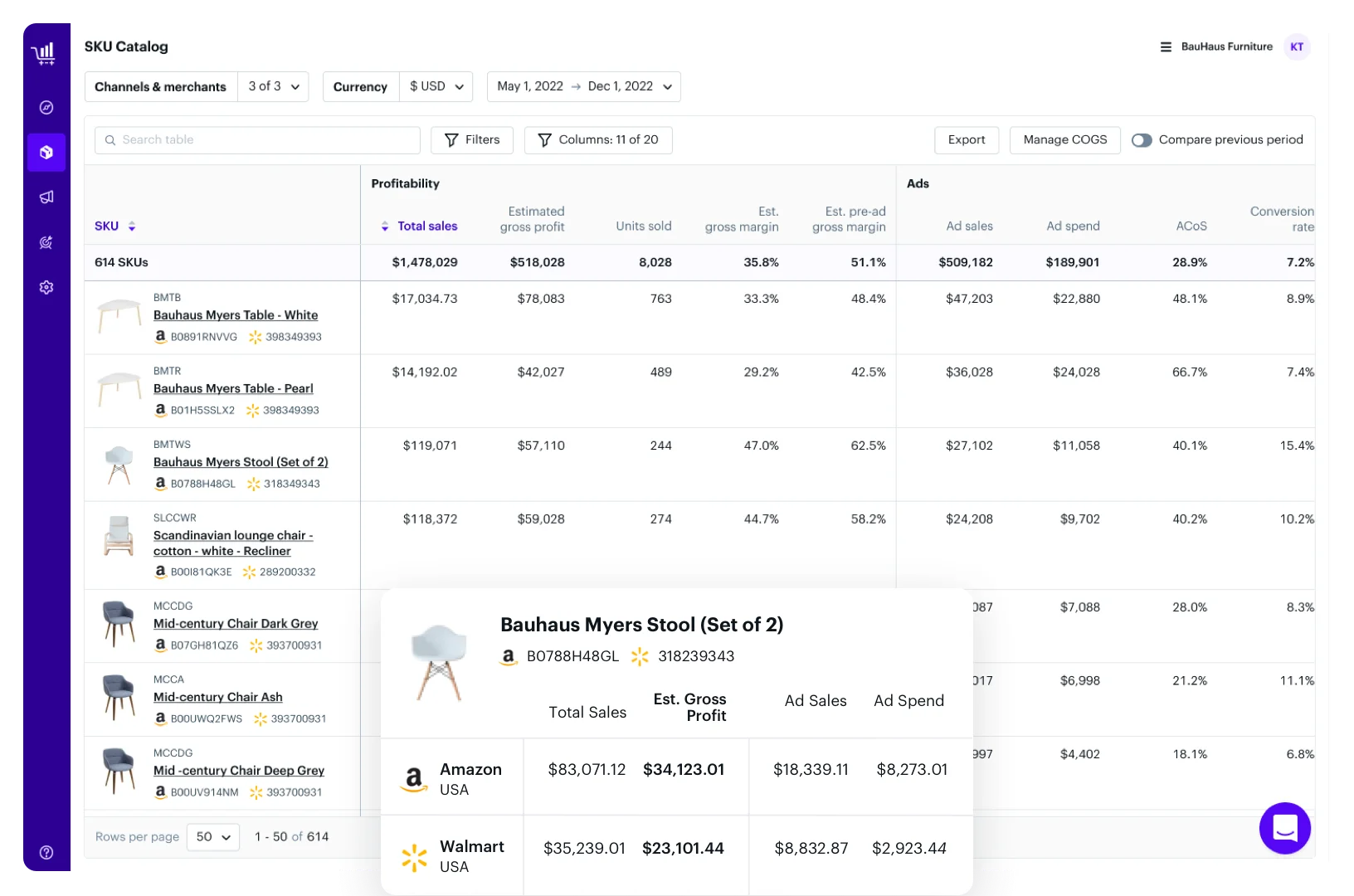 Teikametrics stands out as a straightforward and dedicated Amazon PPC software option. Unlike other all-in-one seller software solutions, this tool focuses solely on Amazon advertising. Teikametrics provides a range of features, including keyword management, campaign setup, and bid management automation. The tool even offers an AI-powered optimization feature, allowing the tool to decide on your behalf.
One of the standout features of Teikametrics is its ability to automatically create a fully sponsored product campaign based on your product's life cycle and goals. As a result, the tool can provide valuable guidance for sellers new to PPC. Additionally, Teikametrics' algorithm identifies the best bid price and performance for your purposes.
SellerLabs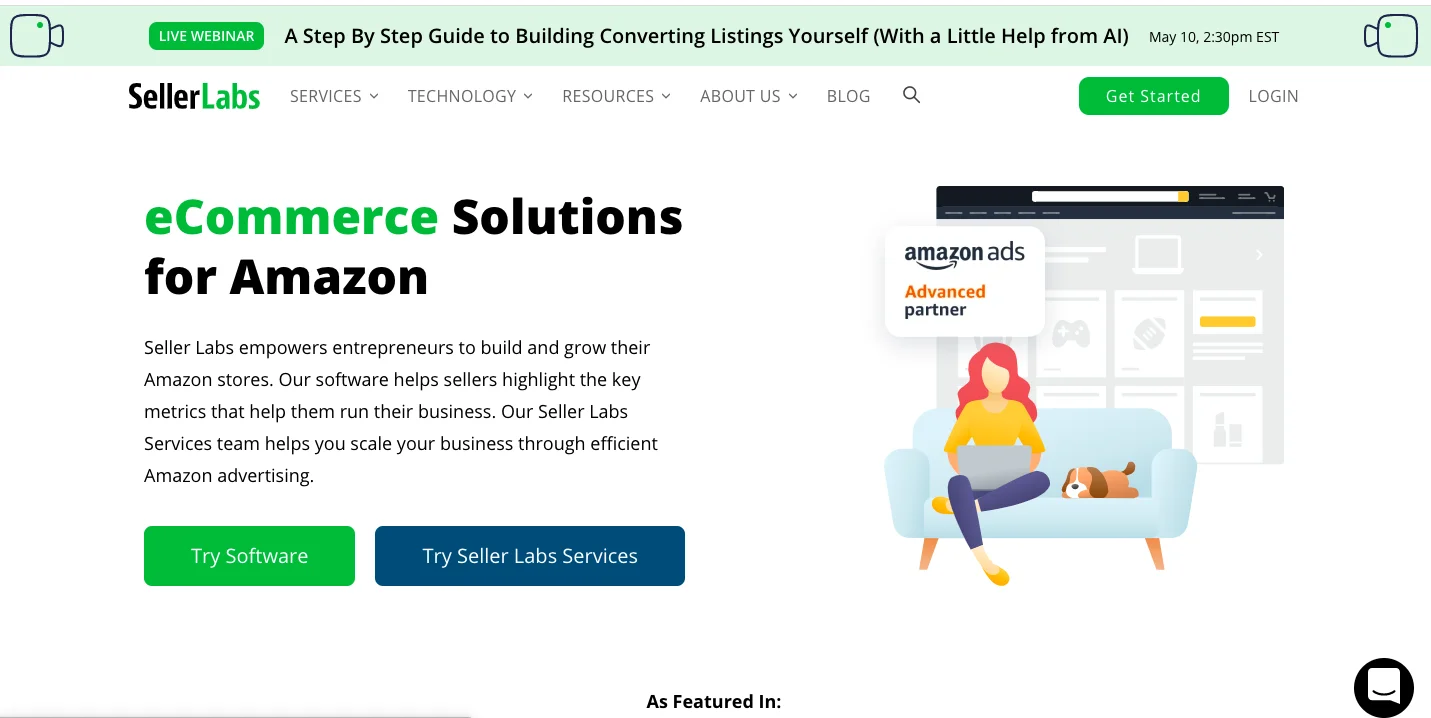 SellerLabs provides a comprehensive range of tools to assist you with your Amazon business. Its dedicated PPC management tool, Ignite, is designed to help you reduce your ACoS percentages and maximize your profits. You will receive keyword and intelligent bid suggestions for your Amazon campaigns with Ignite. 
Additionally, the tool has an automated campaign creation feature that considers your targets, budget, and goals to generate different campaigns. An AI algorithm will then assess all campaigns. In case you prefer to have more control over your actions, you can use the intelligent suggestion feature to make decisions based on its recommendations.
Helium 10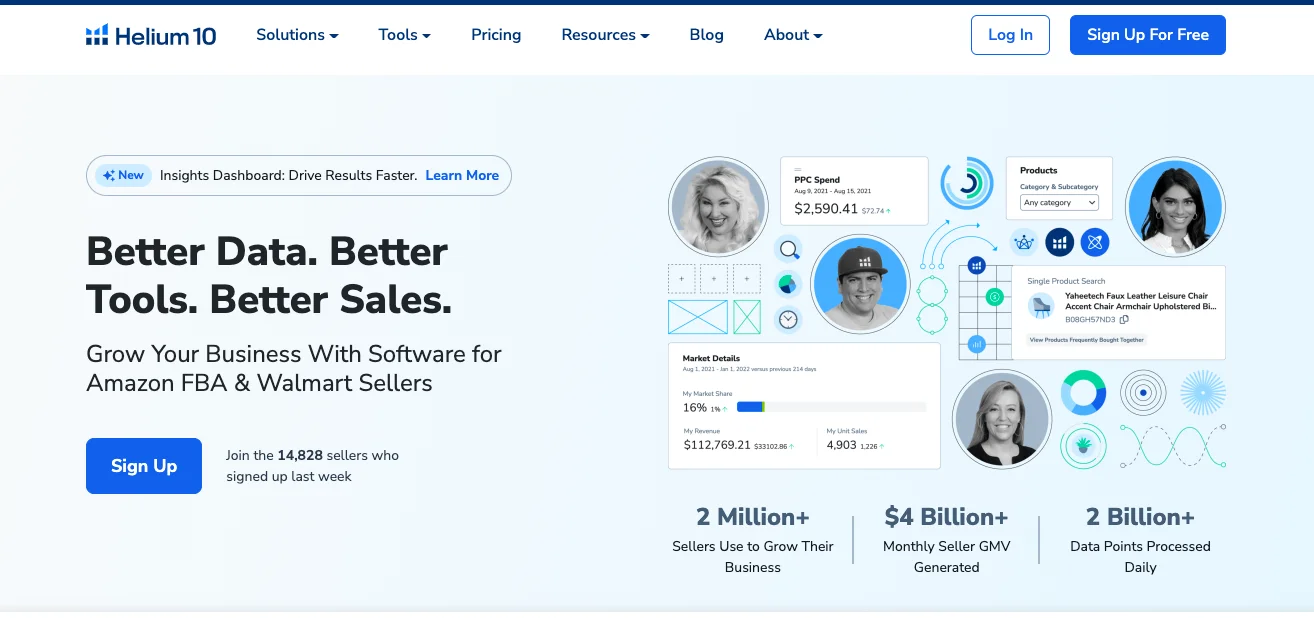 Helium 10 provides an all-in-one toolset for Amazon sellers, offering product research, listing optimization, and keyword research features. In addition, Helium 10 includes an Amazon PPC management solution called Adtomic, which utilizes AI technology. 
However, unlike other PPC management tools, Adtomic requires manual bidding adjustments. While Helium10 may not be the top choice for a single PPC solution due to its manual bidding, a subscription to Helium10 provides access to other necessary tools for running an AMZ business, offering great value for your money. The pricing model is simple, with a fixed monthly cost, and the Diamond plan subscription includes access to Adtomic and all other features offered by Helium10.
Sellics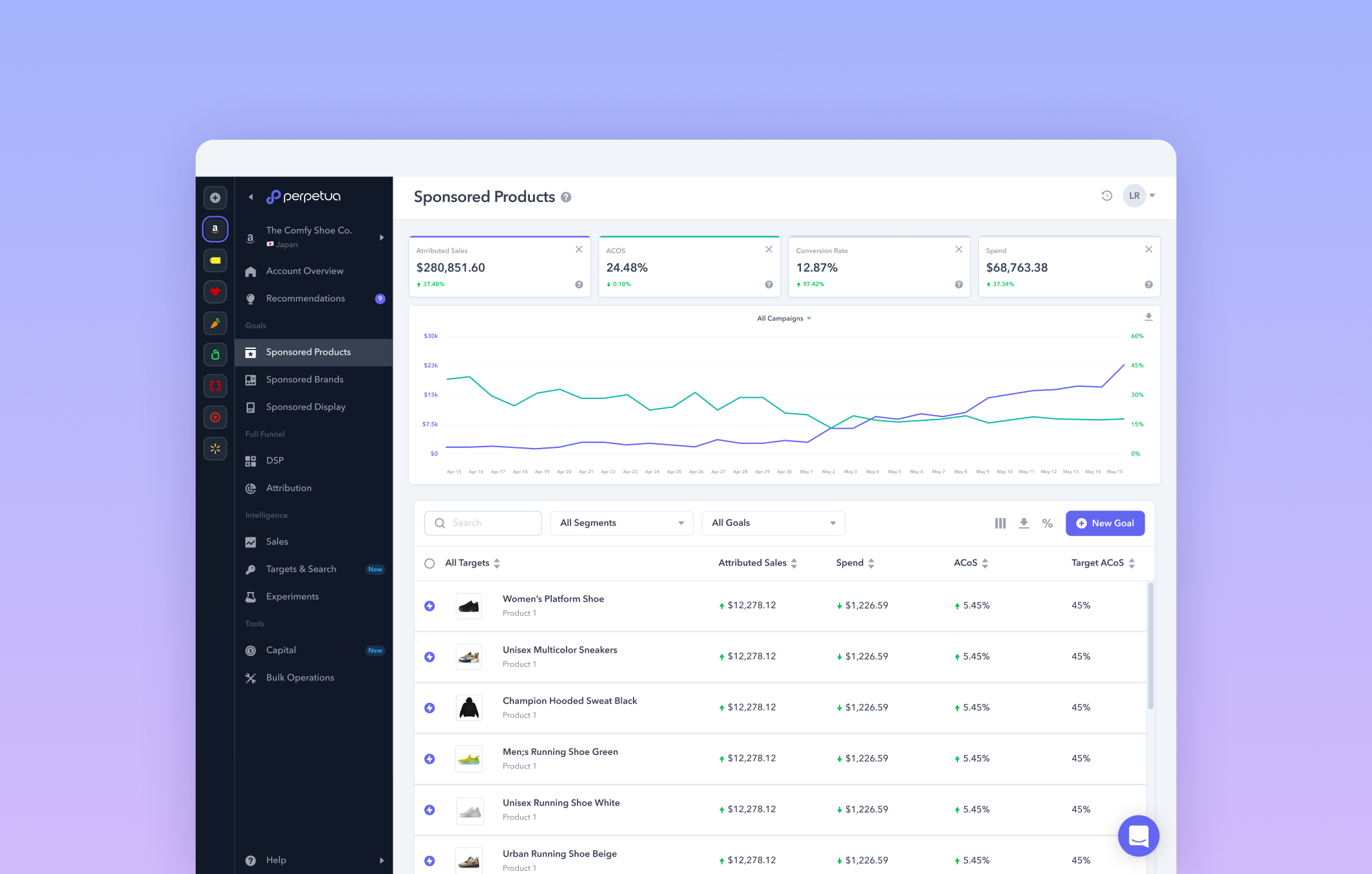 Perpetua and Sellics have joined forces to create an even more robust platform that combines their technology and expertise. Sellics has been one of the most renowned and established AMZ advertising tools available, strongly emphasizing automating campaign management through rules or their proprietary AI algorithm. Their platform simplifies ad scheduling, target ACoS settings, and advanced automation for keyword and bid management, freeing up valuable time for users.
Kinetic PPC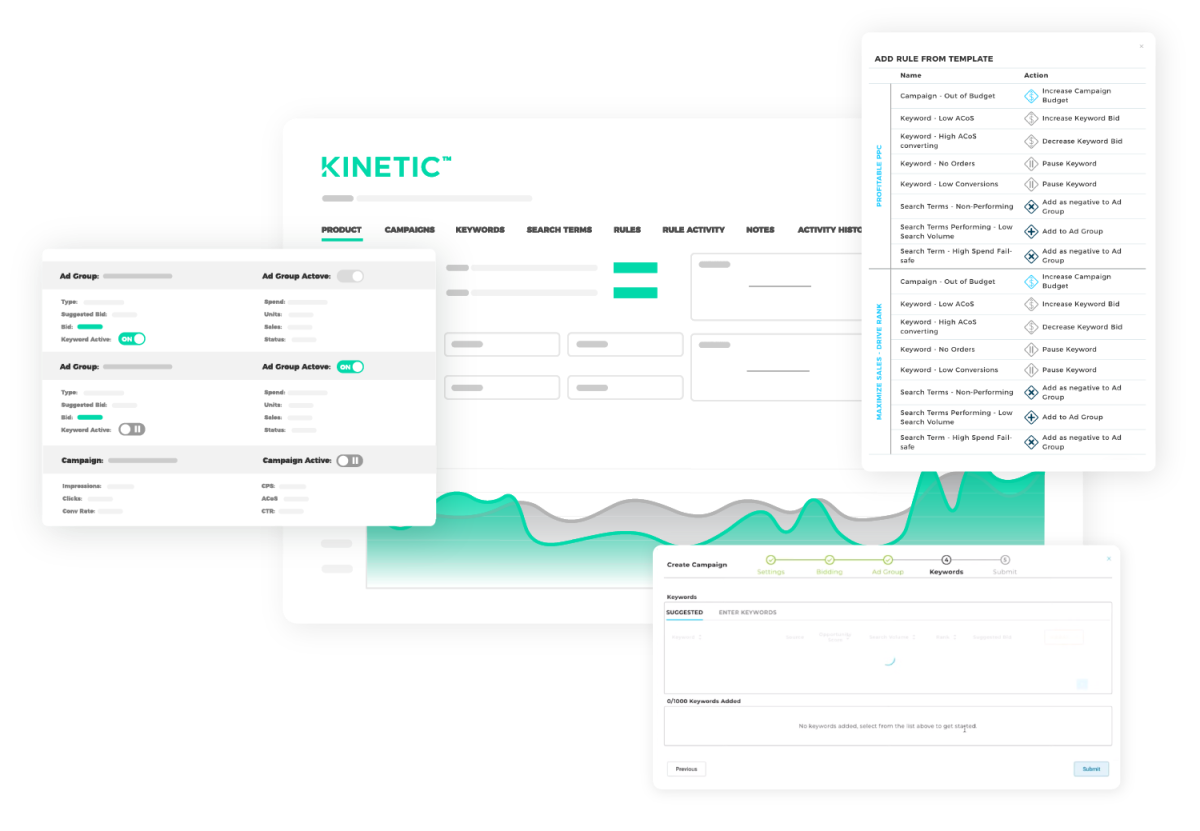 Viral Launch's Kinetic PPC tool is a must-have for any serious AMZ seller. Its easy-to-use customization options allow you to achieve maximum returns on your ad spend. In addition, unlike other tools that provide primary PPC data, Kinetic gives you access to detailed campaign analysis, immediate impact reports, and PPC vs. organic sales data.
The experts at Viral Launch are also available to help you set up the tool and offer personalized advice on optimizing your campaigns. With features like keyword monitoring, campaign management, change tracking, and automation creation, the Kinetic PPC tool provides a comprehensive solution for all your advertising needs. So don't miss out on the opportunity to take your FBA business to the next level with Viral Launch's Kinetic PPC tool.
Best Amazon PPC Software: Conclusion 
There are a plethora of options when it comes to software tools for AMZ FBA businesses. With each solution promising to save you time and streamline your campaign management, it can be challenging to choose just one. However, before you decide, it's important to consider your options carefully. Constantly switching between tools, or "tool jumping," can be costly and time-consuming.
Thankfully, automating your FBA business doesn't have to stop at just PPC management. SageMailer offers a solution to automate your feedback generation and even takes care of the Request a Review button for you. By implementing this tool, you can significantly reduce the time and effort required to receive outstanding feedback results. So, while many options are available, taking the time to choose the right tool for your business can significantly impact your overall success.

Check out our free trial to learn how to benefit from the service!