If you are doing any sort of business on Amazon then there are two ways by which you can get yourself appraised. It's either through Amazon product reviews or seller feedback. The former explicitly evaluates the quality and value your product offers to the customers, whereas the latter one deals with your selling capabilities. This post will particularly focus on how to get amazon product reviews efficiently by following four easy tips.
Determine the Best Time to Ask your Customers for the Feedback
It is very crucial to choose the ideal time when you can ask your customers to rate and review your products. This time must be selected by keeping in mind the nature of the items you offer. For those products which get used immediately, such as chargers, smartphones, toilet papers, you should capitalize on their quick utilization. In that case, contact your customers to get Amazon reviews as soon as you can. The reason behind it is that the longer you delay the lesser your customers be able to comment honestly and critically on your product's quality.
Getting reviews on Amazon for those products which have longer use is a little different from ones which are consumed and tested immediately. Health and personal care products, such as vitamins qualify for this category. It is imperative to give a reasonable amount of time to the customers so that they can use and provide feedback about your product accurately. Sending emails to such customers after three to four weeks of purchase is appropriate.
Reach First-Rate Amazon Reviewers
Similar to the businesses/sellers on Amazon, there are numerous product reviewers too who have high ratings. Such buyers have the "top reviewer" title which depicts that their comments are more seriously viewed than others. You can reach out those individuals by using their contact info and asking if they are interested in testing your product. It is considered as one of the best ways to get Amazon product reviews by recognized reviewers.
Another way to generate more comprehensive testimonials from expert customers is to participate in Amazon Vine. Such reviewers are taken more seriously by your potential buyers, as they are verified by the Amazon community.  Check out our blog post to learn how to get free reviews and make your seller ranking soar. 
Try Some Hot-shot Bloggers Too
You do not have to be worried if reaching top product reviewers on Amazon is a little too much for you. Another way to accomplish your target is by getting the help of bloggers. Contacting skilled and acknowledged bloggers in order to get more Amazon reviews will make a win-win situation for both parties. After all, you will bag some precious reviews, while bloggers will have the opportunity to spread out their name and probably receive a free-of-cost product as well.
Those people who are trying to explore how to get more Amazon reviews might not know that there're dozens of product review groups on diverse social networks such as Facebook. The best thing about this method is that it is extremely straightforward to execute. All you need to do is find some groups and request the moderator to add you. Once you are added to the group, simply pass out the product on which you want reviews. Feedback will start rolling in within some hours.
Using SageMailer to get more Amazon reviews
You can send product and feedback requests manually, this way you'll have to consider when the order was made and plan to send the letter according to that. Not only will you have to maintain a large and uncomfortable spreadsheet, it's also a very time-consuming process. At the same time, you can mix up the letters, forget to send a request, or simply send a duplicated message. Wondering how to get more Amazon reviews? Here…
Here SageMailer comes to the rescue. You will need to set the necessary delivery settings for your letters only once and then just watch how the system sends the emails. SageMailer can send emails at the set time or day of the week, as well as trigger mailing based on the different order statuses you can specify.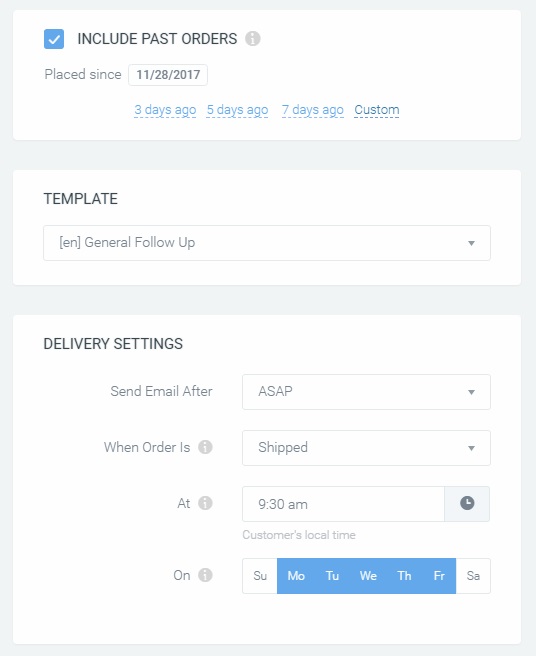 Also, with SageMailer you can set up sending unique emails to customers who made a refund, new customers, repeat buyers or buyers who purchased the goods at a discount. This personalized approach greatly improves the conversion and responsiveness of your emails. With this approach, even not completely satisfied buyers will first write to you, rather than leave a negative review on Amazon but if you still receive negative feedback, read our topic about how to remove a bad review from Amazon.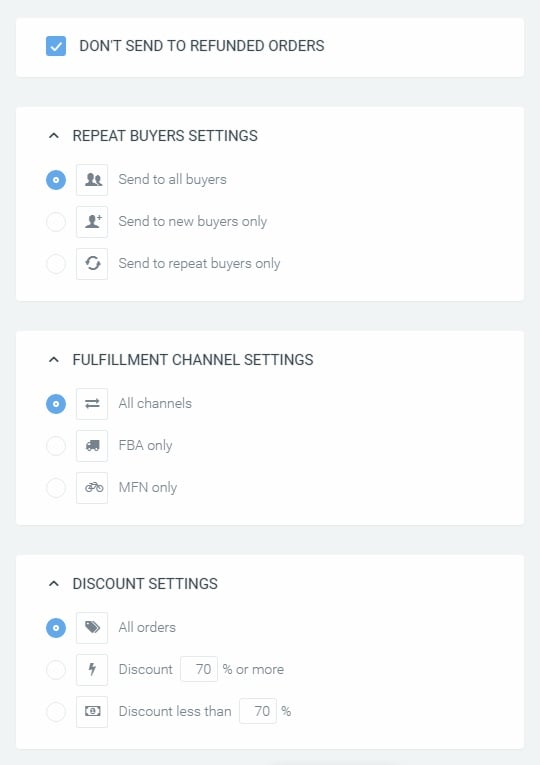 The time for sending emails is calculated based on the local time of the buyer, so you no longer have to puzzle when sending a letter to a particular customer, finally, all customers will receive letters at a time convenient for them.