Does Amazon Remove Negative Reviews?
Have no worries! No matter where you're in terms of reputation. There is still hope for you. You can remove at least some (if not all) of the negative feedback. However, it can only be done by taking the correct actions. You'll have to act fast. Amazon gives customers only a 60-day window to reconsider their feedback!
Now you can automate the feedback removal requests with SageMailer and save yourself a lot of time!
How to Get Negative Feedback Removed?
Removing negative feedback can be as easy as reciting alphabets. The feedback that violates Amazon guidelines will be removed by request. It allows sellers to maintain a high feedback rating.
Let's look at the process in more detail and see how this is done through the Seller Central:
Log into your Amazon.com seller account.
Open Contact Us page. Now click the "Selling on Amazon" / "Customers and orders". It appears on the left-hand side.
Enter the Order ID and select "next". Visit your SageMailer dashboard to find the list of all negative feedback.
Click on "Customer Feedback Removal Request" and then Next.
Provide the details and reason for your amazon feedback removal request.
When asked "Would you like the feedback to be reviewed for removal?" click
Next.
You should get the similar page: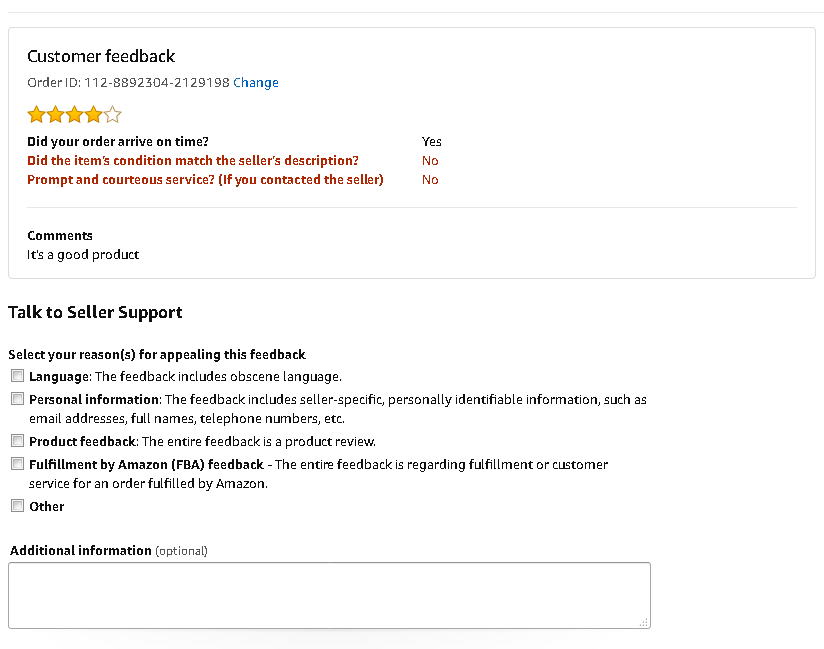 Once you've submitted your request, Amazon will review the feedback. It opens a case and determines whether it should be removed.
Learn how to deal with negative feedback by improving your responsiveness.
Main Ways to Remove Feedback from Amazon
Now let's take a brief look at this matter. You can get seller feedback removed in two key ways:
Getting your customer to change/remove the feedback; or
Getting Amazon to remove the feedback
There's good news for you. Amazon does remove certain kinds of customer and seller feedback from your online storefront. However, there's certain criterion that it considers before removing amazon seller feedback. Here are a few examples of situations where Amazon takes action when:
- Feedback Contains Obscenities or Profanities
There're some words which are visibly inappropriate. However, there're loads of others which are less obvious but still considered profanities. According to Amazon's policy, any word that's obscene will be removed. It does mean that you can defend your argument even for unclear words. It falls under the category of "subtle profanities."
- Feedback Content Consists of Any Information That Reveals Seller's Identity
Some customers use Amazon's reviews feature as an opportunity to get personal with sellers. They even include personal details, including your full name, contact address and/or email address. Definitely, nobody wants his/her personal contact information revealed. It becomes even more complicated if it gets disclosed in a negative review. It's within Amazon policy to remove any feedback which displays your personal information. It includes your full name as well!
- The Feedback is a Product Review
There's a huge difference between a feedback and review. Feedback's regarding your performance as a seller. Contrarily, a review is information and views on the product itself. Many customers can easily mix up the two definitions though. Customers end up writing a comprehensive performance review of the product. However, they should have given a concise feedback on the seller's customer service.
In this scenario, the rating qualifies for removal. There's one crucial point to keep in mind. Amazon won't take any action if feedback contains both seller and product information. Therefore, if the feedback exclusively contains product information, Amazon will remove it. Whereas, if a feedback consists of views on the product and the seller. In that case, Amazon will not remove the rating.
Which Genuine Mistake Made Amazon Unfair to Sellers?
Amazon's FBA program is used by multitudes of sellers. They utilize it to enhance the logistical and fulfillment aspects of their business. This program does make many things simpler for sellers. However, there're times when Amazon itself ends up making a genuine mistake. For instance, an order gets destroyed due to a mistake made by Amazon. In this case, Amazon will note its fault and cancel the ratings.
But what if the negative feedback you want to remove doesn't meet any of the above criteria? What will you do in this scenario? Now that's a combination of both good and bad news. Let's discuss the good news first. It's still possible to get the negative feedback removed. The bad news is that doing so will be totally in your customer's hands.
Yes, that's right. You'll have to do your best in the process of resolving the situation. Even one negative feedback can make a lot of difference. Therefore, it is imperative that you try every tactic you know to resolve this issue. Hope that the customer changes his or her mind!
What about FBA Amazon Feedback Removal Criteria?
You might think that Amazon will take the blame if things go wrong in FBA orders. Well, your judgment is right! For instance, an order gets negative feedback regarding fulfillment or any other Amazon's service. In that case, the rating will be removed. Moreover, a statement will appear in its place. In this statement, Amazon will say that it has taken responsibility for the unpleasant experience.
Two Bonus Tips:
Be careful when you explain your reasons to Amazon. Ensure to limit the number of words. A longer description will most likely make the Seller Support Staff ignore your message. They might instantly deny your request for removing Amazon feedback.
Secondly, be straightforward and concise when communicating with Amazon. Normally, the support staff member will understand your point of view. Consequently, they'll delete the unfair negative or neutral feedback. And even if they deny your request, your aim of feedback removal isn't over. Just open up a fresh new ticket with the Seller Support. Now hope to get a different Amazon staff member this time. Wish s/he understand your point of view and remove the feedback.
How to Remove Feedback on Amazon by Engaging Dissatisfied Customers
Now an interesting question might arise here. How would you save the seller-customer relationship? Remember this relationship's already damaged to the extent of receiving negative feedback.
Here Amazon's own recommendation might come handy. Amazon suggests that sellers must try to improve the reason behind the negative feedback. It can be done by working with the buyer. Once the situation's resolved, the seller can request the buyer to remove the feedback. Persuading unhappy customers to listen to your requests is critical. You can try acknowledging the negative rating and thereafter politely ask questions like:
Is there anything we have done differently?
Can we do anything that would improve the situation?
Would you like an exchange or refund?
In such situations, honesty is indeed the best policy. Most current and potential buyers have little to no realization of the negative feedback's impact on the seller. It's something you can use to your advantage. Simply maintain open communication and take the right course-of-action. Direct them to a step-by-step guide for removal once they decide to cooperate with you. Convincing the buyers to remove feedback can be a little tricky. However, by doing the right things, it can be done rather easily.
Reach Out to Your Customer for Feedback Removal Request
Many times Amazon will reject your request to remove feedback. This step might be taken for a valid reason. For example, you mistakenly shipped the package to the wrong address or packaged a defective product. But what about the order that arrived before stated time and in perfect condition? What if it still receives a two-star rating with a bad comment? Wouldn't that be feedback extortion? Well, that definitely isn't your fault. Well, now you are left with two options:
You can sit back and do nothing, or
You can attempt to solve the issue.
In the latter case, you can always reach out to the concerned buyer. Try to resolve the issue that particular customer encountered. If the order arrived late, for instance, you can send a formal apology. You can also offer a full or partial refund to cover the shipping charges. Afterwards politely request them to delete the negative feedback once they respond.
Always use an apologetic tone in your message whatever the problem is. Acknowledge the fact that something must have gone wrong on your part. And this fault didn't let you deliver optimal service. Don't deliberately confront customers for writing a negative feedback. Instead, keep the email targeted on understanding the customer's needs. It eventually helps a lot in convincing buyers to leave positive feedback.
Let them know that you are doing everything to not let this issue reoccur in future. Also, ensure not to pressurize your customer into removing feedback. Harassment, feedback manipulation and quid-pro-quo correspondence aren't allowed. They're all deemed as violations of Amazon's policies.
Sometimes feedback doesn't commit a violation of Amazon rules. Plus sellers don't get any response from a buyer even after 60 days. In this case, your best bet is to respond directly to the bad comment. You can do this with a justification and apology explained in one concise paragraph.
If you do receive a response, take the necessary steps to resolve the issue. It's quite possible that the buyer will realize their mistake. We imagine any of the following situations:
The buyer thought he/she was actually giving a product review.
The negative feedback was given for the wrong order/seller.
The buyer was irrationally angry and now realizes that his/her rating was unreasonable.
Whatever the reason might be; ensure a polite and understanding tone. Be grateful to the customer for their prompt response!
REMEMBER: NEVER force a buyer to change/remove their feedback rating. It's against Amazon policies. It can even get your seller's account suspended. Additionally, Amazon only allows deleting the feedback completely. It does not give the editing options. Conversely, eBay sellers get the chance of editing feedback instead of removing it.
Walk Your Customers through Amazon Feedback Removal Guidelines
Fortunately, most people will comply with your request remove feedback. Some of them will even appreciate your efforts to resolve the issue. It can only go bad if you're dealing with a particularly mean buyer. However, most of the customers are understanding and cooperative. Loads of customers are unaware of the fact it's possible to remove feedback. Therefore, it's your responsibility to teach and guide them.
Amazon has some suggestion for the users Buyer-Seller Messaging System. It advises them to send necessary instructions to buyers who're interested in removing feedback. And if you're using SageMailer, you can make use of pre-designed removal email template. It contains a link that buyers can click. It'll automatically lead them to the feedback page. It will then access and delete the negative feedback.
Automate the Feedback Removal Request Process
You might be well aware that e-commerce's growing by leaps and bounds. Hence, you'll need to have a structured feedback system. Simply try SageMailer 1-month free trial. By doing this you'll find out how much time you can save. It basically eliminates various manual tasks that are associated with negative feedback.
The wide base of SageMailer's customers uses the service to make their feedback-removal process much easier. Here's how it works:
Notification: When a customer leaves negative feedback, SageMailer immediately sends an alert to the seller.
Automatic Reach Out: On the SageMailer's Feedback page, a seller can click on the "Feedback Removal Request" to trigger the automated request to Amazon.
Quick Links for Requesting Removal: SageMailer sends a removal request to Amazon. If Amazon doesn't automatically remove feedback, it sends a request directly to a buyer with the quick removal link. In case you've found a compromise, your customer will delete his/her feedback manually.
Tracking & Follow Up: SageMailer helps the seller organize their course-of-action. It keeps on doing this till feedback's either removed by customer or Amazon.
Apart from the above mentioned, there're other features merchants can use. From attaching notes to every follow-up message (in case to reduce the number of negative feedback) to requesting reviews using NEW Amazon's "Request a Review" button.
Start Removing More Negative Feedback Today!
To conclude, there's nothing wrong with trying to remove negative feedback. However, you must ensure that you're not breaking any rules. Plus you should accept some realities. It's not possible even for the top sellers to keep all their customers happy. However, you can reduce your chances of getting negative feedback and get rid of many negative seller feedback that doesn't comply with Amazon rules.
If you're looking for automated feedback removal, you can try SageMailer today at no cost (1-month free trial, no card required)!