In your Seller Central account, you might have noticed the new "Request a Review" button. It allows sellers to send official Amazon review and feedback requests and highly increases the conversion compared to the regular Buyer-Seller Messaging requests.
SageMailer is proudly announcing that we've passed the Amazon audit and now all our users can automate these Amazon review requests legally and safely. Considering that they are sent directly by Amazon to your customers, you can be sure that this method 100% complies with Amazon's guidelines. So how does it work?
NOTE: If you are using Google Chrome extension to automate a "Request a Review" button, we'd recommend reading this article as your Amazon account is at risk.
Convert up to 30% of your orders into reviews
With SageMailer you can automate official Amazon review and request feedback removal to Amazon, which is significantly more efficient than standard Buyer-Seller Messaging requests. Try it yourself with FREE 1-month full access! No card required.
This new method has many advantages:
No need to share Seller Central access information
100% Amazon-approved messages
Amazon translates requests to the buyer's native language
Exclude specific ASINs, refunded orders, buyers who left feedback or review, etc.
Automatically detects when order is physically delivered
How to Automate the New Amazon Review Requests With SageMailer
The setup procedure is very simple and almost does not differ from creating a regular SageMailer mailing campaign. Just add a new Amazon Feedback and Review Request Template to any SageMailer campaign, and you're ready to go. Here are a few simple steps:
Go to the Campaigns page.
Click the "+ New Campaign" button (or open the already-existed campaign).
Add a Feedback and Review Request Template to a campaign.
Modify the timing settings for sending messages and click Save.
Activate the campaign.

How New Amazon Review Requests Work
SageMailer informs Amazon about which of your orders to send requests for according to the mailing campaign's timing settings. This information is transmitted through a secure connection that is authorized by Amazon. The new Amazon's "Request a Review" template differs from the requests that are sent through the Buyer-Seller Messaging System (the method that the rest of Amazon feedback services use). Here are some important differences you should know about:
The content of the template is created by Amazon, therefore it is 100% compliant with the platform's policies on text and design.
These requests can be used even by those sellers who were restricted from sending messages to buyers through the Buyer-Seller Messaging.
Messages must be scheduled in the range of 5 to 30 days after the order's delivery date.
Messages are automatically translated into the language of the corresponding Amazon marketplace
You can not send additional messages to a buyer after sending the review request. This protects you from sending extra letters or random duplicates.
Buyers cannot reply to these messages which save you from additional correspondence.
Amazon automatically detects the opt-out buyers, as well as buyers who have already left feedback, reviews or have not yet received their orders.
This is what the new template looks like: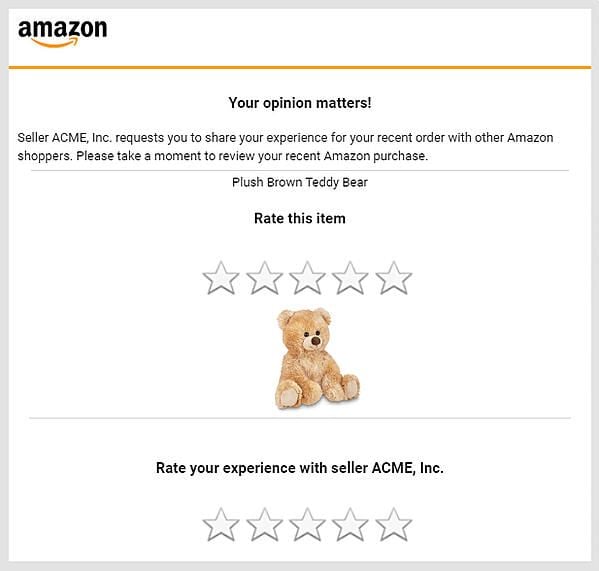 Now You Don't Need to Worry About Amazon's Communication Guidelines
Since Amazon now controls all the nuances of your Request a Review email, you can continue to ask for feedback without worrying about violations of policies and rules. Also, you don't need to pay attention to your letters' conversion, as Amazon has optimized the message content based on its own information about the messages-to-review rate.
The new feature will save you from guesswork when it comes to feedback and review requests compliance with Amazon TOS. Now it's easy enough to create a campaign with a new Request a Review template and let SageMailer automate the whole process.
Yes, these are time efficiency and data security. Imagine that you click on this button every time you need to send a review request for a particular order, the process will be very time-consuming. Of course, you can automate some of the Request a Review process using several browser extensions, but these add-ons lack security, improved timing settings, and the level of automation that SageMailer offers with just a few clicks.
In addition, with browser extensions, you will need to manually open the program to send requests each time your orders fall in the 5-30 day timeframe after delivery. SageMailer will automatically check this window for all your orders, so you will have to set up the mailing campaign only once. You can also create campaigns for specific ASINs or exclude refunded orders. The letter timing settings allow selecting the exact time and days of the week for sending requests or you can always activate the "spread" function, which will try to send each request at the same time that the original order was placed.
What About Buyer-Seller Messaging?
You can still use this method of sending messages to your customers, and sometimes it provides even more opportunities for creativity, but at the same time there is a very big chance for error. If your message violates the Amazon Guidelines, you may be prohibited from sending messages for up to 30 days. And with repeated violations, you may be deprived of such an opportunity permanently. Therefore, we are happy to offer you a feature that will help you send 100% compliant requests directly from Amazon while enjoying all the benefits of SageMailer automation.
Of course, some sellers can use a hybrid approach and send the new Amazon Feedback and Review Request Template for some products, and messages through Buyer-Seller Messaging to others. But in such cases, we recommend you to ensure that only one type of review request is sent to each ASIN.
SageMailer is Always Here For You
Regardless of the way of interaction with customers you choose, we always make sure that they comply with all Amazon policies. If you need help or advice regarding your campaigns, feel free to contact our support team.
Try the new review request feature and get your email-to-review rate to the next level!