We bet that you've heard about Amazon's new "Request a Review" button and are looking for a method on how to use it more effectively. Of course, you can always return to clicking the button manually, which is still faster than manually sending messages through the Buyer-Seller Messaging System, but this method is suitable only for novice sellers with very few orders. What other sellers are supposed to do, especially those with high-volume sales?
The good news is SageMailer has already automated these new Amazon's official review requests, moreover, made the Amazon "Request a Review" system even more powerful with its flexible timing settings.
As you can see from the title, there are several Amazon extensions for Chrome that claim to essentially do the same. So what is the difference between the new SageMailer functionality and these extensions? Why is it risky to use these extensions for your Amazon business? Why is SageMailer a safer and more compliant solution for your account?
Let's find out together.
How Amazon "Request a Review" Extensions for Chrome Work?
All Chrome extensions require permission to read and modify your data on sellercentral.amazon.com. And for this, you will have to provide the extension with your login and password or allow it to use your Amazon session and cookies. It's not worth saying that it is unsafe, moreover, it violates the policy of Amazon and can lead to serious consequences for your account.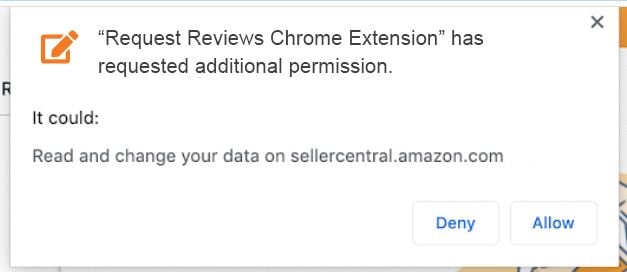 After you give the extension full access to your Amazon account, you will notice some changes - one or more new buttons will be added on the Manage Orders page. When you click on these buttons, the extension requests a review for one or more of your orders. This method allows you to use fewer clicks compared to the standard Amazon's "Request a Review" button.
PLEASE NOTE: Even after giving full access to your account, you still have to manually click on the buttons added by the Chrome extension. That is, although extensions make the process a little simpler, it still remains time-consuming. But now you also risk the safety of your data in Seller Central. Is it worth the few minutes saved?
How SageMailer is Better than Chrome Extensions
SageMailer is a service that is presented in the official Amazon Appstore and which has undergone an official audit from Amazon regarding the protection of user data. The new SageMailer's functionality does not require the use of dubious extensions or buttons and this is how it works:
Official Integration. SageMailer uses a direct and secure connection with Amazon's "Request a Review" Messaging system, allowing you to integrate your account without additional browser extensions.
Full Automation. You will not need to press any buttons manually, the whole process is automated. Now when you receive new orders, SageMailer sends feedback and review requests for you. Moreover, you will no longer need to worry about the correct translation of letters into the customer's language, Amazon will do this automatically as well.

Universal Compatibility. SageMailer works with any browser, including Google Chrome, Internet Explorer, Firefox, Safari, Opera, and others. So you don't have to worry that you'll have to give up your favorite browser in order to automate your review requests.
Scale the Process as Much as Possible. Using the advanced functionality of SageMailer, you can not only automate the clicking on Amazon's "Request a Review" button but also configure the specific time or weekdays when you need to send requests. You can also include or exclude specific ASINs to improve conversion.
Try to automate the "Request a Review" button for free! Subscribe to SageMailer's Free plan and get 200 requests/month! Risk-free, no card required.
Automate the "Request a Review" Button the Right Way
Learn how "Request a Review" automation in SageMailer saves you time, helps you get more reviews, and keeps your Amazon account 100% compliant with Terms of Use.