Product Reviews vs. Feedback: Key Features Every Seller Need to Know
Since you are a seller on Amazon, you definitely must be aware that product reviews and feedback are essential in adding value to your business. But, are you actually aware of the difference between them? If you do know the difference, that's great, save some time and skip reading this article.
But, if you are a new Amazon seller or would like to get a crash course on reviews and feedback, then jump right in. We are here to explain the difference amongst the two and give you the full skinny on why it is important.
Reviews vs. Feedback
Amazon Feedback is similar to a "report card" given by customers about how they found the overall buying experience. Whereas, an Amazon product review is exactly what the name implies–a review by the customer about the purchased item, and not the purchasing experience or the Amazon seller.
Feedback is useful in:
Helping buyers to decide whether or not they should purchase an item from you. The buyer's decision is usually based on the average feedback score rating (typically increased sales is a result of positive feedback percentages, whereas a low feedback percentage can lead to a buyer hesitating before completing the purchase)
Impacting a seller's chances in winning the Buy Box
Preventing a seller from being suspended or even expelled by Amazon.com
This happens if the average feedback rating dips below Amazon's standards. Amazon makes it easy for customers to leave feedback for a seller by using a One to Five-star rating system to rate third-party sellers. The highest feedback you can get is Five stars. The average star rating is displayed next to the name of sellers on their Amazon seller profile.
Product reviews, on the other hand:
Are reviews of specific products sold
Have absolutely nothing to do with either shipping or seller performance
Are added on the product detail page of an item on the Amazon marketplace
Similar to feedback, a One to Five-star rating system is used by Amazon for reviews. Product reviews appear on the product detail page of each item.
Amazon Feedback: Is All About You
Customers can leave their feedback regarding the experience they had in purchasing items available on your store. This experience can include:
Shipping/Packaging
Quality of work
Customer service and seller professionalism
Whether the buyer will or won't choose to purchase future items from you again
Buyers can also share what you can do to enhance their buying experience. Your business can get vital information from Customer Feedback. Getting positive feedback is an affirmation of what is going well, on the other hand, negative feedback will show you where certain improvements can be brought in to increase your customer satisfaction levels. Based on this input, you will be better armed to enhance your buyer experience resulting in the greater number of sales.
Amazon might remove any feedback which is not directly related to the overall purchase experience or which violates any of their company guidelines. As per Amazon guidelines, feedback having any of the following might be removed entirely at their discretion:
Abusive or Obscene language
Personal information
Promotional content
Product Reviews
In case you get feedback which is not related to the buying experience or does not fall under Amazon's guidelines, SageMailer can help you by facilitating the process of getting that feedback removed.
Also, Amazon will strike-through any feedback for FBA orders in case it relates mainly to the customer fulfillment experience. Even though the feedback will still be present, it will, however, appear as strike-through text and will not be included in your overall feedback score.
Some Amazon sellers rely on SageMailer, a popular tool for feedback solicitation to augment their feedback strategies.
SageMailer has the capability of letting you build fully customizable email campaigns to solicit customer feedback for you. You have the ability to set up email or text alerts which will be sent to you as soon as you receive any negative feedback. This ability will allow you to respond to the customer and get cracking on resolving the issue immediately. You have a dedicated feedback dashboard which gives you all the needed information in the same place. The information displayed includes the order date, the Amazon order number, any comments added, and much more.
Product Review: It's Regarding the Products You Sell
Product reviews are just reviews of the product in question, not the purchasing experience or the seller. On a few types of products, a buyer has the opportunity to leave further Customer Ratings which include information about some specific attributes of a purchased product, like product's sturdiness.
Product reviews are essential for your eCommerce business since consumers nowadays are reliant on online reviews while making a purchase decision. Any online shopper trusts Amazon since the company works very hard ensure that product reviews are not manipulated and are legitimate.
Reviews give you information which helps you to make future stocking decisions. You have the ability to get valuable insight into customer preferences and concerns by paying meticulous attention to product reviews. Product reviews are helpful in providing your customers a place to share any issues rather than launch an attack on the merchant.
Keeping an eye out for product reviews is the hallmark of savvy Amazon sellers. With SageMailer you have the ability to create completely customizable email campaigns to send to customers requesting them to give product reviews. If you proactively ask for product reviews, the odds of receiving them increases, in turn boosting up your sales potential.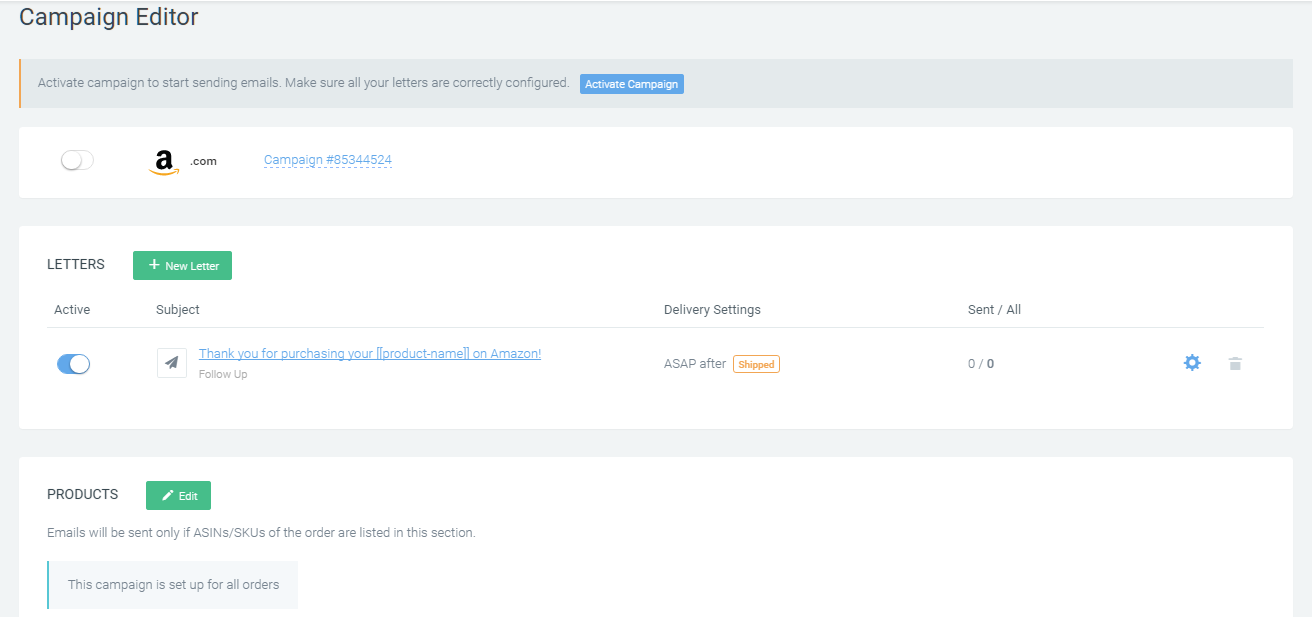 Manage Reviews and Feedback in the Same Place
Smart sellers make it a routine to solicit customer feedback as well as product reviews on a regular basis. SageMailer compiles all the essential tools for creating powerful feedback and product reviews campaigns in a single location which results in substantial time savings for you. Try it now for free!
How to Monitor Amazon Reviews?
Want to Sell More?
Be the First to Learn Amazon Secrets!