A few weeks ago, without an official announcement, Amazon added a new "Request a Review" button in Seller Central. The button is now available to all sellers and is on an order details page. So what is this button and what to expect from it, let's try to solve this mystery.
Learn how you can automate Amazon "Request a Review" button with SageMailer!
On the detailed order page, the sellers have begun to see a new "Request a Review" button, it appeared next to the traditional buttons "Print Packing Slip" and "Refund Order". The button appears with different time intervals and depending on the type of your product or category, it can appear from several hours to 5 days after the completion of the order.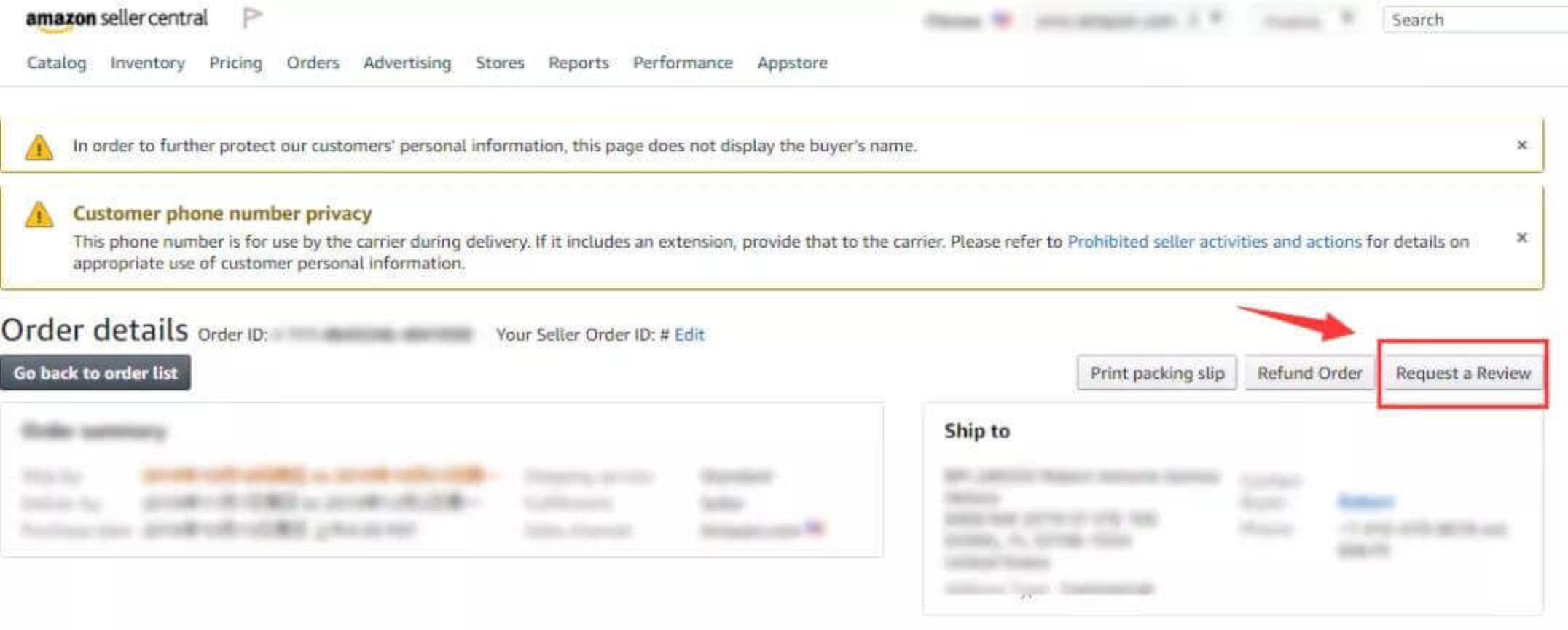 It's logical that many sellers so far haven't risked clicking on this button due to the lack of any information from Amazon. But if you still click on it, the button will simply disappear and Amazon will send an automated review request.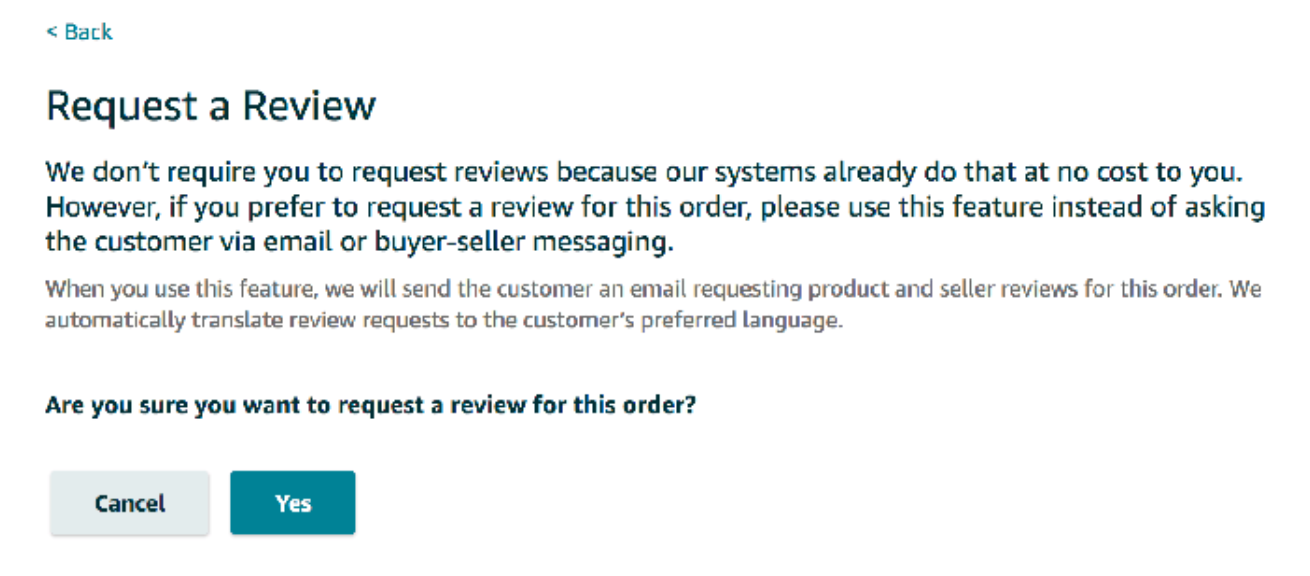 This may happen for several reasons. This user may have already left a review about your product and Amazon does not want to send a duplicate letter. Another reason is that the seller uses a third-party feedback management service and has already sent a review request through it.
If you are one of those sellers for whom this button is not yet displayed, don't be upset, it's just a matter of time. Large platforms like Amazon often test new features on a small cluster of users to gather the necessary information. So you can expect this feature to be rolled out shortly.
At the moment, the innovation is available on the US and European marketplaces, and shortly it'll become clear whether Amazon is going to launch a new feature globally. It all depends on the information that the platform will collect on the most active marketplaces.
In one of our last articles, we already said that recently Amazon has begun to more strictly monitor seller accounts for TOS compliance. In many forums, sellers complain that Amazon has restricted them to contact their customers indefinitely for very vague reasons. And now, this review request feature, sanctioned by Amazon, brings even more suspicion.
Due to this, Amazon has updated its communication guidelines to clarify the policies and confirm that no major changes have occurred.

You can still use the Buyer-Seller messaging system and 3rd party services to send product and feedback requests. And you can still use the links to direct buyers to leave a review or feedback.
At the same time, don't forget the rules that must be strictly followed to comply with Amazon Terms of Service. We decided to briefly go over the main points disclosed in our article Temporarily restricted from initiating contact with buyers: How to Request Product Reviews Safely that you should avoid when messaging your buyers:
Any manipulation of reviews is prohibited. That is, you cannot ask the buyer to leave only a positive review or to convince them to change a review. This includes requests to contact a seller in case of any problems with their order before leaving a review or any phrases such as "if you like your product, please leave a review."
Offering discounts, coupon codes, gifts, or free items in exchange for reviews. Sometime in 2016, Amazon allowed sellers to offer free products or discounts in exchange for a review, but these times are long gone. Now, for such an action, you can easily get account suspension.
Inserting certain links. Amazon rules prohibit the insertion of external links outside of Amazon or links to detailed product pages or storefronts in the messages.
Sending advertising or promotional messages. Communication with customers should be limited to their recent purchases. Sellers cannot advertise their other products, new items or send buyers to third-party websites, including the brand's homepage.
Learning how to operate the Buyer-Seller Messaging Service and how to send messages to Amazon sellers will benefit the relationship between customers and merchants within the Amazon platform. And this, in turn, will take your business to the next level. 
Considering the enormous impact of reviews on product ranking, as well as sales conversion, most sellers consider it their main goal to establish a stable mechanism for receiving new reviews. Amazon's new feature offers a quick solution that is suitable for sellers who have very little time or for sellers who haven't got any strategy for getting feedback.
How does the Amazon-generated review request look like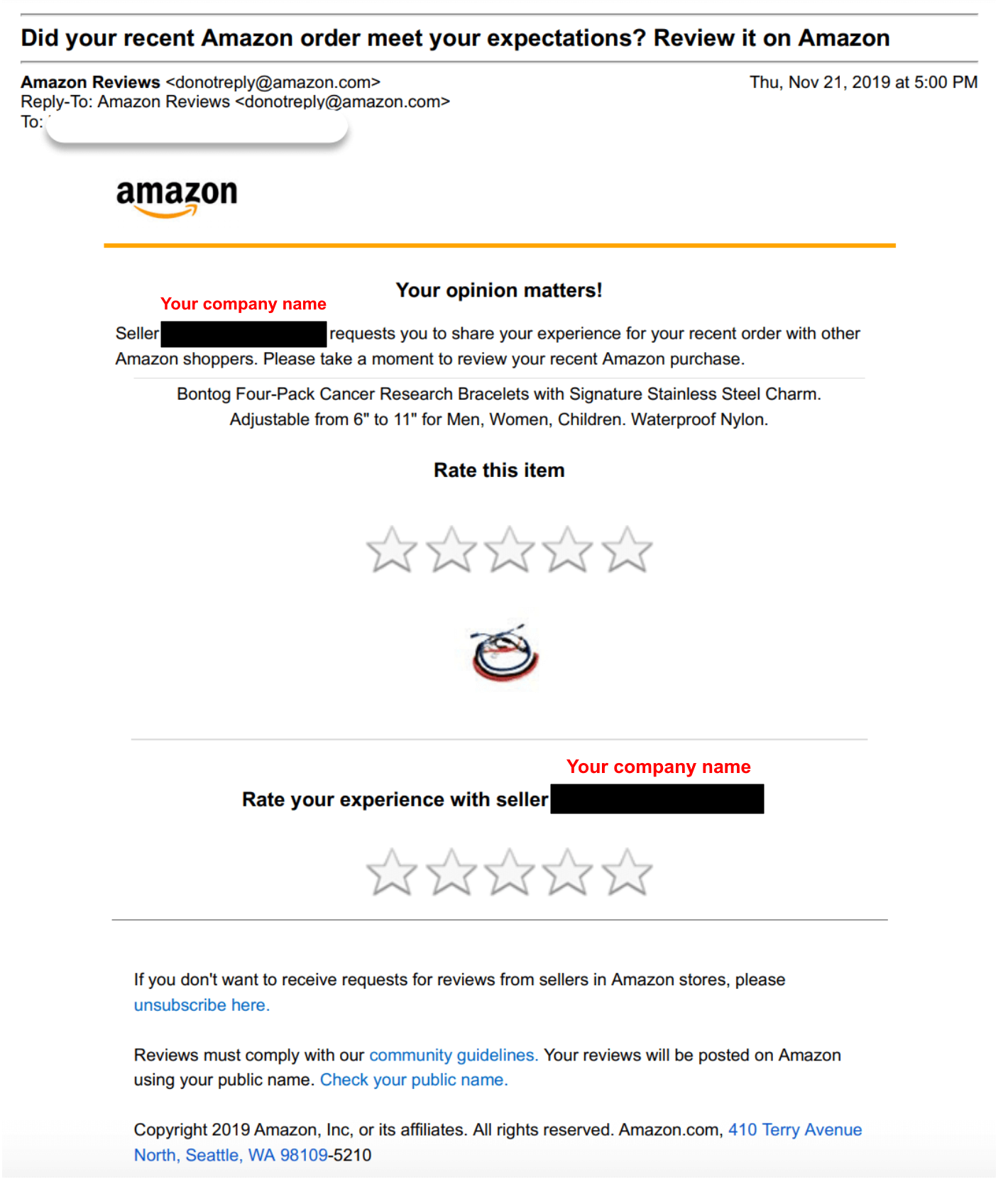 Let's figure out all the nuances this new Amazon function has.
Firstly, if you receive many orders every day, you simply don't have enough time to manually open the order details page in Seller Central and press the button. However, using 3rd party Amazon feedback services, you can automate the "Request a Review" button for thousands of orders in just a minute. Read more about FeedbackTuner and its alternatives to find the best instrument capable of tuning automated feedback management in just a few minutes. 
Secondly, you cannot manage the content of the letter, which limits your ability to create branded and customized letters. But at the same time, you can be sure that your requests are always 100% compliant with all Amazon policies.
Thirdly, with the "Request a Review" button, you don't need to worry about opt-out buyers or buyers who have already left a review since Amazon will handle this for you and simply won't send requests to such buyers. Moreover, Amazon will also automatically translate a letter to a buyer's language that may increase the conversion of requests.
And last but not least, the advantage of official Amazon requests is their credibility to the buyers. That's to say; buyers are more likely to share their opinion when Amazon asks them compared to a seller they have known recently. It helps to make the shoppers don't order with other Amazon sellers.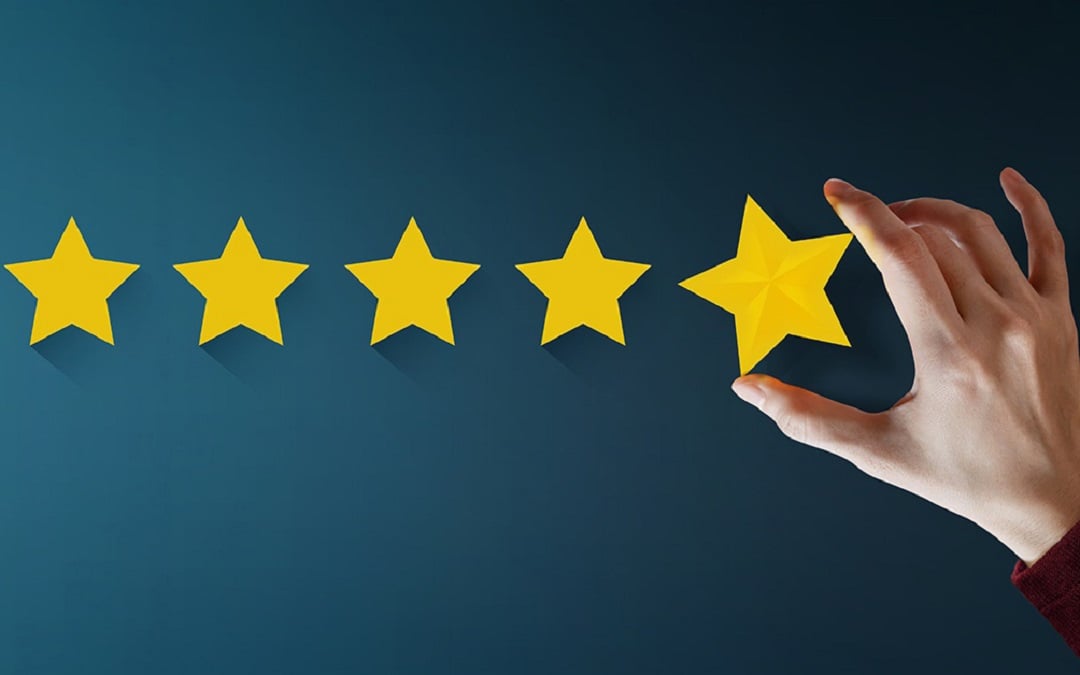 The short answer is 'no.' It's true for a number of reasons.
First, since its founding, Amazon has always relied on third-party services that support its marketplace. The platform also uses Amazon Influencers as a part of the Amazon Associates Program. It is based on the wider ecosystem to assist Amazon sellers in selling more goods in a more effective way. The proper email automation tool can already make a big difference in your client retention and sales growth. Read our Kibly review to find out if it's the right fit for your business.
Another thing is its functionality.
The button to request Amazon Review is a mainly manual process
Moreover, you cannot customize the message.
With the help of the following three factors, the Review Request tool still provides great value. Here are the reasons:
Amazon sellers can optimize and customize their messaging (texts,

subject lines

, images) to boost their reviews and get seller feedback faster.

The software is automated, so you can leverage it to receive testimonials at scale.

The tool also works for Amazon FBA orders. So, if you were wondering,

'Can you request a review on Amazon FBA

,

'

the thing is, you need an additional tool. The thing is, automating official Amazon review and feedback requests is significantly more efficient than standard Buyer-Seller Messaging requests. Check our SellerNexus review to find out more about its features and benefits.
Final thoughts
If you have a small business with only a few orders per day, you have not set up email automation yet, then the new Amazon feature is just what you need, just click a button and your customers will receive a review request.
But for sellers who want to experience the power of official Amazon rating requests, SageMailer has launched a new feature that automates the new Amazon "Request a Review" button, and you can try it by yourself with a free 1-month trial, no card required.