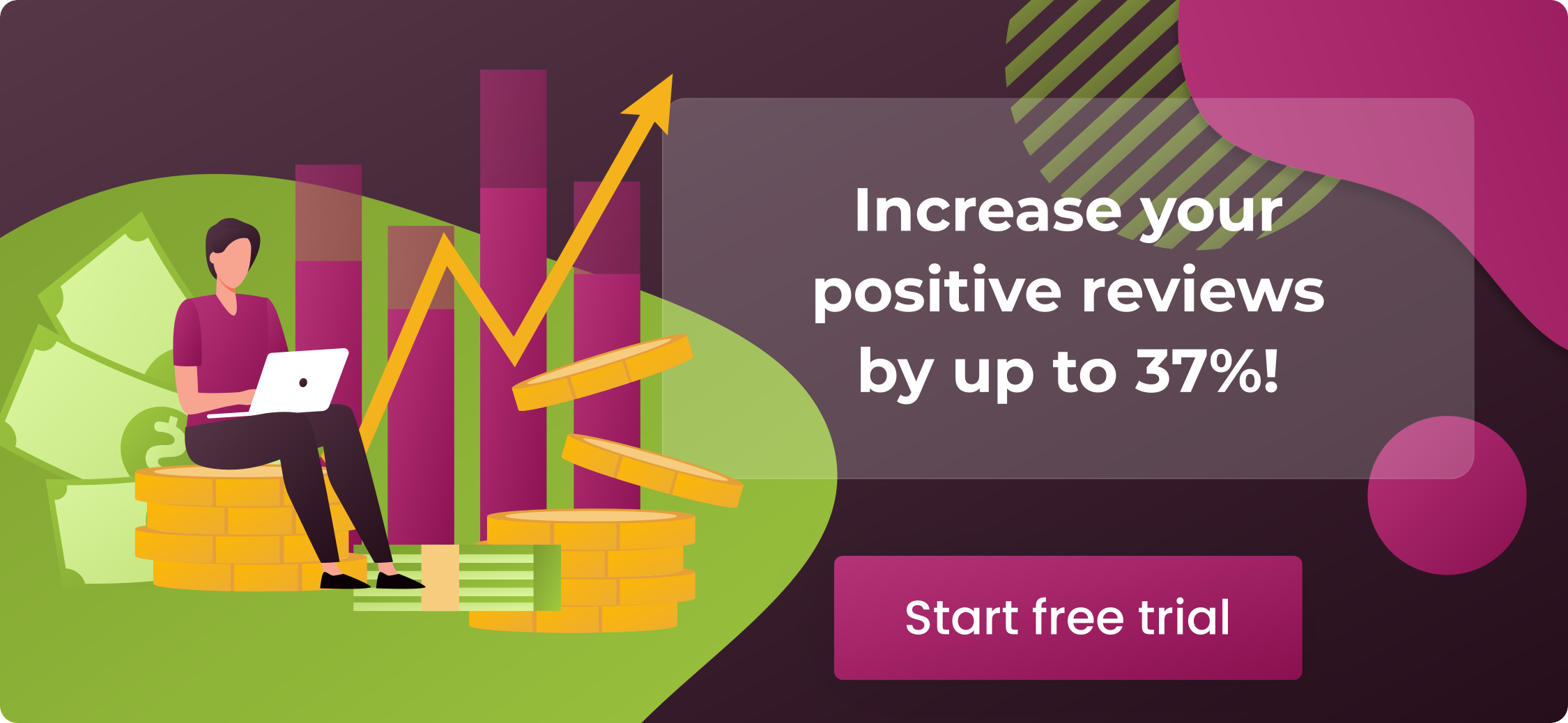 Third-party merchants got access to Amazon's Headline Search Ads back in August. Back then, Headline Search Ads were solely meant to be accessed in the Vendor Central via Amazon Marketing Service.
If you have been using Seller Central, you might have understood that you can now access the Headline Search Ads for your Amazon stores. In this article, we're going to find out what is a headline search ad, how to set up such ads campaigns on the marketplace, how to use them efficiently, and how they can benefit your brand.
Search Advertising Definition
Search Advertising or Headline Search Ads can be described as a type of advertisement in which sellers on the marketplace have a chance to advertise their brands and products to their clients via the platform's marketing services. These ads are keyword-targeted and work the same way as a pay-per-click advertisement.
Clients can always catch Headline Search Ads at the top of search results based on the item they are searching for or doing an Amazon seller search, regardless of whether they're using their smartphones or computers to search.
A long headline advertisement demonstrating computer products and accessories displaying the main product and three featured images along with the brand name is just one of the many search advertising examples you can find on Amazon.

There is a significant difference between Amazon Headline Search Ads and Sponsored Product Ads. One of the substantial differences is that Sponsored Ads are always viewed at the top, far right section, and the bottom of the search result page. As a result, there can be as many as twelve ads located on search result pages. On the other hand, Headline Search Ads only appear once per search result page and can be located at the top.
Aside from that, such ads are easy to spot since they stand out from the rest of the search results within a search result page. On the other hand, sponsored Product Ads are a bit hard to spot since they have almost the same appearance as the search results regarding content and size. The only exception is that they have the term Sponsored at the top.
In Headline Search Ads, you can find custom text ads containing a brand logo, up to fifty characters, and from one to three different products. If you click on any of them, you'll be redirected towards that Amazon product's page. Meanwhile, if you click the brand logo, the program will take you to the merchant's page alongside the products or services he's featured.
Benefits of Search Ads to Your Business
Usually, such ads are located at the top of the search result page. Thus, they are a useful tool for increasing your brand's awareness, sales, and the amount of Amazon Seller Central orders via search engine advertising. But, on the other hand, they're a valuable tool for promoting your goods as the ad is made to feature a variety of products. Therefore, you can easily classify products according to shared business goals.
How to Create a Headline Search Ad
There are four steps required to set up your initial headline search advertisement. First, however, you have to remember that the steps should be followed in the exact order. You can't proceed to the next step if you didn't complete the first one. They are as follows:
Comply with the requirements
You should comply with several qualifications when starting the headline search advertising campaign. One, you must have your registered brand in place. Two, you should be a professional merchant. And three, you need to list three specific products or above included in one of the following open categories: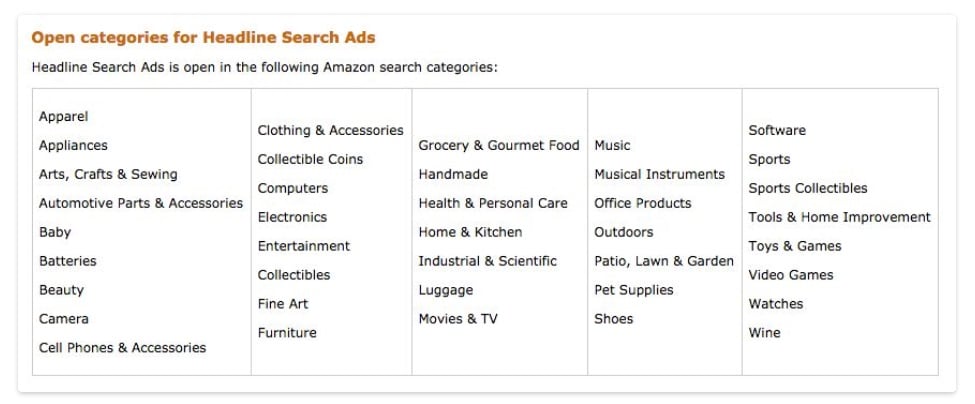 Gather all the important elements
Once you have compiled all the requirements, the next step is to gather all the materials necessary to build your campaign. One of the things you need to have is a well-written business goal. In addition, it is essential to know where your business is exactly heading to.
Aside from that, you also need to have a list of the type of customers you plan to target. It's equally important to list the search words that they often use. Another critical element is a custom message which you can use to effectively market your brand. You also need to include your brand logo in the ad with a dimension of 400×400 pixels.
Start creating your ad
The third step is to create your online advertising. To do this, simply go to Seller Central, select Campaign Manager, proceed to Headline Search Ads, and choose to Create campaign.
You'll be prompted to enter your campaign name and the budget you want to allocate along with your desired duration for the campaign. You are free to select to set the budget daily or for the entire campaign. Also, you have to run your campaign continuously or only within a set period.
In this process, you'll have to tweak several settings to properly optimize your campaign and increase the chances of your campaign getting approved (more on the optimization later).
You should keep in mind that you can't change your campaign's name once it has been launched. Therefore, during the creation process, you need to develop an easily recognizable campaign.
Once you're done, the next step is to add your search words and bids. Using the headline search ad campaigns, merchants can only use manual targeting compared to the automatic targeting feature available in Sponsored Products and Products Display ads.
Feel free to utilize the Upload Spreadsheet function to include your keywords in the campaign (though it is a bit buggy, so you'll have to try a couple of times). Alternatively, you can check the "Add your keywords" option to manually add a variation of the search terms you think your target audience will use.
After that, you have to choose between the Exact and Phrase match. Once you're done, set the bid for every keyword, then click Add.
Then, set your brand name (this will appear on your ad as "Sponsored by" followed by your brand name). Afterward, enter your headline and include a featured image. Additionally, you can include up to 3 featured items on your ad (you have the option to add less or none at all).
After that, you'll notice two options: "Save as draft" and "Submit campaign." Before clicking Submit, I advise running through your entire campaign and confirming if all the details you included are correct. Keep in mind that you won't be able to make major changes to your ads once they start running.
Wait for your campaign to get approved
As soon as you submit your campaign, an Amazon team will undergo a manual assessment to ensure that your ad has met the requirements. For your campaign to get approved quickly, make sure you don't use unsupported statements such as best, affordable, or top-selling. You also need to ensure that your grammar is correct before submitting and check that your headlines are appropriate and unique.
You'll get a confirmation notification as soon as your advertising gets accepted or if further modifications are needed before it gets published. The entire procedure usually takes around seventy-two hours.
How can you make your headline search ads more effective?
It is more beneficial to use headline ad campaigns to meet the guidelines of clients as fast as possible. Therefore, your goal for using headline search ads is to provide a means to promptly direct your consumers to the different goods they may be looking for.
In order to make your banner ads much more useful, check out some helpful tips to consider:
Create a Catchy Headline
You can only enter a maximum of 50 characters for your ad's headline. Therefore, you need to make every word count. It is also necessary to make sure that the headline observes the guidelines set by Amazon. Otherwise, it will be rejected.
Additionally, it should be in line with your targeted keyword. A good ad message will always motivate shoppers to tap on the advertising because it perfectly represents the product he's looking for.
Mind the right keywords
Headline search ads work on a pay-per-click basis. Therefore, you need to pick keywords you believe will bring in more sales.
You can have an idea which suggested search words to use by checking the various effects from Sponsored Products campaign to know which search words can easily convert into sales.
Check the impressions and clicks on your ads
If the impressions of your campaigns are quite low, a good action is to raise the search words bids. Another critical metric you should check is your ad's number of clicks. In the ideal world, the number of clicks on your ads should be a bit lower than advertising impressions.
If it's not the case, you can adjust your keyword, upload better-quality images, or improve the ad message.
Take a look at the metrics
Aside from the other two, there are several other metrics like click-through rate you should regularly monitor as soon as your headline search ad is already in process. By monitoring your KPI metrics, you'll be able to take a look at certain areas that may need improvement.
Perform A/B testing
It's highly recommended to run some A/B tests so you can achieve the best quality score and potential effects from your advertising. Since you can customize the creative visuals for the headline search advertisement, you can conduct tests using several variables to determine the most suitable method. These may include the following:
The featured items

The general text of your advertisement and its corresponding image

The general experience your customers can get from visiting your store or landing page
When you perform A/B testing, make sure to operate numerous ad campaigns simultaneously while modifying only a single variable on each of them. This way, you can easily pick which can deliver the most profitable results. Also, it's ideal for running your tests for some time so you can gather enough data.
Final Thoughts
Headline search advertising is crucial for directing clients to your items. Nonetheless, only a good product listing can drive traffic into your brand page and convert them into sales. The most efficient method to have a good Amazon listing is to ensure many product reviews. It makes clients confident enough when purchasing from you, not to mention it also helps to improve the awareness of your brand.
How to Convert Traffic From Headline Search Ads in Sales
Advertising campaigns drive shoppers to your listings, but it doesn't mean that all those people will buy from you. You have to convince them, and many client testimonials are the key since such details help your future shoppers decide on a purchase. Of course, you can ask all your customers to leave a review by contacting them directly, but this will take an eternity. The best way is to employ SageMailer; this app sends emails to your customers on an auto-pilot and asks for a customer review.