Do you sell your own products on Amazon and want to get high-quality product reviews for free? Then Amazon Vine may be the perfect option for you!
The Amazon Vine program (sometimes called Amazon Vine Voices) is one of the cornerstones of Amazon's services. It was created to allow trusted clients and customers to review products that they get from Amazon and its partnered vendors. This helps products get the best and most accurate testimonials. Here are a few additional techniques on how to get more Amazon reviews.
Amazon Vine members are different from other reviewers, and their input has more value than an ordinary customer review. Members have been checked by Amazon's staff, and thus, are respected in the Amazon community. These trusted reviewers are taken more seriously by potential customers.
If you want to get free product reviews and watch your bestseller rank soar, keep reading this article! Here is everything you need to know about being an Amazon Vine reviewer and how Amazon Vine works for merchants.
Amazon Vine Program Explained
The Amazon Vine Voice Program is a popular program developed by Amazon for both vendors and customers. It employs a group of trusted reviewers through the overall platform to review new listings. How does it work? The products can be ordered by a group of hand-picked users (so-called Vine Voices) who are to share an honest testimonial of the product. They don't get any money for writing reviews, only the product itself for free. This initiative is to remove the option of publishing dishonest feedback for money. Get more information about how to remove feedback on Amazon. At the same time, Vine Voices can earn badges for their activities, granting such users a trustworthy status.
How does it look from a seller's point of view? When you enroll in this program, one of the reviewers can request to test your product. In exchange for their testimonial, you need to provide a unit of your goods for free. The good news is that such reviews are usually very thorough, with a detailed overview of features as well as images of your product. Surely, participating in this program doesn't guarantee positive feedback. In case Vine Voices find something wrong, they won't hold back their criticism. 
Should I apply to Vine Voice?
If you are still hesitating whether to join Amazon Vine, let's examine some of its benefits and drawbacks. 
Pros
Big review potential. If you have a Brand Registry, you can use up to 5 products and get 30 reviews from Vine Program Reviewers. Of course, there is no guarantee of receiving positive feedback or all 30 testimonials, as some people may decide not to share their thoughts, but no one will unreasonably put your product down.
Comprehensive higher-quality testimonials. Vine Voices are experienced and proven Amazon users who have no prior bias towards leaving reviews. It means they will share detail-oriented, well-thought-out feedback instead of 1-2 plain sentences. Most likely they will add images, videos, and even pros and cons.
No enrollment fee. A couple of years ago, sellers paid hundreds of dollars to participate in a similar incentive. That's why there are so many questions 'How much does the Amazon vine program cost?' In fact, the only cost now that you are to spend is that of each unit of your product. 
Better traffic and conversions. Believe it or not, customer testimonials are one of the strongest aspects that impact conversions and sales of your goods. Thus, high-quality positive reviews will lead to more conversion rates and boost your best seller ranking.
Cons
The number and tone of testimonials are not guaranteed. As we mentioned above, Vine Voices will leave detailed reviews up to even the slightest details. However, Amazon doesn't promise that they will be positive, or that users will leave them at all. As a seller, you won't be able to influence the review or to contact the reviewer.
Available to brand-registered vendors. If you searched for how to join Amazon Vine, you must have seen one of the main limits: merchants are to be brand-registered. Otherwise, this initiative can give you a leg up. 
How Are Products Chosen for Amazon Vine?
Amazon Vine is open to all kinds of products. This includes books, gadgets, food items and more. Thanks to Vine reviews, vendors can offer pre-release products for promotion. Vendors do this so that their products can have reviewed already up when they launch.
The main thing, you need to become an Amazon Vendor to participate in the program. Only participants of the Amazon Vendor Central program are allowed to offer products through Vine. Yet, there are rumors about third-party merchants being invited to the program. So, the exclusive Amazon Vine for Vendors rule may change in the future.
How To Submit a Product For Review in Amazon Vine?
Only the seller who meets the following requirements can participate: 
Be approved by Amazon Brand Registry.

Have fewer than 30 testimonials for each listing.

Listings should be with a description and an image

Have a buyable FBA offer in 'New' condition.

Products shouldn't to be adult ones

Have available stocks.
If your business and products meet the above criteria, follow these steps to join the Amazon Vine Program.
1. In Seller Central, visit the Advertising tab, choose Vine.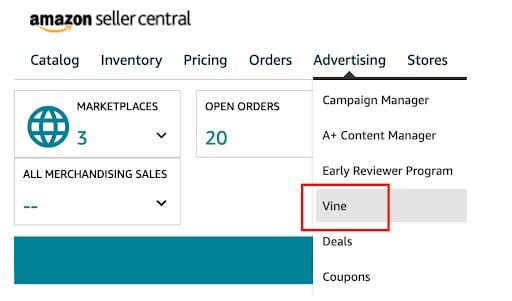 2. Check to Enroll in Amazon Vine on the next screen.
3. Then, fill in your ASIN and click the Begin Enrollment button.
Can be done with your eyes closed, can't it? 
When enrolled, send 5 samples of your goods to Amazon. The platform will decide what products to offer each of the Vine Voices depending on their purchasing decisions. For the first 4 weeks, the platform will display your product to a targeted group of shoppers. Then, if there are remaining units, to other Vine Voice reviewers. 
Once a Vine Voice gets the goods, it can take up to 1-2 months to receive a testimonial. Obviously, reviewers need some time to test the product before evaluation. 
Important: Ensure that all the information contained in your listing is accurate and correct. If a reviewer notices some false claims or inaccuracies compared to the actual unit they receive, they will focus on the inconsistencies when writing feedback.
Once your product gets 30 testimonials, it will be automatically removed from the program.
How To Become a Vine Voice Reviewer?
The trickiest part about the Vine program is becoming a reviewer. Unfortunately, there is no step-by-step guide for how to become a reviewer for Amazon through Vine.
There is no sign-up for Vine, and you can't request an invite to the program. Amazon hand picks every Vine reviewer. While this makes it hard to get into the program, it also ensures that all the reviewers are qualified and trustworthy.
How Are Vine Members Chosen?
Vine members are chosen based on one standard: the helpfulness and quality of their Amazon reviews. Keep in mind that this platform is based on how much customers trust the reviewer.
How do you know if a review is a high quality? Customers can rate reviews as "helpful" when they like the content and information. Customers will simply ignore product reviews that aren't helpful.
Reviewers are ranked on the Amazon marketplace based on customer ratings as well as the number of reviews they've posted over time. Reviewers who constantly get high ranks may also be added to the Hall of Fame.
Look at your previously reviewed products. Were your reviews rated as "helpful"? Have you reviewed a good number of products? If you have a lot of reviews and they are largely rated as "helpful", you have a good chance of becoming an Amazon Vine reviewer. Amazon needs reviewers who are already trusted by customers, so make sure every review you post is detailed and accurate.
How to Become an Amazon Vine Reviewer?
While there is no guaranteed way to become an Amazon Vine reviewer, there are a few steps to take that will improve your chances.
First off, you should go through all your old reviews and make sure they are good quality. If you need to, update them with more detailed and helpful content.
Secondly, start writing a lot of reviews. The more helpful reviews you write, the more chances you have of being noticed by Amazon. If you specialize in writing make-up reviews, go through your make-up and start writing reviews for every single product. Write one a day or one a week if you can.
Thirdly, make sure you specialize in a certain category. Becoming an 'expert in your field' is likely to improve your chances of being chosen. Once customers begin to notice your helpful reviews in a category they shop in, they will look for you and rate your reviews.
Lastly, try to answer with your review questions a potential customer would ask. If there is something confusing or concerning about the product, explain or clarify with your review. Customers will appreciate your answer, and they will probably rate you as "helpful" too!
Conclusion
The Vine program can be greatly rewarding! Vendors benefit from the Amazon reviews Vine provides, and reviewers benefit from the free products. While it may be difficult to get into the program, it is achievable if you are dedicated to providing honest and informative reviews.
The Vine program isn't for everyone. You'll need to follow the tips in this article and be persistent if you decide you want to be a Vine reviewer.
In the meantime, you can start receiving free and high-quality Amazon reviews right now using SageMailer.
Try its 30-day free trial to see the immediate results on your own. This is an automatic service that sends friendly review and feedback requests to your customers thereby increasing the number of your product reviews, improving the feedback rating and boosting sales on full autopilot.