If you are a seller, you might have probably heard about Amazon A+. However, if you're new to Amazon, you might wonder what Amazon A+ content is. Fortunately, you came to the right place.
As a crowded marketplace, growing your brand and increasing sales on Amazon can be tricky. Many sellers are now turning to Amazon's A+ feature to create a listing that enables customers to have a deeper and closer look at their products.
This feature allows you to add images and comparison charts to give your item a competitive advantage over other products on the Amazon platform. It's a great way to enhance your seller ranking, brand awareness, and customer confidence.
Now that Amazon has made basic A content free for all vendors, there is no reason why you should not add A plus content to your AMZ listing.
What is Amazon A+?
Amazon A+ content is an enhanced brand content EBC offering given to AMZ vendors, who are also referred to as first-party (1P) sellers. This offering enables sellers to integrate detailed product descriptions, high-quality images, videos, and comparison charts to showcase their brand and convince customers that their products are the best in the market.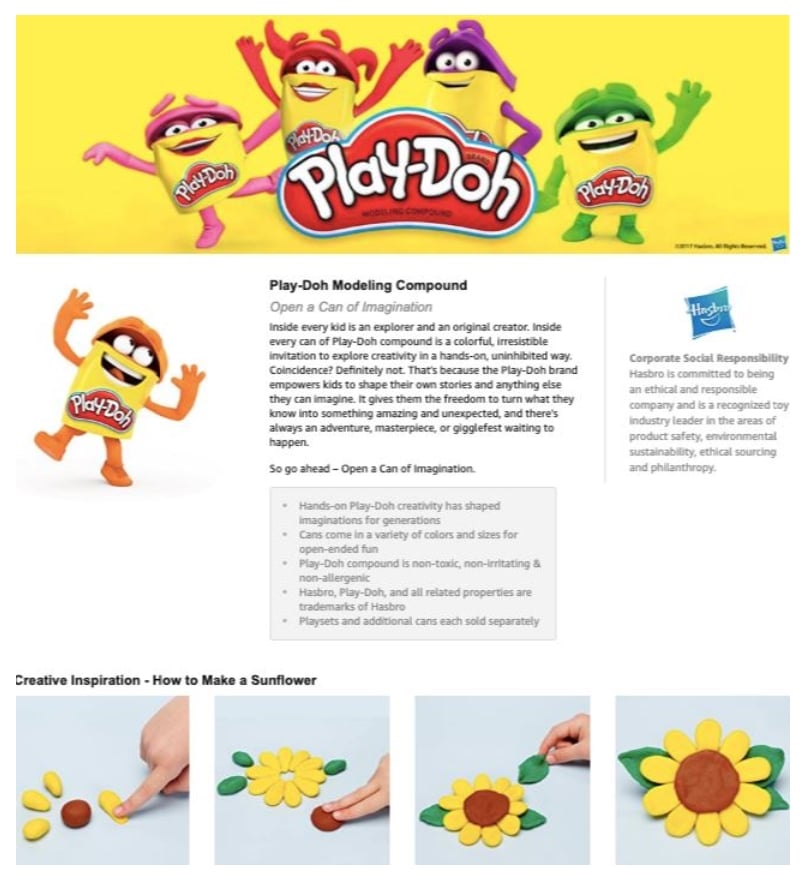 It aims to drive more conversion rates and increase sales by 3 to 10 percent on average. It can give you an advantage over your competitors who sell similar products on Amazon. Consequently, it also enhances the user experience as shoppers can make a visual feature comparison of your item and brand from that of competitors.
Unlike the traditional product description, Amazon A+ content includes additional elements that allow you to educate your customers about the product and its features. As a result, they can make more informed buying decisions.
What Amazon A+ Content Consists of
The multimedia information that can be found on the relevant page includes:
Heightened images – these are multiple images that describe your product in the best way. The images should be shot from different angles and up close, focusing on the product. Lifestyle images can also be used if they portray the product in use. Also, they should be in the right size and resolution.

List of

bullet points

– bullet points should explain the product's benefits that will impact the buyer.

Clear product introduction – this refers to the short yet informative introduction about the product.

Precise paragraphs are concise paragraphs containing the product's features and benefits. You want to maintain minimal texts that will communicate the highlights of the product in simple terms.

Comparison charts – charts help showcase the product in use as well as other ASIN that are related to your business. It enables your customers to discover your other product offerings without navigating away from the page. What's more, charts are used to educate customers so that they can make the right decisions about your products.

"What's in the Box" section – this provides a list of the product's components to give an insight to buyers on what they are about to purchase.
Examples of A+ Content on Amazon Done the Proper Way
With many companies already using Amazon's A+ Content to enhance their brand's reputation both on and off the marketplace, here are useful Amazon A+ content examples you should check out:
What Is Premium Amazon A+ Content?
In addition to the basic A+ detail page, Amazon offers the Premium A+ module for an exceptional online shopping experience. Premium allows vendors to display their products by adding larger images, video content, interactive displays, and broad comparison charts.
It also includes interactive experiences like a hotspot module that responds when a customer toggles over product features. Also included is a FAQ listing that enhances customer-vendor interaction.
How to Create an Amazon A+ Content Page
The first step is to log into Seller Central. From there, hover over the ''Advertising'' menu on the top and click on "A+ Content Manager." This page will include all your A+ content.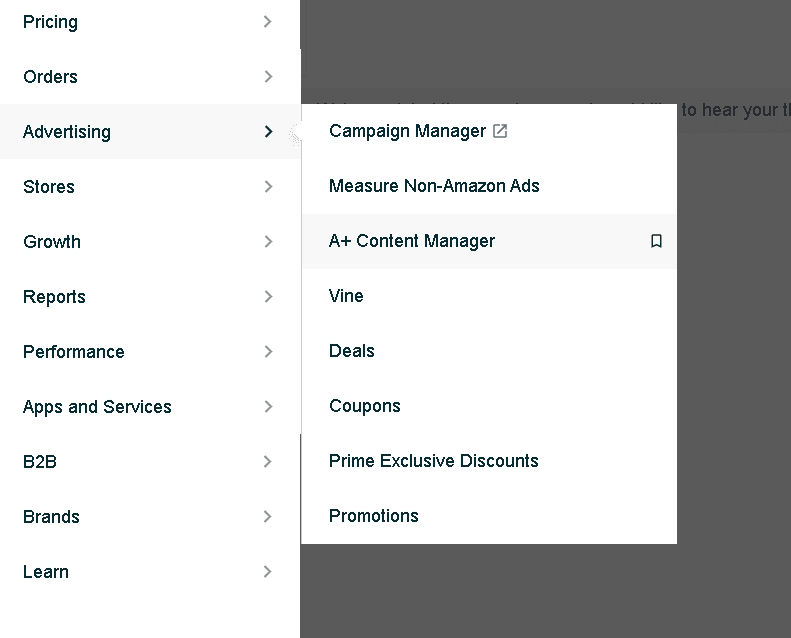 Next, click the "Start Creating A+ Content" button in the upper right corner.

On the A+ Content selection page, choose which of the 3 types of A+ content you want to create.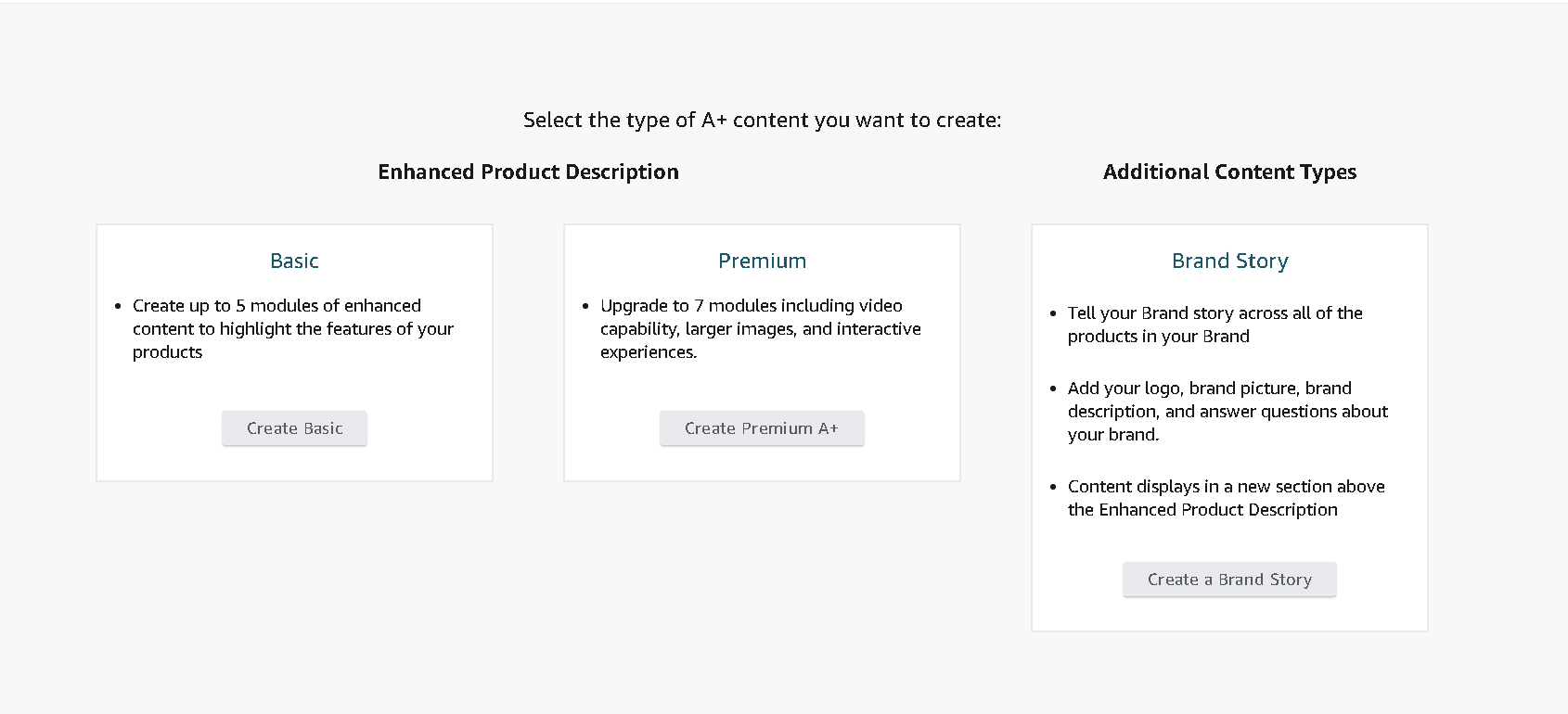 Basic A+ Content enables sellers to share more detailed information about their products, highlight key features, and showcase their brand in a visually appealing manner with additional text and images.

While it doesn't offer as many advanced features as other options, Basic A+ Content still provides sellers with a valuable opportunity to enhance their product listings and deliver a more informative and engaging shopping experience for customers.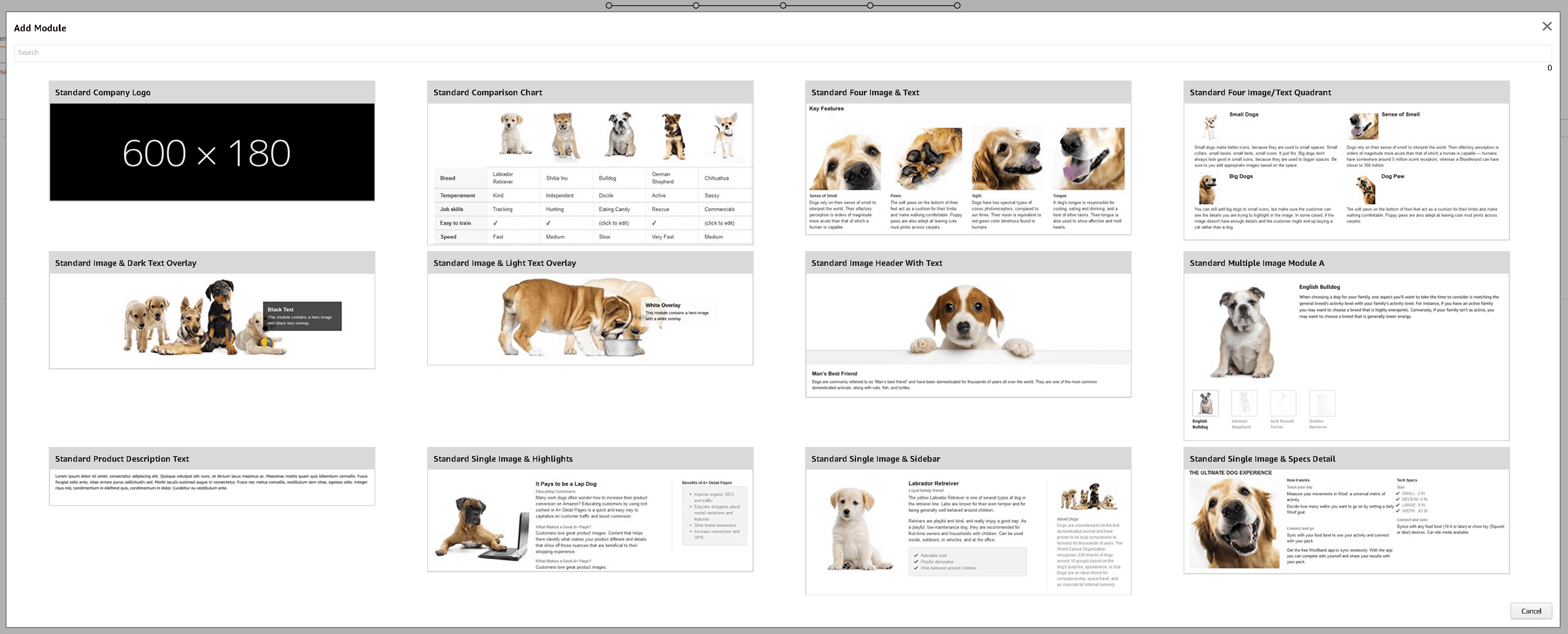 Premium A+ Content offers the integration of various engaging elements like videos, interactive hotspot modules, image carousels, and enhanced comparative tables. It enables sellers to effectively convey their brand story and showcase relevant product details on the marketplace.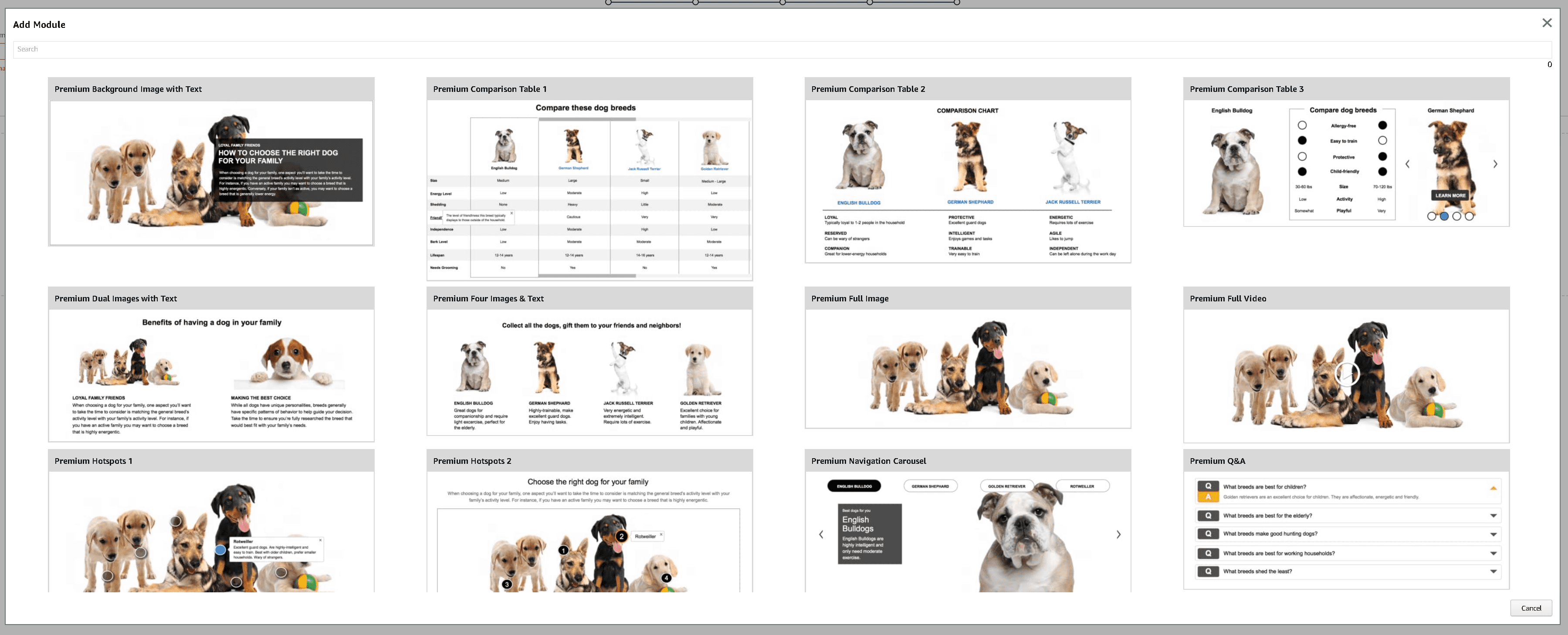 The Amazon Brand Story feature looks like a captivating continuous scrolling carousel. It allows brands better to showcase their diverse inventory and unique messaging by adding modules.

With the builder, you can construct the Brand Story module by module, but the final outcome is only visible when previewing all the sections together. Therefore, it is crucial to test and learn at each stage to ensure a seamless flow throughout the entire piece.

Eligibility Requirements
It is only eligible to professional sellers registered in the Amazon Brand Registry as brand owners. Also, the feature is available to brand owners who have been approved for particular managed selling programs like AMZ Exclusives and Launchpad. Once approved, sellers can only add A+ to those products that belong to the approved brand catalog.
Benefits of Amazon A+ Content
It offers many benefits to sellers, helping them gain a competitive edge over other brands in the market. Here are some of them:
Helps with conversion
According to AMZ, this feature helps boost sales by up to 10%. In addition, A+ content tends to convert better compared to other features. It is due to its exceptional product branding and enhanced consumer buying experience.
Showcases your products
As a seller, there is no better way to showcase your products than with A+ content. It is because it allows you to display high-quality images and features of your Amazon product that will impact your potential customers. Once shoppers take a comprehensive look at the products listed, they will confidently purchase your product.
Grabs customers' attention
A+ content can grab a shopper's attention due to the large images and informative yet precise texts. Unlike most listings with large text blocks and paragraphs, it has more visual and minimal text.
Improves skimmability
With A+ content, sellers can break down the information and lay out the content simply and precisely. In addition, since it eliminates big and chunky text blocks, it is easier for the buyer to skim the information they want.
Proven marketing tactic
It has a similar look to that of a conventional brochure. This platform uses proven marketing strategies by exploring new formats and color schemes marketers have used for years. It, however, is without the textual confines imposed by AMZ on product listings.
Using Amazon A+ Content enhances the overall shopping experience for customers, leading to informed purchasing decisions. Consequently, incorporating A+ content is a strategic choice that directly contributes to customer satisfaction. Satisfied customers are more likely to provide positive reviews and feedback, bolstering your reputation as a reliable seller. 
Want to know how to grow your reviews even more? SageMailer can help you with it by automating the process of requesting feedback from customers and optimizing your review strategy. With its follow-up email automation feature, Sagemailer enables you to send personalized and timely requests for reviews to your customers after a certain period since their purchase.
Moreover, Sagemailer's review monitoring feature allows you to track all buyer feedback, star ratings, and reviews in one place, so you can quickly identify areas that need improvement and respond to customer feedback in a timely and effective manner. This helps you build a positive relationship with your customers, increasing the likelihood of receiving positive reviews and feedback.
Interested? Register for a free 30-day trial to explore its opportunities.
How Much Does A+ Content Cost?
The cost varies based on how you want to leverage your A+ content for your listing. It also depends on whether you choose the Self-Service module or Amazon Build It for You module.
Self Service
The self-service module costs around $400 per product and allows you to choose from different price levels, like basic, silver, gold, and platinum. This option allows you to fully control the design and layout of your listing. You will also be asked to provide the images and create a copy.
If you go with this option, make sure that you hire an accountant to help you determine whether it is worth the investment. Also, this module works best for vendors with background experience in marketing. Otherwise, you may opt for the other package that lets AMZ design the package for you.
Amazon Builds
This option works best for sellers with little or no experience in marketing or branding. Amazon does the entire job for you at a higher fee of $1500 per listing. All you will be expected to do is send the images and other information about your product so that they can select a suitable design and layout for your listing.
Amazon A+ Content Guidelines
Before you get right into it, here are product detail page rules that you need to know about:
To qualify for the promotion, you need to submit the A+ content within one month of your purchase.

The offer is limited to only five or fewer pages per vendor.

It doesn't affect your page ranking.

Amazon A+ content only shows on your desktop as the mobile version, and A+ mobile price has not been updated yet.

Sellers are not required to mention their competitors or products in the A+ content.

Products that other vendors on Amazon.com mention will attract a fee to get the A+ Enhanced Marketing Content page.

Images and text must focus on the product and be unique to A+ content.

Lifestyle images can be used only if they describe the product in A+.
Conclusion
Amazon A+ content provides a great opportunity for every business owner looking to grow his brand and boost his online sales. With its additional elements, it is a pretty easy way to make your product listing stand out from that of your competitors.
Now that you know what A+ content is don't hesitate to include it in your product listing page. Not only will it draw good attention to your brand, but it will also help you stand on top of your competitors.
To build successful A+ content, ensure you understand every style guide in the AMZ product detail page rules.