If you are a seller, you might have probably heard about Amazon A+. If you're new to Amazon, however, you might be wondering what is Amazon A+ content. Fortunately, you came to the right place.
As a crowded marketplace, it can be quite tricky to grow your brand and increase sales on Amazon. Many sellers are now turning to Amazon's A+ feature to create a listing that enables customers to have a deeper and closer look at their products.
Amazon A+ content gives you the opportunity to add images and comparison charts in order to give your product a competitive advantage over other products on Amazon platform. Basically, it's a great way to enhance your seller ranking, brand awareness, and customer confidence.
Now that Amazon has made basic A content free for all vendors, there is no reason why you should not add A plus content to your product listing.
What is Amazon A+?
Basically, Amazon A+ content is an enhanced brand content EBC offering that is given to Amazon vendors who are also referred to as first-party (1P) sellers. This offering enables sellers to integrate detailed product descriptions, high-quality images, videos, and comparison charts as a way to showcase their brand and convince customers that their products are the best in the market.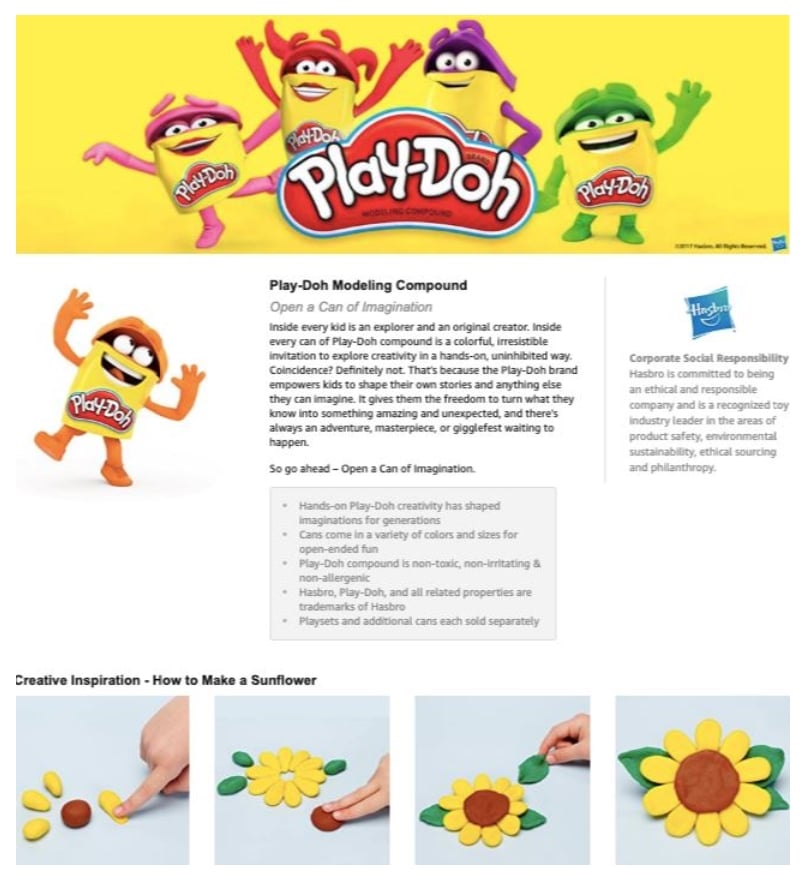 It aims at driving more conversion rates and increase your sales by 3 to 10 percent on average. This can give you an advantage over your competitors who sell similar products on Amazon. Consequently, it also enhances the user experience as shoppers are able to make a visual feature comparison of your product and brand from that of competitors.
Unlike the traditional product description, Amazon A+ content includes additional elements that give you the chance to educate your customers about the product and its features. As a result, they will be able to make more informed buying decisions.
What Amazon A+ Content Consists Of
The multimedia content that can be found on the Amazon A+ content page includes:
Heightened Images – these are multiple images that describes your product the best way. The images should be shot in different angles and up-close, focusing just on the product. Lifestyle images can also be used if they portray the product in use. Also, they should be in the right size and resolution.
List of Bullet Points – bullet points should explain the benefits of the product that will impact the buyer.
Clear Product Introduction – this refers to the short yet informative introduction about the product.
Precise Paragraphs – these are concise paragraphs that contain the product's features and benefits. Basically, you want to maintain minimal texts that will communicate the highlights of the product in simple terms.
Comparison Charts – charts help showcase the product in use as well as other ASIN that are related to your business. This enables your customers to discover your other product offerings without navigating away from the page. What's more, charts are used to educate customers so that they can make the right decisions about your products.
"What's in the Box" Section – this provides a list of the product's components in order to give an insight to buyers on what they are about to purchase.
In addition to the basic A+ detail page, Amazon also offers the premium A+ module for an exceptional online shopping experience. Premium A content allows vendors to display their products by adding larger images, video content, interactive displays, and broad comparison charts.
It also includes interactive experiences like a hotspot module that responds when a customer toggles over products features. Also included is a FAQ listing that enhances customer-vendor interaction.
How to Create an Amazon A+ Content Page
The first step is to log into Vendor Central. From there, hover over the "Merchandising" menu on the top and click on "A+ Detail Pages."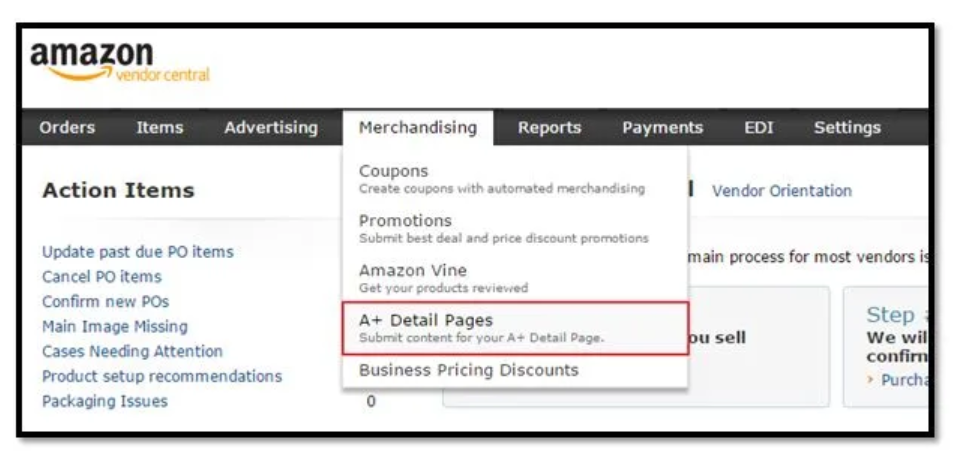 Next, choose the Amazon A+ package for your module: either the "Self Service" module or "Amazon Builds for You" module. If you choose the Self Service module, it will direct you to a page where you can select the content and copy. Meanwhile, in The Amazon Build for You module, you will be expected to upload the images and text. Amazon will then choose the design and layout for your page.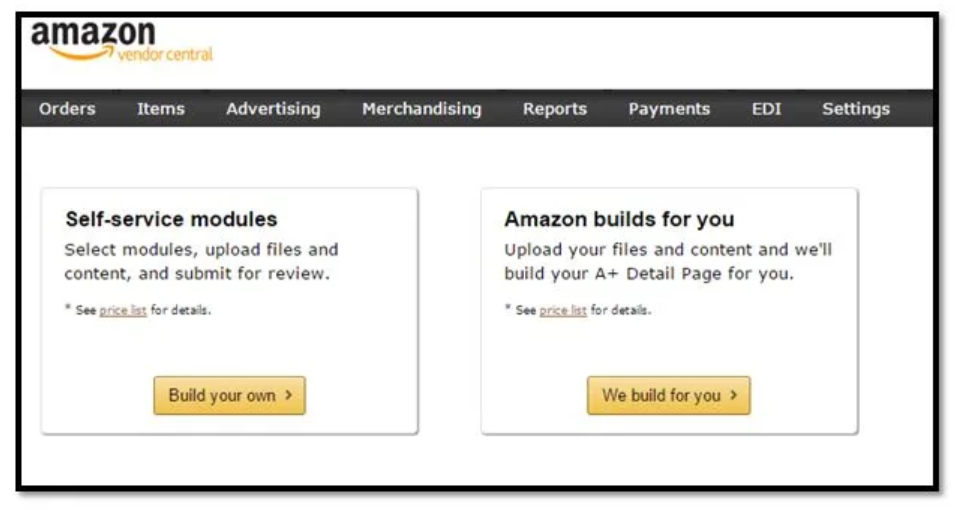 Assuming that you choose the Self Service module, you will see a page that allows you to enter an ASIN. It is here that you will enter the ASIN for your chosen product for A+ content.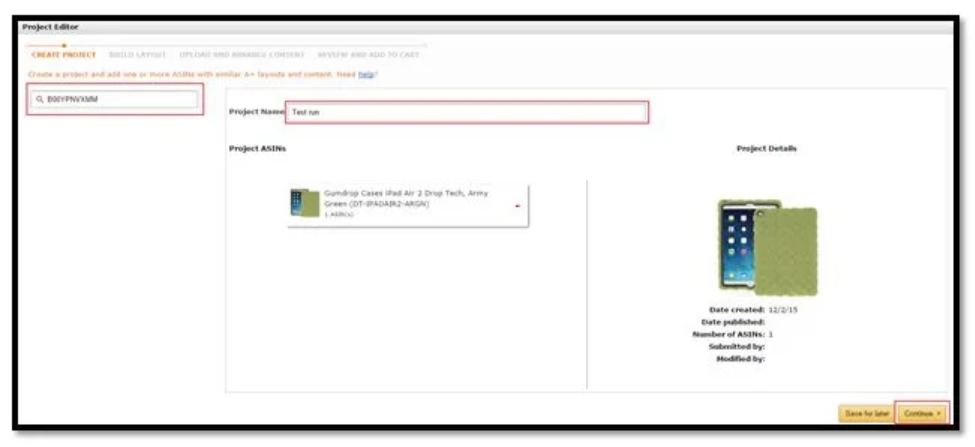 On the same page, you will see a large field in the middle that requires the project name. Use a descriptive name or your ASIN as the name for your project and click continue.
Next, design the layout of your page from the 12 different modules available. Also, many of the modules have customizable options that let you build a unique layout that will make a difference in the way customers view your listing. You can choose up to 5 modules for every product page. Once done, click on "Continue."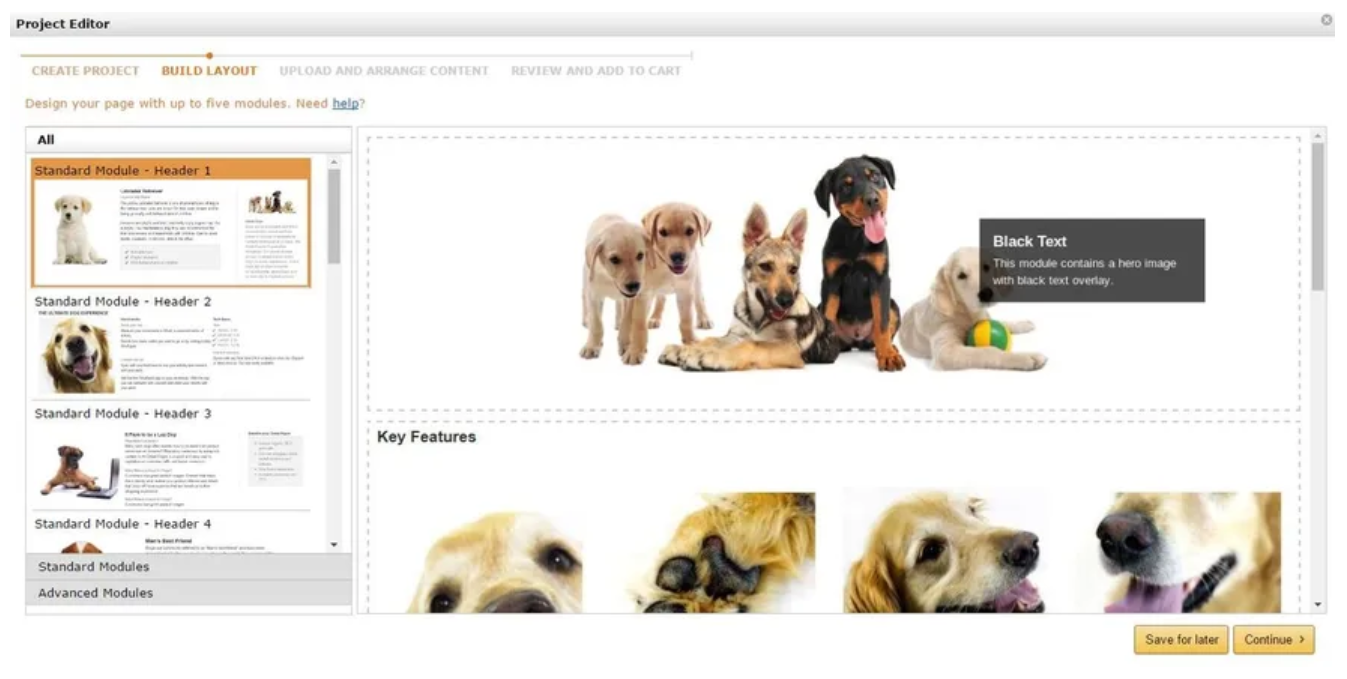 The next step is to upload the images and content. Once done, click "Preview" to see how your product detail page will look like. If you find that the page is not convincing enough, go back to design it again.
The last step is to select "Add to cart" to check the pricing. After that, proceed to purchase the A+ content.
If you opt for the Amazon builds module, you just need to enter your ASIN and upload the zip file of your images and content. However, this is a more expensive option than self service modules.
Eligibility Requirements
A+ content is only eligible to professional sellers who are registered in the Amazon Brand Registry as brand owners. Also, the feature is available to emerging brand owners who have been approved for particular managed selling programs like Amazon Exclusives and Launchpad. Once approved, sellers can only add A+ to those products that belong to the approved brand catalog.
Benefits of Amazon A+ Content
A+ content offers many benefits to sellers, helping them gain a competitive edge over other brands in the market. Here are some of them:
Helps with Conversion
According to Amazon, A+ content helps boost sales by up to 10%. A+ content tends to convert better compared to other features. This is due to its exceptional product branding and enhanced the consumer buying experience.
Showcases Your Products
As a seller, there is no better way to showcase your products than with A+ content. This is because it allows you to display high-quality images and features of your Amazon product that will make an impact on your potential customers. Once shoppers take a comprehensive look at the products listed, they will purchase your product with confidence.
Grabs Customers' Attention
A+ content has the ability to grabs a shopper's attention due to the large images and informative yet precise texts. Unlike most listing with large text blocks and paragraphs, A+ content has more visual and minimal text.
Improves Skimmability
With A+ content, sellers can break down the information and lay out the content in a simple and precise manner. Since A+ content eliminates big and chunky text blocks, it is easier for the buyer to skim for the information they want.
Proven Marketing Tactic
Basically, Amazon A+ content has a similar look to that of a conventional brochure. This platform uses proven marketing strategies by exploring new formats and color schemes that marketers have used for years now. This, however, is without the textual confines imposed by Amazon on product listings.
How Much Does A+ Content Cost?
The Amazon a+ content cost completely varies and is based on how you want to leverage your A+ content for your listing. It also depends on whether you choose the Self Service module or Amazon Build It for You module.
Self Service
The self service module costs around $400 per product and allows you to choose from different price levels like basic, silver, gold, and platinum. This option allows you to have full control of the design and layout of your listing. You will also be asked to provide the images and create a copy.
If you go with this option, make sure that you hire an accountant to help you determine whether it is worth the investment. Also, this module works best for an Amazon vendor with background experience in marketing. Otherwise, you may opt for the other package that lets Amazon design the package for you.
Amazon Builds
This option works best for sellers with little or no experience in marketing or branding. Here, Amazon does the entire job for you but at a higher fee of $1500 per listing. All you will be expected to do is send the images and content of your product so that they can select a suitable design and layout for your listing.
Amazon A+ Content Guidelines
Before you get right into it, here are product detail page rules that you need to know about:
In order to qualify for the promotion, you need to submit the A+ content within a period of 1 month after your purchase.
The offer is limited to only 5 or less pages per vendor.
A+ content doesn't affect your page ranking.
Amazon A+ content only shows on your desktop as the mobile version and A+ mobile price has not been updated yet.
Sellers are not required to mention their competitors or their products in the A+ content.
Products that are mentioned by other vendors on Amazon.com will attract a fee in order to get the A+ Enhanced Marketing Content page.
Images and text must focus on the product and be unique to A+ content.
Lifestyle images can be used only if they describe the product in A+.
Conclusion
Amazon A+ content provides a great opportunity for every business owner who is looking to grow his brand and boost his online sales. With its additional elements, Amazon A+ content is a pretty easy way to make your product listing stand out from that of your competitors.
Now that you know what's an A+ content is, don't hesitate to include it in your product listing page. Not only will it draw good attention to your brand, but it will also help you stand on top of your competitors.
In order to build a successful A+ content, make sure that you understand every style guide in the Amazon product detail page rules.