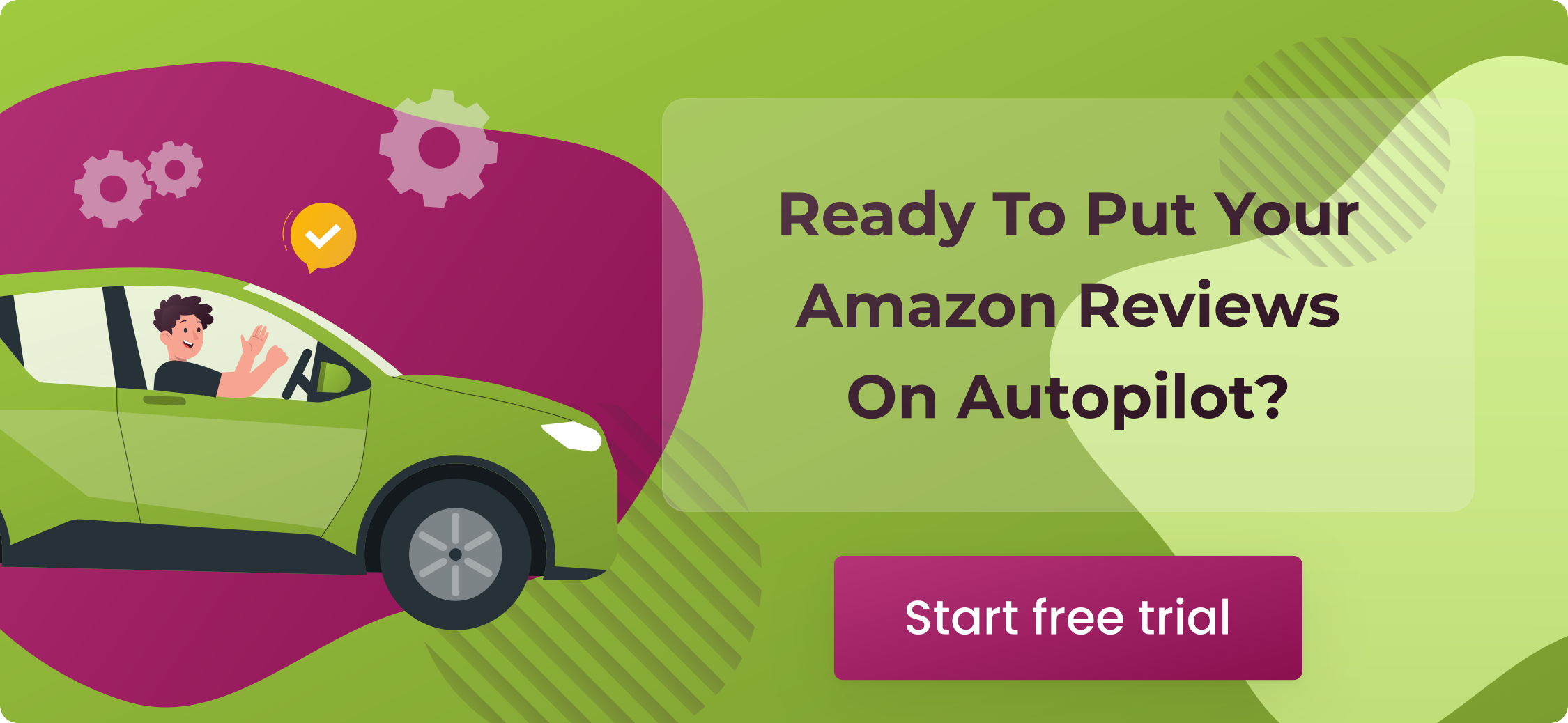 Ready to expand your business and sell on Amazon Europe? United Kingdom is among the most popular choices for American sellers wanting to grow their AMZ brand.
AMZ UK is the second-largest marketplace in Europe after Germany, and the main language of this market is English. Thus, it is just an amazing chance for merchants from across the globe – especially from other English-speaking countries – that cannot be missed.
Read this blog post and discover the main points of selling via Amazon UK, the fees that AMZ sellers face, and other relevant info that can impact your decision.
How to Start Selling on Amazon UK? 
Now that we have covered the perks of selling on Amazon UK, the big question is: how to get started?
Register a UK bank account (optionally)
You do not necessarily require a local bank account. For example, sellers can simply add their American business bank account and utilize AMZ Currency Converter for converting British pounds to USD. 
Nevertheless, getting a UK bank account to bypass the currency exchange rates makes sense. Furthermore, you do not want to risk problems altering the bank account info in your seller profile, so if you plan on getting a bank account in the United Kingdom, do it immediately.
Get a European seller account 
Next, you will have to register your seller account. Merchants cannot use their current US profile to sell goods in Europe.
The good news about the EU account is that it's a Unified profile, which indicates you can have it for managing all European marketplaces. So you'll already stay well-prepared to deal on other markets like AMZ Germany after you get the UK running.
Create your product listings
Once you register an EU account, you may start listing your item. The Amazon platform generally works in the same manner in the UK as anywhere else. Thus, the same guidelines and rules for making a listing apply.
Send your inventory
Last but not least, you'll need to ship your goods to Europe. When working with Amazon UK, you will not be able to fulfill orders via your US fulfillment center stock. 
So what can sellers do?
Select a freight forwarder – If you're purchasing from a supplier outside of Europe, you may have your goods sent from the manufacturer to you first and then to the United Kingdom, or you may ship right to your EU fulfillment center. 
Send your goods to the clients in the UK – Next, you must determine how you wish to dispatch and fulfill your goods to the clients in the UK. 
How to Create an Amazon UK Seller Account?
This section of our blog post will cover everything you need to know about making an AMZ seller account in the UK. 
Firstly, visit the Become an Amazon seller page on Amazon.co.uk. 
As with other AMZ marketplaces, the UK one has two selling subscriptions: Individual and Professional. 
Individual: 
It suits novice merchants who do not plan to sell many items each month or are unsure what goods to sell. This subscription plan has no fee per month. However, you will pay £0.75 per unit sold. 
Professional:
This plan is ideal for anyone serious about running a business on Amazon and intends to sell more than 35 units per month in the marketplace. With this plan, you must pay a flat cost of £25/month. 
Once you decide which subscription plan is best for you and your brand, let's start your registration process. 
On your "Sell on Amazon" page, choose "Sign up."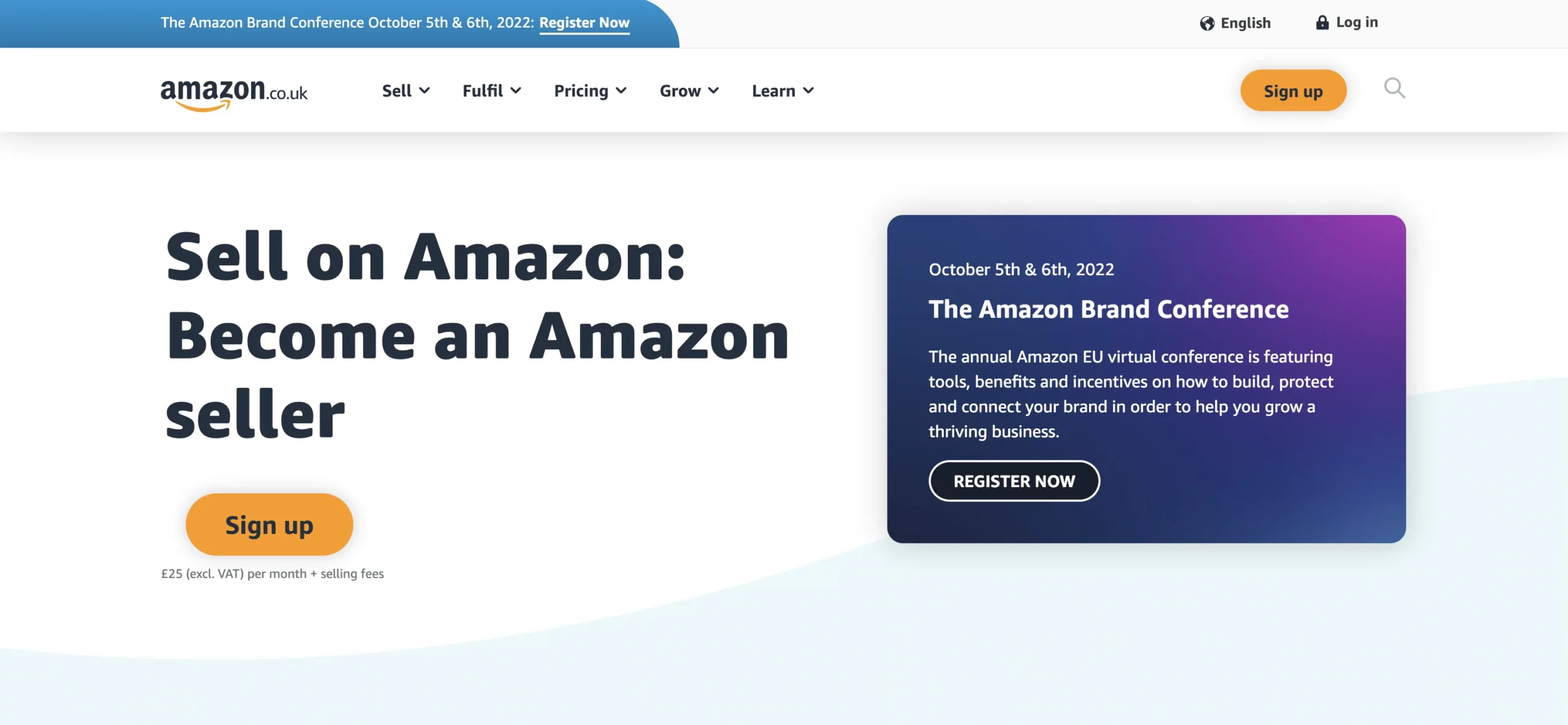 Fill in your login or client account, or register a new profile with a new email. 
Next, pick where your company is located and what type of business it is, and enter your name/business name. 
If you do not have a registered company, choose "None, I'm an individual." Otherwise, pick the option that best represents your brand, then "Agree and continue."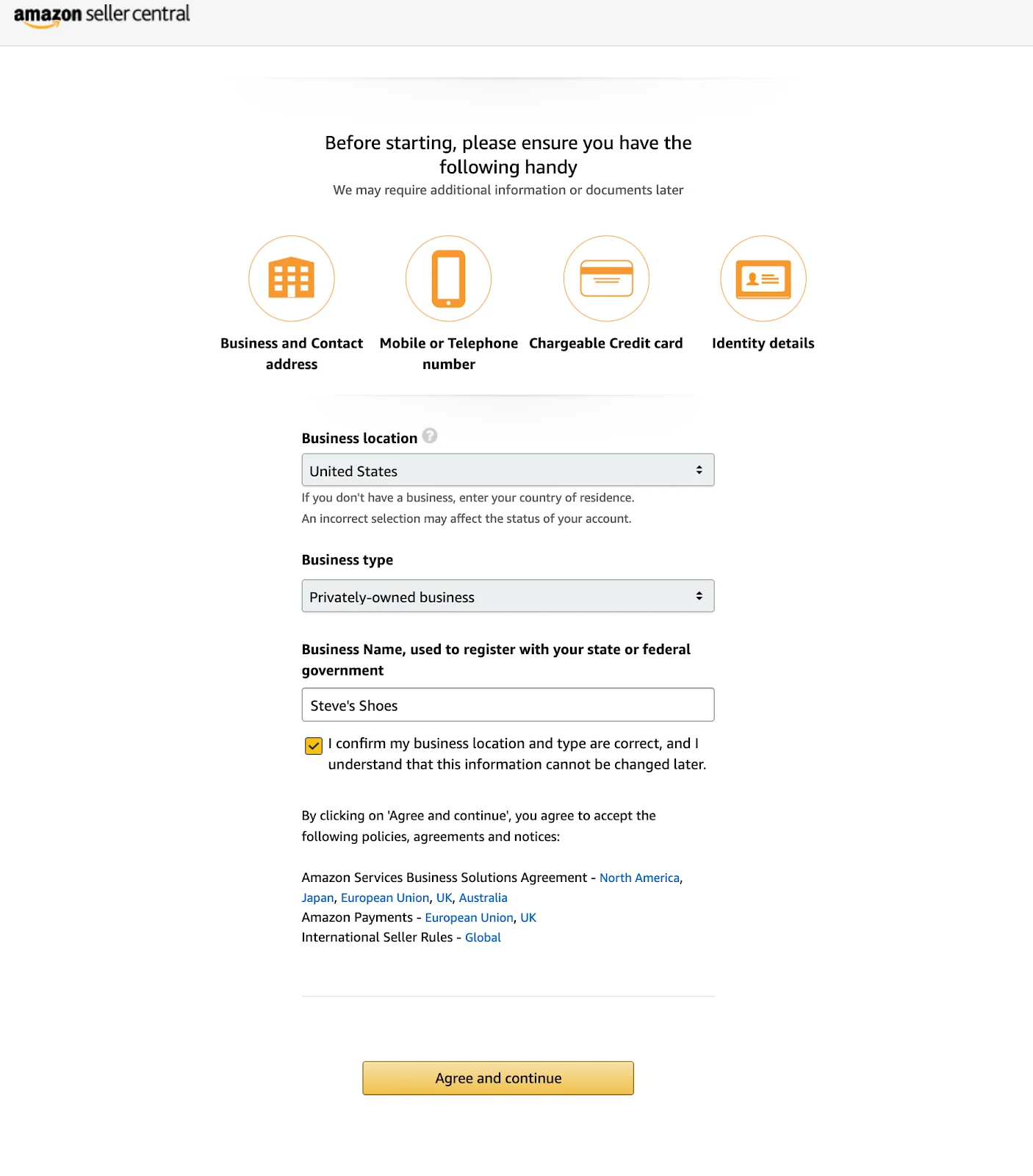 The next steps include adding personal details, including:
Your address

DOB

Country of citizenship

Phone number

Bank account and billing information

Selling plan

Store name
When you enter all the required info, the marketplace will need to confirm your account before allowing you to sell on the platform. You can start listing products for sale as soon as you get approval!
If you have any questions, just contact Amazon UK customer service.
What Does It Cost to Sell on Amazon UK?
If you've decided to run your business on Amazon UK, you should expect some fees and charges:
Subscription commission
As mentioned above, when setting up your Amazon UK account, you must decide between the Individual (for smaller merchants) or the Professional (for bigger brands) plan.
Under the first one, you will pay £0.75 for every product sold. Instead, the Professional subscription has a cost of £25/month but helps to avoid the sales fees and includes extra tools for the development and growth of merchants with a considerable selling volume.
Amazon Individual plan does not provide as many functionalities or tools as the Professional one. In fact, if you have a volume of 40 sales or more per month, it is already more profitable to work with the Professional subscription.
Amazon UK selling commissions
Sales fees or sales commissions are charged for every item sold and include a referral cost, plus additional expenses that are only applicable to multimedia.
Such fees aren't charged to the merchant with the Professional plan.
AMZ UK FBA commissions
For purchases handled by the platform, there are also expenses to fund the storage costs, additional services, and fulfillment tasks.
AMZ UK referral commissions
Referral commissions mean a percentage of the total sales. They differ depending on your product category.
Shipping commissions
When you handle your Amazon orders from the platform, you will be charged shipping fees. They vary depending on the shipping method a customer selects and your product category.
Refund administration costs
When a client returns an item and asks for a refund, Amazon UK customer service will give the merchant back the referral fees with no administration commissions (20% of the referral fees or £5, whichever is lower).
VAT Compliance as an Amazon.co UK Seller
If you sell any European AMZ marketplace like Amazon UK, you must register for a VAT number in every European state you sell in. 
VAT is a value-added tax that merchants add to the price of their goods and transfer to national tax authorities.
The platform states the merchant is responsible for ensuring they are VAT-compliant in any European country where items are sold.
How to Research Products to Sell on Amazon UK?
Now that you know how to sell on Amazon UK, how do you find out what to sell? There are two main approaches you may take regarding what to sell: to choose products in high demand in the marketplace or to step away from that and sell goods you have experience with.
Both of these involve some kind of market research; however, generally, high-demand products have more competitors and are bought because of price.
Well, if you're an existing brand owner developing your business, you have covered that. For the new merchants, you may use additional tools to conduct extensive product and keyword research to find the ideal product to launch. 
For instance, SellerSonar can help you be fully aware of the slightest alterations in your Amazon business environment. With this AMZ product tracker, you'll be able to identify which items are most popular to inform your inventory selection better. Moreover, you can check other vendors' strategies to attract customers and expand their brands. 
When you promote items you already know, it is easier to spot their strengths and weaknesses and compare them with other items. This strategy helps you differentiate them more efficiently from others.
In the first case, you must pick new goods constantly (depending on the latest tendencies and top sellers on the platform). In the second case, your experience in the area will be the source of your competitive advantage, a more long-lasting quality than top-selling products.
Sell on Amazon UK: Is It Worth It? 
If you are unsure if selling through AMZ is the best solution for your business or if you do not want to put all your eggs in the same basket, we recommend exploring different marketplaces. We hope this blog post solved all the doubts and answered all the questions about becoming an Amazon UK seller. 
Expand your reach, and don't forget to leverage the power of social proof! SageMailer is a seller tool that can help you generate customer reviews and grow sales in any marketplace. It is easy to use, and the availability of free guides and how-to resources will get you up to speed, even when you have no clue how to collect feedback on the platform! 
Don't worry about wasting money on a subscription; try a 30-day free plan and see for yourself!