If you're a Shopify seller, you'll agree that shipping is definitely one of the processes that take too much time. To do shipping with minimal loss, you have to be careful and aware of the common shipping errors. From our short guide, you'll learn how to set up shipping on Shopify and prevent the most common mistakes:
Include international shipping in your account
Even if you're aimed at local buyers only, odds are customers from other countries may get interested in your products. Imagine how bad it will be if they aren't able to buy from you because of the absence of the international shipping option. Don't lose your chance to conquer the world market!
You'll need a proper strategy and a reliable international shipping calculator to deal with this task. Consider the following tips:
start from the neighboring countries;
evaluate a current demand;
define the markets that fit your business;
take into account a language barrier.
Set the ideal shipping rate
Whether you're catering to international clients or just in your country exclusively, it's crucial that you set an ideal shipping rate. In this way, you're keeping your customers happy and your books balanced – not too low that you lose money and not too high that you scare away potential customers.
Determine the average weight of the shipments you're going to send: add the individual weights of the shipments involved and then divide them by your catalog size. Once you get your average weight, you can now multiply this to the average amount of products ordered. Contact your local carrier then check how much your shipment would actually cost with that weight.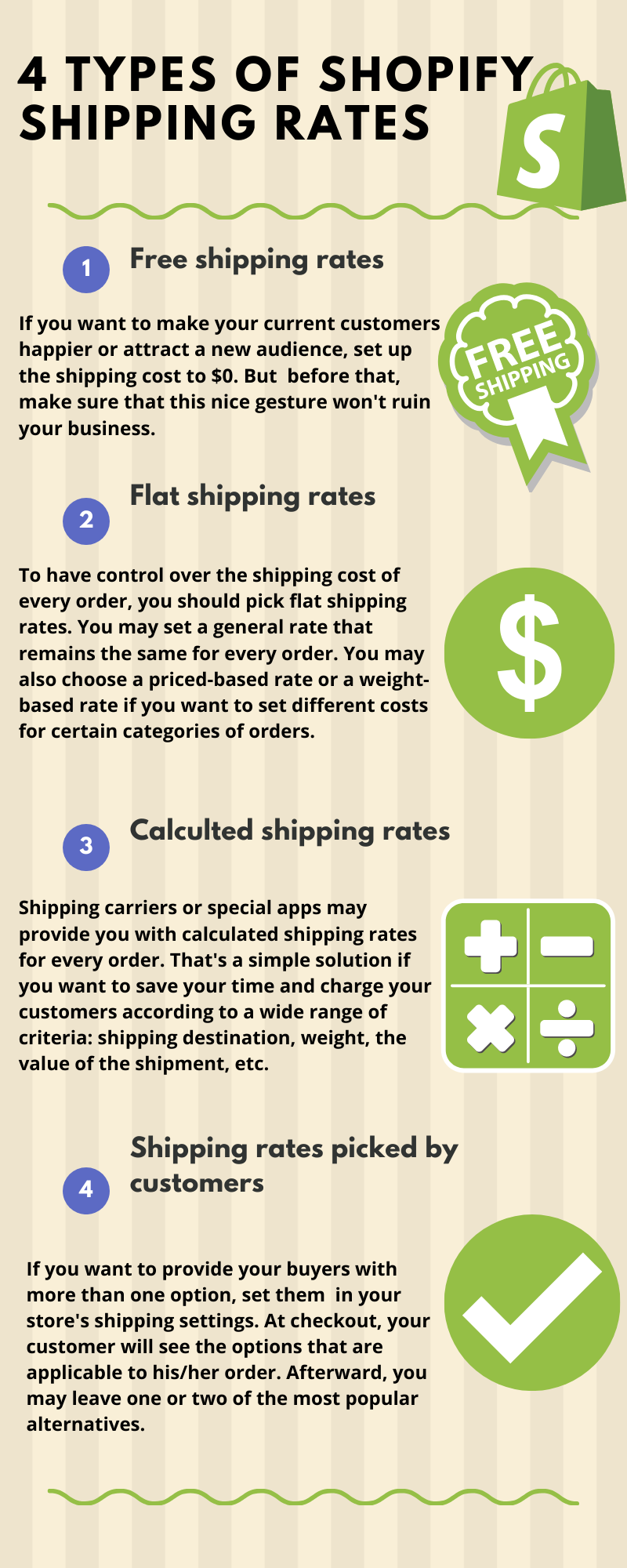 Consider your freight shipping requirements
Next, you'll have to know your local shipping requirements. Usually, this includes a proper pallet that can last during the hauling and shipping process. Durable packaging is also required. Seal every package securely and protect it with bubble wraps or packing peanuts. Lastly, your shipments shouldn't also be stacked irresponsibly or nearly at the edge of your pallet.
These are just some common preventions that make shipping easier. However, it's still safer if you're going to pick a reliable courier provider. In this way, you'll have a smooth transaction in every shipment.
Use shipping deduction costs methods
If you're not doing your best to lessen your shipping costs, then this is definitely an error on your part. Luckily, there are a lot of ways to lower such expenses. Try one of the following strategies:
buy discount labels on Shopify Shipping;
compare local carriers and pick the best option;
invest in flat rate shipping;
hire a logistics provider;
find a carrier who provides packaging;
buy insurance from a third party.
Avoid pick and pack errors
One of the most costly shipping errors is a mistake with sending the wrong items to the wrong customer. A pick and pack error can be costly, and there are inexpensive simple solutions like ShipTarget.com which turn your phone into an enterprise-level bar code scanner. Such tools help sellers to manage the packing process and eliminate packing errors.
Shipping is a complex procedure, and you shouldn't leave it to chance. Take this task seriously and learn how to set up shipping on Shopify to avoid financial loss and provide the best customer service. Happy selling!