When you are touring the Amazon site, whether as a seller or a buyer, you have probably come across a Today Deals Link on the features page. You will see a list of products with incredible discounts when you open the page. This page is the Amazon Gold Box Deals page, also known as the lightning deals page for sellers.
What are the lightning deals on Amazon? AMZ lightning deals are promotional deals that allow sellers and buyers to quickly sell and buy discounted products. It is a time-sensitive promotional discount program. Generally, it takes between 4-6 hours to run by the marketplace. Amazon lightning deals today attract a lot of traffic and are a great way for sellers to improve their sales.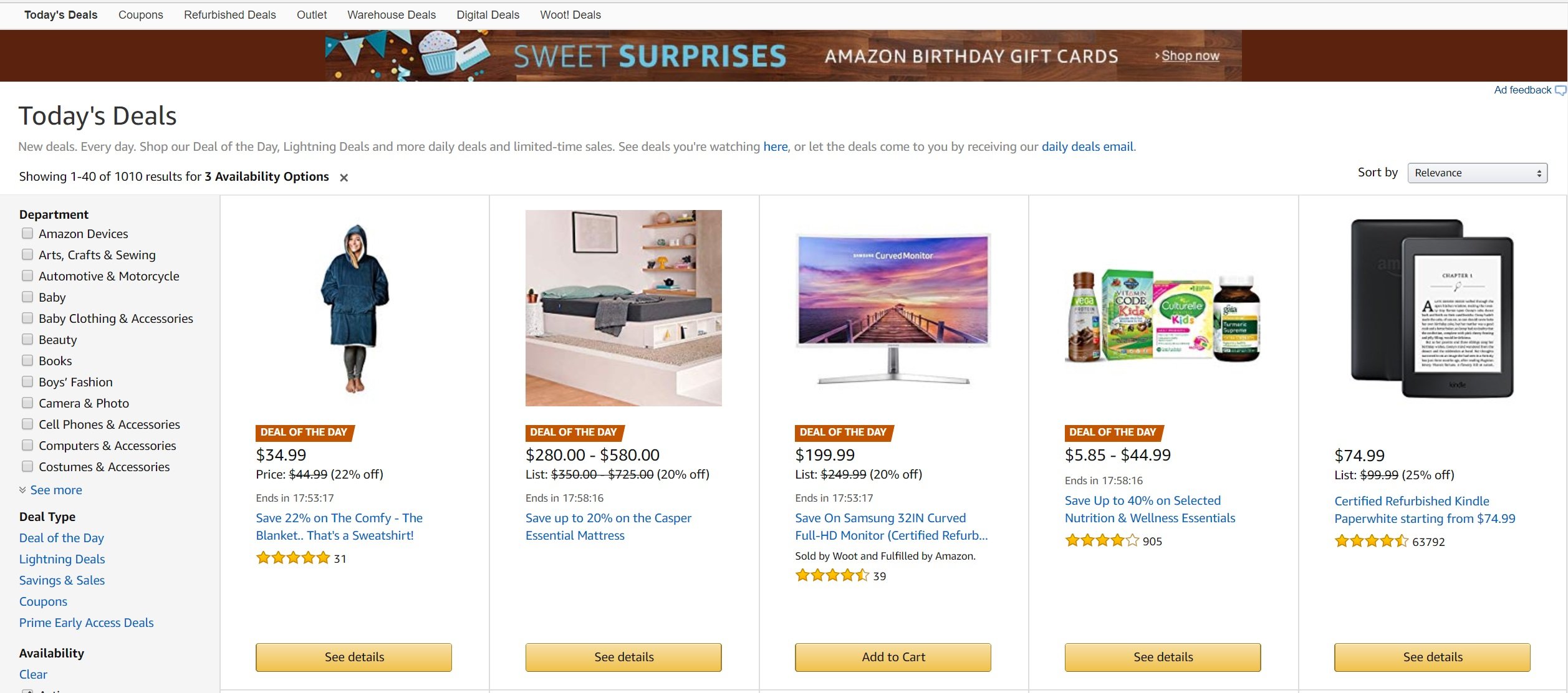 Creating an Amazon Lightning Deal
Creating lightning deals is an easy process. However, you need to consider some factors before doing it. These factors include product eligibility, star rating, discount percentage, and categories.
To give you a more concrete guideline, here's what you need to have before your Amazon golden box deal is approved:
Note: the more positive product reviews you have, the less impact a single negative review will have on your overall star rating. You can significantly increase the positive reviews you get by automating your emails to customers.
SageMailer automates all the processes for you in just a couple of minutes, so it's a quick and risk-free method to grow the number of reviews for each product. Give SageMailer a try with its free 30-day trial; no credit card is required.
You should give a minimum of 20% discount.

The products should be within accepted categories and under Fulfilled by Amazon (FBA).

You need to be prime eligible.

It is vital to include product variations to increase the chances of a deal passing eligibility.

The inventory quantities of your products should conform to the minimum deal quantity set by Amazon.
Amazon sets the maximum price of the lightning deals. You do not have full control over the Amazon lightning deals schedule. You can only specify the week, but Amazon provides you with the day and time of running your deal. And you are entitled to pay a fee to submit a product for a lightning deal. The non-refundable fee is charged once the deal runs. It does not depend on the deals' performance. Lastly, running an Amazon deal more than once within seven days is impossible.
Once you have mastered the above factors, you can now go ahead and create your lightning deal by following the steps below:
Step one: Log into your Seller Central account
Step two: Click on the advertising tab
Step three: Select the Lightning Deals tab
Step four: A lightning deals dashboard will appear. Select the Create tab and click on Edit.
Step five: Go ahead and set the deal price, the product quantities, the deals schedule, and applicable product variations.
Ensure your product pages are optimized before submitting the deals. Amazon lightning deals are subject to time limits, and Amazon changes the terms of the deal frequently. Therefore, you must be quick when submitting a deal to make sure you meet the Amazon lightning eligibility requirements before they change.
How to Monitor Lighting Deal Submission?
The lightning deal dashboard allows you to monitor the deal status. The dashboard provides various tools that will help you maintain a successful deal. These tools include:
Draft status: brings to attention an error during the setup of a deal. It gives you a chance to edit the mistake.

Needs edits status: helps you to note areas of the deal that requires editing.

Under review status: shows that the deal is on the waiting list and needs Amazon's approval.

Pending status: this means the deal is eligible to set requirements and is awaiting scheduling.

Upcoming or Approved Status: this implies the deal is scheduled for a specific date and time.

Suppressed status: indicates that the deal you submitted doesn't meet eligibility requirements. It allows you to make the necessary changes before Amazon cancels the deal.
How to Cancel a Lightning Deal?
Amazon has a cancellation option if you feel the need to cancel your lightning deal. Canceling a deal is possible inconsiderate of whether the deal is in progress or not. However, there are some rules to take note of:
You are charged a fee if you cancel a deal less than 25 hours before the start of the deal schedule.

Last-minute cancellations are susceptible to blacklisting from future deal creations.

Frequent canceling of deals can also lead to blacklisting by Amazon, which will prevent you from creating lightning deals in the future.
To cancel a deal, you need to follow the steps below:
Step one: Go to the lightning deals dashboard.
Step two: Go to the All tab.
Step three: Click on View alongside the deal you want to cancel.
Step four: Select Cancel deal.
How to Find Amazon Lightning Deals?
Amazon runs many deals every day. You can find the deals on today's deals page on the site. Some of the deals you will find include: (1) deals of the day that run for 24 hours, (2) lightning deals that are limited to a few hours like flash sales, (3) savings and sales which are continuing deals for specific brands or items, and (4) Prime early access deals which are lightning deals available to Prime members 30 minutes before the deal goes live officially. These deals are all open to the public except the Prime early access deals.
Amazon also hosts a sales event annually, famously known as Prime Day. Amazon Prime day, also known as the online shopping black Friday, is a more-than-a-day-long prime lightning deal exclusively available to Amazon Prime members.
How to become a Prime member? You can sign up for the Amazon Prime free trial. And you are required to provide some personal information while signing up. You don't need to worry about information leaks, as a privacy policy is put in place to protect your personal information.
Visit the Amazon help and customer service site to learn more about Amazon Prime.
When Does Amazon Lightning Deals Start?
Amazon Lightning Deals do not have a specific start time, but you can stay up-to-date with deals that will be available soon. It is made possible through the upcoming deals section on the Amazon site. The upcoming deals section allows you to view upcoming deals that will go live in 24 hours.
To monitor a deal before the deal goes live, follow the steps below:
Step one: Go to today's deals page.
Step two: Click on the upcoming tab.
Step three: Select watch this deal alongside the deal you want to monitor.
Step four: Ensure the notification is on for you to receive push notifications.
How to Get Items During Amazon Lightning Deals Period
Once the deals go live, select the item you wish to purchase and add the item to your cart. Remember, lightning deals are restricted to a specific time limit. Therefore, you must buy the item a few minutes after adding it to your shopping cart. The deal is made available to the next customer on a waitlist if you fail to complete the item purchase within the set time frame.
Lightning deals are frantically grabbed. If a deal you are interested in is no longer available for you, you can still have a chance to get the deal by joining the waitlist for that particular item. Click on the join the waitlist tab adjacent to the particular deal, and you can potentially snatch the deal if the previous customer fails to make a purchase. However, joining the waitlist does not warrant a purchase of the deal. It is typically a second chance from Amazon amid the lightning deals frenzy.
Lightning deals are only available for one customer per deal until all the inventories are no longer available or when the promotional period ends. Two customers cannot claim the same deal at the same Amazon lightning deals period.
Advantages of Amazon Lightning Deals
Lightning deals are only available for a short period. However, despite the short time frame, lightning deals provide some benefits to both the sellers and the buyers too.
For sellers, lightning deals benefit them in the following ways.
Quickly increase sales
Products that are featured in Amazon's Lightning Deal spaces typically enjoy a nice bump in sales throughout the duration of the deal. Budget-conscious consumers are constantly looking for the best prices on Amazon and your product will become more enticing with a promotion attached. While an increase in sales is exciting, it is also important to consider that offering Lightning Deals does come at a cost to the seller. Consider your budget and overall goals before offering the promotion.
Improve your visibility and rankings
Although the seller sacrifices profit in the form of a discount, offering Lightning Deals is a great marketing tool for raising awareness around a product and/or brand. As an added bonus, this promotional tactic can also increase your organic search ranking on Amazon due to an influx of purchases, page traffic, and customer reviews. This can be especially helpful for recently launched or new products. 
Clear excess inventory
Do you have an excess amount of inventory on hand? Offering a Lightning Deal is an ideal tactic to clear your digital shelf. Many brands use these deals as a way to clear excess inventory, especially when it comes to making way for seasonal products or new merchandise. 
Promote your store 
Lightning deals are a powerful tool for promoting your entire Amazon storefront and brand. These deals bring your brand name to the forefront and even if a user doesn't cash in on your Lightning Deal, you are still building brand awareness and increasing overall product discoverability.
Conclusion
For buyers, it is a chance to get once-in-a-lifetime discounts on fantastic products. There might still be more to Amazon Lightning Deals that you need to know. However, these are the basics of what the lightning deal on Amazon is and how you can run it.