When does Amazon Black Friday start? For many Amazon sellers, it might look like the holiday season is always around the corner. But, usually starting with the Black Friday and Cyber Monday weekend (and even before), it's one of the most crucial periods of the year to grow sales and revenue. And with more clients buying online, including the Amazon platform, than ever before, you need some selling tips to prepare for the holiday rush and make the most of it.
Also, don't forget about collecting clients' feedback and responding to customers on time. Luckily, we've prepared a great deal for you.
Subscribe to SageMailer now and get a 30% DISCOUNT for the next year with the promo code – SAGEFRIDAY. Note that the offer is available only for new users.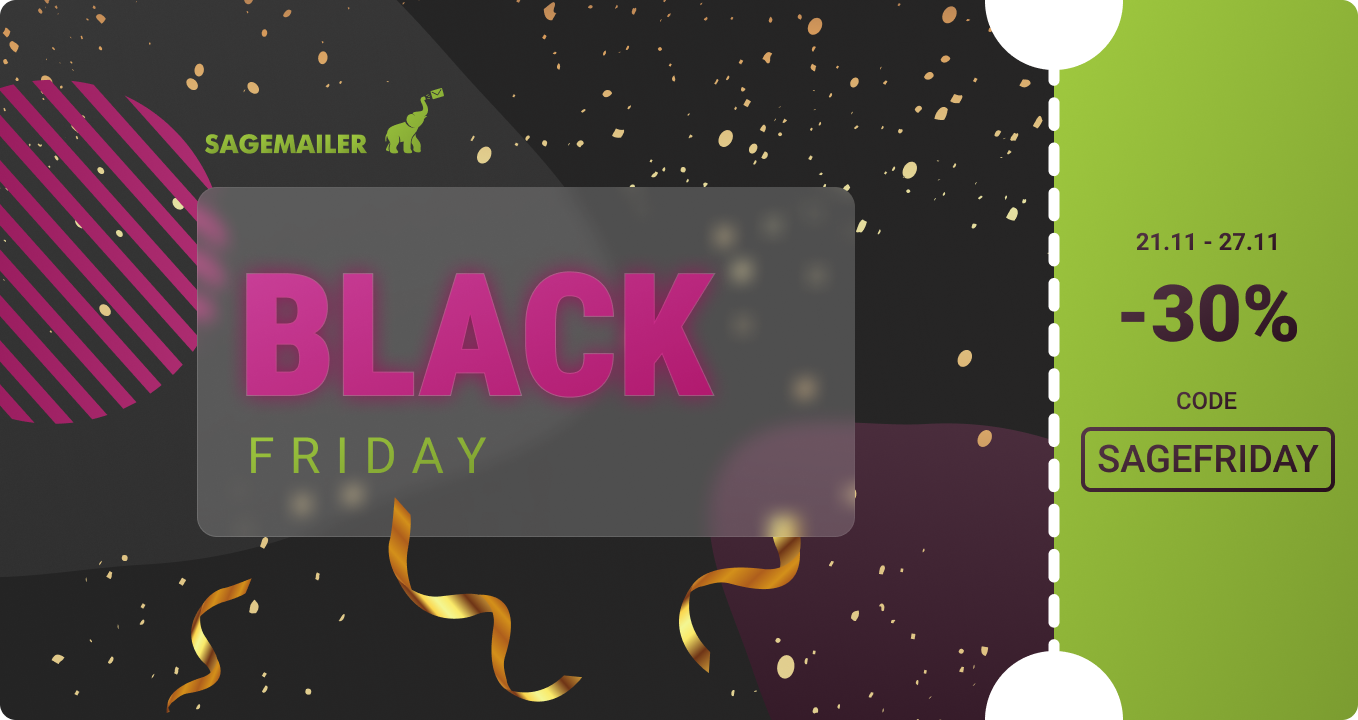 Why Should You Prepare Early for Amazon Seller Cyber Monday and Black Friday? 
To begin with, it's a critical time for Amazon sellers every year.
Black Friday, Cyber Monday following it, and the rest of the season are spectacularly great events for every Amazon business owner. About half of them stated that the end of November is important to their bottom lines. Besides, 64% of them said December is crucial as well.
Another reason is that the COVID-19 pandemic brought even more customers online.
After the hit of COVID-19, online sales have soared, with more and more users opting for e-commerce than ever before. And while some clients may be cutting their spending due to the pandemic-driven economic tensions, those purchasing tend to do so online, especially on the Amazon marketplace. 
And last but not least, Amazon's inventory and fulfillment resources have become strained.
Amazon's FBA process of receiving shipment slow down through most holiday periods due to high demand. So, especially in 2022, when the platform's new inventory restrictions occur, Amazon sellers need a strategic plan to remain on top of the increased demand. And to receive their shipments out as early as possible, ensure the inventory will be accessible for the many approaching shopping holidays and events. 
The Amazon sellers' research proves that November usually sees an early beginning of online holiday shopping sales. 58% of respondents said they noticed growth in sales before Thanksgiving, whereas 22% spotted an increase even before the month. So with two last autumn months and December potentially providing an even higher-than-normal stream of users on the Amazon Marketplace, you can now understand why it is a good idea to start planning early!
Why Do Sellers Need a Black Friday Strategy?
Businesses on AMZ can benefit from a selling strategy every day of the year. However, Black Friday planning is even more critical. This period is probably the most important day in the retail calendar. Awesome for you – but awesome for all other sellers as well, too. On Black Friday, it is more vital than ever to stand out from the competition and differentiate your brand.
By developing an effective Black Friday approach that starts weeks before the seller's event, you will get a head start on your competitors, setting your AMZ store up for success.
Amazon Black Friday Planning: Tips for Sellers in 2022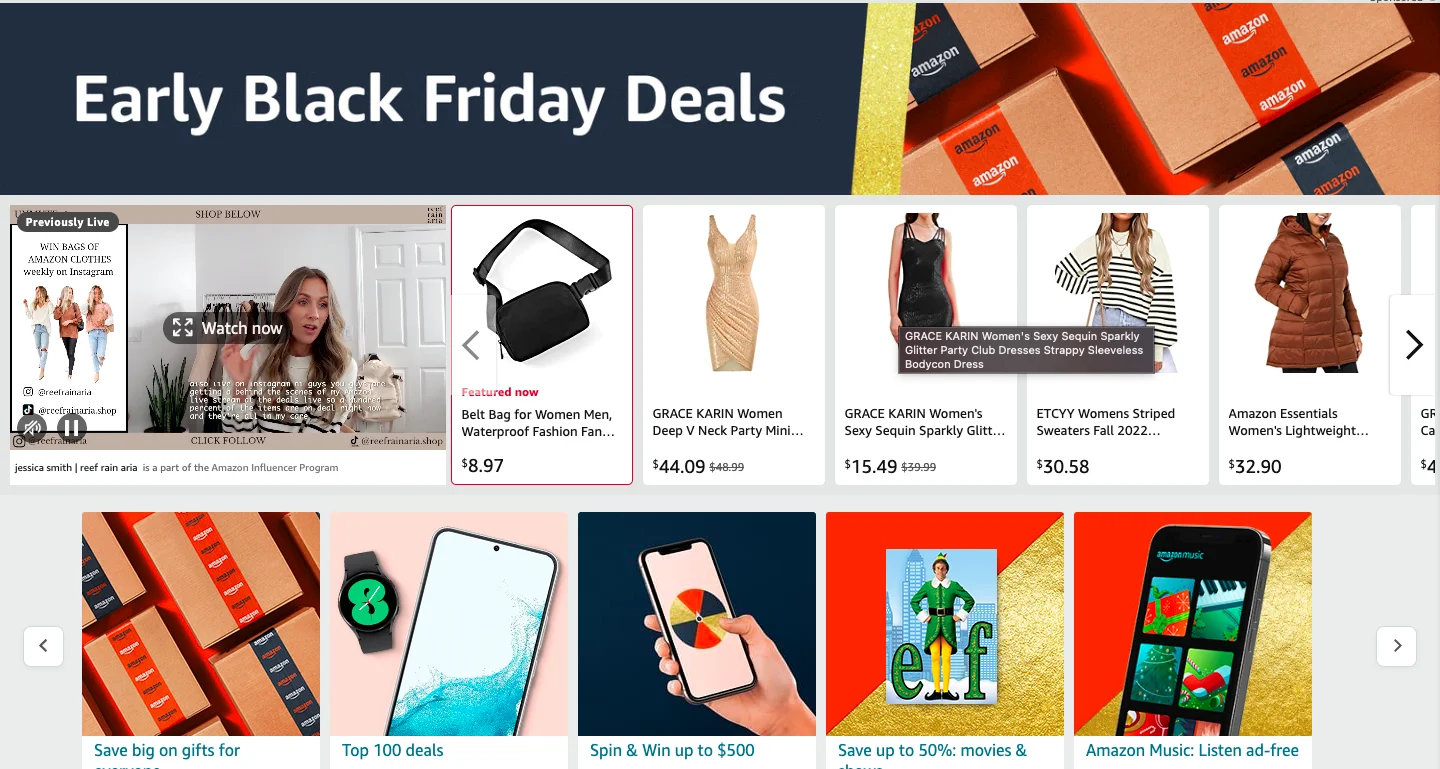 Begin early to capitalize on the Big Day
If you decide to wait until the middle of November to start advertising to users, congratulations, you are too late. Remember that you must prepare your marketing strategies and inventory in September or October. What most shoppers know as Black Friday can be called Black November for the platform's sellers. Have you ever noticed how stores (both brick-and-mortar and offline) commence their Christmas ads earlier and earlier? The same applies to Black Friday. Do you wish to become the black sheep left behind? If not, start preparing in advance to attract more buyers, increase brand awareness, and capitalize on greater sales.
Watch all your channels
Many merchants advertise on different channels during the holidays, which can confuse price comparisons. Keep close tabs on the conversion rate for your most price-volatile and popular products.
Don't forget that Amazon is just one channel—what is being offered on other channels like Google can also influence your sales.
Avoid putting all eggs into one basket
Of course, the Black Friday holiday with Cyber Monday following it is one of the greatest shopping events on the Amazon merchant's calendar. However, if you concentrate 99% of your resources on those two days, you risk missing out on essential selling opportunities elsewhere.
Imagine the psychology of shoppers for a moment. Then, here's what they think about shopping during holidays and Amazon Black Friday deals:
Amazon's Black Friday sale

before the holiday often means that the discounts compared to full prices can be even bigger when the actual day comes, as the seller will desire to keep up with all the competitors. Thus, buyers will be more likely to bookmark your website and return to it in one or two weeks, and getting clients to come back isn't as easy as ABC.

There is always a great number of last-minute buyers who will run into reduced inventory. To avoid that, smart users browse the websites ahead of time — however, they will need some incentive to purchase earlier.
Therefore, considering those approaches and spreading your good deals are some key ways to maximize your sales.
Ensure enough stock to hold out during the whole holiday season
One of the worst things that can happen to Amazon merchants is running out of inventory even before the holiday season is over (keep in mind the last-minute holiday buyers). Many Amazon sellers don't operate with fresh goods, for example, groceries, so they can stock up on enough products until the half of January.
Stand out from competitors with free shipping
Selling during the holiday season is cutthroat, and you must come up with every advantage to set yourself apart from the competition. Haven't you provided free shipping to your clients before? Make it your prime selling feature to attract more clients to your product page. What if you already offered free shipping? Up-sell, cross-sell, bundle items, and add gift cards to grow your profits even more. Besides, strategic bundling remains one of the best methods Amazon sellers can land a Buy Box.
Jump on the best-selling bandwagon
Find out what is in trend this year. Are customer tastes changing? What new items are gaining ground? Utilize news and industry sources to learn how to capitalize on developing trends and prevent stocking up on end-of-lifecycle goods.
Every year there is a game or a few other things that are especially popular and selling out, like hot cakes. They don't necessarily have to become your line's backbone, though you should think of stocking the popular item. Spare a couple of hours looking for trending products and including them in your cart. You will not only make Amazon shoppers happy, but when they come to your page to purchase those items, chances are much higher they will stay there to purchase other things.
Ask for product reviews
Feedback is one of the best, most authentic types of social proof available to AMZ merchants. Once a client has bought a product from you, request an honest review. The more testimonials on your profile, the more potential buyers will trust your store in the marketplace.
With the SageMailer feedback management tool, you can get great feedback without lifting a finger.
The software automates the AMZ feedback software system behind its Request a Review feature in Seller Central, so it is 100% compliant with the platform's policies, making it more effortless than ever to generate social proof for your account.
Become the buyer
Do you think that Black Friday is solely the day to make more money selling stuff? Not so much! You can also use this time to purchase items and charge your inventory cheaply. Then, just turn around and sell those goods at a higher price.
Final Thoughts: How to Make Money on Black Friday on Amazon?
The 2022 holiday season will certainly be busier than ever before. That is why to be fully prepared for the increase in sales, closely follow the steps mentioned above. However, don't forget: with great power comes great responsibility. When your sales are growing, the number of customer requests and testimonials, including ones in social media, is growing proportionally. And your customer service needs to be outstanding. 
Fortunately, SageMailer can do much of the customer review management job for you. Just register your free trial account and enjoy its benefits.