Amazon is great at personalizing the shopping experience and developing intelligent algorithms to better tailor the users' preferences to the choices they can make. The platform's recommendation engine is one of the most powerful personalization technologies in retail and eCommerce. However, it's not the only feature that artificial intelligence can offer to Amazon shoppers. 
The Frequently Bought Together feature is another opportunity to get an even more personalized experience. From the perspective of AMZ merchants, this is an upsell feature. So let's find out how Frequently Bought Together Amazon works and how Frequently Bought Together products can create an additional income stream for your store in the marketplace.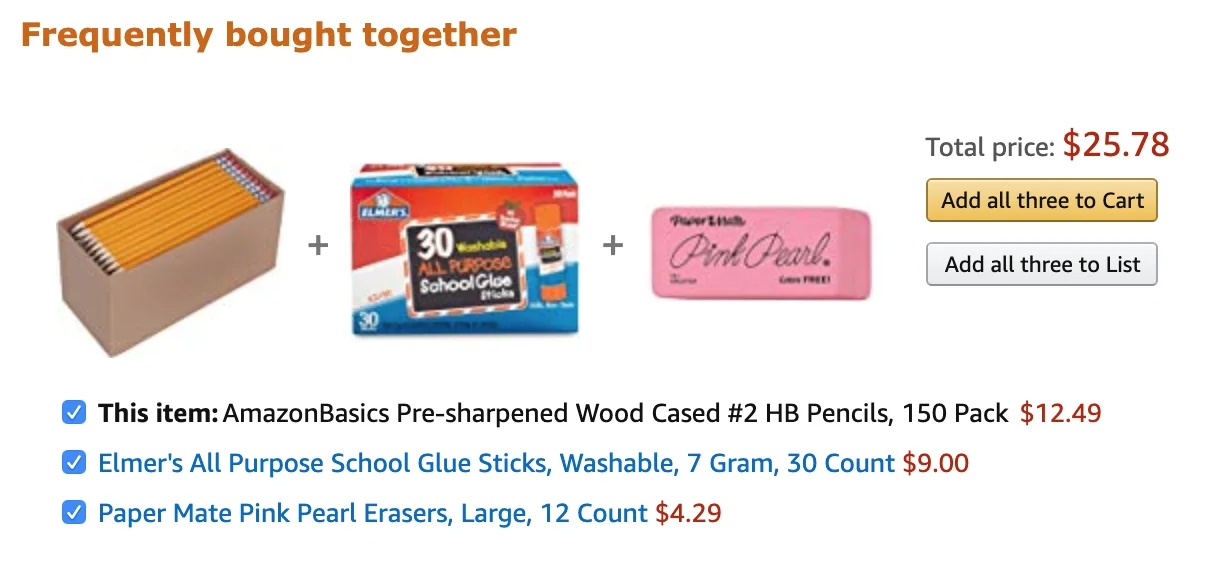 How Does Amazon's Frequently Bought Together Section Work?
This section is a set of recommended goods that appear at the bottom of the product detail page. So, a Frequently Bought Together algorithm works almost like a general recommendation engine. Still, the data it takes when showcasing the products is a little different in this case. 
In this case, Amazon's algorithm analyses the information on the items bought together with the main product by other shoppers, plus consider the specific user's preferences, shopping history, and behavior, browsed and reviewed products. As always, the platform doesn't share more specific criteria on how to make your products showcased as a Frequently Bought Together item but takes the core goal of the marketplace into account. Therefore, it would be logical to assume that the better your product is, the higher its chances of becoming highlighted in Amazon's frequently bought section.
Winning Tactics to Hack Frequently Bought Together
There are no step-by-step instructions on how to reach the Frequently Bought section. When selling on Amazon, you have to test your own. Still, there are many tricks you are welcome to try, such as making an Amazon Affiliate Account, arranging long-term partnerships with other sellers, cross-selling, and promoting storefront URLs via influencers. Below are some of the most straightforward ones. 
Offer high-quality items.
It is an evergreen strategy that allows you to reach the Frequently Bought section and perform great on AMZ in general. Since the goal of the platform is to sell and suggest the best products only, offering high-quality items is a way to firmly occupy a niche, become visible in organic search, and finally, make your products featured in a Frequently Bought.
Work on your seller ranking

.
In addition to the products' quality, Amazon also prioritizes taking care of the customer experience. Your seller's ranking is one of the indicators of the shopping experience level you can promise to your buyers. Hence, you have to work on it as well. To improve your seller's ranking, ensure no issue with the shipment, keep your Order Defect Rate lower than the 1% level, and gather as many positive reviews from your previous buyers as possible. 
Improve your products' rating.
Frequently Bought Together work as one more piece of social proof. However, to make your products showcased in this section, they should have as high a rating as possible. Let's get started with improving it right now. With the help of SageMailer, you can quickly get in touch with your buyers and kindly ask them to leave a review.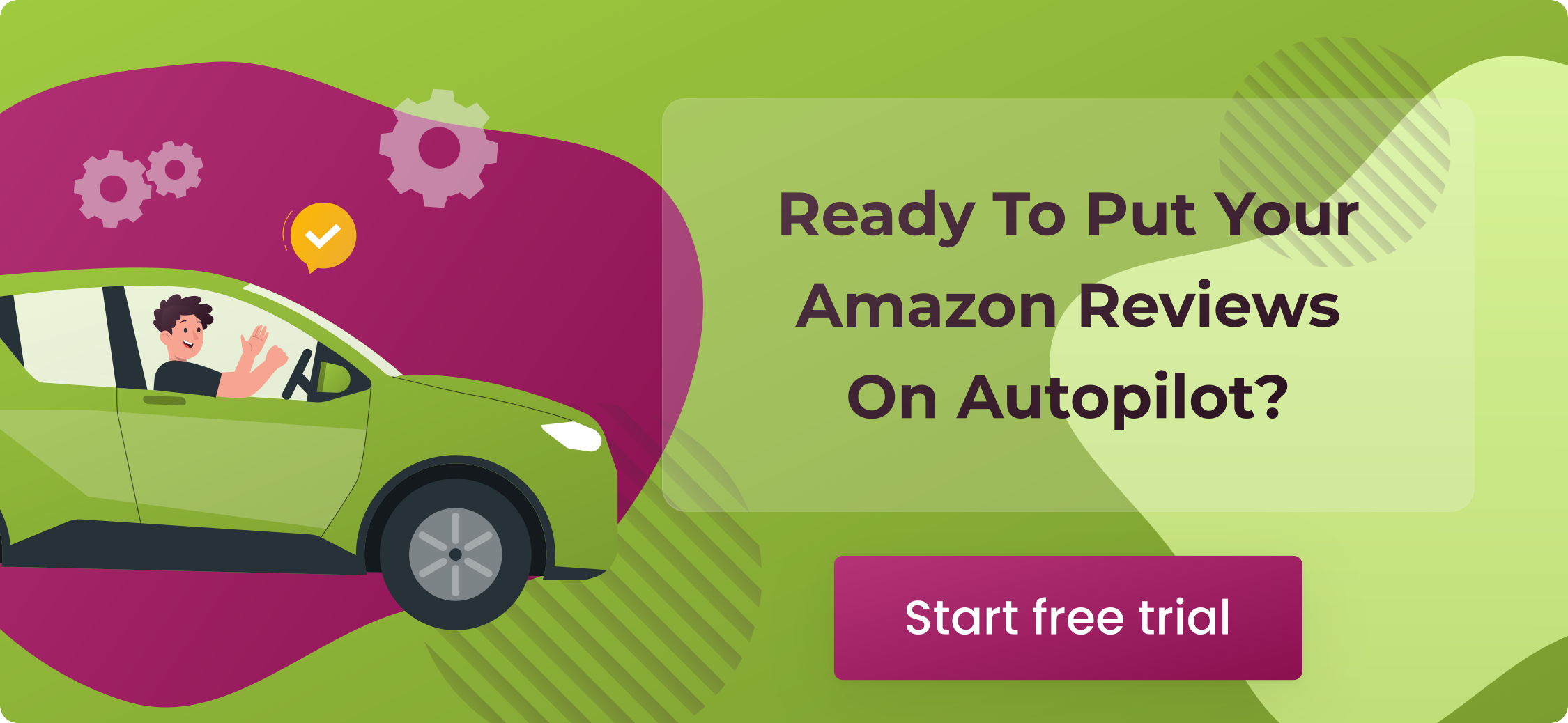 Make your product better discoverable by the users.
This tip is also the logical consequence of the previous one. When your products are easier to find, there are better chances that they will be bought. The products with a high volume of sales are recommended by Amazon more frequently, under the condition that their rating and the seller's ranking are high enough. To improve your products' discoverability, take a closer look at your search terms report, revise the keywords that perform better or worse, and suggest more winning ideas for Amazon SEO. As a life-facilitating tip, you can do it with the help of a dedicated app. For instance, SellerSonar allows you to track the keywords used by your competitors and instantly notifies you of the search volume change, so use it to grab some compelling ideas. 
Make your products Prime-eligible.
The opportunity to use Amazon Prime is one of the reasons why numerous shoppers worldwide choose Amazon. For them, it is an option to cut shipping costs, so making your products Prime-eligible is a way to get customers to buy easily and with no additional expenses. The more goods they buy from you, especially in a bunch, the better your chances of making your items are highlighted in the Frequently Bought Together section. 
Sell products in a bunch

.
By the way, selling your items in a bunch is another winning opportunity to show Amazon how you can combine your products. The more sales in a bunch you have, the more data you generate to show Amazon what products to suggest in Frequently Bought to meet users' preferences. 
Run promo campaigns

.
It is a direct way to increase your sales and generate more data on the items your customers choose from you.
What's more, most of them will prefer to buy as many items at a discounted price as possible, showing shopping behavior patterns that Amazon will be able to reuse when suggesting the items to buy together. 
Final Thoughts: Frequently Bought Together on Amazon
While there are no clear instructions or eligibility criteria to highlight your products in the Frequently Bought Together section, there are still some best practices to make it happen. Improving your item's rating by gathering reviews from your customers is one of the most effective tactics you are welcome to follow. Do it with the help of SageMailer – an Amazon-complaint feedback management service. Request users' reviews and respond to them, making your buyer-seller communication as effective and transparent as possible. 
Try SageMailer right now – your 30-day free trial is already unlocked!