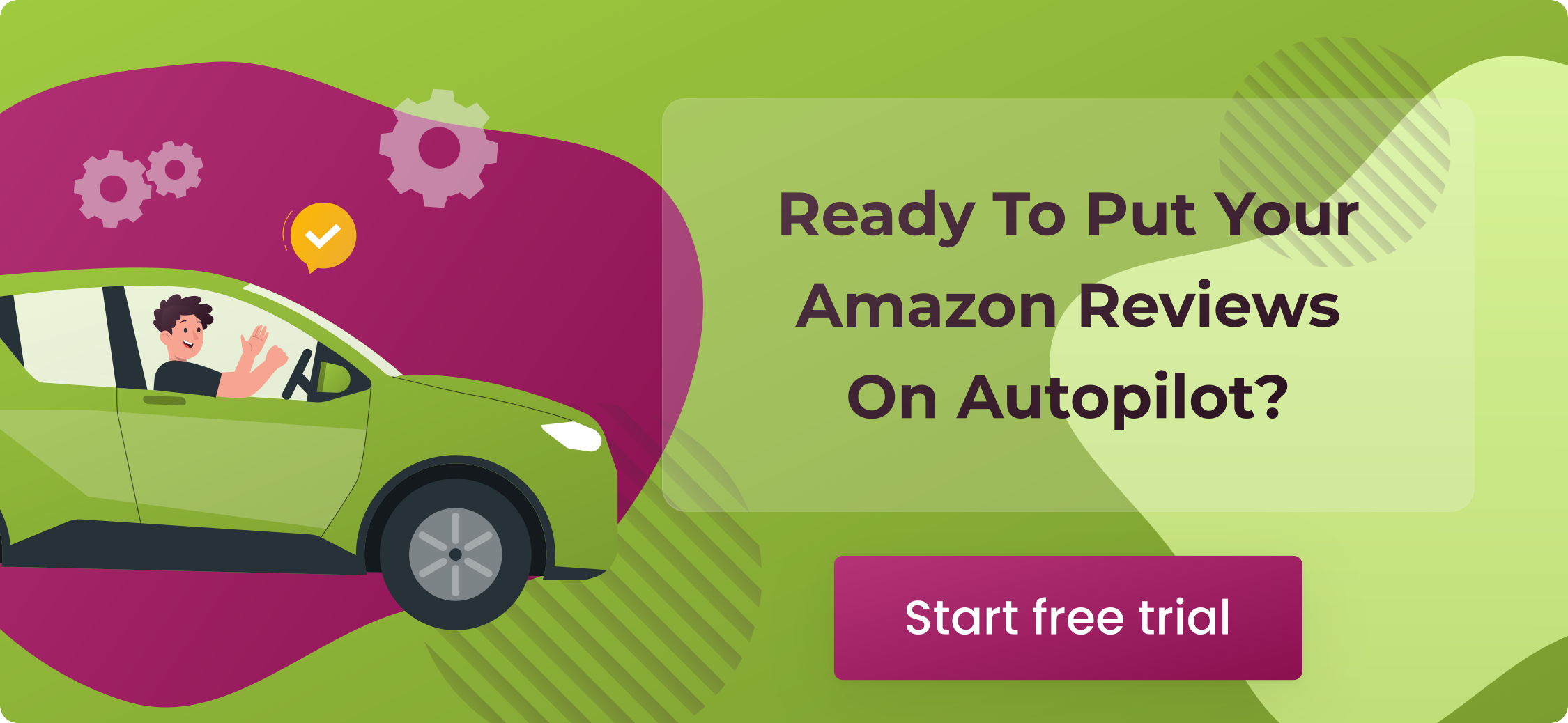 Are you a seller on Amazon? If yes, then this article is for you. Since Amazon is a platform that helps you earn a living, Amazon accounts have easily become the target of hackers who want easy money. In fact, just in 2017, the Wall Street Journal has revealed how hackers target the growing community of third-party sellers on Amazon. Frauds happen mostly because of stolen e-mail and account password credentials. These have caused quite an uproar in the online community. Luckily, Amazon wasn't just sitting around after all these have happened.
Amazon has made precautionary measures to prevent having your Amazon account hacked. And every day, these measures have become more and more sophisticated.
Amazon is working to make sure that your experience as the seller is as safe and enjoyable as possible since catching the ways Amazon Seller Central works for your business is pretty intuitive. 
One of these precautionary measures is the Amazon Two-Factor Authentication. This Amazon hack for security will not put you in a situation of having a hacked Amazon account. It is a good defense to use even if the password of your primary authentication to your account has been compromised.
Who are the Third-Party Amazon Hackers?
Amazon is well-known for its huge selection of products, fair prices, and good customer service. This is the place where you shop expecting that everything will be as easy, fast, and smooth as possible. However, with the great popularity of the platform, the security risks are also increasing. More and more cybercriminals are attempting to hack shopper's accounts and then go wild buying goods at their victim's expense. 
Before we proceed on discussing the two-factor authentication Amazon and learn about how to protect your Amazon account, you must first understand the threat. Who are Amazon hackers? They can be individuals or organizations. Their goal is to attack Amazon Seller Central accounts to gain valuable information and extort money. This has been the result of millions of lost dollars on Amazon.
There are two common ways hackers attack seller accounts and steal money.
Impersonating Amazon Seller
Another way of attacking an Amazon seller account is by impersonating it. They can steal your products, their pictures, and their descriptions. They can also steal your brand and logo. This is easy to do because you display these images and information for all your potential customers to see.
Hackers then wait for people to purchase a product from their imitation page. Then, they will take the money without sending them the product. Meanwhile, you, as the original Amazon seller account, will lose customers. This will not only make you lose money, but it will also harm your brand. People don't have the time to differentiate a real brand from the fake one all the time.
Of course, this rarely, if not never, happens now as Amazon is getting stricter with its screening and verification process. However, it pays to be careful at times. So how do you protect your account from this kind of hackers? You must monitor your Amazon seller account regularly. Verify the changes in product titles, bestseller rankings, etc.
Traditional Hacking
The hacker finds basic information about an Amazon seller account. It could be an e-mail, a username, a password, or anything valuable. Then, they use the information to break into the account. If they successfully log into it, they can get more information like credit card information, client details, and more. They can also withdraw your money. Lastly, they can change the account information so that you can no longer gain access to it yourself. Thus, you will lose your loyal customers, money, and your Amazon seller account.
How can you protect yourself from hackers like this? First of all, you need to create more sophisticated account information. Improve your username and password. Do not use any words that they can guess based on your life and interests. Also, it's advisable that you use alphanumeric codes with symbols. Make sure that your emails and passwords are unique. The more unique and complex the details are, the better. If these are not enough for you, you might want to try two-factor authentication.
What is the Two-Factor Authentication?
Two-factor authentication, which is also be known as two-step verification, is a type of technology that adds an extra layer of security when logging into accounts. Many sites like Google authenticator and Apple use two-factor authentication or two-step verification. The usual username and password that almost all websites use are the primary authentication to an account. However, for extra security, you can link your account to a secondary authentication process.
Added secondary authentication is not limited to just one method. You can ensure security by providing a different code every time you log in via SMS or through a specific authentication app. However, you can opt-out of the secondary authentication once you have set your phone and/or computer as trusted devices.
You may ask yourself which one you should use between SMS and the authentication app. Both methods work for the same goal– to protect your account from being compromised.
CNET recommends you choose an authentication app. SMS can still be compromised by hackers, so receiving security codes through it may not be as safe as it suggests. A person interested in hacking into your account may intercept the text message containing the code or illegally obtain your mobile number by contacting your telecom or carrier to transfer your number to their device.
Another way they may get access to your account is by stealing your computer if text messages are synced to it. Unlike the SMS option, authentication apps do not rely on your mobile telecom. The code also stays within the app and can still work even without cell service. It provides better protection even if setting it up comes with extra steps.
Two-step authentication Amazon does not guarantee 100% protection. However, it adds more security walls. You need it especially if you have linked your credit cards information and personal information to your e-mail account. Hackers would prefer accounts that are easier to break into. By using the two-factor authentication, hackers might deem it not worth the effort to break into your Amazon account. You can visit TwoFactorAuth to check if the apps and websites you use have two-factor authentication.
How Does Amazon Two-Factor Authentication Work?
As you login into your Seller Central account, you will be asked to enter your Seller Central username and password. However, you may be asked for a security code, in addition before you can get into the account. A unique security code is sent to your phone via SMS or to an Amazon authenticator app. Having your phone or authenticator app is crucial in accessing your account when two-factor authentication is enabled.
Anyone who tries to access your account will be asked for a security code. Those who fail to do so will not be given access unless they have the code by also having access to your text messages or an authentication app. The login process allows the site to verify the code and continue if the code is correct. If the code entered is incorrect, it will not allow access to the account.
Activating your Amazon Two-Step Authentication
To activate your Amazon 2 Factor Authentication for the first time, you are required to register a primary device to receive the authentication code and register another device reserved as a backup when you are unable to use the primary device. It should also be noted that you must have different phone numbers saved as a primary and backup method, you cannot use the same phone number for both methods.
If your primary device is your mobile phone, you may opt for three choices as a secondary device: different voice-enabled phones, different SMS-enabled phones, or an authenticator app. If your primary device is an authenticator app, then you may opt for an SMS-enabled phone or a voice-enabled phone as your secondary device.
Here are the steps in activating your Amazon 2 Step Authentication as a seller account.
Step 1: Go to Settings and click Login Settings in Seller Central.

Step 2: Select the Edit button, then press Get Started. Here, you will register your primary and secondary devices, thus enabling your Amazon 2-step verification and protecting your account from any Amazon security breach.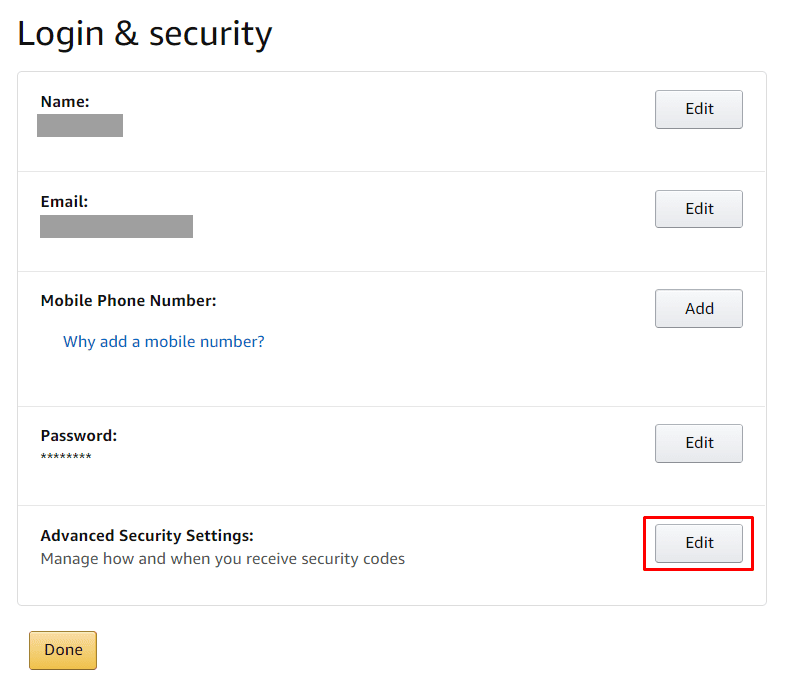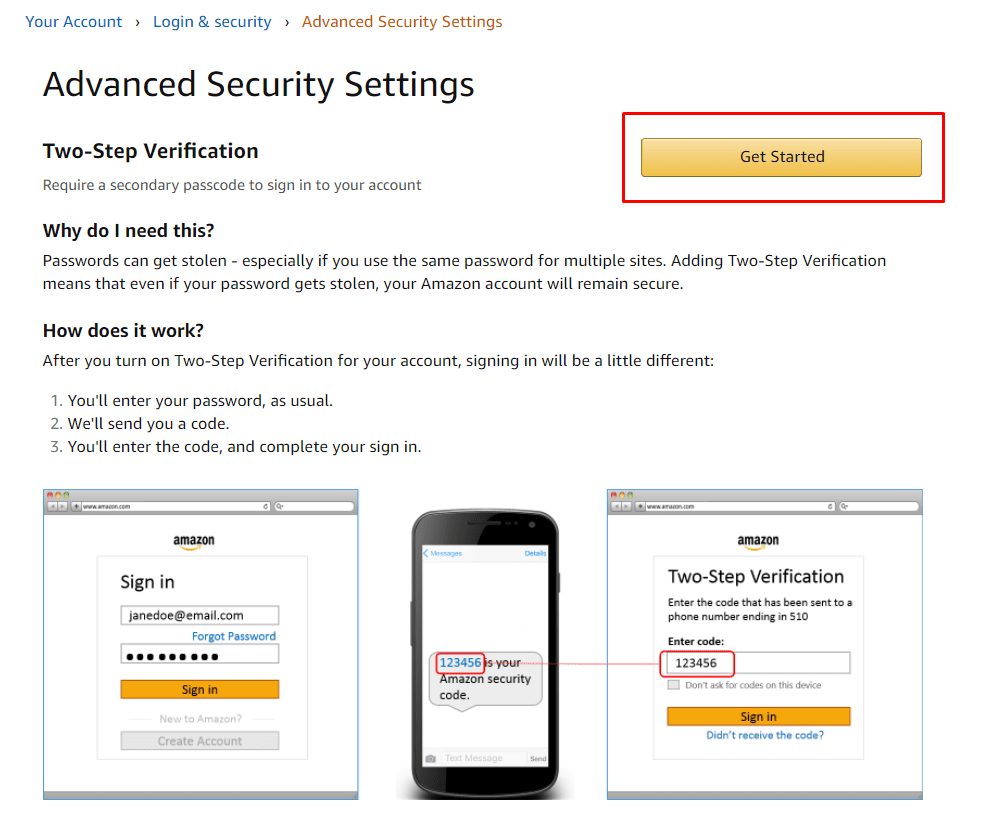 Step 3: If your seller accounts have many login credentials or other joint accounts, each account is needed to activate the 2 step verification separately.
You can select the option of "Do not require codes on this device" on your trusted computers and devices to avoid being asked for a code each time you log in. Amazon remembers your preferences by using cookies, which can also eliminate putting in a security code every time you sign in. If you clear cookies, use another or unrecognized device or browser; you need to put in the code sent to you.
The best option to manage all your Amazon 2 factor auth accounts is to use the popular Authy application. It helps you to collect all the 2FA Amazon profiles into a single smartphone app. Then you can synchronize them on a number of devices, even access the accounts on your desktop. Download Authy on your mobile by searching for the app in AppStore or Play Market. 
Alternate Sign In for Two-Factor Authentication
Since you can't log into your account if you don't have the code, what happens if you lost all connected devices? In which case, you'll have difficulty logging into your account even if you are the original owner. The same happens if the application or device you are using does not display another page to enter the security code when attempting to register. An error message will be sent to you after you log in despite you enter it correctly.
Here are the steps on how to log into your devices when encountering this problem.
Step 1: Sign in with your account details. Then, you will encounter a message saying that your information is incorrect.
Step 2: You will receive a security code through SMS or through the authenticator app. In addition to your password, add the received code after it whether on the device or application you are trying to register.
Please note that if you encounter an alternate sign-in, you cannot save that device as a trusted device.
Changing Settings on Two-Step Authentication
If you would like to make changes to your two-step authentication, go to Advanced Security Settings then follow the instructions to make your desired changes and save.
If you opt to disable the two-step verification, go to Advanced Security Settings. Then, you need to click the Disable Two-Step Verification tab. Enter the code sent to you. Finally, click Verify code.
Account Recovery
If you would like to stop using the two-step verification feature, go to account recovery and provide a government-issued card by uploading it to your account. This will verify that you are the owner of the account. The changes to your account will not be made until it is verified that you made the changes.
You can turn on the two-factor authentication whenever you're ready to use it again.
Final Thoughts
Turn on Amazon multi-factor authentication for a more secure and protected account. This will ensure more barriers to protecting your personal information like your personal address and credit card information. It does require more effort when logging into your Amazon Seller Central account, but it is a good safety measure against hackers.
For more security tips, be careful with who you deal with in e-mails. Do not give personal information so casually. If you don't have the time to log in to Seller Central each time to monitor your product reviews and seller feedback, you can use SageMailer. 
Try its free 30-day trial to monitor your online reputation and boost sales!