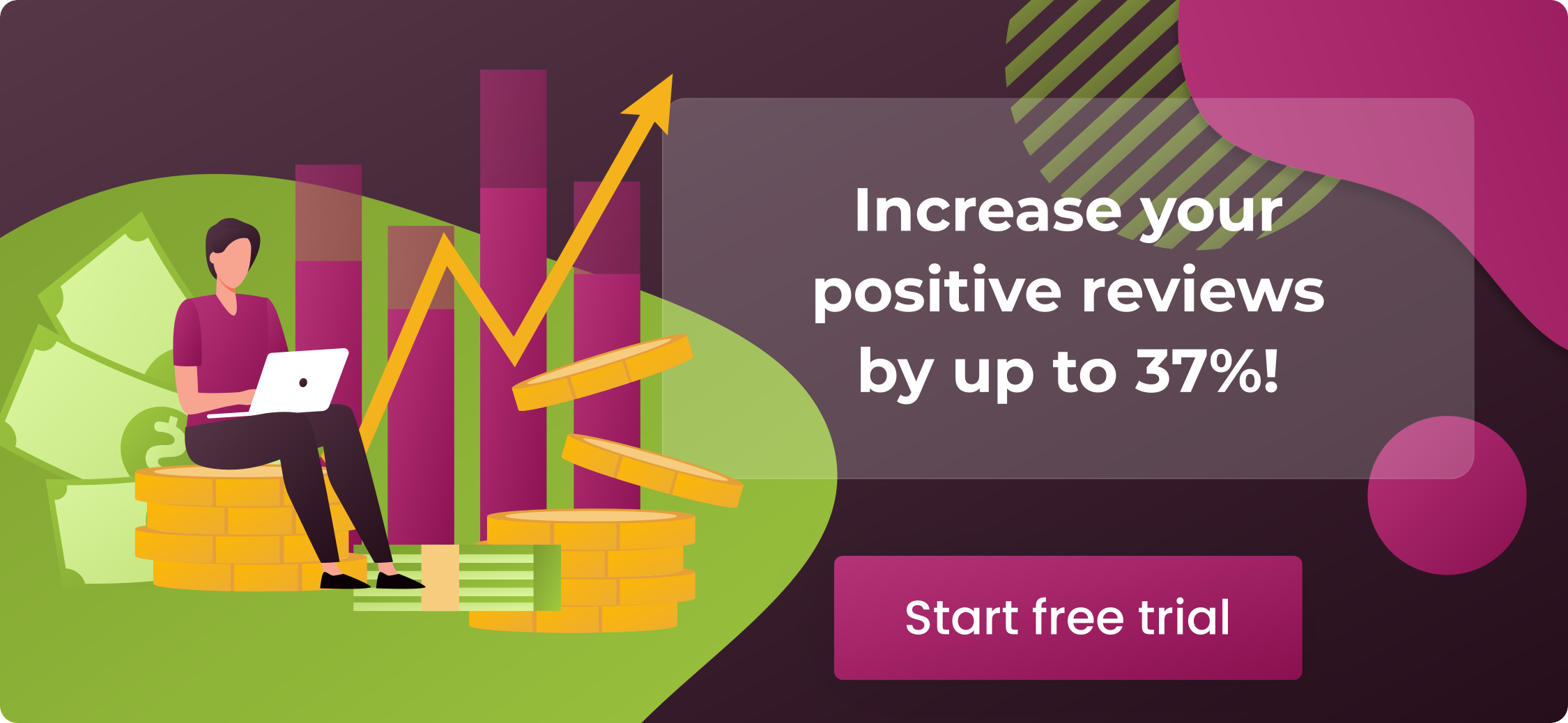 If you want to maximize your sales, you have to start by improving the conversion rate on the product listing. Improving your shoppers' purchasing experience will be a challenge as a seller since proper optimization allows you to convert more users into customers. You need strategies to boost the bullet points of Amazon's product description.
Another great method for improving the conversion is to increase the number of positive reviews in the listing. And the good news is that you can do this from the sales you've already got by asking your customers to leave a review. SageMailer helps to automate this process in a few minutes. And it's free to try!
Most Amazon sellers talk about their optimized title; if you ask them, they'll say that keywords are vital.
We don't devalue the significance of an Amazon title. On the contrary, it's one main factor that affects search results and online business sales.
Amazon sellers worry about getting the visitors' attention. They need visitors to browse the listing pages and get interested in their online store. With proper optimization, you can drive more users to your AMZ pages. It will allow you to increase conversions and will lead to a satisfying business experience.
Amazon listing optimization will build up commodity listings. Besides, it will help shoppers know the item properly and its usefulness. The best-selling items sell for a reason. Perhaps the bullet points of the listing description captivate the shoppers' attention and make them buy the said product. After that, they will give a good review since it has given them a wonderful result.
So, keep reading our Amazon bullet points guidelines to boost sales.

How to Add Amazon Bullet Points? 
So, how to add bullet points to Amazon product descriptions?
AMZ bullet points are a short summary of the product's features presented in a scannable manner. As the name implies, the text here is shown in bullet form, thus making it simpler to read and comprehend. This text highlights the dimensions, color, specifications, and other features of the item that are useful to clients. 
Bullet points for AMZ listings can be added while making a product listing or even while changing one. Feel free to follow the steps below to add your information: 
Sign in to your AMZ Seller Central profile.

Choose the "Edit" button under the AMZ listing option. 

Go to the "Description" section. You'll see a special field for "Key Product Features" and another for "Product Description."

Fill in your text in the "Key Product Features" space, and it'll all be added. 
That was not so difficult now, was it? Well, the procedure of inserting bullet points is easy, but what you add matters more than anything. 
Important Terms to Consider in Amazon Bullets
Important Terms to Consider in Amazon Bullets
To continue, you must understand some important terms for enhancing the bullet points in your product description. The Amazon bullet points are "key features" under a product image to help buyers in making buying decisions. As such, it's highly recommended that you make bullets compelling and coherent.
The Amazon product listing rules require 10 to 255 characters to be included in every bullet point Amazon listing and five points to do a product listing. The bullet points are formatted into sentence fragments without punctuations and use semicolons to separate phrases within a bullet.
Next is the Amazon product description, which displays information about your product. You can have an HTML code in the Amazon description. You can achieve this by using an HTML converter that can convert your item details into HTML code. To list items in the product, you can use "ul" HTML tags. You may also seek the assistance of an Amazon product description writer.
Alternatively, you can use an Amazon description HTML editor for that. You may copy the text in the editor. SageMailer is one good example of this.
Now let's move on. By learning these three strategies, you can effectively boost the bullet points in your Amazon product's description.
TIP 1: Take Advantage of the Keywords Which You Can't Place in the Amazon Product Title
With proper research, you will be able to find many relevant keywords that you can use to optimize your listing. In most cases, however, you can't fit all of them into your title. Therefore, you have to take all those extra keywords and add them to the bullet points instead.
You may think that Amazon's algorithm uses text for ranking products in search results. But, based on the guidelines, they don't. On the contrary, some selling experts have records proving that the keywords in the listing's bullet points can boost search rankings.
We believe that it's difficult to de-emphasize documented stories in search rankings after boosting bullets with the keywords. After all, it's not bad to insert them.
Each line needs 100 characters maximum, so you must strategically place those keywords. Don't put them all in points without proper planning.
For instance, if you sell a blender bottle on Amazon and do a keyword search, you can assume that the following keywords may appear:
50 oz

Blender Bottle

BPA free

Flip cap

Phthalate free

Easy to wash

Cordless

Ergonomic
Commonly, more keywords may emerge as you keep on searching. At the moment, just imagine that those are the results you came across.
It won't make any sense if you fit them all in the title. Take this one, for example:
50 oz. Cordless Ergonomic Easy to Wash Blender Bottle with a Flip Cap
Thus, these keywords remain BPA-free and Phthalate Free. You can set them aside, but don't discard them yet. Instead, you can put them in bullet points later on. Keep them first in your pocket.
If you end up having tons during your search, avoid inserting all of them into the bullet points. You can instead use them in your Seller Central account and inside Sponsored Ads Campaign.
On the other hand, if you just keep on cramming all those keywords in the bullet points, these are what will happen: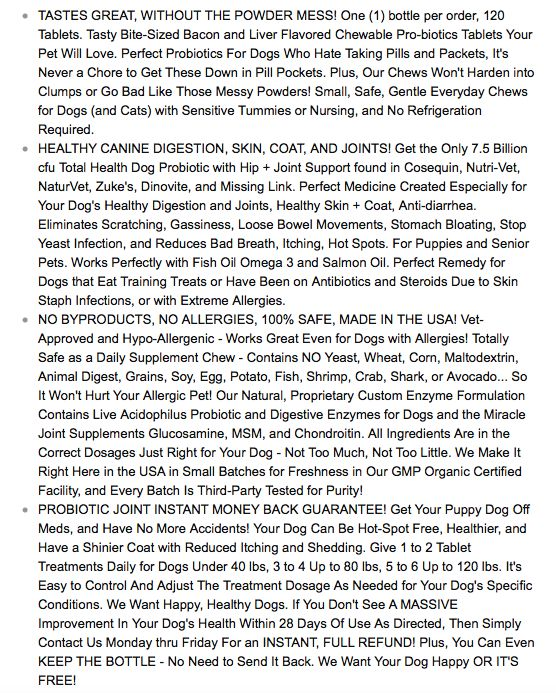 Isn't it too messy? Apart from having too many violations, the listings resemble a novel that is really terrible and boring to read.
TIP 2: Make Your Amazon Bullet Points Easy to Read
Online stores have a virtual catalog which is the product listings. Users visit online stores to see the goods in a short time and do search queries. They just like to browse quickly, click the link, and view the product that appears. Some buyers don't even want to read a lengthy Amazon product description and details. They like to focus on the focal points only.
Our mental capacity has limitations, and we can't ingest all the details on the internet. This explains why around 55% of readers spend only 15 seconds on a webpage on average.
A potential buyer tends to allocate 15-30 seconds to shopping. In this time frame, he will look at the title, brand, product image, description, features, and video if included. He will then try to avoid long paragraphs with lengthy descriptions.
If you put yourself in the buyer's shoes, how will you cope with this digital overload? The answer is simple: you skim.
Take a look at these examples. If you pay attention, you'll notice that they start with numbers.
Top 5 Ways to Make the Most Out of Your Job

4 Methods to Improve Your Lifestyle

3 Misconceptions about HIV
We like to read these catchy titles since they are short. Indeed, we like to do things snappily.
So how to make a bullet point that is quick to browse? Let's recall the bottle blender and the extra keywords: BPA-free and Phthalate Free. By using those keywords, you can come up with the following:
Phthalate-free material. Get rid of your worries about chemical exposure!

BPA free. Our product doesn't have any harmful pollutants or chemicals used.
In the examples, the bullet points aren't properly optimized. It leads us to the question: how do you optimize your bullet points?
You can achieve this through the use of capital letters to emphasize the main idea of the Amazon bullet. Bear in mind that using capital letters is the only option allowed by the Terms of Service in Amazon. With that, your bullet point will look like this:
PHTHALATE-FREE material with no chemical exposure

BPA-FREE without any pollutants or chemicals
Did you notice how your eyes now focus on the keywords within the bullets? It is because we use yellow color, italics, or bold font to highlight the keywords in writing. However, these are against Amazon's Terms of Service. Therefore, we have to resort to using capital letters only.
Moreover, you may include the color, shape, size, and dimension to show the product's information. It's the way of sequencing its features. Sometimes, you have nothing much to put in bulleted form. Therefore, enlist the specifications to complete the product listing but avoid pricing details or promotions.
TIP 3: Focus on Your Customers' Needs
Do you understand the needs of shoppers? Unfortunately, you can't have any live interaction with your customers, so you have to anticipate their concerns, wants, and expectations before they even buy your product.
For Amazon, the bullet points accentuate the features of an item. Therefore, they use bullets in the "Key Product Features" at Seller Central. You must think differently to maximize the bullet points' potential in selling a product. You may use the product features to respond to your customers' needs.
There is a difference between features and benefits. For instance, the feature of the bottle blender mentioned in the keywords is this:
It's PHTHALATE and BPA free
Now, think of the benefits that these features offer. Instead of the one above, you can reword it this way:
CHEMICAL FREE. NO BPA or PHTHALATE RESIDUE that will harm your body.
Do you notice any difference? You still insert the keywords within the bullets, but this time, the bullets have highlighted the benefits since you need to focus on the customers' needs. It will help customers solve their problems. Do you think it's better to call these bullet points "key benefits"?
Final Thoughts on Amazon Bullet Points Optimization
Now that you've learned the strategies to create an ideal bulleted list of your product listing, here are some more insights to know:
Make quality bullet points. It means that they must be grammatically correct, original, and creative. You might want to proofread it properly or have someone do it for you before publishing.

Try to show the details correctly and avoid false claims. You may trick the shoppers, but you can't get away with it as there's the "Review" section. You have no control over the things they will write.
Have the courage to experiment with Amazon optimization. Fill it with keywords ready for quick browsing, and use bullet points to highlight the benefits. Remember that your customers need answers to their problems. Get their interest in reading your product descriptions, which will increase their likelihood of buying your product. After each purchase, you can politely request your customers to write a review.
These strategies will increase the conversion rates on your Amazon product listing and will lead you to succeed in business sales.
And after implementing these strategies for increasing your product listing's conversion rate, it's time to get more product reviews.