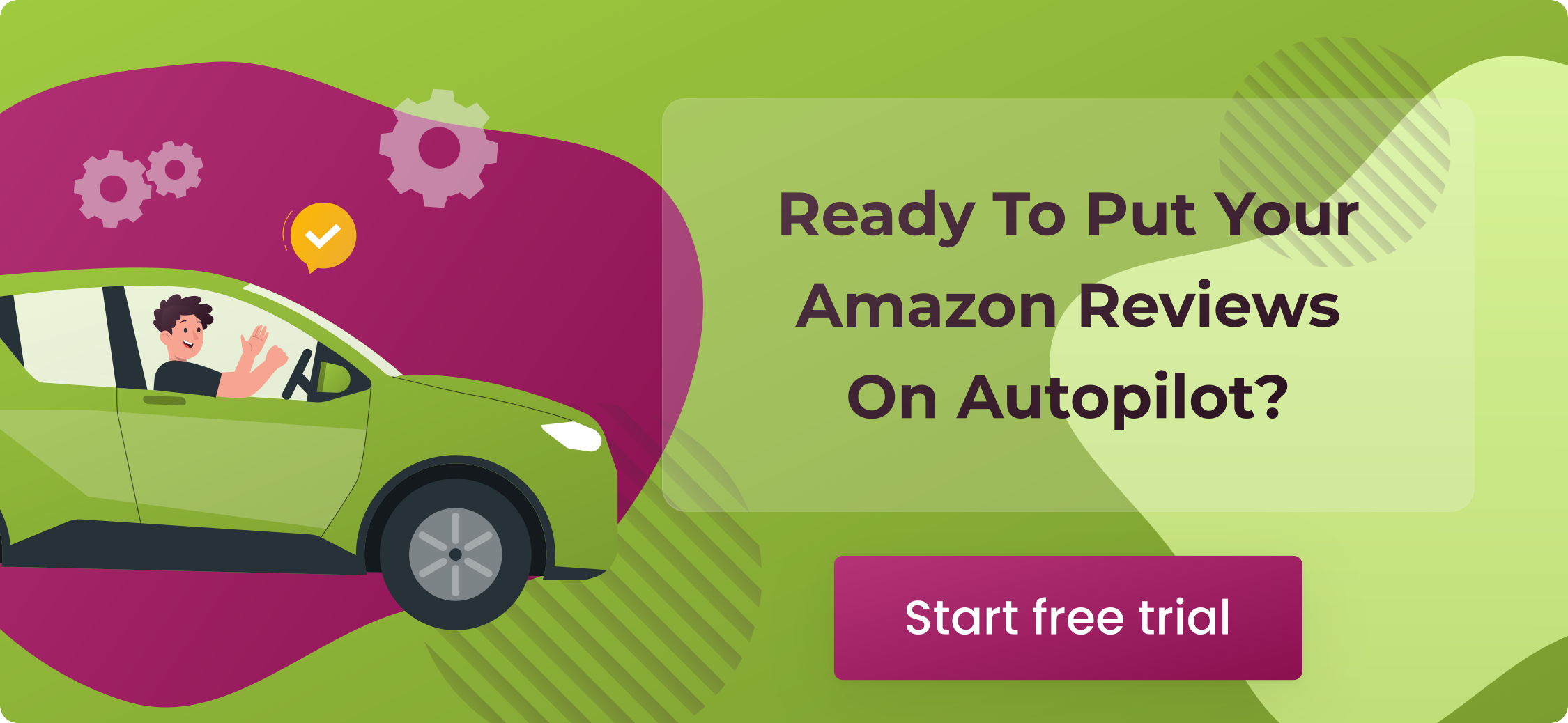 Most customers fail to leave feedback for a seller on the Amazon marketplace. It is a well-known fact. As a merchant, it is a big dilemma as your reputation, credibility, and success all depend on every positive feedback rating that pours into your account. However, that doesn't necessarily mean that you can't do anything about it.
You can take many measures to improve your low feedback percentage and increase the chances of getting more Amazon feedback. That being said, you can't expect to get reviews from more than 5% of your customers.
Why you may ask? This article will outline the top four reasons why most customers don't bother to leave seller feedback on Amazon.
Why Customer Reviews Are Important?
Using online reviews as a part of your marketing strategy is a great way to convert potential customers, boost your brand's SEO, and improve your business reputation.
Winning brand reputation
Reviews are one of the reflections of consumer experience. For example, 79% of consumers say they trust online reviews as much as personal recommendations from friends or family. Therefore, it is reasonable to think about the brand's reputation on the web before entering the market and immediately build your dialogue with the client.
Working with reviews is necessary for entrepreneurs and marketers, everyone who attracts leads and interacts with consumers. It allows you to manage the brand's reputation with the help of a positive user experience and the correction of errors identified as a result of a negative experience.
A proven method of demonstrating the integrity of your brand is sharing customer feedback. This is especially valuable for products or services where one cannot rely on convincing product descriptions or images. Instead, customer reviews provide honest feedback about customer experiences. When it comes to eCommerce, it is one of the most powerful tools for increasing motivation when buying goods and gaining the buyer's trust.
Customer reviews benefit SEO
Customer reviews can affect a company's reputation or an online store and the website's promotion in search engines. When customers leave feedback, they create unique content relevant to the site's topic. This, in turn, increases incoming traffic for low-frequency keywords. And if you have customer reviews displayed in a snippet, it can increase the percentage of clickability in search results. Moreover, reviews posted on other sites with a link to your brand's website positively affect traffic and increase the link volume.
Learn more about your business
By analyzing customer feedback, you can get valuable information about your product and service and identify possible growth points for your business. You can get to know your consumers personally and find out what they appreciate and what annoys them. By knowing what makes customers happy, you can increase their loyalty.
4 Reasons Why 97% of Your Customers Don't Bother to Leave feedback
People believe they are buying from Amazon
The primary difference between Amazon and eBay is that most people regard the former as a mega-seller of a diverse range of products rather than as an online shopping portal that facilitates the actual interaction of buyers and sellers. It happens because of how people land on Amazon. They start with a quick product search on search engines like Google. Then, they choose to visit the Amazon website containing the relevant product. If they search by keyword or brand name on Amazon, they are directed to a page displaying a few relevant listings.
While Amazon just channelizes the buyer into one ASIN-specific page, other eCommerce sites display dozens of similar listings from competing merchants. With a few clicks, buyers can add several items to their carts. Some items could be either merchant-fulfilled or fulfilled by Amazon. No matter what it is, the entire shopping experience comes across as Amazon-centric to the buyers. Thus, they regard it as just another purchase from Amazon as if the website itself is the actual brand or seller.
To underscore its brand value even further, Amazon also sends out order and shipment email confirmations. Even if a third-party merchant has fulfilled the order, every email the buyer receives is tagged with the Amazon logo. In addition, customers can log into their dashboards and track the delivery status and estimated arrival dates.
As a result, customers only concern themselves with the platform. They forget that they are dealing with individual sellers online and that Amazon is just an online shopping platform that simply hosts the buyer-seller interaction.
All these facts are well-known to every business owner selling on Amazon. As a merchant, your challenge lies in getting your business or brand noticed by your customers while complying with Amazon's guidelines. In addition, you need to somehow convince customers to leave feedback on your seller account.
Customers have no time
Your customers can be as busy as you are. Online shopping is mostly sought after by people who are hard-pressed for time. Most of them don't even have the time to browse your Amazon storefront after they get their product. Why would they?
Amazon customers experience world-class shopping comforts, including great prices, unmatched product quality, cutting-edge technology, and hassle-free product delivery at their homes. However, the availability of Amazon's exhaustive spectrum of facilities is a double-edged sword. While it is obviously beneficial to the customers, it does create issues for third-party merchants.
Most people today have no time to think about actually learning how to leave feedback on Amazon, visiting your storefront, and leaving feedback once the delivery is done. They can use their time for more productive things. However, leaving seller feedback on Amazon does not take as much time as people generally think. You need to convince them of this.
Customers have high expectations
Over the years, Amazon has become the world's most credible and efficient eCommerce supply chain, which is regularly visited by millions of people around the globe. The popularity of the FBA program is a testimony to this fact.
Anyone who has ordered hundreds of things on Amazon would agree that it's extremely rare that anything goes wrong with your order. It is common to receive the delivery a day ahead of the estimated date. Moreover, Amazon has forever maintained high service standards and even mete out shipping facilities within two days.
Considering the consistency of Amazon's customer service over the years, customers have now gotten used to having their expectations met every single time. Thus, even the regular outstanding service is not enough to exceed their expectations. Hence, receiving an authentic product in or ahead of time is nothing new to the customer. Since they are not particularly impressed, they do not consider leaving a few words of praise as feedback for the seller.
Why is this so? People tend to comment on something that leaves a deep impression. It does not matter if the impression is negative or positive. If you fail to create an impression, you can't convince them to willingly leave feedback.
People aren't giving much thought about your business
So your priority is your business, which occupies your mind most of the time. However, your business is not the concern of other people. They have their own concerns and priorities in life. The footballer is prepping up for his next game. The IT professional is sweating out at the desk for a promotion. The doctor is busy diagnosing their patients in the hope of healing them. In other words, everyone is so caught up in their own lives that they have no time to leave feedback ratings.
As they say, it's not about how busy you are but rather about your priorities. Thus, it's up to you, as a merchant, to make sure that you make your business one of their priorities. You can do so by soliciting feedback at exactly the right time. Unfortunately, suppose you undertake this task manually. In that case, you risk reducing your chance of engagement, as most customers will discard your request as a desperate and annoying tactic.
However, if you use a proper Amazon feedback management tool like SageMailer, you can determine time-based rules and simplify the entire process.
SageMailer allows you to solicit feedback at a specific time of the day or according to the completion of a precise number of days after the delivery. Moreover, it can help you organize tailor-made solicitation campaigns for particular SKUs. This kind of strategy improves your low feedback percentage by getting your customers to think about your services. Consequently, you can arouse interest in leaving feedback.
Amazon Feedback Mistakes to Be Careful About
Average Amazon sellers try their best to do a good job, but great sellers are never satisfied with a good job. They will keep on trying to find ways to improve their products and services. To sell on Amazon, you should use the feedback you get from your buyers to your advantage. Unfortunately, online commerce is a two-way street, and SageMailer is here to point out a few of the extremely common Amazon feedback mistakes sellers make.
Not responding to buyer's feedback quickly
You get 24 hours from Amazon to respond to buyer feedback. So a full day should be enough for you to reply to a comment, even if you are very busy donning various hats in your business.
As an e-commerce business owner, you are responsible for doing some work on weekends and holidays. Leaving a reply will take only a few minutes of your time. If you are not willing to reply to reviews, how can you expect your customers on Amazon to leave seller feedback?
Not recognizing straightforward reviews
Suppose you come across some customer feedback that doesn't need any response. What will you do with your time? You should just do something else, right? You're wrong. Even when feedback is straightforward and does not seem to require a response, Amazon still needs to know that you have read and acknowledged it. So take a moment to mark that message as 'no response needed.'
Not connecting proactively with buyers for feedback
You may have a few buyers who, after receiving their items, do not bother to leave any feedback. Connecting with such customers is a great opportunity to build a long-term relationship. Doing so will also boost your Amazon reputation as a top seller.
There is always the chance that the buyer may simply have forgotten to leave feedback. Such buyers just need a polite prompt, so do not hesitate to send them a quick message asking for positive feedback if they are happy with your product and service. However, make sure you do only this. Never think of bribing your buyers in exchange for leaving good feedback. Amazon frowns upon bribing, and you can get your account suspended.
Not using automated tools to do simple tasks
We get that you're busy. However, when it is crunch time, you need to make hard decisions quickly. During such instances, asking and responding to customer feedback may seem insignificant. But do not make the mistake of discontinuing feedback monitoring for a moment. Not dealing with Amazon feedback may have an adverse impact on your seller rating in the long run.
If you cannot respond to feedback within 24 hours routinely, you will miss out on getting in touch with your buyers. The good news is that you don't need to do the job yourself. Instead, simply invest in an app like SageMailer to do this on your behalf.
Not taking care of the negative feedback on your profile
You will definitely come across negative buyer feedback unless you are a supreme deity. For example, it is possible that some buyers will not be satisfied with the delivery time or will have grouse with the actual product itself. Whatever the reason is, you just have to settle the issue and make things right for the buyer.
Get in touch with the buyer and ask him to remove negative feedback (if he still can). Amazon encourages this, stating that you should initially resolve any issue and then contact the buyer to convince them to remove the (hopefully temporary) smear on your profile.
Not contacting unsatisfied buyers immediately
Amazon gives you a reasonable timeframe to handle any issues with dissatisfied buyers. It is perfectly natural to want to give inflamed buyers some breathing space to allow both parties to deal with the matter rationally and not emotionally.
However, you can't wait for 60 days to pass before resolving the issue. After 60 days, you will lose your chance to have the bad feedback removed. In other words, it will stay in your profile forever.
Not seeking help from Amazon
Remember that you aim to increase your performance rating. Negative feedback will not help in improving your brand reputation. If you have done everything you can to resolve any issues and still see that the buyer hasn't removed the negative feedback, then it is time to get in touch with Amazon. Amazon can remove negative feedback as long as it meets certain criteria; check out how to remove feedback on Amazon in this article.
Try your best to avoid these seven mistakes. When it comes to getting and managing Amazon feedback, your best weapon is your tact. If you know exactly how to deal with your customers, you'll easily get the 5-star rating you're aiming for.
Make Your Customers Leave Amazon Seller Feedback
If you are desperate to improve your Amazon rating and wish to dilute the impact of negative feedback in your profile, it's time you do something that you have never tried before. Sign up for a free SageMailer trial today! All you have to do is set up your campaign, and relax. Just sit back and watch SageMailer restoring your customers' loyalty and your reputation like never before!