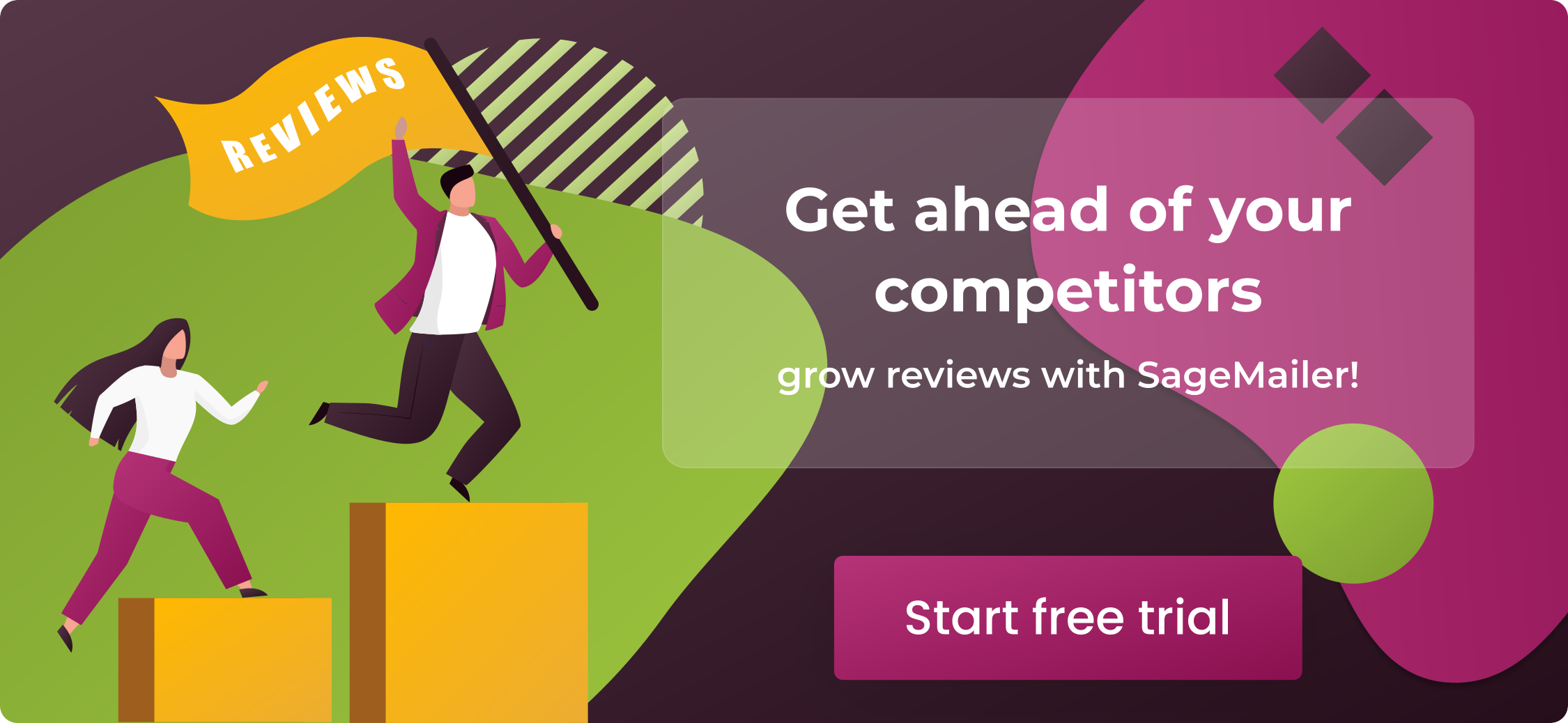 During my time as a marketing specialist, I've seen perhaps all the different Amazon feedback automation services. And I can say that Kibly stands out among the rest. So, what is Kibly? It is an email automation tool specifically designed for Amazon sellers. It aims to increase the number of positive feedback and reviews in your seller profile, so you can improve the number of your Amazon sales. But how does this service do this?
Here's how you can get up to 2X more reviews compared to the standard requests
Using NEW Amazon's "Request a Review" button, you can convert up to 20% of your orders into reviews which is much more efficient compared to the Buyer-Seller Messaging requests that are used by most feedback automation services (including Kibly). With SageMailer, you're able to automate these official Amazon requests in just a few clicks. Try it yourself with FREE 1-month full access! No card required.
Other benefits include:
No need to share Seller Central access information.

By the way, you are welcome to find out how your dashboard can work even better –

see this here

.

100% Amazon-approved messages
Amazon translates requests to the buyer's native language
Exclude specific ASINs, refunded orders, buyers who left feedback or review, etc.
Automatically detects when order is physically delivered
Learn how you can implement this new Amazon's "Request a Review" feature in your strategy in just 5 minutes. 1-month free trial, no card required.
Kibly's system uses email automation to get more product reviews and feedback. Its developers claim that by using email templates, you can 100% automate your customer service. The service will send personalized, customer-friendly emails to your customers, so they will know that you pay attention to them and their needs.
How to Set up Kibly Review Service?
Setting up Kibly will take only a couple of minutes of your time. If you are interested, you can try their free trial. But how can Amazon sellers set up Kibly?
Step 1: Choose a service tier.
Kibly offers several subscription plans. You can base your choice depending on the number of your monthly sales. However, pricing ranges are calculated very inconveniently based on each feature: email requests, product monitoring, and the Kibly connect feature, which, in total, is too much and expensive for a novice seller.
Step 2: Provide your Amazon account information.
Kibly's interface is far from user-friendly, so you'll need to spend a little time connecting your Amazon account. And do not count on technical support; I have never been able to contact them.
Step 3: Schedule your emails.
You can review the different email templates before you pre-load them. Then, once you start using them, you have more chances of increasing the number of your feedback and reviews.
If you want to know more about the setup process of Kibly, you can try to contact their technical support.
Kibly vs. SageMailer: Pricing and Monthly Subscription
As I mentioned above, Kibly pricing is based on the monthly orders you get. However, their price ranges are extraordinary and inconvenient; it is difficult to imagine whom they consider their target audience as it is too expensive for a novice seller. Users are given a forever-free plan that provides negative review monitoring. However, you need to pay for the extra features.
Kibly Connect, allowing to turn your orders into email lists, and Facebook audiences are $0.08-$0.16/record. Automated email follow-up costs from $0.003 to $0.50 per email. And the review and feedback tracker is $1 per product per month.
In turn, SageMailer's features are much more advanced, and the pricing is much more straightforward. The Premium plan with 2000 emails costs $25, which is a bit more expensive at first glance. However, you get unlimited marketplaces, stores, and ASINs. Moreover, you can select the number of review request emails on your own, not attached to a specific subscription. Flexibility is key in our days, isn't it?
Kibly Customization Options
In evaluating the customization options of Kibly, I've looked into how much it has allowed users to personalize their emails. It has the following customization options:
email templates that you can customize according to your customer name, the order number, the product, and more;

product tracking links that you can add to the emails;

email attachments.
These customization options are also available in other email automation tools, but in this case, they look fundamental, and a set of such dynamic tags is very modest.
Kibly's scheduler is disappointing. After some time using Kibly, I've discovered that the time you specify for sending a letter doesn't correspond to the time of sending the email. Maybe it's trivial, but sometimes, this could be really crucial. In fact, what's the use of scheduling emails when you will not be able to keep the schedule?
When you think about it, it's better that you use Amazon FBA's in-built features to improve the reputation of your private label.
What Are Kibly's Features?
Kibly's interface leaves much to be desired. There are incomprehensible notifications and haunting popups that will distract you from browsing the system. Compared to other services, it has taken me far longer to connect my store and set up my first campaign. The campaign here is called Email Scheduler. Its functionality is too simple and limited. In addition, you can add no more than four letters to one campaign.
Its feature base is essential (sorry for the pun). The following are included with the installation of the Kibly tool:
Summary of statistics

Different templates

Seller feedback tracking

Attachments

Blacklisting customers

A/B split tester

Product rank tracker
Also, Kibly has added SuperXURL to its main functionality, which I used exactly 0 times during the trial. I have tried but failed to get any response from their technical support on this feature.
7 Things I Like About SageMailer
SageMailer is a feedback management tool that sends automated letters asking all your customers for seller feedback or product reviews. Such proactive communication improves the share of clients who leave reviews, enhances your AMZ rating, and minimizes the possibility of getting poor reviews. Below are seven benefits of this service.
No extra charges
SageMailer doesn't have any feed for adding extra Amazon stores. All subscription plans are affordable and straightforward. In addition, clients can customize their plans and determine the necessary number of review requests.
Email limit
SageMailer doesn't count messages that were not delivered due to the tricky platform's policy. This way, blocked letters because of opt-out shoppers are not counted in your monthly limit per month, so you won't pay any extra fees for them.
Efficient automation and timing 
Users can dispatch an email at the customers' local time. Thus, it greatly improves the email response rate. Moreover, users claim that soliciting reviews with SageMailer is more efficient, as they get a response from shoppers faster than with other tools.
Email templates
SageMailer has multilingual email templates. Email templates for soliciting reviews are important when using emails as a tool for feedback generation on the platform. SageMailer provides a great variety of appealing request templates for any case.
Response Center
With its ultimate Response Center for AMZ sellers, you can get instant alerts of new messages from customers, reply faster than your competitors, and keep perfect performance metrics. Users can access multiple Amazon marketplaces from a single dashboard and manage their communication with shoppers with pre-created templates.
Customer service
SageMailer has fast and professional support and provides what its clients like. According to reviews, the company's support agents have proven to deliver satisfying customer service and quickly reply to requests of any kind.
Easy to start
Many clients argue they have trouble setting up their email campaigns correctly with other services. Instead, SageMailer is easy to navigate and convenient. It is a great solution for both novice merchants and experienced Amazon users. 
Conclusion
If you want to try Kibly and see if it works for you, you're free to do so. However, I recommend you try the free SageMailer 1-month trial because it has more advanced features and is better for novice sellers. In addition, it is one of the best alternatives for email automation tools among all Kibly competitors.
You should keep your options open, so you can end up choosing the best tools that will help you manage your Amazon account efficiently. The right email automation tool can significantly impact your customer retention and sales growth.