Have you ever tried buying cosmetic products yet found them ineffective for your face and body? Or have you bought packs of cookies or boxes of protein bars yet found them not disgusting?
If you are a Prime Member on Amazon, then we hope you are informed about Prime Samples. But as a seller, what exactly is the advantage of being part of this program? How does this program work, and how can you enlist your items to this program?
What are Amazon Prime samples in the first place?

As an Amazon Prime Member, you can buy smaller versions of diverse products before purchasing the complete versions. They're called Amazon Prime Samples.
The price of these samples ranges from $2 to $4, and once these samples are bought, the money you paid for them is then credited when you finally buy their full-sized version.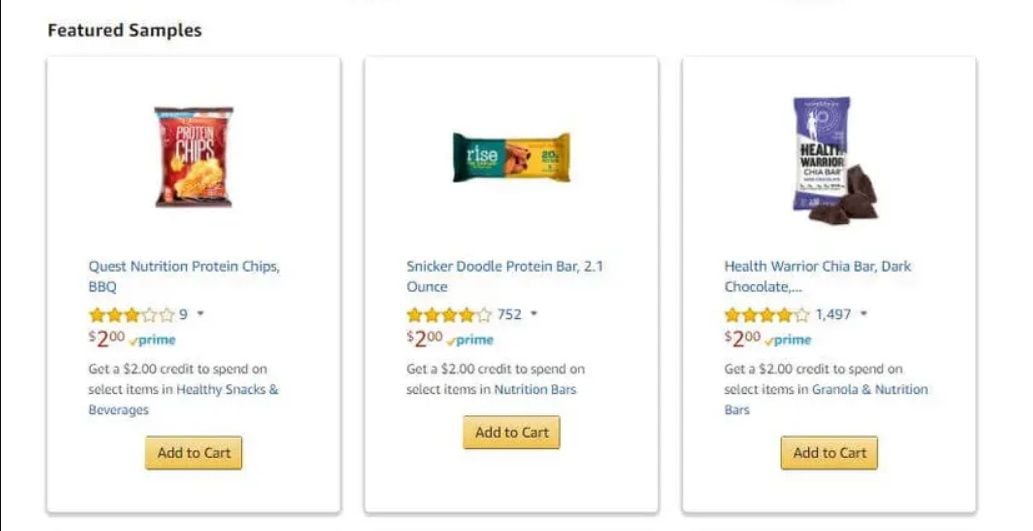 For example, you bought an oatmeal sample for $2. Therefore, the money you paid for the sample will be credited the moment you buy the complete version of the sample you purchased. There are several product categories where a buyer can get Amazon Samples, and this includes luxury cosmetics, coffee products, vitamins and supplements, nutritional items, pet food, beverages, and more.
In summary, when you pay for a sample, you'll receive a credit that is equal to the value you paid the sample with to redeem on your next purchase of the whole product.
Sample Box: what is it about?
Amazon also offers its customers the option of purchasing a Prime sample box. This box can be composed of several products from the same brand or different products from one category. Thus, every customer can purchase a sample box containing different beverages coming from different brands.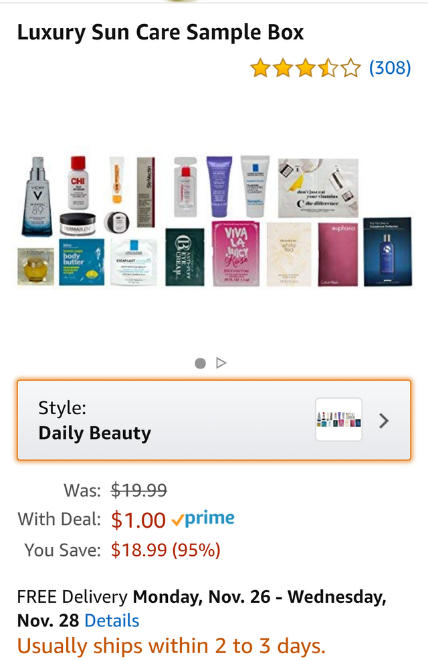 Most of the food samples contained in a sample box can range from $6.99 to $9.99 while other boxes can be more expensive. Expensive boxes contain luxury items with a price range that reaches up to $19.99. Therefore, before you purchase a sample box, you are permitted to see the number of samples you can get from the box along with its price.
3 rules you should take into consideration:
These samples are exclusive only for Amazon Prime Members. This is a great advantage for members to the extent that samples come with affordable prices and also a credit system.
Members can only buy a single sample box per category but are not limited to buying many samples they want coming from a variety of categories.
Credits of Prime Samples expire 180 days after the date of purchase.
How you can receive free Amazon samples
To receive your free samples, simply follow these steps:
Search for Prime Samples on Amazon's search engine so you can find all available categories.
Scroll through the samples or simply navigate through them by typing and searching for what you want, add the items to your cart, and click check out.
If you are using the Amazon Shopping Application on your mobile device, you can simply search "Prime Samples".
How to enroll to Prime Samples as a seller
At present, these samples are primarily open to registered Brand Owners who were personally invited by Amazon as the program is still in its pilot phase. Once this phase is over, these samples will be open to all interested Sellers.
Conclusion
Even though each unique sample can only be bought once, the good news is that the shipping will cost you nothing at all. However, it can take around 3 to 10 days before you receive the products depending on what they are.
Amazon samples are very useful for you to go for the next possible brand of product you want to take for yourself. It's normal to desire diversity for your collection and allow a change of pace to your usual buying routine as it begins to get boring. Moreover, these are perfect for traveling and are ideal gifts for family members and friends who would love to try something new.
Product Reviews as a great addition to Amazon Prime samples
If you are not yet participating in the new Amazon program and cannot send out Amazon samples for reviews, then you can still benefit from buyers who have already bought your products. The more reviews your products have, the more information your potential buyers will have to make a purchasing decision. The good news is that you don't have to ask all your customers manually, SageMailer will automatically send out review and feedback requests to your customers. Try the free 21-day trial and start getting more product reviews today!