What makes Amazon so popular, and why is Jeff Bezos so rich that the average American spending $1 is comparable to the Amazon CEO spending $2 million? One of the secrets is the well-developed and pretty intelligent Amazon's pricing system that goes beyond one monetization strategy. For example, to let the store owners use the marketplace to meet prospective buyers, the marketplace charges Amazon Seller Central fees, Amazon monthly storage fees, and much more. 
That's why getting lost in Amazon seller fees is easy, so let's find out what are the fees for selling on Amazon and how to reduce them but still increase your profits. 
Marketplace Business Models Overview
Is there a fee to sell on Amazon? Of course, there is, and more than one. To understand the way Amazon charges money, let's briefly overview the classical business model marketplaces use to stay afloat. 
Commission

. This is the simplest business model used by most marketplaces. According to it, the seller should pay either a fixed or fluctuating fee from each transaction made within the marketplace. 

Subscription.

This is a more advanced monetization strategy used by popular and well-developed marketplaces with a clear value proposition. In this case, the seller pays to subscribe to the features and services for marketing and advertising. The subscription packages are also often tailored to the size of the business, sales volume, and growth strategies.

Listing fee.

According to this marketplaces business model, the sellers pay for the opportunities to publish their products in the listings of specific categories. Logically, the more you pay, the more visible place in the listing you get. This model is also often mixed with a commission. Still, at the same time, both listing and commission fees are balanced and affordable for the sellers. 

Additional services.

Some marketplaces decide to proceed with either commission or subscription and offer add-on services like creating a branded website on their domain, launching PPC ads, and the like. 

Mixed model.

As the name suggests, a mixed model implies combining the best features of the monetization strategies above to come up with an ultimate value proposition and better tailor the marketplace services to the needs of the sellers. And you guessed it right – Amazon uses a mixed model as well. That's why there are so many

Amazon fees

you have to pay to run your store effectively. 
What Are Amazon Seller Fees?
There are several types of Amazon seller account fees. You guessed it right – you have to pay them all to sell on Amazon fees. 
Amazon seller subscription fee
To start with the platform, you must subscribe and pay the Amazon seller's monthly subscription fee. There are two subscription types depending on your sales volume.

How much are Amazon seller fees

?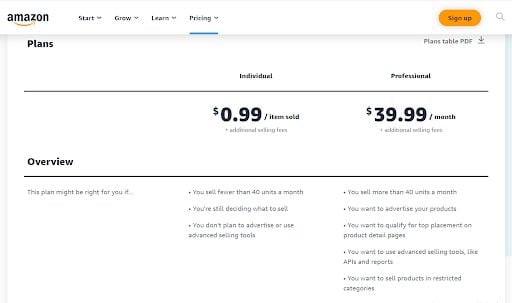 Individual seller account
An Individual subscription that comes with individual seller Amazon fees, as the name suggests, allows individual sellers to sell up to 40 items per month. It costs $0.99 per item sold plus additional marketplace merchant fees. The package of individual selling plans comes with only two services – the opportunity to add new products to your catalog (what's a surprise!) and use some fulfillment by Amazon FBA services.  
Professional seller account
Professional AMZ business account fees cover subscription costs ($39.99 per month) plus additional seller fees. Still, the package costs its price if you take your business seriously and intend to compete with other professional sellers. Within this subscription, you can promote your products with no shipping cost, sell in different categories, use advertising opportunities, integrate different APIs, and much more.
If you are an established eCommerce seller moving to Amazon, the Professional Seller profile is your best pick; the Individual Seller profile is very limited in comparison and needs more hands-on management.
However, if you're just starting to sell goods on Amazon, you can get started on AMZ with no up-front costs using an Individual Seller account. It costs $0 to register an Individual Seller account and list products, and you are only charged commissions when your goods sell. In fact, you are not even "charged"—AMZ takes its cut from your payout, so you do not pay a dime out of pocket.
Referral fee for selling on Amazon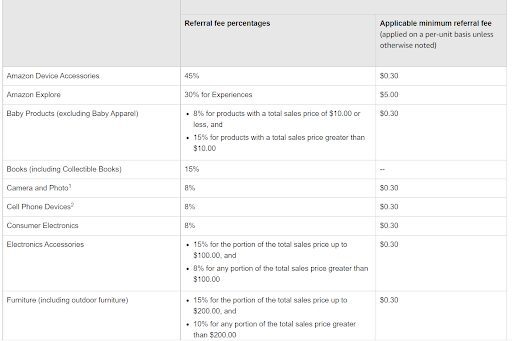 You also have to pay Amazon selling fees or referral fees for each item sold. The minimum referral fee is 8% of an item price. It works in such categories as consumer electronics, video games, some types of personal care products, and groceries.
On average, selling on Amazon fees are 10-20%. 
Amazon FBA fulfillment fees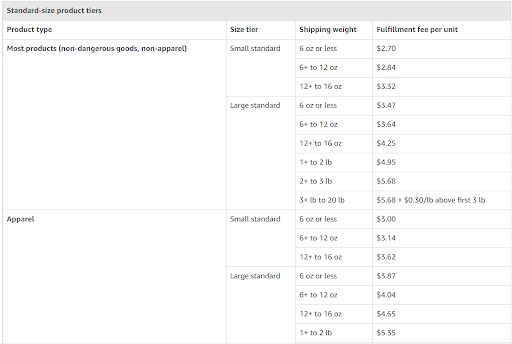 Amazon FBA seller fees are the next expense you must pay. If you are using this program, Amazon storage fees are fixed depending on the category – from $3 to $157, plus additional shipping costs for dangerous and oversized products.
How to Reduce Amazon Charges?
With so many types of Amazon sellers' taxes, is there a way to reduce them a little? Fortunately, some gaps allow you to save some money. Below are some ideas on what you can do. 
Use the Amazon Brand Referral program
Suppose you have an independent brand in the marketplace that is listed in the AMZ Brand Registry. In that case, you can use the recently launched Amazon Brand Referral program. The essence of the program is that Amazon encourages sellers to attract leads from any sources on the web, for example, PPC or social media ads, influencers, email marketing, blog, and Google search results. Then, when the lead makes a purchase, AMZ gives you a referral bonus credit that automatically reduces your referral fee by 5-10%, depending on the product category. 
Consider Amazon alternatives
Also, many Amazon alternatives offer lower commission fees and more profitable conditions for sellers. While AMZ is the most popular marketplace, other retail platforms can be even more beneficial because of the less competitive environment and more affordable pricing policies.
For instance, consider eBay, Walmart, Newegg, and Rakuten – they are pretty seller-friendly. 
Sell in a bunch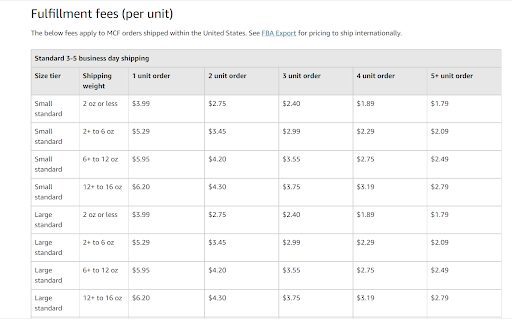 If you use an Amazon FBA program, consider selling more goods simultaneously. In this case, fulfillment fees will be lower. The most beneficial idea is to offer your customers to buy five items with one order since, in this case, an FBA fulfillment fee will be nearly 2,5 times lower than the fee for selling only one product. It is a good strategy for everyday products that run out quickly, like groceries, pet food, and self-care products. 
Be smart with your pricing strategy
The referral fee you have to pay for each item sold is price-dependent. So, consider developing intelligent pricing strategies to meet the customers' expectations, stay competitive and lower your referral fees at once. Stay updated on price fluctuations in your category using the dedicated app.
Consider your packaging
Sometimes the actual weight of the shipped order is less than its voluminous weight. It is the figure that is calculated based on the dimensions of the box. In this case, you better revise the packaging so you do not overpay for the space. 
Grow your ROI
Improving your ROI does not directly reduce your AMZ fees, but it ensures that the platform's fees make less of a dent in your revenues. Boost your ROI by:
Competing on service, not pricing, by providing great client service and a seamless buying experience

Enhancing your conversion rates by getting on AMZ Prime, catering to those digital buyers who favor speed

Working on other selling channels to reach a broader audience, using fulfillment partners and multi-channel listing tools
Enhance your visibility
If you are paying to appear in the marketplace, you wish to be seen. Boost the visibility of your product listings by:
Delivering fast and free shipping possibilities to appear in filtered search results

Optimizing your AMZ listings, including product descriptions and titles, and bullet-points

Obtaining five-star client ratings by replying to issues quickly, delivering accurate tracking details, and delivering on-time
Conclusion
Selling on Amazon isn't cheap. But running your online store on this platform can still be a winning idea. First of all, you have to understand all the charges, calculate them in advance, correlate them with your product price and target audience's expectations, match them with your business goals and growth strategies, and always keep a close eye on the opportunities to reduce the operational costs on the platform. As one more option to drive more benefits from your AMZ store, consider paying more attention to the reviews your users share. You can gather them with the help of SageMailer.
Sing up for a 30-days free trial to find out how the app drives more sales using the power of social proof!