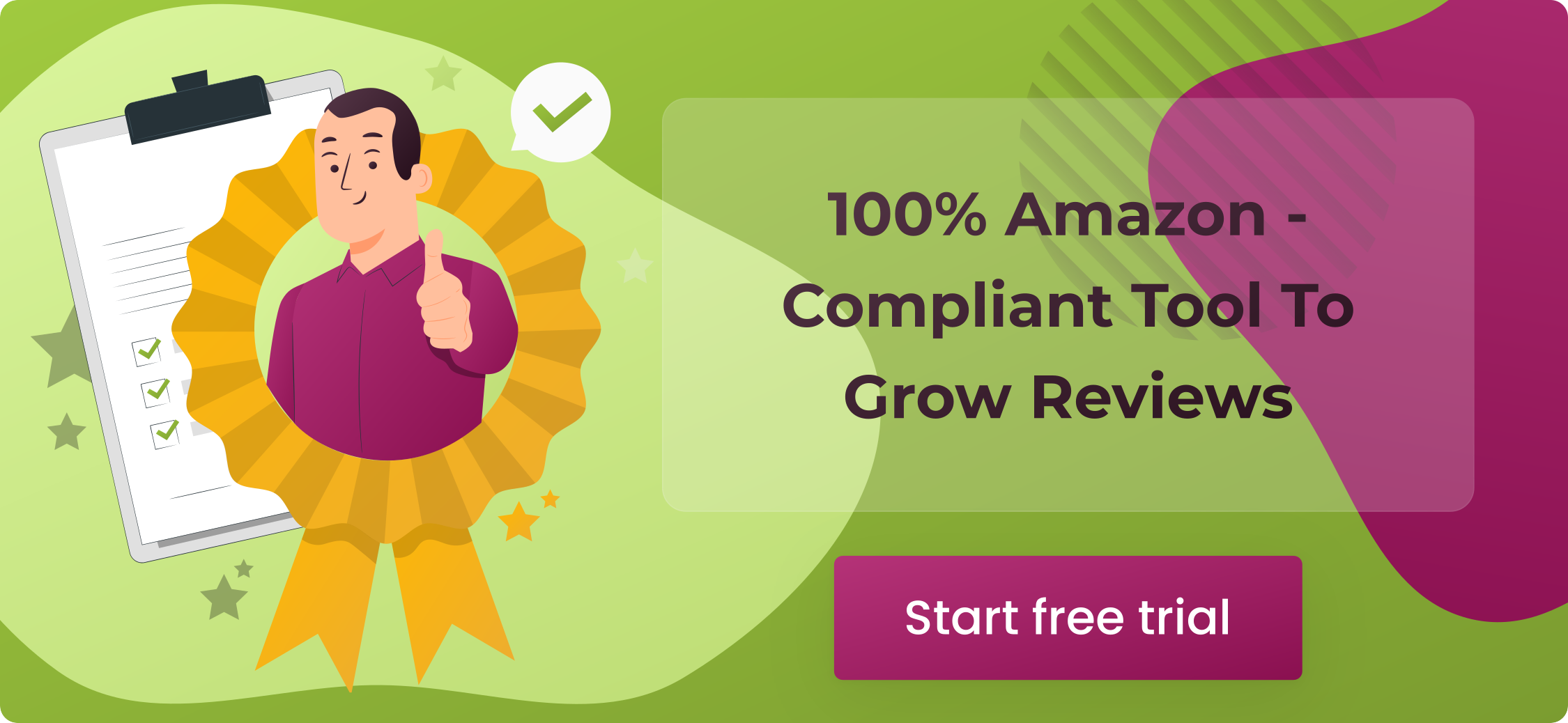 What is something except for goods you wish to offer your clients as an Amazon seller? The answer is simple – CONVENIENCE!
We have all heard different stories where people get to the point of purchasing products from a particular category and find themselves missing some items. 
Some clients buy bath bombs and scented candles but miss out on the bath salt; others purchase sunscreen and facial wash but miss out on the face moisturizer.
Here's when the convenience of providing Amazon bundle products comes into play. In this article, we are going to cover Amazon bundling and go over the following:
What is a bundle listing

on Amazon?

How to find products to bundle? 

How to create a bundle listing on Amazon?

H

ow to bundle products on Amazon

efficiently to

increase your average order

? 

What are

Amazon bundle examples

? 
And more.
What Is Bundle Listing on AMZ? 
So, what is product bundling? According to Amazon.com, bundles of items are between two to five goods from the catalog sold as one. Usually, they are sold at some discount to enhance the conversion rate. Such goods are not packaged together but provided as individual product units instead. The platform bundles the items into kits and delivers them from its fulfillment centers, saving merchants both hassle and time whenever a client places an order.  
How to Choose Items for Amazon Bundling? 
As with any other AMZ FBA business model, product analysis is one of the essential aspects of creating virtual bundles. 
You have to ensure the goods you are bundling are complementary in purpose or function, but you also have to provide those items will sell well together.
You might have seen the "frequently bought together" tab on an Amazon.com listing. It displays the items clients often add to their order with a certain product. In other words, here's your recipe for Amazon FBA bundling.  
With such insights on complementary items, you can develop a unique, bundled AMZ listing to save your buyers clicks—and money. For instance, you can package a spatula and kitchen tongs together, so the clients don't need to order from two different listings. 
Here is how to research Amazon product bundles properly.
Look for "Bundle" on Amazon.com
Merchants who sell product bundles will add the keyword "bundle" to their title. Very convenient!
When done right, you can get some pretty good results. For instance, instead of looking at all of the platforms, pick a certain product category, and enter "bundle." 
The search results will give you an idea of what kinds of goods sell well together in this category. 
Check the "Frequently bought together" tab
Most listings in the marketplace come with a "Frequently bought together" tab. You will find extra products that other shoppers have bought along with the item you are looking at.
Searching in product databases via some product bundling tool for Amazon is an effective way to find wholesale goods to resell on the marketplace. There you can easily adapt the filters to your exact criteria. Check the number of merchants on one listing to analyze selling opportunities. When bundling AMZ products, you need to find product listings with many sellers, as it's a good indicator that brand owners allow wholesale accounts. When some product listing comes with only one merchant, it is most likely a private-label item and, thus, not an option to make a bundle.
With the techniques mentioned above, you will spot great wholesale opportunities for the products you would like to bundle. Once you have nailed down the bundling recipe, reach out to each brand to register a wholesale account, and you will be one step closer to creating a winning bundled listing. 
How to Determine Bundle Amazon Quantities?
The number of product bundles available for clients to purchase depends solely on its goods. For example, if you have a pizza pillow with an available quantity of 35 and a pizza blanket with 28 units, then there will be only 28 bundles on Amazon. The total amount is automatically calculated on the platform, considering individual item sales. Thus, if one of the pizza blankets sells as a separate item, your available Amazon product bundles will reduce to 27.
What Are Good Amazon Bundle Examples? 
So what are some real examples of the best bundles to buy on Amazon? We've collected a few to assist you in getting an idea:
Liquid detergent and in-wash scent booster bundle.
It is from the Health & Household category, featuring a popular liquid deterrent and in-wash scent booster. Quite an obvious choice, isn't it?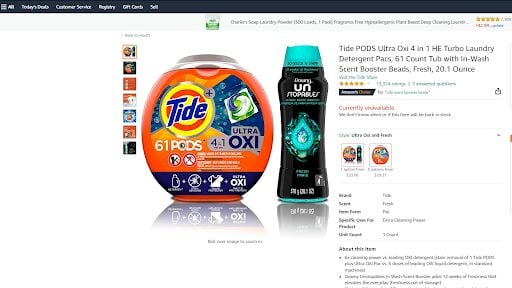 A bundle from the Camera & Photo category offers a HERO8 camera, an SD card, and two rechargeable batteries.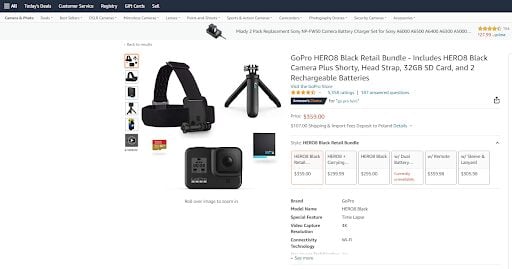 Face cream and whip face moisturizer bundle. 
Another bundle from the Beauty category for make-up lovers features face cream and whip face moisturizer. An excellent gift for your mom or girlfriend for some occasion!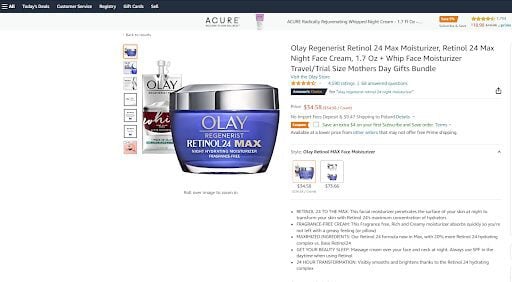 How to Create a Bundle Listing on Amazon? 
Add an item in your

Seller Central

account. 
To create your listing, find the Inventory tab and choose to Add a product. Next, select to create a new AMZ product listing. 
Pick the necessary category.
Select the proper category for Amazon seller when 'bundling my existing product'. If you've got a GTIN exemption, choose the exact category you are approved for.
Make up the listing as usual. 
Fill in the brand registry name as listed on the GTIN exemption application (if you are approved). Besides, keep in mind the following Amazon rules when writing the title, descriptions, and other listing elements:
The product unit count has to equal the number of goods within your bundle.

The title length of the bundle should follow the platform's listing policy (up to 200 characters (including spaces).

Indicate the word "Bundle" and the number of products in your bundle in the product

title&description

. 

The first bullet on your

detail page

should include that this

product on Amazon

is a bundle of "X" number of goods. It must identify all

items in the bundle

separately.

The description on your detail page for the AMZ bundle should indicate that this product is a bundle. It has to list all the goods and

bundle items'

specifications (color, size, model number, etc.).
Tips for Creating a Winning Amazon Bundle
Adhere to Amazon bundle recommendations
The first rule of any business — and it's right not only for product bundles but for any actions on Amazon — is to oblige Amazon bundle policy.
There're so many different guidelines that you should check out yourself, but below, we provide a few essential ones to consider.
BMVD product bundling isn't allowed
Product bundling on Amazon within the Books, Video Games, Video, DVD, or Music categories isn't allowed, but you might include goods as complementary or secondary products within your bundle.
Bundling isn't an exemption from AMZ rules
You need to adhere to the same rules for selling bundles that are applicable to non-bundled items. Therefore, there're no exclusions to the general guidelines AMZ expects merchants to comply with. Still, some extra rules add up!
ASIN creation guidelines
The requirement to add a new single ASIN UPC is within the platform's Amazon product bundling policy. Each item within your bundle already has a certain component ASIN. However, you need to create a new identifier as you are creating some new products.
A bundle might be listed in one category only, even if the goods comprising the combination are from different categories. If it includes goods from various categories, the bundles can only appear in the category of the highest-priced product in this bundle.
Ask yourself if your customers and Amazon will benefit
The platform has made it extremely easy and convenient for shoppers to find what they're searching for. So if you create a bundle, be as honest with yourself as possible and think if this deal will be useful for your customers. 
What is your main goal? Are you combining goods to make the client's shopping experience simpler and, in some cases, to save shoppers a little bit of cash? Or are you making a bundle because you suppose cross-promoting will be more profitable?
Keep specific about your product bundle features
Writing a proper product listing content for single items differs from the one for bundles. It should indicate what is there and what is not, beginning with the product title that needs to state that the client is looking at a bundle, not a pack or kit. If you are offering many products — choose an arbitrary number like two or three — it cannot hurt to add a reference somewhere in your title to the number of items in the product bundle. 
It also applies to product images. Take photos of all items together, and then add separate images of each product included in the AMZ bundle. The default picture should have an image of every single product in your bundle.
This example from a famous cookware company properly illustrates a good bundle. It unites three of the related items into one. The listing title has the keyword bundle and short descriptions of each iron frying pan making up the bundle. In this bullet point section, each item is again listed at the top, and then the other part of the description follows regular product copy.
Unbundling is possible
The other side is that if you notice that a separate item within the product combination is so popular that it might be more profitable to offer it by itself, feel free to ask your fulfillment company to break down the bundle to ensure more products are available for sale.
Bundling entails higher returns cost 
If a client is not satisfied with even one item in your product bundle, you're obliged to accept the whole bundle back. Likewise, a service plan or warranty should also cover the entire bundle.
Thus, ensure that you include the delivery cost in both directions when listing the bundle for sale because when a buyer decides to return it, it'll cost you more than while were selling those merchandise separately.
Amazon Product Bundling: Final Thoughts
Sounds confusing a bit? Do not allow some extra work for this business model to refrain from exploring Amazon FBA bundling opportunities and winning the Buy Box. Stand out from your competitors by providing convenience all-in-one package through product bundles to your clients! 
Get a little creative with how and what you are selling, and don't forget to track customer feedback. Luckily, SageMailer can help you with the second task. Register for a free 30-day trial and learn how to put client reviews management on auto-pilot.