Amazon comes with a lot of in-built marketing opportunities. Using this marketplace, you can instantly launch your online store, create product listings, and promote them using Amazon advertising. There are many Amazon ads tactics you can follow, and launching a PPC campaign is one of them. However, to make your products rank well and right, you have to use the right keywords and avoid unnecessary ones. 
Let's find out what negative keywords are Amazon, why you have to research them and skip them in your ads to make your campaign more effective and user-centered. 
Amazon PPC Brief Overview
To better understand Amazon's negative keywords, let's start from the essence of Amazon PPC or Pay Per Click marketing opportunity. With the help of this in-build feature, you can set up a promo campaign and show your products in response to the specific users' queries. Indeed, you have seen how it looks in Google since the idea of Amazon PPC is inspired by Google ads. 
After your ad campaign on Amazon is launched, you pay a fee each time the user clicks on your product. However, you can set flexible fees and PPC budget limitations to avoid overspending and pay for the clicks that come with the highest likelihood of conversion on Amazon. There are three types of Amazon PPC ads:
Sponsored product ads

. In this case, your products appear on the pages of your competitors.

Search ads

. In this case, your products are shown in response to the users' search queries on the main page.

Remarketing.

With this option, you can show your products to those users who have already interacted with your store but haven't made a purchase. 
To launch a PPC campaign on Amazon, you first have to identify and set the keywords according to which your products will be shown. Most Amazon sellers use the dedicated Amazon keywords research tools to find them, spot the keywords used by their competitors, or, as the most straightforward option, use the same keywords they use to fill their product descriptions with. Therefore, to research your search queries and power your keywords on Amazon with the most relevant ones, you have to know that there are both positive and Amazon negative keywords. 
Negative Keywords Definition
Amazon negative keywords are the keywords that aren't relevant to your product and category. That's why it makes no sense to show ads in response to them. Suppose you are selling ceramic tableware and use the related set of keywords, for example:
ceramic tableware plate;

ceramic tableware set;

ceramic tableware set for 8 and so on.
In this case, the set of negative keywords will cover the expressions that don't match your product type. For example, plastic tableware is a negative keyword in the ad for your campaign since, in this case, your products will be shown in response to entirely different users' preferences. 
There are several negative keyword Amazon types. 
Exact match

. Let's get back to the example above to explain this match type. Suppose you don't have the set of ceramic tableware for eight persons, but you have it for four. In this case, you should exclude the "ceramic tableware set for 8" search query and add a relevant one. Although these queries match almost precisely, the user looking for a bigger set is unlikely to find it in your store. In this case, your ads bid will be wasted. 

Broad match. Proceeding with our example, the word "tableware" is a broad match keyword. Sometimes, it makes sense to use general keywords in your campaigns. However, as a rule, they are likely to be more negative than positive since the user preference is still unclear. What's more, broad match keywords can win only for sellers with high ranking and product rating, so you should be careful with such queries if you have recently started with Amazon. The best tactic is to review search term reports before adding broad match phrases to your campaign. 
Phase match. Here is an exciting example of Amazon PPC negative keywords negative phrase – "cheap stuff under 5 dollars". Try typing this query into the Amazon search bar. You will discover a lot of different products that are impossible to classify. 
The buyers using this phrase are either willing to buy something extremely cheap and satisfy the need for an inexpensive purchase or simply don't know what they are looking for. Including such a search query in your automatic campaign (even if you have such offers in your listing) is wasted ad spend since the users are likely to browse the goods with any clear intent. Instead, you are better to focus on more relevant and conversion-driving keywords. 
How Do Negative Keywords on Amazon and Google PPC Differ?
How to find negative keywords for Amazon FBA? Unfortunately, some Amazon sellers mistake using Google Ads negative searches as Amazon keywords. Still, they are entirely different by two core characteristics. 
Search intent.

The apparent goal of the users makes Amazon ads effective and attractive. The fact they opened the Amazon website shows they intend to buy something or at least compare the options. But this is not the case for Google PPC since the users may look just for information, do-it-yourself options, free and cheap perks, etc. That's why you have to use different sets of keywords for your Google and Amazon PPC. 

Possible search phrases.

According to this logic, the users type different search queries on Amazon and Google. They look for specific products on Amazon (in most cases), while they can look for any related opportunities when googling. 
Why Should You Use Negative Keywords
Below are the reasons why you should add negative keywords to your Amazon ads campaign. 
Prevent your ad from competing between your products

. If you have several similar products, you should use negative keywords to avoid competition between them. This logic is simple. You just have to exclude the product-specific keywords you use for a specific campaign from the one created for another your product.

Prevent meaningless clicks

. Do you remember the example of "cheap stuff under 5 dollars"? Research the similar and general phrases the buyers can use and exclude them since they are most likely just browsing Amazon and clicking on ads randomly. 

Prevent your product rating drop

. The high bounce rate of Amazon PPC ads campaigns can lower your product rating. In this case, Amazon has also borrowed the practice from Google. While Google doesn't like to promote the website with a high bounce rate organically, Amazon doesn't want to promote the products if users abandon them after the first glance. 
How to Find Negative Keywords for Amazon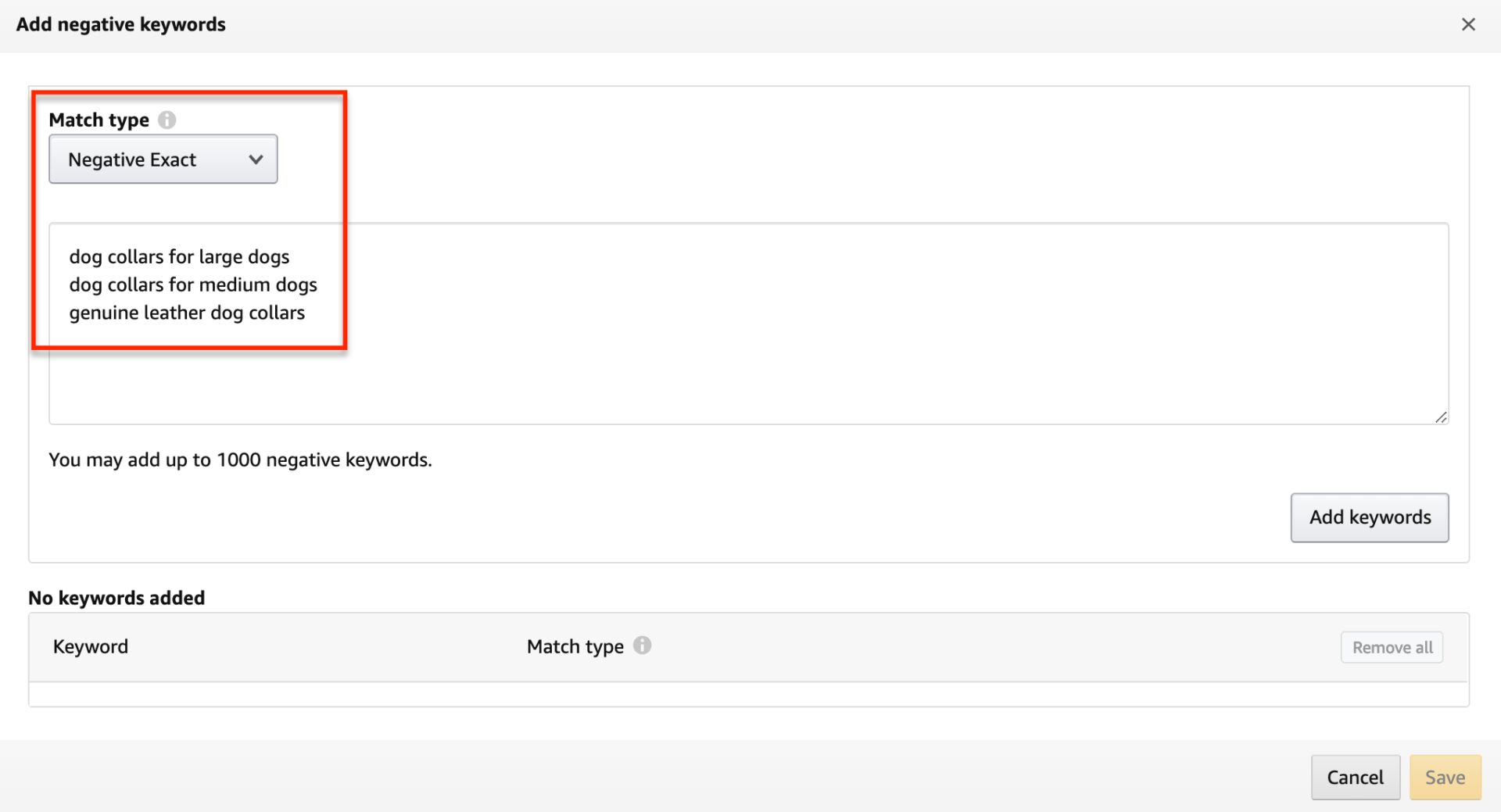 Below are some ways to Amazon how to identify negative keywords. 
Start by reviewing your positive keywords.

Sometimes the negative keywords can be hidden among the seemingly positive ones. So review them one more time and make sure all of them relate to your product. Also, use the search term reports to determine which of your positive ones perform better and which are used less frequently. 

Take a closer look at your audience.

After you are done with the first step, try to identify the behavior patterns of your audience. Why do they search in this way? What problem do they want to solve with the help of your product? What long-tail keywords are they using? The answers to these questions may provide you with valuable insights regarding your buyers and the keywords strategy for your PPC and organic search. 

Brainstorm the ideas on your own

. As one more effective tactic, try to suggest the ideas for negative keywords on your own. As the source of insight, pay attention to the keywords used by your competitors. Sometimes, they use specific queries that you can also exclude. 

Use negative keyword research tools

. Finally, and as the most straightforward tactic, consider using a negative keywords research tool but make sure you use the app created specifically for Amazon. For example, using the software developed for Google ads makes no sense since it will provide you with a lot of data on Google search queries irrelevant to Amazon. 
Effective Amazon PPC Strategies
Here is how to use negative keywords effectively to lower the cost of the PPC campaign and get a better ROI. 
Avoid keywords cannibalization

. This is the situation when two of your products compete with each other for the same search query. It may seem that there is nothing bad about it – you just offer the users to consider almost similar options, but Amazon thinks differently. In its opinion, the search query should coincide with the search result as much as possible, so it makes sense to be specific and exclude the keywords you use for one product when promoting another one. 

Don't mix low-performing and negative keywords

. Low-performing and negative keywords aren't the same things. However, some Amazon sellers make the mistake of marking low-performing queries as negative ones. Instead, it is better to lower the bid for them. 

Make use of social proof

. How does social proof on Amazon relate to the success of your PPC campaign? The logic is simple – the products with higher rankings are always on top of both PPC and organic search on Amazon. While many factors contribute to your product ranking boost, the reviews your users share are among the most important ones. So, give your product a better chance to be ranked higher with the help of its excellent ranking, and start gathering your buyers' feedback as soon as possible.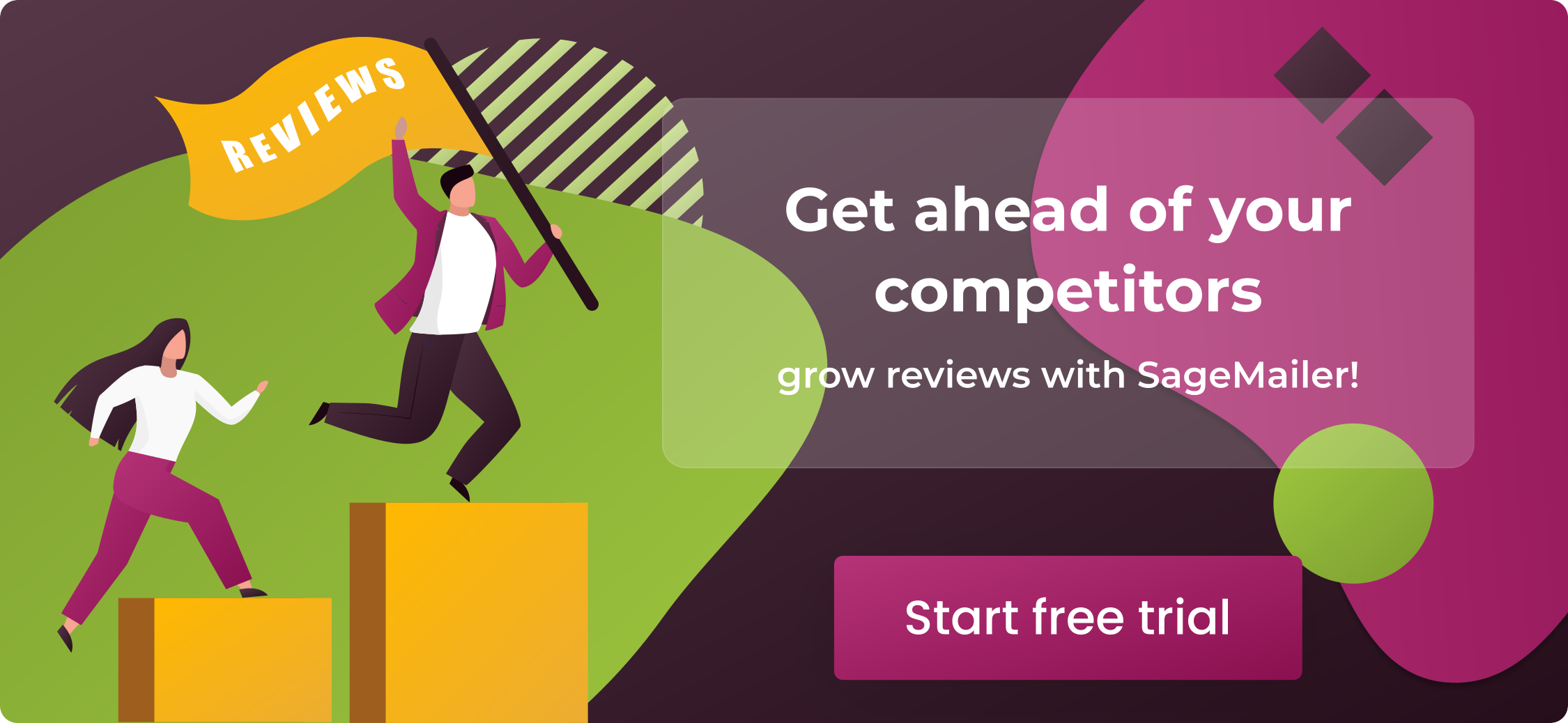 Conclusion
SageMailer can effectively help you with the last task. This is a dedicated and Amazon-compliant application created for Amazon buyers' feedback management. With its help, you can easily communicate with your buyers, get notifications each time they create a review, instantly respond to negative feedback and ask your customers to share their experiences. What's more, you can get started with SageMailer right now and for free – you don't even need to connect your Amazon account to get in touch with your buyers.
Still, with the help of our app, you will be able to grow your product rankings and prepare your items for being better visible in both organic search and Amazon PPC.
Try SageMailer right now! Find out how it works with our 30-days free trial!