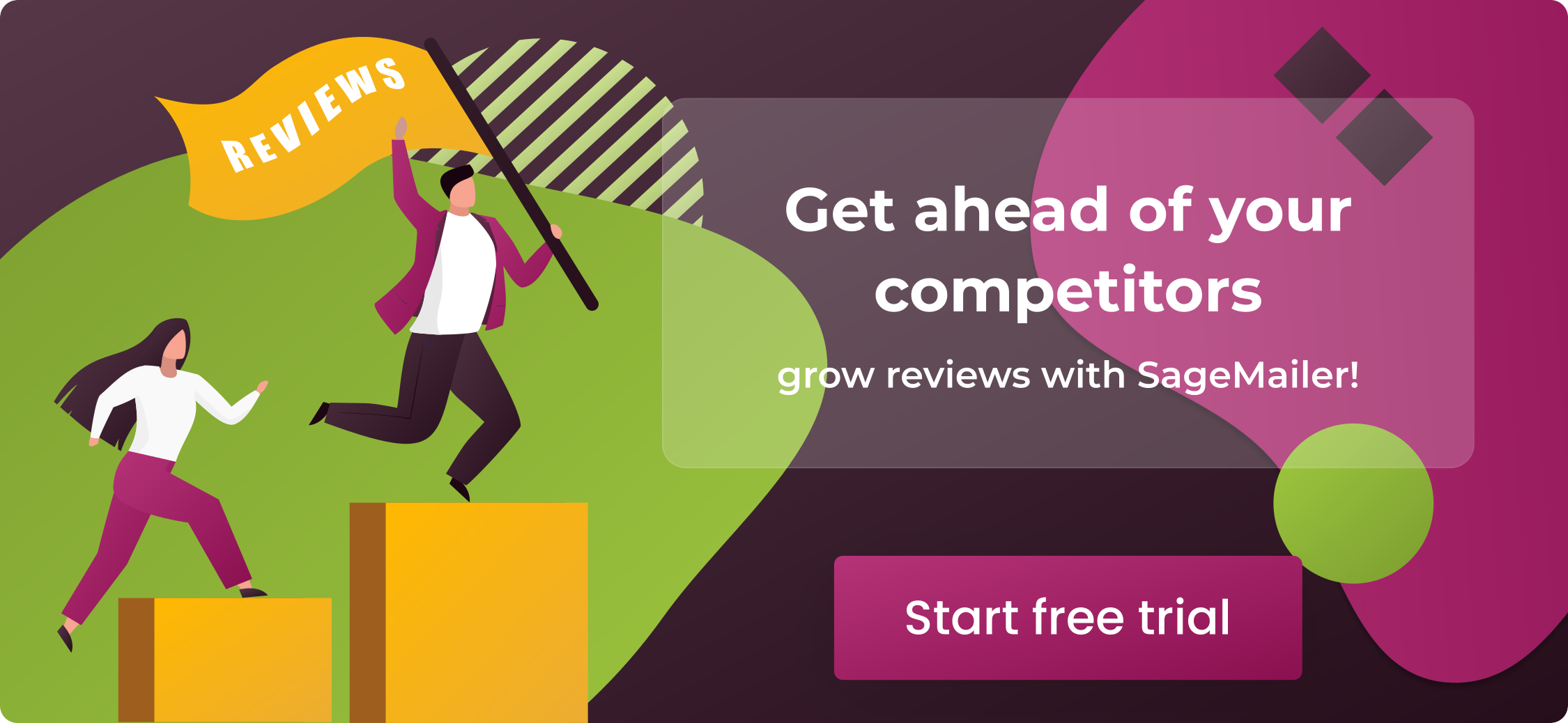 Amazon product reviews are excellent for your online business. They give you a rare opportunity to hear right from the client. Negative reviews give you a great chance to learn and prevent potential negative feedback. The power of positive AMZ reviews drives profits and sales. And then there come the strange or hilarious Amazon product reviews.
Declaring our thoughts about different things isn't something new. Though new movies, music, or books were usually reviewed in famous TV shows or newspapers by professionals, we have entered the entire age of assessing via the Internet. Now anyone can share their experiences not even after watching some movie or reading some book, but also on a banana slicer, Tuscan whole milk, ink pen, gummy bears, and crafts&arts glitter. And what's the best place to scrutinize if not Amazon and other online shops?
You have probably stumbled on the funny review. You likely get it at work in some form of a good meme. However, are you lucky if it is on one of your Amazon products?
Even when your client means well and shares one with a fun story or quip as a little joke, it still influences the metrics in the same manner a real one-star rating does. Although your first thought might be to fight back and attempt to get this review deleted, how about turning the lemon into lemonade instead? 
Why Are Funny Customer Reviews Good for Your AMZ Store? 
Product review and seller feedback management might be a monotonous deal. Thus, what might be better than avoiding this monotony with some good old-fashioned humour? Well, a smile now and then is sufficient to keep you sane.
Regarding the professional level, funny Amazon reviews might be terrific for sellers. Most clients enjoy a great story when buying a service or product. Most clients want a great laugh, mainly if they are ready to fill in their credit card info.
In addition, the best Amazon comments provide you with a rare chance to match your client's creativity and boost it with your key messages. An excellent way to do it is to match client humour in your newsletters or social media posts. Perhaps you might make some awesome copywriting tricks in the listing descriptions. Or communicate those humorous reviews across the social media channels and thank the reviewer for their effort and time in driving your business. There is no limit to how sellers can use the funniest Amazon product reviews to their advantage.
10 Best Amazon Reviews: Hilarious Comments You Need to See
This pen is mightier than your sword.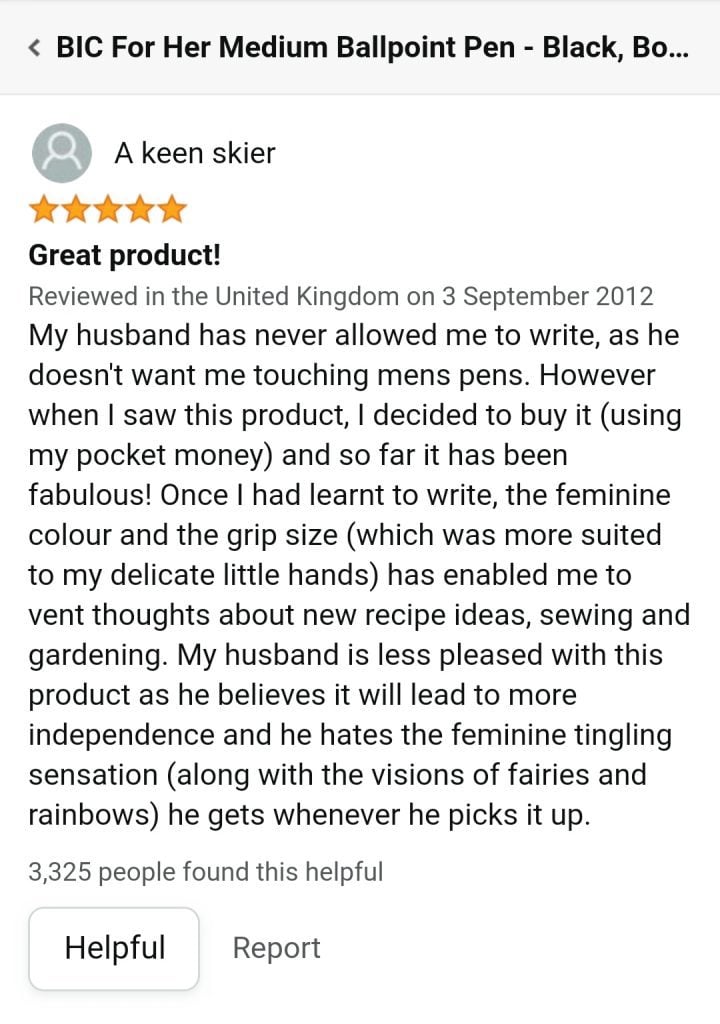 Probably, this Amazon customer typed her message, though it's possibly doubtful that using it in longhand first could have helped. What is especially impressive here is that 3,000+ users found this feedback helpful. Yet, if you check the AMZ comments, they're mostly all in pleasing fun. Though you never know, we doubt anyone actually purchased this item to dream about fairies.
Pro Tip: Do not name another item "for her", as pens are rather useful for anyone. Try this humour on your future product launch if you face a similar issue. Poke some joy at yourself, too; everyone adores self-deprecation.
Disneyworld park ride instead of ordinary pleasurable durability.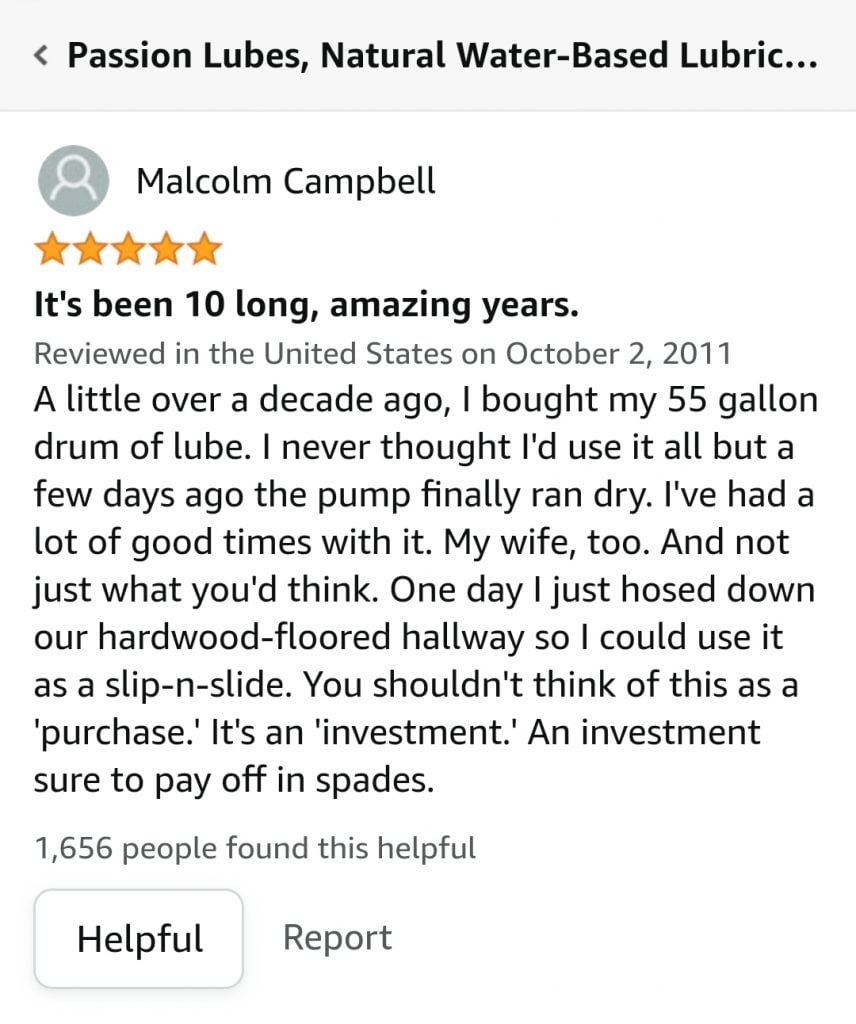 More than 1500 users found this AMZ comment useful. Nonetheless, we do recommend not to try it at home.
Pro Tip: You should market this item on your social media. Screenshot and add the review. Then, use it as a promo campaign to bring traffic to your merchandise. The platform rewards traffic from other sources to the listing!
Are you in a bind? Here is some assistance.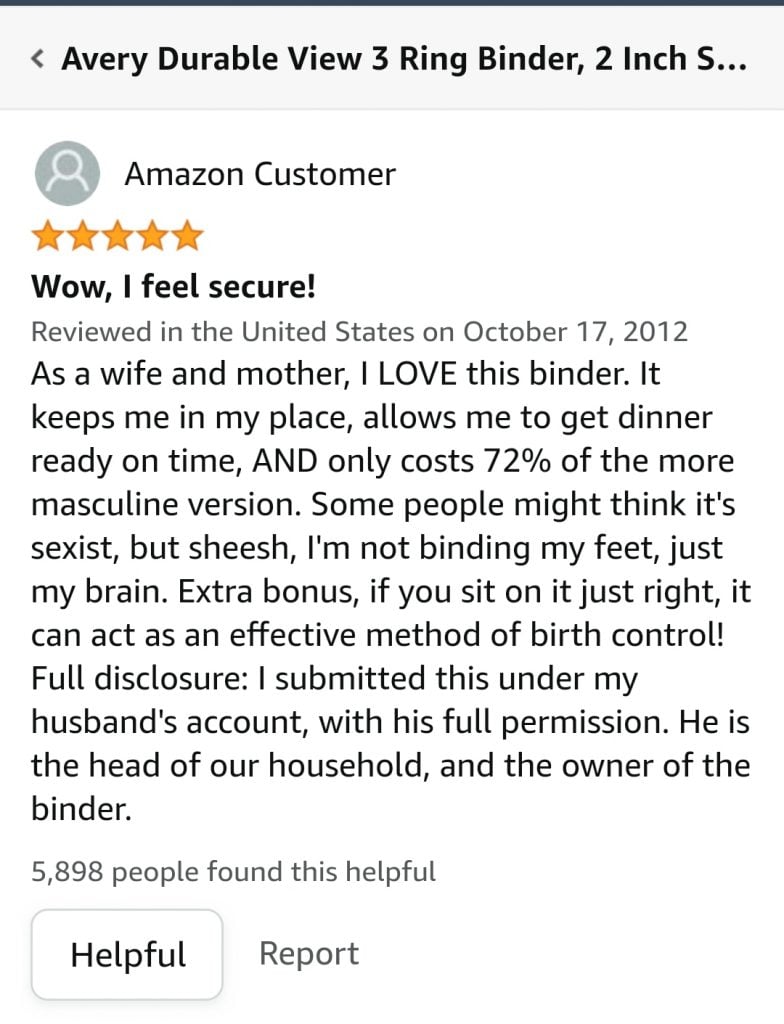 This feedback is for a basic binder that can hold up to 500 paper sheets. However, what this uses praises feels like something from The Handmaid's Tale. Almost 6,000 clients agree with him.
Pro Tip: Enhance your messaging in your product description. Include a bullet point that mocks your client reviews: "It's the binder you wish in Gilead."
You won't make it up, as this user already has.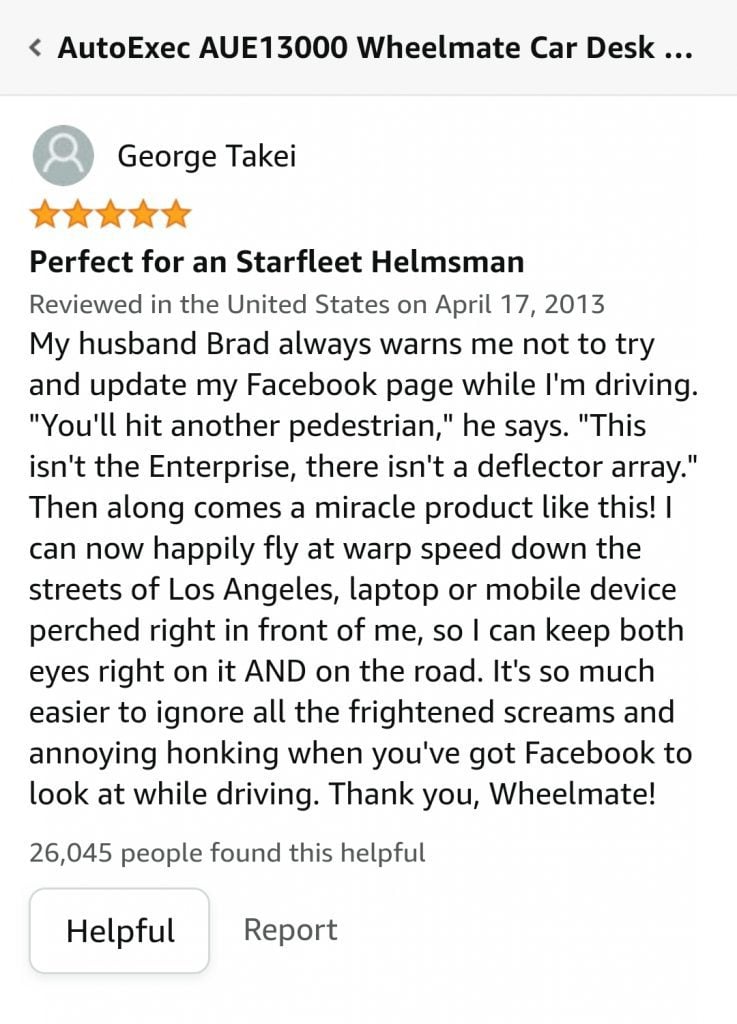 Most of such funny Amazon reviews come from bad writing aptitude and grammatical skills combined with misdirected tries to express enthusiasm. But some of them are, without any doubt, very sarcastic. As for this AMZ review, it is probably open for ridicule. No one imagines people would utilise this product while driving.
You may also wonder if this customer really exists. Still, it received over 25,000 favourable comments on his laugh. 
Pro Tip: This product review got over 24,000 responses. It is a ton. Including a little "Good for any Star Fleet captain in the galaxy!" into your listing bullet points or description is the right way to relate with your shoppers.
Surprise! DiCaprio is not a documentary star!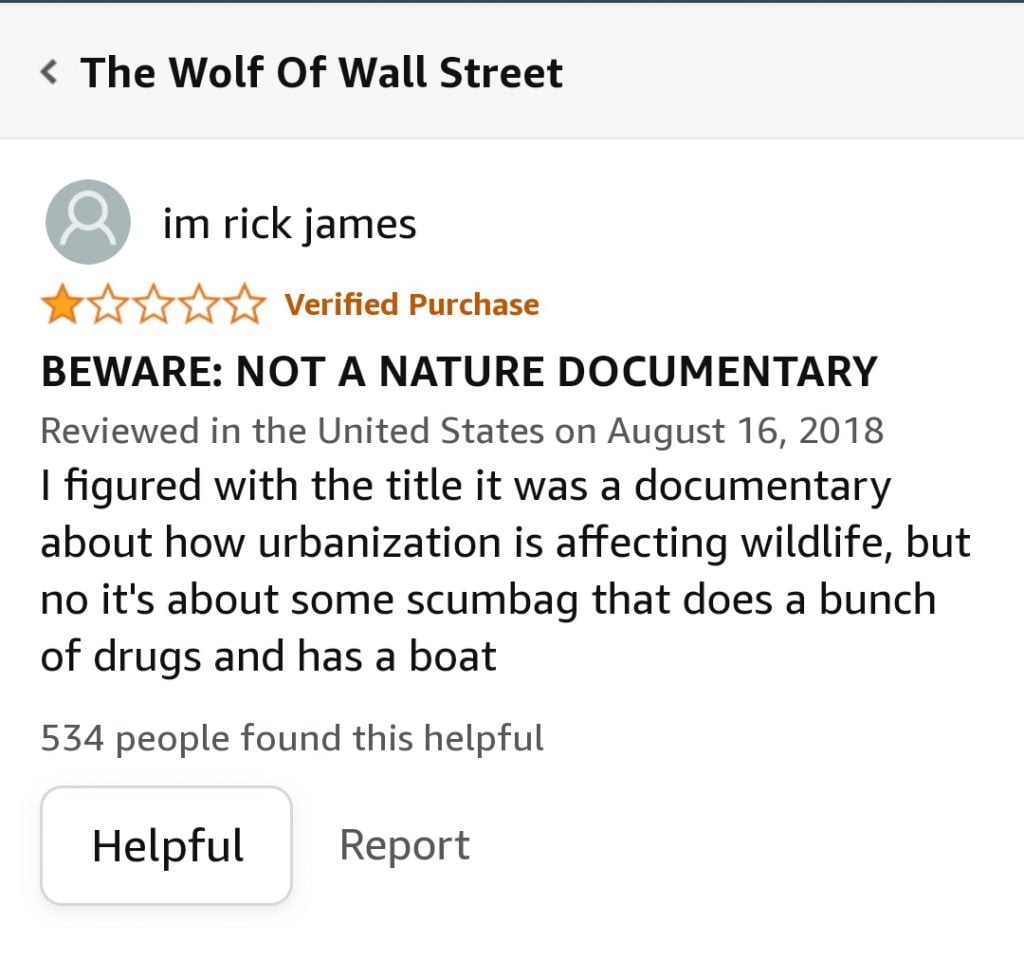 The famous Martin Scorsese's film The Wolf of Wall Street was a big success, praised by both audiences and critics. Leonardo DiCaprio accomplished an amazing job of showing Jordan Belfort, the retired stockbroker this movie is based. Sure thing, not all people were happy, as this AMZ user was astonished by the movie's lack of real wolves.
Pro Tip: This review is just hard luck. Perhaps the soundest way to deal with it is to simply understand and respect their gentle review and add a reminder in the product listing that it is NOT a wildlife documentary.
A horse mask that turned out to be too efficient.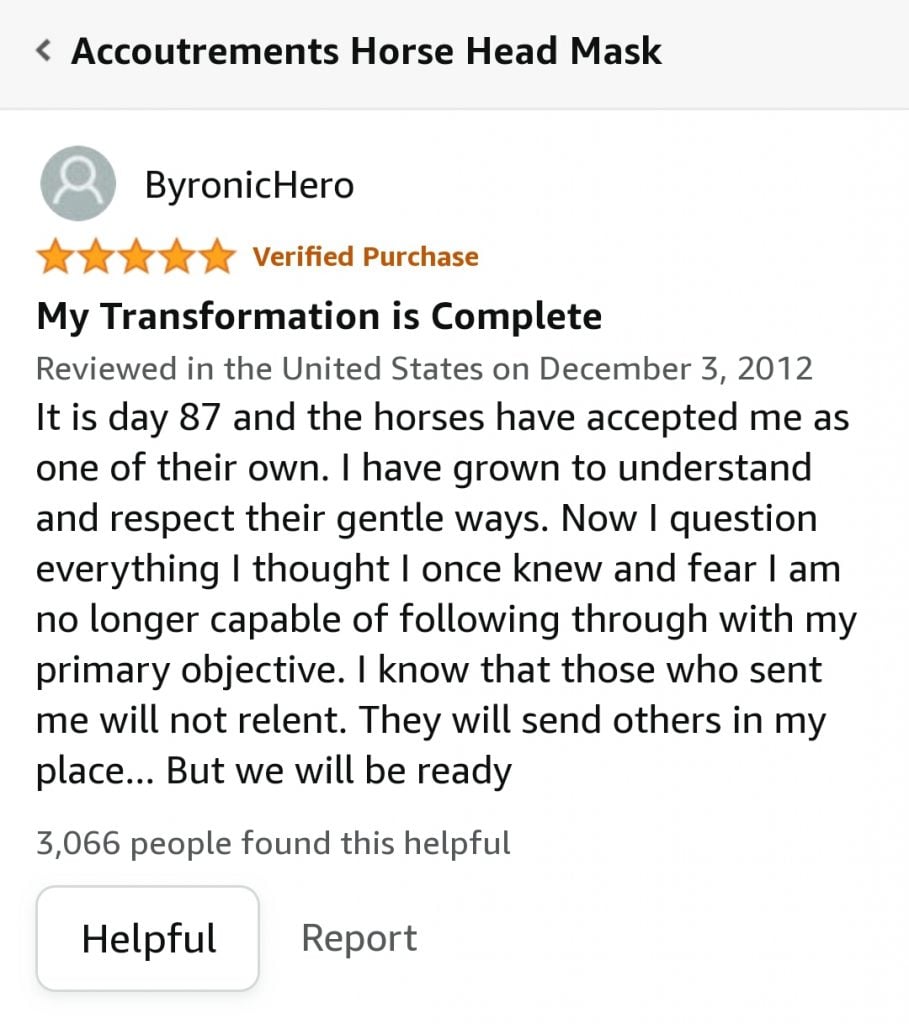 This Horse head mask has gotten overwhelmingly positive feedback for its realistic appearance. One reviewer has lost sight of what it's to be a human with his 'it's day 87, and the horses have accepted me as one of their own review.
Pro Tip: more than 3,000 potential buyers found this comic review helpful. Include a hilarious disclaimer in your bullet points like, "WARNING: This horse mask is so realistic that horses might take you in as one of their own for a couple of months." 
Check the wake on this one!

In 1993, Captain John W. Trimmer, a Master Mariner and Seattle harbour pilot, came up with his book titled "How to Avoid Huge Ships". It is probably useful info for people that go by sea. However, this product review provides another perspective on this matter.
Pro Tip: It might be tricky attempting to stay politically correct nowadays, even if it is an apparent joke. Here are some fantastic one-liners you might use for the advertising copy for your external channels:
"Wow, look at the wake on this one!"
"I have grown to understand that the dilemma of the huge ship nowadays is rarely discussed."
"When you are sitting around the port, you are really sitting AROUND this port!"
"If you see a large ship next time, please do not ignore it."
"I purchased this book as I was tired of people sitting next to me in public transport."
A truly mystery novel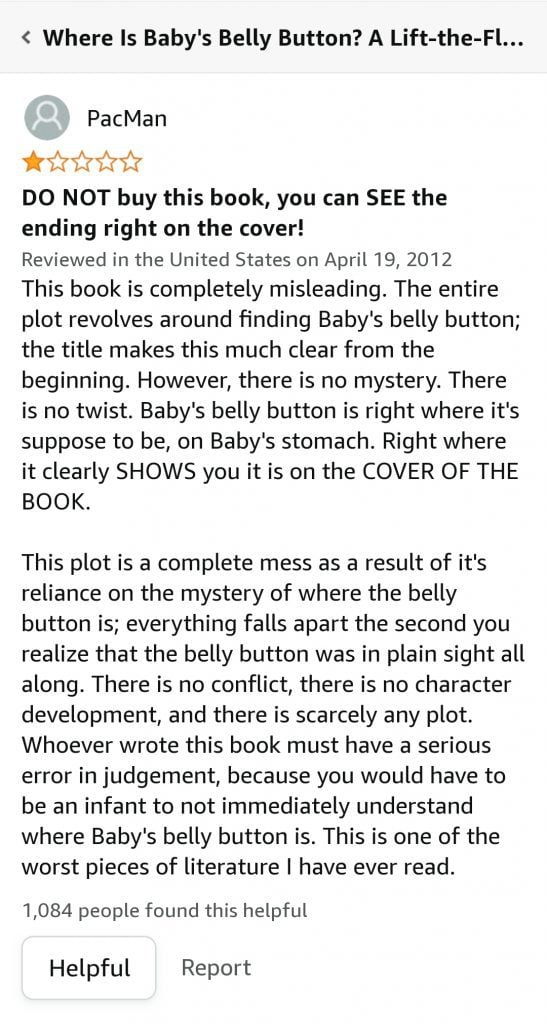 The "Where Is Baby's Belly Button?" book was illustrated and written by Karen Katz. The lift-the-flap textbook is developed for children. The cover displays an image of an adorable toddler lifting his shirt to check his belly button. One Amazon user suggests that the cover image is a sad flaw. 
Pro Tip: We doubt anyone will look at this comment seriously, but 1,000+ clients found it helpful. A couple of disclaimers and reminders in its product description on how this is not the detective novel is certain to bring a laugh to your existing clients.
No smiling matter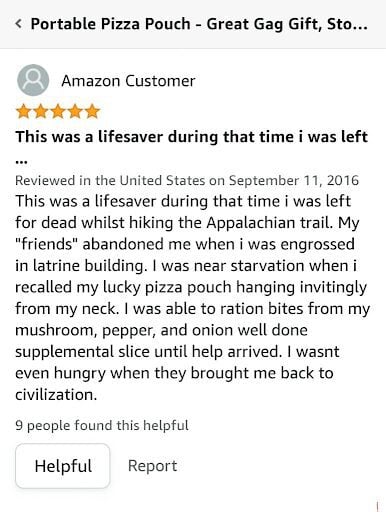 At first glance, this "Portable Pizza Pouch" might seem like a joke. It even says that it's a gag present right in the title. But, finally, it is pretty silly to picture anyone really walking around carrying a pizza slice as anything but a joke. Or is it? This client explained to us his story of survival.
Pro Tip: What a great opportunity! Now, this joke gift can become a life-saving item. Note it EVERYWHERE. And if you are an owner of equivalent goods, you may want to make an email campaign with similar clients, complete a delivery schedule, and collect some good seller feedback.
A happy client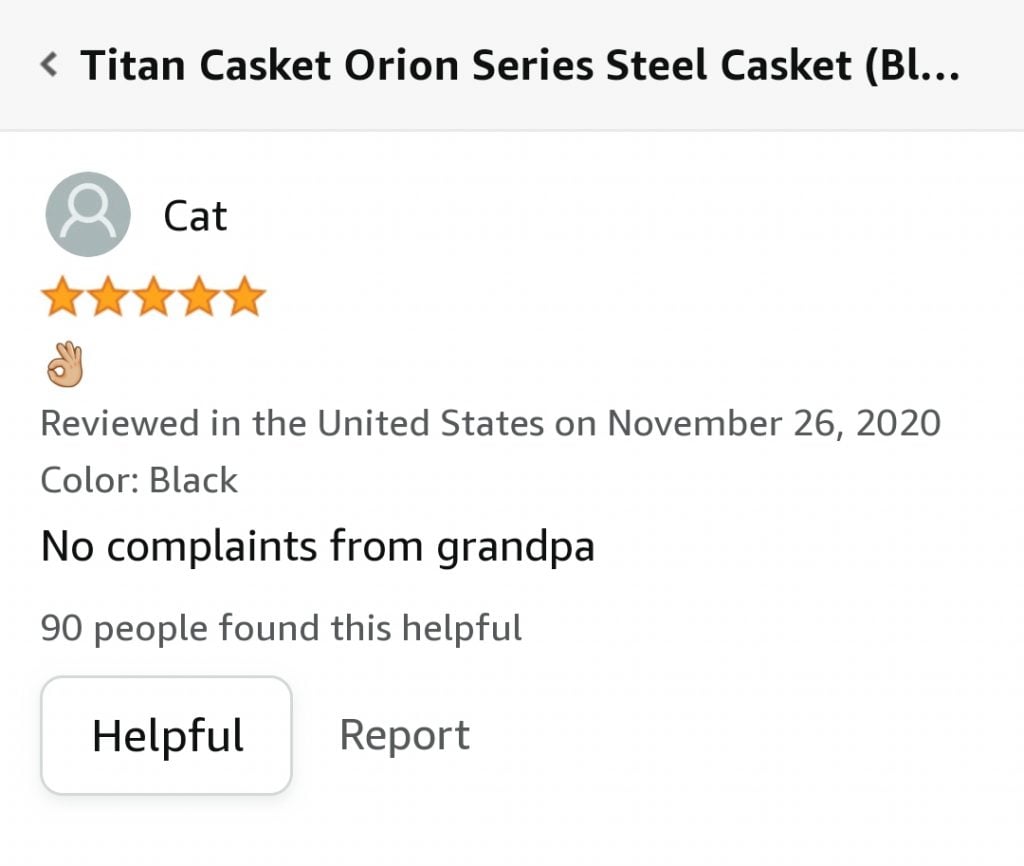 Many of the most amusing reviews in the marketplace are a paragraph or a few long, running with a ridiculous premise or revealing an absurd story for the good laugh's sake. However, in a surprising place in a steel casket's feedback section, this client got a laugh with only four simple words.
Pro Tip: only up to 90 users found this review helpful, and it is a casket, so leveraging humour in this particular case might not make sense. However, you have this feedback information, so you can contact this repeat buyer for the next campaigns. Of course, ensure you are following the right Buyer-Seller Messaging, so you are not violating Amazon's guidelines and killing your profits.
Below are some quick tricks on handling hilarious or wacky AMZ feedback, even if it is negative.
Laugh and appreciate your client.
First things first: do not push back or get angry. Instead, step away and take a deep breath. If you are a bit unnerved or shaken, the worst you may do is lace into your customer.
If you do not know what you should do, that is ok! Just thank your client first for sparing the time to share the review and ponder over what you may do next to move that product, get positive feedback, and avoid the next lousy comments.
Develop your community.
Andri Sadlak, one of the well-known AMZ experts, recommends sellers to always think outside of the box on how they can engage with their community. For example, Amazon customers won't want to follow your account on social media if you only post self-promotion. They are willing to be entertained and get quality content.
Aren't such funny Amazon reviews amusing? If you get feedback on some of your goods, think of exposing it by publishing it on the Facebook or Instagram page. For instance, you can say something like, "have a clever idea for feedback? Rather than leave us a negative comment, why not share it here instead!" You may even add a joke publication about the ridiculous review with some "caption this shot" contest, where the wittiest caption wins some discount.
Bring more customer reviews.
Negative feedback is, unfortunately, an essential part of running a business in the marketplace. Whether your product review contains a customer misunderstanding, a client making a joke, or a legitimate issue, you occasionally get some poor feedback.
Customer reviews are indeed a numbers game. One nasty comment on your AMZ listing with only five reviews might be devastating. Nonetheless, the same wacky feedback next to 50 positive ones is almost irrelevant. SageMailer specializes in assisting you in collecting more feedback on your items through many useful tools, including the "Request a Review" feature automating, A/B testing, Response Center to communicate with customers, and much more. In addition, new clients can benefit from SageMailer's free 30-day trial.
So, do you have any other hilarious AMZ comments? Let us know in the comments section below!