Recalling the very first time I laid eyes on the sales dashboard of my Amazon Seller Central account, I was a bit taken aback. Seeing the dashboard took me back to the very first time I saw the controls on the jets. There were too many buttons, too many selections. And, there were way too many lights blinking for me to figure out. I had no idea how pilots could retain and process so much information in a short amount of time. Even if someone wanted to learn how to fly a jet, just where would one begin? The same can be said about Amazon Vendor Central.
All in all, using the Amazon Seller Center was a very overwhelming experience. In fact, it was so overwhelming that the mention of Amazon sales dashboard will now send me into a state of panic. That might be exaggerating a bit. But, seriously, I think the biggest problem is that I am not into analytics. I tend to be more in the creative thinking end of the gamut. So dashboards, analytics, charts, and graphs can make me sweat at times. And, for many years, I was afraid of these types of things. I don't want the same thing to happen to you. You don't have to avoid your Seller Central tools just because it may look confusing at first.
Sellercentral Amazon was created for us, the sellers, and comes with valuable tools to help us monitor and track Amazon business. It is essential that we know how to navigate the Amazon seller central dashboard.
Luckily, once you look at the individual buttons in the dashboard and not the dashboard as a whole, you will begin to see that the Sellers central can very user-friendly. The more that you learn how to navigate the backend of your Seller Central account, the more information you are able to use in making better business selections to grow your business.
In this Amazon seller central tutorial, I am going to make the Amazon seller dashboard as manageable as possible. This guide has been written for an individual selling just one product. You can use this for Amazon Seller Central USA and Amazon Seller Central Europe as they are pretty much the same.
Opening an Amazon Merchant Account
Let's start by learning how to create an Amazon seller portal. First, you need to register on Amazon. Once that's done, follow the steps below for Amazon seller account sign up:
Step 1: For Amazon seller central sign in, you need to visit: services.amazon.com.
Step 2: Click "Sell on Amazon" or "Selling on Amazon" box.
Step 3: Visit: sellercentral.Amazon.com.
Step 4: Click "Selling on Amazon" on the bottom left side of the screen.
Step 5: Click the "Sell" button found on your home page.
After the steps above, you can now open Amazon seller account. If you are not automatically logged in, provide the necessary details for Amazon seller account login. If you encounter more problems, you can ask assistance from Amazon seller central help.
So, now that you've registered, you need to decide what kind of seller you will be. You can be an individual seller or a professional seller. If you only have a small product supply, you are fit to be an individual seller. However, if you are releasing a product line, the professional seller fits you better.
Again, this guide will only focus on individual sellers with Amazon central account.
Navigating the sales dashboard on Seller Central
Now that you have your own Seller Center account, you can view the dashboard. Here are some important things that you should learn.
Navigating the sales dashboard on Seller Central
Finding your Sales Dashboard
The first thing you will want to do is to log into your Seller Central. Go down to the Sales Summary located on the right-hand side of the page. Click on "View more of your sales statistics".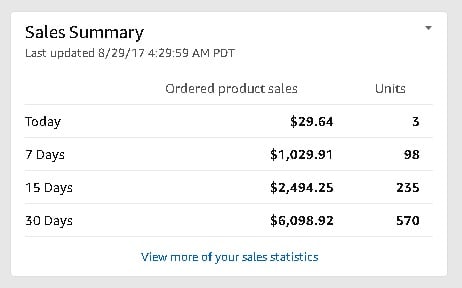 Learning the Most Important Features of your Sales Dashboard Homepage
When sales dashboard is opened, you will see the three key features located on the page:
Menu Bar
Notice the menu bar on the left side of the page. Remember that you are able to view all of the sales stats under the Business Reports category on the menu bar.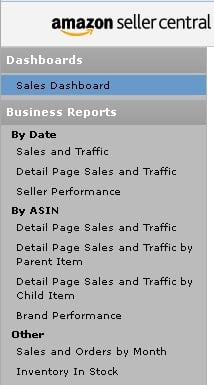 Sales Reports
Next, you will see that you are given a quick sales snapshot right in front of you. This is the place where you can view your sales for the day, how much revenue you have coming in, and how many units have been sold.

Compare Sales Graph
You will also be given a Compare Sales graph just below the Sales Snapshot. This graph allows you to compare your sales from today with sales from other days. If you notice that your sales were slow on a particular day, you can check if the sales were just as slow last year or last week.

Managing your Orders
On the top left-hand menu of Amazon sellers central, you will see "Your Orders". This will give you the summary of all pending and completed orders. Use it as a quick reference to how much you are selling on Amazon. Among information presented in this area there are the number of orders on the last day, the number of orders in the last week, pending orders, unshipped orders, and return requests.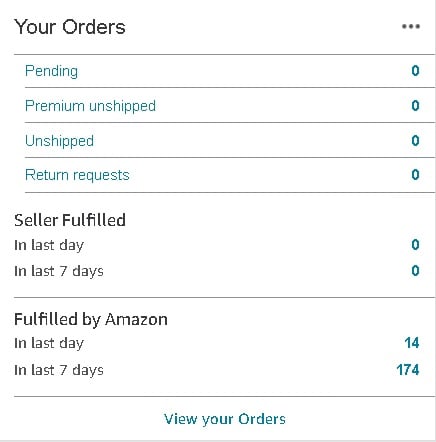 Evaluating your Performance
Managing your Sellercentral account does not begin or end at selling your products. There are a lot of things to consider, and one of the most important things you should focus on is your standing on the Amazon site. How satisfied are the Amazon customers with your products and services?
Below the "Your Orders", you will see the "Performance" tab. Here, you can see your average star feedback rating. If you have selling on Amazon FBA (fulfillment by Amazon), you might want to check the negative reviews. Amazon boasts about their world-class fulfillment system. However, if they have shortcomings in their service and a customer gives you negative review for it, you can ask Amazon to remove the review from your account.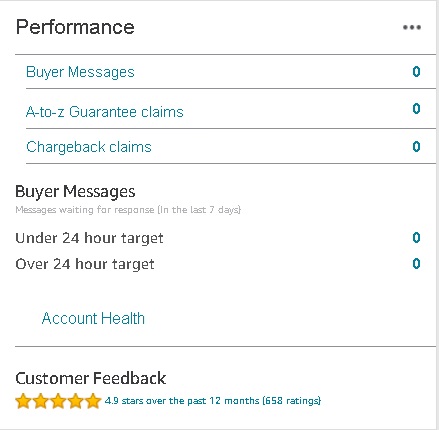 Checking Customer Messages
Communication is important for any type of business platform. For this reason, Seller Central US provides a messaging system for buyers and sellers to communicate. In the bottom left corner of the menu, you will see your customers messages.
Knowing Your Sales Performance
Upon starting selling on Amazon, you need to keep track of your earnings carefully. Luckily, Amazon Seller Central USA is more than capable of keeping all information already stored and will be stored securely. Thus, you'll have access to the sales data that you might need in creating business reports.
The menu on the left-hand side allows you access to many different sales statistics. You may feel a bit overwhelmed when you first try to view the difference between the collections of report options, but it is not as complicated as it seems.
This menu allows you to have your statistics arranged three ways: By ASIN, By Date, and Other. If there is only one product, we will focus on the "By Date" area.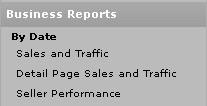 Under the "By Date" there are three report choices that all give statistics arranged in columns. For example, if you click on the "Detail Page Sales and Traffic", you will be offered this information: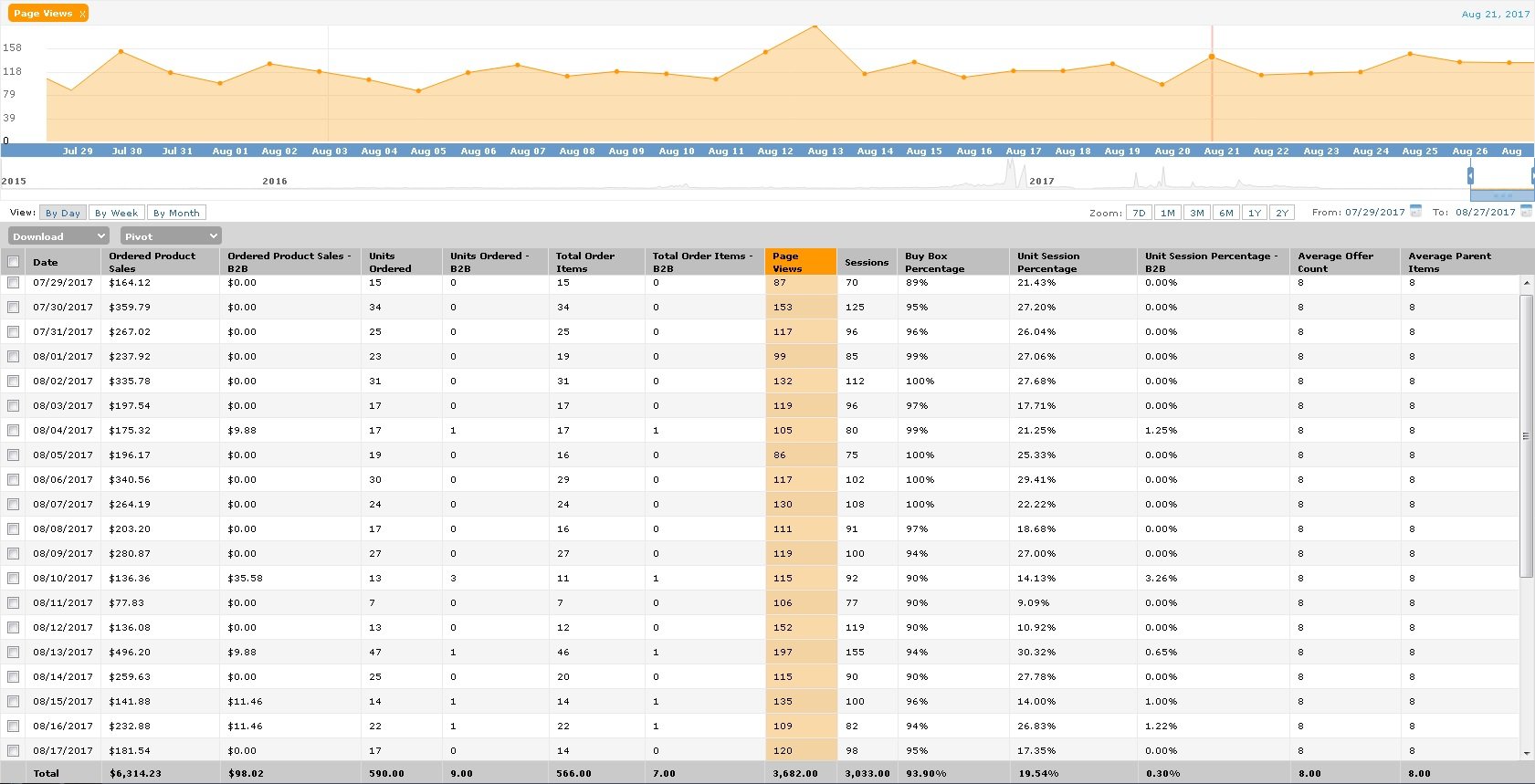 The information offered in this report emphasizes your traffic and sales. On these report pages, you can choose the data you want to view. By hovering your mouse over the screen on the right side, a Columns customization box will be shown.
Now you can uncheck or check the columns you want to view; your report will be updated automatically.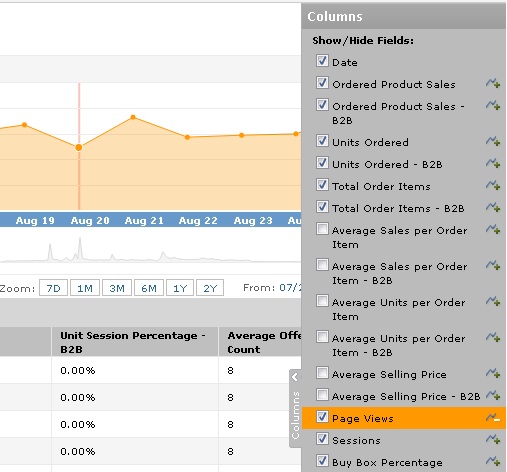 The preset option at the top of "Page Views" is set to show the data for the past 30 days. You can change the graph to show different periods of time.
Adding or Removing Data to Your Graphs
To add statistics to your graph, simply click on the header and choose "Add to Graph".
To remove any item from your graph, just click on the "X" near the name at the top of the graph.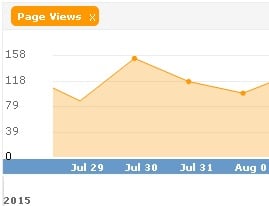 If you are not sure what something means in a column, just click on the header and select "What's this?"

It is possible to add several columns to the graph; each column will have a different color.
Changing Date Ranges
The columns will automatically display the stats for the past 30 days. To make changes to your chart or stats, there will be four options.
You can select the "View" tabs at the top of the data table. This is where you can select to view the stats and data by month, by a week or by day. When there is a selection made the report will be updated automatically.

You can also change the range of dates by clicking on "Zoom" tabs. These tabs are located near the right side at the top of the table.
This is where you can customize your data by 7D, 1M, 3M, 6M, 1Y, or 2Y. The graph will be updated when you make your selection.

You can customize a specific range of dates by selecting the "From" and "To" selections. When you choose these options, a calendar will appear.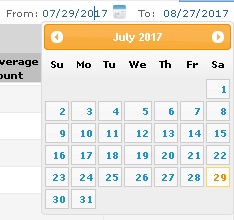 By customizing your graph to begin including specifics of data and date ranges, you are able to get a good idea of your seller feedback, sales, traffic, and more.
Downloading your information
If you would like to view your statistics and graphs for Amazonsellercentral while not on the dashboard, you can download them. Click on the "Download" button and choose "CSV". Your report will be downloaded immediately.

Conclusion
Your Amazon Seller Account can be a major source of tools to help you expand both your business and sales. Gaining valuable information about your business is a need and your Seller Central USA Account offers many insights.
Understanding your dashboard looks a lot scarier than it is. You no longer should look at the dashboard and begin breaking out in a cold sweat. You have mastered your dashboard and that is quite an accomplishment.
This brief tutorial will help you on your way to becoming a top seller on Amazon. While others are floundering to make sales, you have taken the time to educate yourself for the good of your business.
The great way to maximize the effect of your growing sales is to use SageMailer which can help you get more product reviews. Try SageMailer today for free.