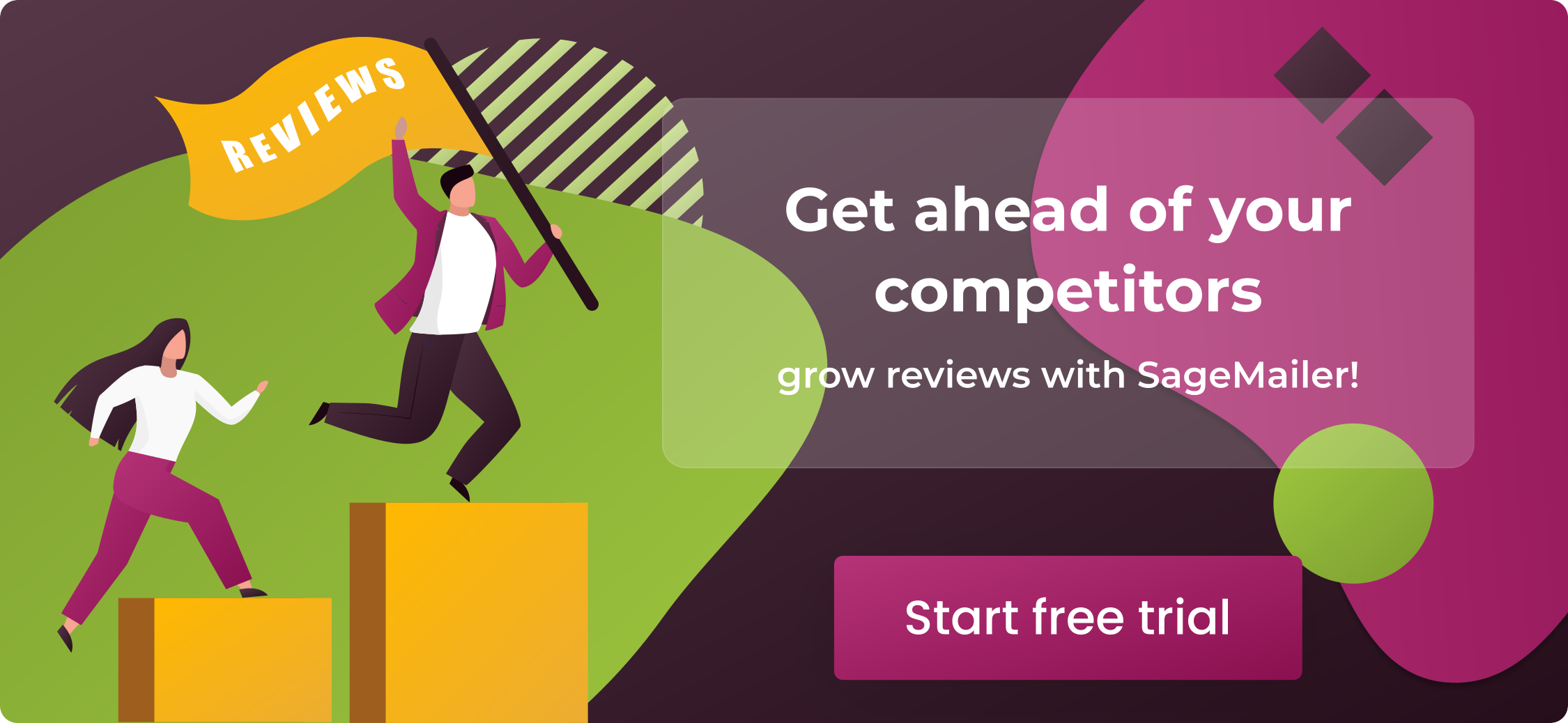 Even beginner sellers know that reviews are the cornerstone of success in such a competitive marketplace as Amazon. By the way, are you sure you are using all the opportunities Amazon Seller Central comes with? Gathering user feedback isn't the only beneficial feature so click here to unlock better ways to use your Seller Central. 
The more good product reviews you have compared to competitors, the more buyers will buy your product. Unfortunately, over time, the number of Amazon-compliant methods for getting reviews has decreased significantly; in fact, only a few are left. And one of them is to ask your buyers to share their unbiased experiences about using their purchases.
Powerful NEW method to get verified Amazon reviews with a HUGE success rate
With SageMailer, you're able to trigger official Amazon requests using the same system behind the "Request a Review button" in Seller Central. This method is much more efficient than standard Buyer-Seller Messaging requests and converts up to 20% of your orders into reviews. Try it yourself with FREE 1-month full access! No card required.
Other benefits include:
No need to share Seller Central access information
100% Amazon-approved messages
Amazon translates requests to the buyer's native language
Exclude specific ASINs, refunded orders, buyers who left feedback or review, etc.
Automatically detects when order is physically delivered
Learn how you can implement this new Amazon's "Request a Review" feature in your strategy in just 5 minutes. 1-month free trial, no card required.
Of course, doing this manually is too time-consuming; it can take an eternity; I'm not joking. No, don't be upset; there's a silver lining: services that help automate this process, and the SalesBacker reviews service is among the most popular. Many novice sellers start from it, and so was I in my time.
What Is Good About SalesBacker?
If we're talking about popularity, you can put the Business Backer reviews tool on par with such services as Feedback Genius and Feedback Five. But, to be fair, I also used all the services mentioned above, and SalesBacker is undoubtedly the easiest to start. So, if you want to start asking your customers for reviews as quickly as possible and do not want to spend a lot of time learning a new tool – SalesBacker is your choice.
Unfortunately, simplicity is perhaps the only thing that comes to mind when discussing the merits of a SalesBacker. If you sell 50 items per month, that will be a sufficient argument. But if you have reached a higher level, you will want to interact with your customers more efficiently and squeeze the most out of the review requests you send. Unfortunately, in this case, SalesBacker will not be able to help you, as its toolkit is very modest.
Why Did I Stop Using SalesBacker?
Open-rate 
It's very simple; I didn't know how effective my email campaigns were. Yes, Salesbacker doesn't show how many letters were sent and how many were open; it doesn't calculate the available rate. It is because getting reviews is a game of numbers, where even a tiny change in a letter may entail an increase in reviews or vice versa. But in SalesBacker, you won't recognize this, and I think you'll agree that blindly adjusting the letter headline and content is not very efficient.
Delivery settings
Okay, let's say we put up with this situation and decided to customize the letter by our understanding of efficiency. There's the next issue waiting for us. You cannot select a specific time or days of the week when to send your letters, you cannot send different letters depending on combinations of ASINs in the order, nor can you take into account whether this customer bought from you before or not.
Letters' editor
Salesbacker has a very simple editor, that's a good thing when you need to quickly adjust a small text. But you can see how it will look only when you send yourself a test email since there is no Preview feature. There are auto-fill tags in the editor, which of course, simplifies life and allows you to personalize the letter, but there are still no previews, and there are a few important tags that are missing; for example, there is no tag to insert a product's image from Amazon listing. And finally, you cannot save the letter as a template so that you can use it when creating new campaigns; you will have to do it all over again or press Ctrl-C + Ctrl-V repeatedly like some kind of prehistoric human.
Product reviews monitoring
There's no review monitoring feature in SalesBacker. That is, you will not be able to find out when someone has left a bad product review so that you can respond to it in time. Also, you won't be able to track the review dynamics daily.
Multiple Amazon marketplaces
SalesBacker is only suitable for US Amazon sellers. To sell in Europe, you must send and translate letters manually.
Scheduling letters. In SalesBacker, you can see only letters that have already been sent. However, it is not very convenient because sometimes there is a need to keep track of the list of scheduled letters or cancel any unwanted letters, which can cause buyers' dissatisfaction.
So What Is the Alternative to Salesbacker?
I've tried the most popular services, including Feedback Genius and Feedback Five, but none of them could satisfy my modest "wishes"; there was always some pitfall. I almost lost hope and even began to think that I was too strict and could do without half the functions mentioned above, but then I found SageMailer.
Monthly Plans Comparison – Salesbacker and SageMailer
| | | |
| --- | --- | --- |
| | SageMailer | Salesbacker |
| Plan  | PRO | Closest analog |
| Price | $25/month | $19/month |
| Email limit | 2000 | 1600 |
| Additional marketplaces | Free | NO |
| Product review monitoring | Unlimited ASINs | NO |
| "Request a Review" button | YES | NO |
| Supported Marketplaces | 21 | Amazon.com |
| Multilingual templates | YES | NO |
Learn More About SageMailer Here
Yes, I know what you were thinking. Salesbacker is a bit cheaper, but believe me, that set of features and customer service that you get from Sagemailer covers this difference with a large margin. Moreover, they will gladly offer you an individual plan depending on your needs; in most cases, this will be the best deal on the market. So do not hesitate to chat and ask.
10 Convincing Benefits You Get with SageMailer
Simple and thoughtful interface
Even if you've never seen a computer, you can figure out Sagemailer in 10 minutes. As an experienced user, it took me just 5 minutes to connect my Amazon account and create the first campaign.
Automation of Amazon's "Request a Review" button
This NEW method uses the official Amazon rating requests behind the "Request a Review" button in Seller Central. In addition, SageMailer allows you to automate this feature and even increase its efficiency using flexible timing options.
The "Request a Review" button is up to 30%-50% more efficient than the Buyer-Seller Messaging requests used by most feedback automation services on the market.
Various delivery settings
What was my joy when I saw the different delivery settings for sending letters! I was able to set the required time of the day and the days of the week. The most exciting thing is that all buyers receive letters at a specified time, as the system considers each buyer's time zone.
Reaching old customers
Sagemailer has a feature that allows you to send letters to your old customers who had placed orders before you signed up for Sagemailer. I had more than a hundred such buyers, and, of course, I sent out letters to them, and I was more than pleased with the result.
High conversion rate
As for the letters, Sagemailer has a set of standard templates that show a very decent conversion, even without editing. But if you adopt them yourself, the result will be even better.
Custom templates
You can create your email templates, which can be used in different campaigns; it is very time-saving. Moreover, to save even more time, you can duplicate the whole campaign at once; all that remains is to change a couple of settings.
The letter editor, in turn, is simple and intuitive. The number of auto-fill tags is much more significant than Salesbacker, and you can see how each of them will look by clicking the Preview button. You can also insert a product image directly from its page on Amazon (or even several images, depending on the campaign settings), which positively affects the click-through rate of the letters.
Available statistics
As for statistics, it's all right; Sagemailer has an informative dashboard on which you can track the number of sent letters and immediately edit the scheduled ones, if necessary. The service also calculates the open rate of each letter, so you will know exactly which letters work better and which should be adjusted.
Reviews monitoring
If you're interested in review monitoring – it's also there; you can even set up a review monitoring for each particular ASIN.
Multiple marketplaces
SageMailer, a feedback management tool, supports ALL AMZ Seller Centrals. Thus, you can expand your reach and communicate with shoppers on many marketplaces within one platform. In addition, you do not have to pay every time you integrate a new online platform. Add as many AMZ marketplaces as you require and sell your goods globally! 
Moreover, you can motivate your foreign customers to share reviews for you by mailing them the proper email at the proper time. SageMailer's pre-developed templates come in many languages, which opens up a chance to communicate with your international shoppers in the most ROI-driven and effective way. 
A/B testing
With SageMailer's A/B AMZ email testing feature, finding the right approach to request reviews becomes effortless. You can simultaneously test various versions of your Amazon feedback letters and find the best ones. 
You need to send your emails at the right time to get even more feedback and reviews. SageMailer provides an opportunity to test several options to determine when your customers are the most likely to leave their feedback. For example, you can customize your emails with a delivery time and order status. Later, you can check your campaigns and analyze the variables that work for your customers. All the insights come in an easy-to-navigate dashboard to get clear and instant answers on email marketing strategy.
Final thoughts
Communication with customers is one of the most important components of a business on Amazon at the moment. I hope my Salesbacker review will help you in finding a service that is right for you. But if you want to try a functional tool with excellent customer support, you can start with SageMailer.
More Reviews = More Sales!
Automate the "Request a Review" button, get more reviews and boost your sales! Subscribe to SageMailer's FREE 1-month trial and start getting more reviews in just 5 minutes! Risk-free, no card required.