Getting started with a retail business is always challenging. This is the most competitive industry, primarily driven by customer behavior and trends, which are almost impossible to predict. Selling on Amazon can also promise many pitfalls and challenges, you are better to be aware of. In this article, we have gathered the top mistakes of Amazon sellers. Use them as a kind of checklist and start selling risk-free from the very beginning. 

Skipping Product Research
This is one of the essential Amazon seller mistakes to avoid. Many aspiring sellers come across a seemingly winning product on Alibaba or Taobao. Then, they instantly decide to buy it in bulk and resell it on Amazon. Unfortunately, it doesn't work in this way. While there is a very little likelihood that you fit the target with your product choice from the first attempt, practice shows that you need to do careful research in advance. 
To put it simply, validate your idea first – and avoid one of the most common mistakes of Amazon sellers. To do it, take a look at the products already available on Amazon in specific categories, make sure your product stands out, try to evaluate the demand for it, come up with the right price using Amazon FBA Calculator, and only then, consider buying the product and launch its sales on Amazon. 
Keeping your price static is one of the Amazon price mistakes most new sellers make. That's why you may be surprised to find out that Amazon changes its price every ten minutes, using the dynamic pricing system that is powered by artificial intelligence and automatically adjusts the price to better meet the demand, supply, and users' expectations.
Keeping a close look at your price and avoiding pricing mistakes with your Amazon product is essential. For example, you can get started by monitoring your competitors' ASINs and adjusting the price immediately after they have adjusted theirs to keep your store competitive.
As an option, you can do it with SellerSonar.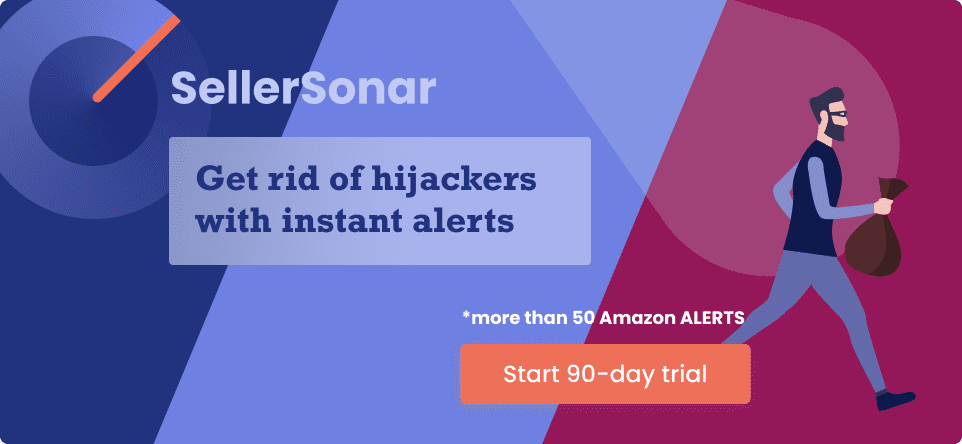 Writing product descriptions is another opportunity to make a lot of Amazon FBA seller mistakes. For example, making your product description plain, missing the technical features and actual benefits, and using low-quality images are the biggest mistakes you can't afford since the clarity of your product description copy is one factor that drives users to purchase. So, how to cope with such problems? The easiest step is to find out how your competitors handle their descriptions. Then, hire a professional copywriter to help you with writing. 
Missing relevant keywords is another opportunity to make your product listing never discovered in search results. This is one of the top Amazon selling mistakes that prevent your store from being highly visible and findable by prospective buyers. So, make sure to optimize your listings with relevant search questions to better promote them on Amazon SERP.
With the help of SellerSonar, you can also keep track of the keywords your competitors use for their listings boost. Consider taking advantage of this feature for free since the gained insights can be pretty valuable for your Amazon marketing strategy as a whole. 
And this is just the case when an Amazon seller FBA makes too many mistakes. Many of them tend to re-attract the users to their website or social media to sell a product bypassing Amazon and avoiding referral fees. Indeed, Amazon prohibits such practice since it puts Amazon's business at risk. Nevertheless. Amazon FBA sellers try to add URLs to their product descriptions, images, and titles. An account suspended can result from such a trick, so avoid these common mistakes on Amazon. 
Underestimating the power of social proof is one of the top mistakes not to make on Fulfillment by Amazon and on the Fulfilled by Merchant since the essence doesn't change depending on the program. Unfortunately, this is a common Amazon mistake. In this case, an Amazon FBA seller may think that requesting and monitoring the buyers' reviews is unnecessary, and negative reviews are better to ignore at all. Still, the right approaches are just the opposite.
With the help of SageMailer, you can always stay aware of new reviews, kindly ask your customers to share them, and manage your negative feedback instantly. 
Still, when it comes to Amazon reviews management, the list of mistakes selling on Amazon isn't limited to those above. For example, some sellers become "too active" at gathering user feedback. As a result, they often request customers to leave a positive review only, offer a perk in exchange for a positive review, or even use black-hat methods like generating fake reviews for their stores or their competitors' stores. All these are direct ways to get a lot of trouble with Amazon. 
Offering Too High Shipping Price
As for the shipping mistakes, offering too high shipping costs is one of them. Most users are likely to abandon the purchase when the cost of shipping is unreasonably high. So, if you are using MFN, make sure to keep an open eye on the best shipping opportunities to decrease its cost for the customer.
Those sellers using Amazon FBA are welcome to turn to the Amazon FBA calculator to always stay aware of the shipping costs calculated by Amazon, plus proceed with the product research.
Selling Low-Quality Products
Since Amazon's entry threshold can be relatively low, offering products of low quality and low price is one of the main Amazon seller mistakes. However, regardless of the category you want to join, offering a low-quality product is a bad idea. Indeed, you can make quick money on it. Still, there will be no room for repeated purchases, customer loyalty, trust, and positive feedback. 
Furthermore, having low-quality products, you will never be able to boost your seller's ranking and product rating, and sooner or later, your customers will begin to look for something better. So, get back to the first mistake to avoid on the list – get started by-product research and verify its quality personally before offering it on the marketplace. 
Despite being highly competitive, Amazon also offers many beneficial programs and marketing features you are better not to miss. Amazon FBA is only one of them, yet the most popular one. As additional options, you can create and launch promo codes and coupon distribution campaigns (set them up in your Seller Central account), use Amazon PPC and attract traffic to Amazon from third-party sources. As for the last option, you are welcome to join Amazon Brand Referral Program, which allows you to cut referral fees if you generate traffic to your AMZ store from elsewhere. 
Conclusion
The list of Amazon mistakes to avoid can go on and on. However, in this article, we have highlighted the most essential and costly ones, so make sure you do everything right. Also, keep in mind that SageMailer can help you with some of the potential troubles. For example, with the app's help, you will be better able to manage your reviews, automatize review requests, get instant notifications of each new review, and much more.
Unlock the benefits of SageMailer right now. Request a 30-days free trial and protect yourself from some of the possible mistakes!