Amazon Facebook ads are one of the most powerful tools for Amazon entrepreneurs. They can boost sales and increase the brand's visibility. If you are an Amazon seller and need to get more customers, find out tips and strategies to make your Facebook ads drive ROI.
Why Amazon Ads on Facebook Is A Good Idea
Facebook ads allow the sellers to grow their business and attract as many customers as possible. It sounds promising, doesn't it? If sellers are relying on Amazon PPC or organic Amazon only, they miss one more profitable opportunity.
Facebook ads help reach thousands of new potential clients. By bringing them to Amazon product pages, sellers can collect assets along the way. Building Facebook custom audiences and getting more data into your pixel allows retargeting all those people with other products in the framework of the next ad campaign. It's also possible to build assets like messenger brought lists or email lists.
Amazon likes it when vendors attract external traffic. But ending Facebook traffic directly to an Amazon product page is only the one opportunity you can take advantage of. A Facebook ad for an Amazon product makes it easier to follow up with people who purchased the product and ask them for feedback. Asking for a review, in turn, becomes also easier with the help of SageMailer – a dedicated customer feedback management tool. 
Also, Facebook gives a chance to target specific customer segments. When creating a campaign, you can choose age, gender, location, etc. To sum it up, Amazon ads on Facebook are an effective method to scale and increase sales volume, boost product rankings, and reach interested buyers.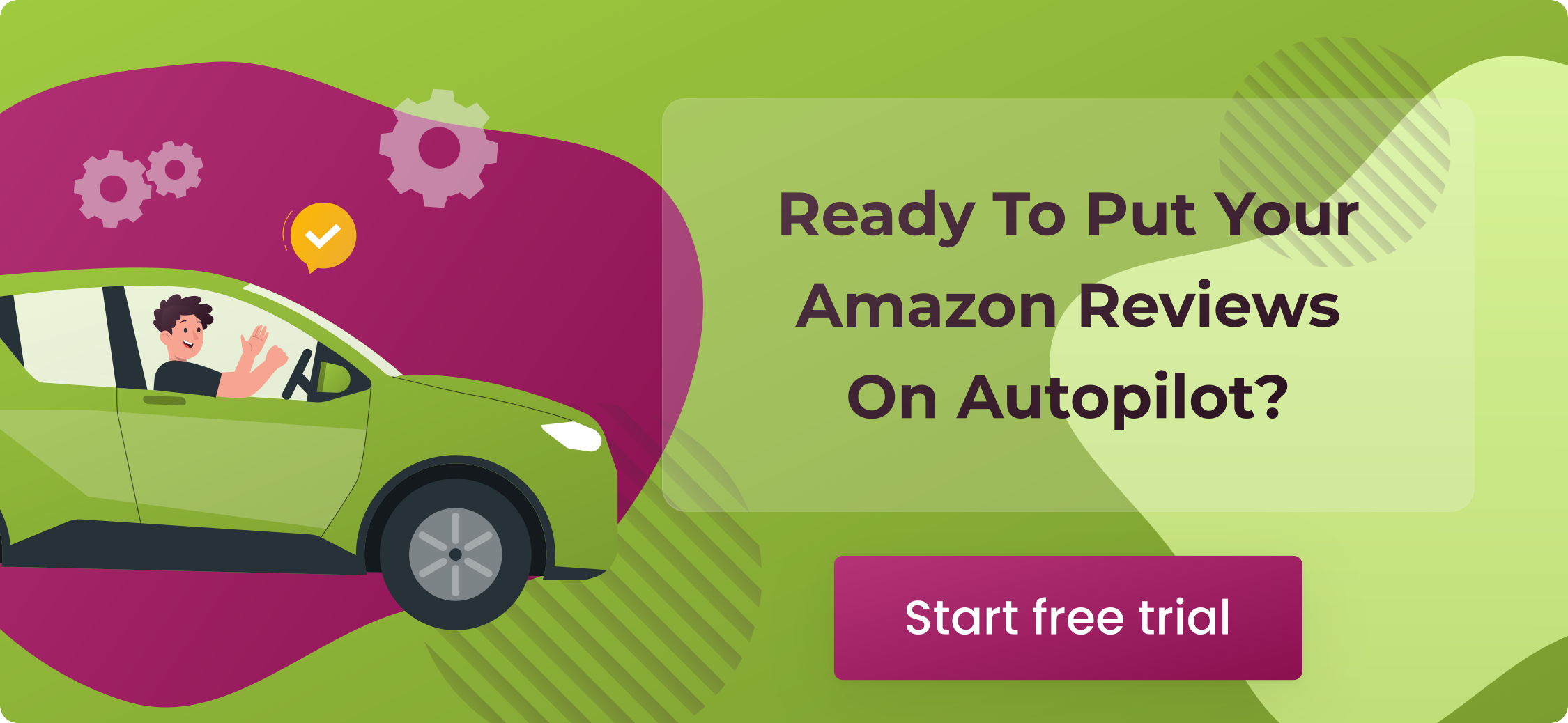 Before Running Facebook Ads for Amazon Products
To start running ads on social media, you are better off using dedicated software. It will help you increase the actual conversion rate and encourage people to purchase on Amazon. Tech-savvy vendors choose the apps that can track conversions since Amazon has no pixel tracking.
Also, consider the software that imports customer data for further retargeting and creates an accurate lookalike audience. That simple step can motivate people to buy add-on products from your shop.  As a result, you can stay fully aware of what works best for your audience and unlock the data analysis opportunities.
Below are some simple steps that will let you get better prepared for advertising your Amazon products on Facebook. 
Improve Your Amazon Listings
If your Amazon listing is not correctly set up and optimized, you should solve this issue before running Facebook ads. How to promote Amazon products on Facebook and not waste your hard-earned money? 
First and foremost, make sure that you completed the following tasks.
The Amazon listing text has been carefully written to maximize conversions.
There are high-quality product pictures as well as an improved brand copy to work with.
Your product descriptions are organically filled with relevant keywords. 
You are making use of Amazon's own Sponsored Products advertisements.

Set Up An  Amazon Facebook Ads Canvas Page
How to sell Amazon products on Facebook? Driving cold traffic straight to Amazon is a bad idea. Try the canvas page instead. It's a Facebook landing page that is free to build. Sellers use it to drive traffic to a «warm» audience. Here is how it works. They learn about the products with pictures, videos, texts, etc., and then you drive them to the Amazon product page using the pixel file links. Using canvas pages, you can also offer coupon codes and increase conversion rates.
Here is what you can do with an Amazon landing page.
Collect emails

(to run future promotions to, ask for reviews, etc.).

Set the

Facebook Pixel

.

Share discounts and promo codes to encourage purchases. Amazon advertising promo code is likely to bring more customers to your product page and generate sales.

Manage your traffic and segment users according to the sales funnel stage.
Though, a canvas page is not the only option. 
Can You Replace A Landing Page?
There are different approaches you may use to advertise Amazon products on Facebook. For example, you can replace a landing page with Messenger bots to increase engagement. This is an alternative that may be effective in certain situations when you need to make a large number of sales quickly.
Linking directly from the Facebook ads to the Amazon product page also makes sense when sellers target current customer lists. Do you have an audience that knows about the products and bought them before? You can safely drive customers directly from the Facebook ad to the Amazon page.
Start Small And Increase Spend Slowly
The only con about Amazon Facebook ads is that they can get expensive. To avoid such a scenario, start small.  Do you see that costs become high? Chances are you are doing it wrong. For better results, stop running ads and test different approaches.
Split tests and try:
different campaign types;
conversion triggers;
ad copy texts;
different  images and video;
different CTA buttons.
Also, it's helpful to split offers. If you use a 20% off promo code, try Amazon FBA Facebook ads with a bigger discount or without promo codes at all. Increase spending only on what's working when advertising Amazon products on Facebook.
How To Create And Run The Best Facebook Ads For Amazon Products
Let's find out how to create the Facebook ads for Amazon products step-by-step. 
The first step is creating a social media business page for your brand. Add branded pictures to your profile and get started with growing an audience on your company page, informing consumers about new goods or specials, and preparing for running an ad campaign. 
Use your page to build a reputation for your company. One more helpful thing is to provide detailed info about your business and its offerings. This action will demonstrate to visitors that you are a legitimate company with high-quality Amazon products on Facebook.
To sell Amazon products on Facebook, it's important to create a Facebook Ads account. It's pretty simple. On the left-hand side of your company page, you will find a menu with options. Select «Ad Center» from the drop-down menu. Then click on the «Create Ad» button. Also, you'll need to set up your ad account and provide payment information (such as a credit card number).
Amazon Facebook Ads Account: General Instructions
In the «campaign» menu, you can set your goals. The «Ad set» section is where you decide which demographics to choose. Next, choose the format of the advertisement. To create a compelling offer, you have to decide on the campaign's goal first. The choices are traffic, engagement, lead generation, etc. Also, Facebook has an «Audience Insights» menu. Here you can choose potential customers' age, gender, location, interests, and more.
From this point on, you have the target users segment to work with. Make sure your content is catchy and meaningful. You need to offer users enough information to lead them into the next section.
So you can be creative!. It's possible to upload pics or videos in the «Ad Creative» area and then type in the ad content, plus decide whether you want a single picture or a carousel.
The last step before publishing is identifying where you want the targeting audience to go. Enter the URL of the landing page you want to direct visitors to. If you're sending traffic directly to Amazon, enter your listing URL.
Monitor And Improve Amazon Ads on Facebook
When your ad is launched, you should regularly monitor its performance during the first several days. It's essential to track the results and fix the problem before it becomes serious. Overspending on a campaign that doesn't drive ROI  can never be beneficial.
You may try as many versions on your ad as you wish:
show ads to lookalikes (people similar to your buyers);
import customer email lists;
export fulfillment reports.
One more way to promote a product on Amazon is retargeting.  Sellers can reach new audiences before or during shopping events. For instance, if Black Friday is coming, consider getting started with advertising in October. Be ahead of the game. But when getting started in advance, it becomes possible to tell the audience more about the products and their benefits. It will allow customers to consider the product details and seamlessly move to the purchase stage of the sales funnel. 
Knowing what your audience responds to help you drive traffic wisely and generate more conversions. Do you want to get the most value from a practice-proven and well-developed ad? Professionals recommend putting up the same ad but add affiliate links, new pictures, or videos.                            
Final Thoughts
Facebook Ads may work wonders for businesses that sell their products on Amazon. Advertising your Amazon listings on the outside platforms allows you to access a far larger customer base.
Running Facebook advertisements may be difficult at first. However, after some trial and error, you will evaluate the actual effectiveness of attracting outside visitors to Amazon. Make sure to ongoingly track and analyze your campaigns to proceed with the strategies that work best for your and look-alike audiences.
By following the steps outlined above, you will be able to reach a larger, more qualified audience, increase sales, and make your rankings higher. Get started with advertising Amazon products on Facebook right now to build high-quality brand assets you will be able to proceed with and give your company a great chance of long-term success. Next, continue working with your audience attracted from Facebook – ask them for the reviews with the help of SageMailer and collect as many verified reviews as possible to ensure an ongoing sales stream. It can help you keep your communication with the buyers transparent and effective, building strong social proof for your store.
Give SageMailer a try for free right now to find out how it works for your benefits!