Amazon is undeniably the world's largest online marketplace. But with such fierce competition, it can be challenging to turn a profit and stand out from the crowd. So, what sets successful sellers apart from those who struggle to break even?
The answer lies in their AMZ marketing strategy. To succeed, you need to do more than offer a fantastic product – you must also promote it effectively. With hundreds or even thousands of similar products vying for customers' attention, you need to ensure that yours stands out from the rest.
To climb to the top of search results, you'll need to develop strong internal and external promotion strategies. This may seem daunting, but it's achievable if you break it down into manageable channels.
In this guide, we'll cover the basics of how to promote Amazon products internally and externally. From optimizing your listings to leveraging social media, we've got you covered. So, let's get started on the path to boosting your sales and reaching new heights of success!
Why Promoting Products on Amazon Is Crucial
In today's world, the success of a business often hinges on how well it is marketed. This is especially true for e-commerce ventures. With the internet being such a highly competitive place, relying solely on organic search traffic may not be enough to attract customers. Unless you are already the top seller in your category, you will need to promote your business to stay competitive. Here's why an advertising strategy is a must for every aspiring merchant.
Increased visibility and sales
Promoting your Amazon products gets your products in front of potential customers and puts them in a position to buy. It's like having a billboard on the highway; it's hard to miss and impossible to ignore. The more visible your products are, the more likely customers will be to purchase them, and that means more sales for you.
Competitive advantage
With thousands of sellers on AMZ, promoting your products gives you a competitive edge. By advertising your products, you can differentiate your brand and showcase your product's benefits to customers. It helps you stand out from the competition and attract more customers.
Better SEO ranking
Promoting your Amazon products helps improve your search engine optimization (SEO) ranking. By optimizing your product listings with targeted keywords and phrases, you can rank higher in search results, making it easier for customers to find your products. The easier it is for customers to find your products, the more likely they are to buy from you.
Amazon Promote: Tips for Boosting Sales
So how to promote products on Amazon? With so many ways to promote products on Amazon, it can be overwhelming to determine the best approach. While some tactics may be outside the budget of smaller businesses, such as investing thousands of dollars in Sponsored Display ads and Sponsored Brand campaigns, there are still plenty of ways to compete and turn a profit.
It's essential to remember that even if you don't have the deep pockets of big brands like Adidas and Samsung, you can still make an impact in search results and drive traffic to your listings. Ignoring sponsored ads altogether may not be the best approach either. Instead, consider implementing various marketing strategies to increase your visibility and reach more customers.
Here's what you can do. 
Optimize your product listing
Regarding e-commerce, shoppers have a short attention span, especially on AMZ. They decide within seconds whether or not they want to explore a product detail page or return to their search results. To ensure that your product gets noticed, it's important to make it simple and easy for customers.
Titles. Your title should clearly describe the product and its compatibility with the customer's needs. It should also include the brand name and highlight the product's primary benefits. Most importantly, the title should be concise and easy to skim.
Bullet-points. Use them to answer key questions that customers may have before scrolling down the page. Mention important information about product warranties and customer service options. Keep the bullet points short and sweet, so customers can quickly and easily find the necessary information.
Photos. Your main product image should show the product clearly before zooming in. Additional images should provide additional angles and lifestyle shots, if relevant. It's also a good idea to include an image of the back of the box, which may contain important information like instructions and ingredients.
Product descriptions. Remember that customers are skimming, so keep the description short and to the point. Use your brand voice to reiterate key selling points and mention any supporting facts that may help customers understand why they need to buy your product right now.
Use Amazon Advertising
Using paid ads is still one of the quickest options to reach your target audience and promote your Amazon product. However, it's important to remember that the competition can be fierce, with other sellers having larger advertising budgets that can be challenging to outbid.
Many AMZ sellers struggle with figuring out how to use ads effectively and end up wasting thousands of dollars on targeting keywords that don't convert. But here's the thing – you don't have to compete directly with big brands in terms of advertising spend. By targeting low to moderate-traffic keywords, you can still achieve a positive Return On Ad Spend (ROAS) and make PPC campaigns an effective part of your overall marketing strategy. Just like with Amazon SEO, there are numerous strategies you can use to ensure that your returns remain higher than your spending.
It's crucial to monitor your ACoS (Advertising Cost of Sales) and adjust your campaigns accordingly to optimize your ads for maximum performance continually.

The influence of social media on sales has been widely discussed, and it has become the default communication method for brands to engage with their target audience. With people spending an average of two and a half hours a day on social media and being constantly connected to their mobile devices, promoting your listings on platforms like Facebook or TikTok can provide unparalleled reach.
Every brand needs social media accounts to establish brand recognition, reinforce their brand's tone, and increase traffic to its store and product listings. You can even offer social media promo codes to sweeten the deal and encourage users to click on your listing link.
Utilize Influencer marketing
Nowadays, influencers are seen as more authentic and relatable compared to Hollywood celebrities or nameless brands. Collaborating with social media bloggers is a great way to connect with Amazon shoppers, but finding one who fits your brand and resonates with your target audience is crucial.
The Influencer Program, launched in 2020, recognizes the power of influencers in retail marketing. This program provides qualified influencers with their own online store where they can showcase and promote various products from different brands, making it easy for their followers to find the product listings on Amz. It's also an excellent way to generate more reviews for your products.
Offer discounts and promotions
One effective Amazon promotion strategy to boost sales and garner more reviews for your product is to offer discounts and promos, such as Amazon's Daily Deals or Prime Day events. However, it's important not to rely solely on these tactics and provide deep discounts constantly. Instead, incorporating them at the start of your product's lifecycle can help you gain a significant number of reviews and establish relevance, making it easier for other customers to find you.
Utilize Amazon reviews
The importance of reviews for e-commerce businesses cannot be overstated, and this is especially true for Amazon sellers. Consumers often rely on reviews to make purchase decisions, and positive reviews can greatly influence sales. In fact, reviews on Amazon can also impact other sales channels,, as customers often research products on Amazon first.
To increase the number of reviews for your AMZ products, consider following up with customers via email. If writing post-sale messages sound daunting, SageMailer can automate the process and make your life a lot easier. It uses the "Request a Review" button in Seller Central, so it's safe and 100% compliant with Amazon rules.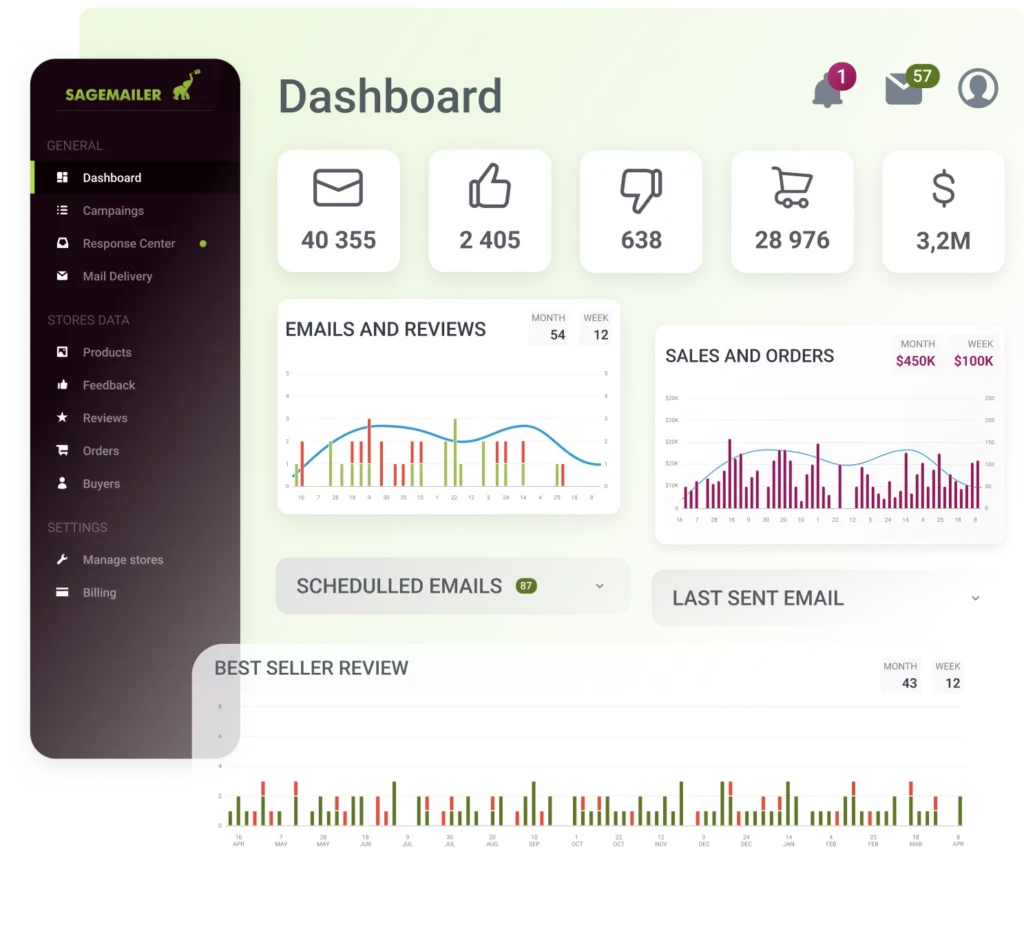 Use affiliate marketing
Amazon Associates program allows sellers to partner with affiliate marketers who promote their products on their websites, social media platforms, and other channels.
To get started, sellers need to create an Amazon Associates account and then provide their product links to affiliate marketers. They will then advertise the products to their audience and earn a commission for each sale made through their unique affiliate link.
Tools for Promoting Your Amazon Products
There are both AMZ and third-party tools for everything that will make your life on Amazon so much easier. You will promote your products, grow faster, work less, and make more money than competitors if you just get the right assistance. 
Amazon Marketing Services (AMS)
Amazon Marketing Services (AMS) is a suite of advertising options that allows sellers to promote their products directly on Amazon.com. AMS offers a range of advertising formats, including sponsored products, sponsored brands, and product display ads. These ads are targeted to Amazon customers who are searching for related products, making them a powerful tool for increasing visibility and driving sales.
Amazon Associates Program
Associates program is Amazon's affiliate marketing program. It allows individuals and businesses to earn commissions by promoting Amazon products on their own websites, social media channels, or other marketing channels. Associates receive a unique tracking code that they can use to link to product pages. When a customer clicks on the link and makes a purchase, the Associate earns a commission.
Third-party tools for Amazon marketing
Such tools offer a range of features and services, such as keyword research, product research, and competitor analysis. By experimenting with different tools, you can find what works best for your Amazon promotion and take advantage of those tools. While the research and effort required may seem daunting, the payoff can be significant.
We highly recommend investing in a comprehensive tool like SellerSonar. It provides sellers with the ability to track seller account metrics, monitor daily changes to the Buy Box, and safeguard their product listings against hijackers. By offering a range of features, this service an all-in-one solution for increasing sales, optimizing margins, enhancing productivity, and gaining insight into your Amazon ASINs.

How to Promote Products on Amazon: Conclusion
When it comes to Amazon product promotion, it's important to have a long-term strategy in place. While short-term spikes in traffic may be tempting, it's more sustainable to focus on maintaining a consistent flow of traffic from both internal and external channels.
To effectively promote your products on Amazon, you must focus on optimizing all aspects of the customer experience. This includes everything from creating high-quality product listings with compelling descriptions and images to ensuring timely and efficient fulfillment of orders.
Remember that you can use SageMailer to manage your client relations, generate feedback, and grow sales! Register for a free 30-day trial to learn how to benefit from the service.