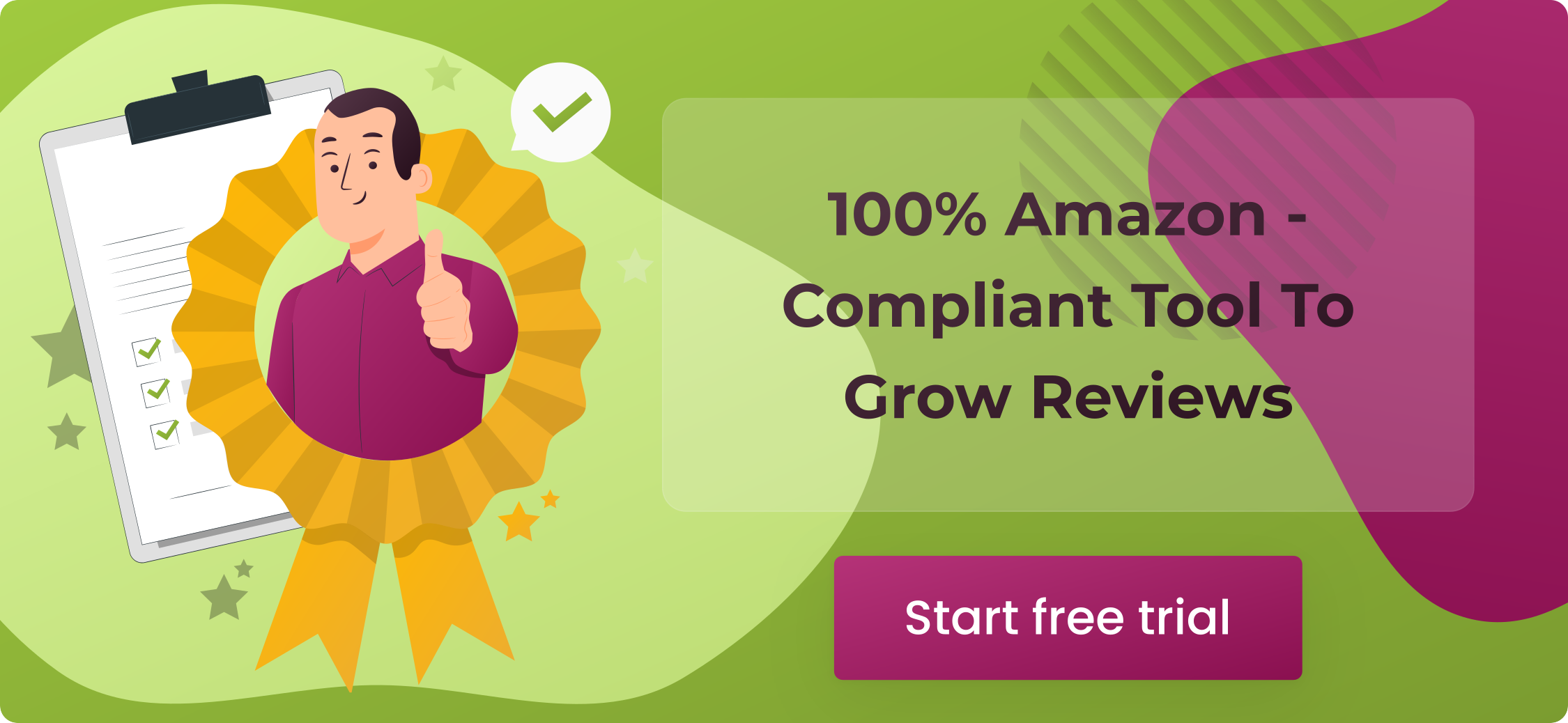 What is FeedbackExpress?
FeedbackExpress is a SaaS service that helps Amazon sellers automate their service messages. The main purpose of this automation is to get more seller feedback and product reviews.
Introducing the new and 100%-safe way to convert up to 30% of your orders into reviews
Now you can automate official Amazon review and feedback requests, which is significantly more efficient than standard Buyer-Seller Messaging requests. Try it yourself with FREE 1-month full access! No card required.
This new method has many advantages:
No need to share Seller Central access information
100% Amazon-approved messages
Amazon translates requests to the buyer's native language
Exclude specific ASINs, refunded orders, buyers who left feedback or review, etc.
Automatically detects when order is physically delivered
Learn how you can implement this new Amazon's "Request a Review" feature in your strategy in just 5 minutes. 1-month free trial, no card required.
Product reviews are one of the most important factors for buyers when making a purchasing decision, with about 95% of all online shoppers reading reviews before hitting the "Buy"-button. Therefore, a good reviews portfolio is not just a beautiful picture but also a tool that can raise your sales to the skies or lower them to the bottom of the deepest canyon.
If we talk about product reviews on Amazon, then this is one of the most difficult tasks that sellers face because only 1% of buyers leave reviews on their own; the rest you need to motivate (if you want more reviews, of course). And currently, there are not many methods of such motivation that would comply with Amazon policy. Sending requests is one of them. But, so that you don't have to do it manually, feedback automation services come to the rescue, and Feedback Express is one of them.
Express Feedback Features
Pre-written email templates: You don't have to write emails yourself (although you can create your templates); FeedbackExpress offers you several templates you can use right out of the box. We can highlight Customer Service, Feedback, and Product Review Request templates.
All templates use auto-fill tags that insert the necessary information from a particular order so that you do not have to write it manually every time.
Phone alerts – A handy feature that lets you stay on top of things, even when you're not at work. You can configure this feature so that you will receive a notification on your phone every time a customer leaves you new seller feedback or product review (positive or negative). This way, the seller can react quickly and help customers with urgent questions.
Seller feedback & product review monitoring: You can track and manage all of your feedback and reviews. They are shown on separate pages, where you can filter them by ASIN and track the entire message history.
Flexible email filters – This feature allows sellers to define who and when they receive emails. For example, you can send requests only to customers of a specific product or select a specific number of days after the order is delivered. You can even choose at what time of day to send your email and after which order status – is confirmed, shipped, or delivered.
Multiple marketplaces and multilingual templates – Currently, FeedbackExpress supports 10 Amazon marketplaces. Additionally, email templates are available in English, German, French, Spanish, and Italian.
What Are the Pros of FeedbackExpress?
This tool can help you increase the percentage of buyers who leave reviews. It will increase sales as your customers will have more confidence in the brand and more information to make a decision.

Real-time alerts help sellers quickly respond to new reviews, thus enhancing the customer buying experience.

FeedbackExpress helps the seller evaluate which messages work sufficiently well and receive answers, have a good open rate, and cause unsubscriptions and negative reactions.
What are the Cons of FeedbackExpress?
Inflexible tariff plans. The starter plan costs around $50 and allows 5,000 emails per month. This option makes FeedbackExpress tough for novice sellers.
FeedbackExpress doesn't support all current Amazon marketplaces.
No A/B testing feature that would allow you to test different email settings and more efficiently determine the best options.
Live chat support is available only in the most expensive tariff plan (about $200/month).
An option that allows you to send review requests after a buyer has left positive feedback does not comply with Amazon's policy and may put your account at risk of suspension.
What Is an Alternative to FeedbackExpress?
FeedbackExpress has a lot of good features and, in no doubt, can be successfully used to get more reviews. But given that its functions are present in almost all similar services, and the initial price is quite high, this service can hardly be called the best offer in terms of price/quality. On the other hand, SageMailer can offer the same functionality, plus a few unique and very important features in terms of performance. It also has more flexible pricing plans to suit sellers of any sales volume.
SageMailer is an AMZ feedback software that helps merchants automate product reviews and seller feedback generation. Users can ask for reviews and feedback, manage customer service messages, and monitor new reviews using the tool.
This service offers a universal option for managing Amazon feedback and reviews:
Tracking of unlimited ASINs and sending alerts about positive/negative/neutral reviews

User-friendly Response Center for gathering and answering all customer messages from all AMZ marketplaces on a single page

A/B testing for studying the effectiveness of your emails and making changes to the approach

Pre-made

multilingual letter templates

and the option to create custom templates

Powerful email editor with many delivery variables and auto-fill tags

Managing the list of customers and orders
SageMailer has a straightforward and well-thought interface that allows merchants to start using the tool in just a couple of minutes.
And last but not least, Sagemailer has recently introduced its flexible pricing system. Now you can choose the number of email requests you need and not overpay for a larger plan.
SageMailer Features That FeedbackExpress Doesn't have
This is the NEW method of requesting product reviews and seller feedback using the official Amazon requests. With SageMailer, you can simply set up the "Request a Review" button campaigns that additional filters and timing settings can empower.
The "Request a Review" button method is up to 30%-50% more efficient than the Buyer-Seller Messaging method used by most market feedback software.
Analytics and A/B testing
To choose the time and weekdays for sending letters with the best conversion, SageMailer has the A/B testing feature that allows creating a few variants of one letter, eventually spreading them between orders and measuring the open rate of each letter. To find the best option, you will need just a few minutes; then, the system will calculate everything automatically.
VAT Invoicing
Buyers from the EU often ask for a VAT invoice after purchase. However, sending them manually is very time-consuming, especially when you have a lot of orders. Now you can just fill in a few fields, and SageMailer will do all the job for you; its Amazon invoice generator automatically calculates your VAT rates in every EU marketplace and for every order. Just choose how you'd like to send invoices to customers: for all orders, orders with particular ASINs, or from certain marketplaces.
Inbox & manual emails
This feature allows you to get and reply to all your Amazon buyer messages from all marketplaces on a single page. No need to manually check each marketplace Seller Central for new messages. You can also speed up answering typical inquiries using custom pre-created templates.
Response Center 
With its convenient Response Center, SageMailer takes on a new approach to communication with customers, allowing you to reply faster than your competitors and keep healthy performance metrics. It sends you an instant alert every time you get a new customer review, inquiry, or question so that you can manage the request instantly. 
You can create your own client service letters for all typical questions and choose the one that suits the use case. In addition, you can use auto-filling options for order details to speed up the reply time and make your emails more personalized. 
Auto-responder is another great feature to relieve your headache during the peak loads on your client support and stay in touch with your shoppers during holidays. 
Finally, you can monitor your Scheduled and Sent messages and study the success rate of your letters with detailed reports. Built-in A/B testing will help to try your ideas and find out what email marketing strategies work best for your clients.
Final Thoughts
When it comes to increasing the number of product reviews, we recommend giving preference to services with better functionality, flexible subscription plans, and powerful requesting functionality. In this pair of services, SageMailer is a better option for beginners and experienced sellers on Amazon.
More Reviews = More Sales!
Try to automate the "Request a Review" button for free! Subscribe to SageMailer's Free plan and get 200 requests each month! Risk-free, no card required.