Ever thought of selling your products on Amazon? If so, you probably have a lot of questions. Things like the Amazon selling fee, shipping rates, and seller accounts can be confusing.
Whether you are one of Amazon's new sellers, hobbyist individual sellers, or professional sellers, you are always learning new things about selling on Amazon. No matter how much you learn, Amazon sellers are constantly finding new questions. Like, what is picking and packing? What will my net profit be, and is linking my bank account safe? What are shipping credits, and how does free shipping and Amazon Prime affect my business? And what on earth are all the charged fees on my account?
Don't get overwhelmed, though. Today we'll be talking about one of the key elements of being an Amazon seller.
Determining Gross Profit Margin with FBA Revenue Calculator
As an Amazon FBA seller, you should know how to determine your gross profit margin. It is not uncommon for a seller to rush getting their product online, then struggle to turn a profit. Sellers who make hasty calculations without an FBA calculator lose out on profits. For instance, without the Amazon FBA calculator, a seller could choose a profit margin that won't sustain a business. An Amazon seller calculator that shows the correct Fulfillment By Amazon fees can be helpful in this situation.
The Amazon seller fee is one of the noteworthy overhead costs. Amazon is entitled to a small share of profit for every unit you sell because they provide the platform. Considering the number of people on Amazon, it is a win-win situation.
Amazon seller fee information can be confusing. Many Amazon sellers don't understand the fee and how it works. Below is a step-by-step breakdown of the Amazon fees calculator. You'll learn how to combine the fees charged by Amazon to calculate your profit margin.
1) Amazon Seller Fees Calculator
The Amazon seller fees calculator makes it easy to understand the costs of being an FBA seller. Every product on Amazon is in one of 38 specific categories or a separate category named "Everything Else." Amazon handles each group's fee differently. The fee is determined by either a percentage of the product's sale price or a minimum referral fee. Take a look at the Amazon chart below. This chart shows the many categories and their associated costs: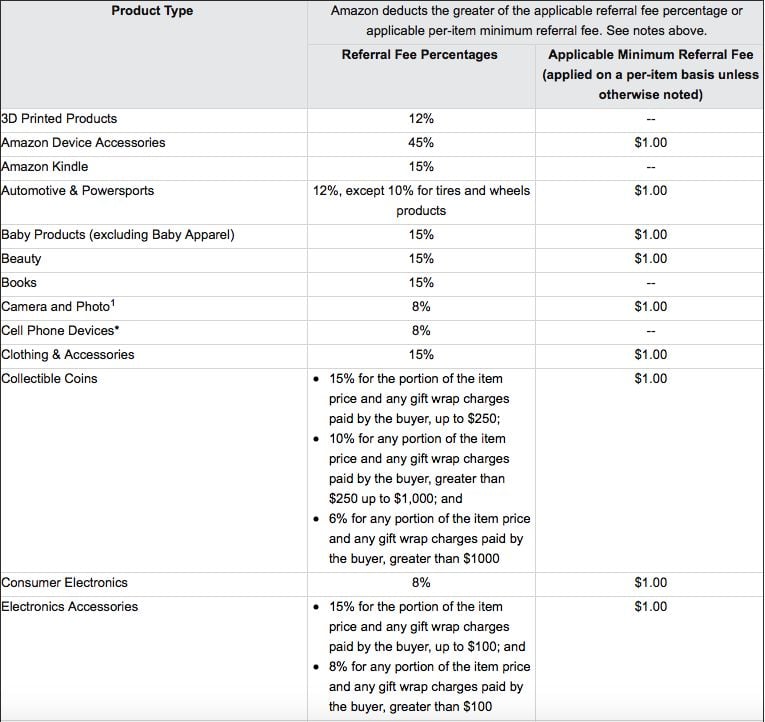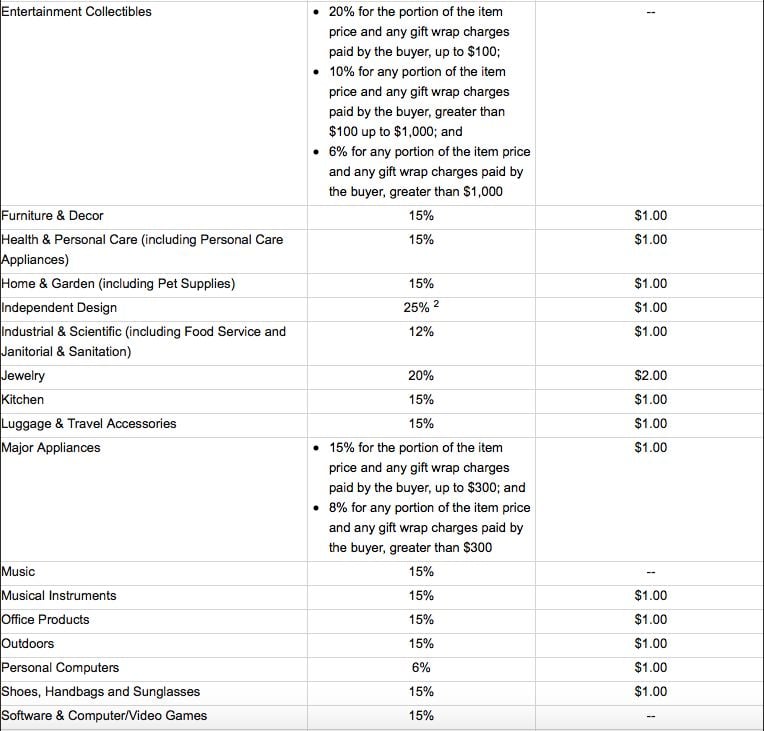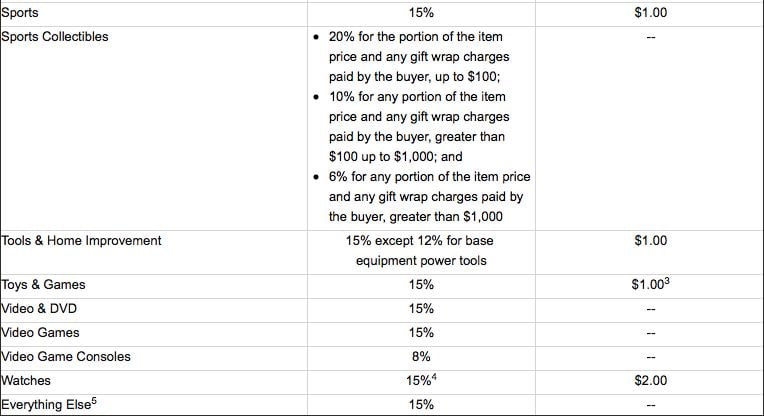 Note: These values may differ from the actual values. Refer to the Seller Central page for updated information.
The following is an example of how the Amazon fee calculator works. If you sell a product in the Furniture & Decor category for $20, 15% ($3) will be the referral fee. This is because $3 is higher than the minimal referral fee of $1. But if you sell another decor product for $3, the minimum Amazon referral fee of $1 will apply because 15% is $0.45.
The minimum referral does not apply to all categories. Some categories only take a referral percentage regardless of the sales price. These categories include the Video Games and Consoles categories.
2) Fulfillment by Amazon and Revenue Calculator
I recommend that every new seller on Amazon use Fulfillment by Amazon. This is because sub-contracting your product's shipping to Amazon frees up a huge load. Not having that extra work allows you to shift your concern to other tasks in your business.
Either way, whether you opt to go for a drop shipper or Amazon FBA, a fee will be charged. The only difference is that Amazon will subtract your FBA fee straight from your sales. This means you won't be charged separately. Every two weeks, Amazon gives your sales profits to you. Your profits will have Amazon seller fees and shipping costs already subtracted from them. This is where a Fulfillment By Amazon revenue calculator comes in handy (and also an Amazon FBA shipping calculator). This article only provides Amazon FBA fees for the United States, though. Not every country has the same policies.
Media and Non-Media Items:
Your product is either a media item or a non-media item. Media items include: videos, music, video games, consoles, software, DVDs, computer games, and books. All other products are considered non-media items.
Standard and Oversized Products:
The standard size of a product is at most 20 lbs in weight, 18 inches x 14 inches x 8 inches or less. Products larger than the above sizes are considered oversized.
Your product can be either small standard sized or large standard sized. Based on the two, Amazon has the following chart. If your product is bigger than the measurements in the small standard row, it is large standard sized.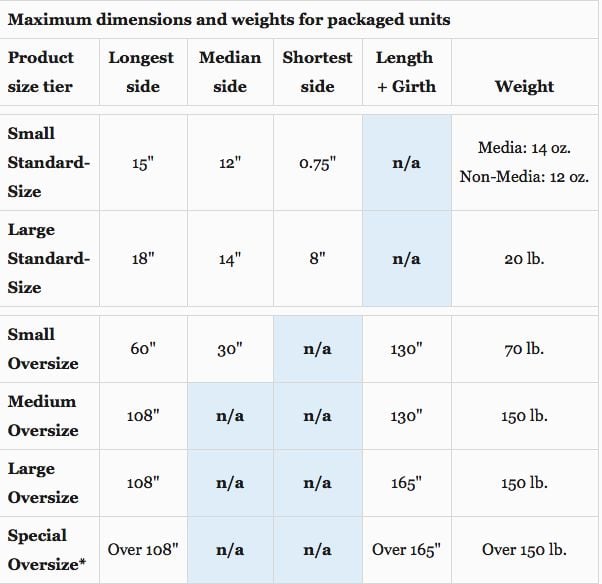 Each product has three initial fees deducted when the Amazon FBA service is used. These costs include the following three fees:
Order Handling fee. The fee is $0 for Media but $1 per unit for non-media.
Pick and Pack fee. This fee is $1.06 per unit.
Weight Handling fee. This fee depends on the product's size and weight.
Use the chart below to determine weight handling fees based on size.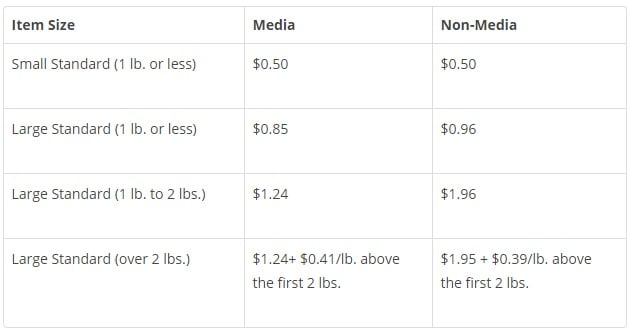 The above fees may apply based on the outbound shipping weight. The outbound shipping weight is the total weight of the product and packaging to the nearest pound. Details on how to calculate Outbound Shipping Weight are provided through a link on the Amazon's fee guidelines section.
Before you buy an inventory item, use the three options below as an Amazon FBA fee calculator. Two of them can be used on a smartphone, but the other requires a web browser.
1) The Free Amazon Seller App (iOS, Android)
This free app enables you to scan an item either using Amazon Flow or a barcode. You can scan a barcode using an app or Bluetooth scanner. For Amazon Flow, you capture the image of an item using your phone's camera. Then it's matched with the item in the Amazon catalog. It also provides possible costs for both FBA selling and Merchant Fulfilled options. You can also adjust your inbound shipping cost, the cost of purchase, and the selling price. Using these details, the app deducts fees and your purchase cost. This gives the estimated net amount you will receive. This is a simple to use Amazon FBA revenue calculator.
2) Third Party Scanning App
Examples of such apps are ScanPower, Profit Bandit, and Scoutify (iOS, Android). Unfortunately, these apps aren't free, but they each can work wonderfully as an FBA fees calculator. These apps allow you to scan items using either a barcode or keying in the item's name. Then you can adjust the selling price, purchase cost and inbound shipping before subtracting the Amazon FBA fees. Then you can see your estimated net proceeds. Scoutify is the most recommended app to use as an Amazon profit calculator. Profit Bandit is a close second in terms of being an Amazon profit calculator.
3) The Free Amazon FBA Fee Calculator
Amazon Seller Central provides an FBA revenue calculator for sellers doing a product research using a web browser. Here, you can either enter UPC, ASIN or the product name to get the potential fees and profits. This Amazon fulfillment fees calculator is incredibly useful and simple. Bookmark the web page for fast and easy reference when purchasing, checking prices, or repricing your inventory once it's at the warehouse.
Any of the three above options can be used as an Amazon FBA shipping calculator.
Real Life Application Example
If you sell $20 worth of kitchen products on Amazon, below are the correct calculations:
Determine your referral percentage fee ($3 in our case).
$20-$3 = $17
Determine whether it is a media or non-media item. In our case, it is non-media. Thus, both order handling fees ($1) and a pick and pack fee ($1.06) will apply.
$17 - $1 - $1.06 = $14.94
Determine the weight of the product. Assume that our product is large standard size and weighs 1lb. From the chart, its weight handling fee will be $0.96.
$14.94 - $0.96 = $13.98
Summarizing:
Amazon Profit = (Sale Price) – (Referral Percentage + Order Handling + Pick and Pack + Weight Handling)
Conclusion
Before launching any product, determining your profit margin is essential. Simply subtract your cost of goods and overhead costs from your sale price to know if your business has long-term potential. Make sure you include Amazon fees in your overhead costs. You must learn to balance your costs and profits to become a successful business owner.
If you are new to Amazon, calculation of the Amazon fees may seem quite challenging. Follow the simple steps outlined in this article to determine if your price point is reasonable. When in doubt, reread the instructions carefully. Persistence is key to the success of your Amazon sales.
Want to Take Your Business to the Next Level?
Marketing is essential, but it can also be expensive! Every e-commerce business needs marketing to succeed. So, what do you do when you can't afford to give your products the exposure they deserve? You check out SageMailer! SageMailer is free to try, easy to get started, and helps to increase your profit. SageMailer offers inexpensive product promotions, and you are guaranteed to get more product reviews. More sales and more reviews is the perfect recipe for a successful business, especially an Amazon business. If you want to get consistent sales and product reviews, start SageMailer's free trial today!