Amazon is the biggest e-commerce giant, driving more than millions of sales every day. If you are already an Amazon seller, then you know how important having a good review profile is. It's the first and last thing a potential buyer checks before purchasing a product. In this article, we are going to look at ways to create a perfect Amazon feedback request.
Customer feedback on your product is important, and many Amazon FBA sellers are already actively asking their buyers for feedback. But when you asking and how you're asking for feedback matters. Sometimes, tweaking these two simple metrics can tremendously boost your feedback score.
Dive into your customer's mind
There are so many e-commerce platforms out there, but customers are still so loyal to Amazon. There are several reasons for this.
First, people are already in tune with the purchase procedure. They know exactly what to expect while making an order, and what to expect after transactional emails are sent. For example, after a customer places an order, Amazon sends them an official confirmation email. Then, once the package is shipped, the Amazon support email will notify the buyer of another email of the order's transit information.
But when it comes to sending feedback requests, Amazon does it very randomly. Some veteran sellers say they use a formula that is only known to those who work there.
Since the post-order Amazon email format is so tight and predictable, most sellers are hesitant to break the chain by sending any unsolicited emails to their buyers. They think that why try to fix something when it isn't broken? The flaw in this way of thinking is that your account's seller feedback score is a major performance-based requirement for you to qualify for winning the Amazon Buy Box.
So if you don't proactively find ways to procure balanced feedback or positive feedback, then you are setting yourself at a disadvantage.
The top tier Amazon sellers are so successful because they fully embrace every single opportunity in soliciting feedback. They know the impact it will have on their sales. In fact, Amazon themselves encourage sellers to solicit feedback as an advice to improve overall customers' experiences.
Since the launching of SageMailer, we have worked with thousands of merchants, and one of the common growth-boosting thread that ties them all together is that they all used the tool to create enriching customer experiences.
How exactly did they do it? Well, here's how: Think like your customer. You have to get into your customer's mindset. Think like this: If you are the customer, under what circumstances do you consider it to be okay for the seller to send you a follow-up email? How would you like that email to benefit your life? What would it take for that email to have for you to not immediately delete it in lieu of spam? Would you be more likely to read the email if it's personalized specifically for you, tailored to your purchasing history with that merchant?
Before moving forward, answer those specific questions because it will help you learn more about your Amazon business and customers that you already have in your buyer pool.
Then, once you are clear on all the answers, proceed to craft a well constructed and value-driven email template. You need to personalize your e-mail to make it more distinctive. You should never assume all your buyers know how to leave a feedback. Most of them might have never left a feedback before, so show them how to do it in a step by step manner. If you provide them with a walkthrough, it will increase the likelihood of them leaving you a review.
Here are the instructions Amazon [recommends] you to include in your feedback solicitation email:
On Amazon.com, login to your account. Then click on "Your Account" in the upper right-hand corner.
From the Orders Section, check under "More Order Actions". Click on Leave seller feedback.
Finish the review and click Submit.
As you can see, leaving a feedback the traditional way requires your buyers to make several clicks, which most might not do. Don't worry though. There is an even easier way to motivate your customers to provide feedback.
SageMailer has a Smart Tag feature that dynamically inserts the correct links to your order feedback page. This means that by just including that dynamic link in your solicitation email, your user will be directly taken to the feedback page where they can leave their opinion with just one click.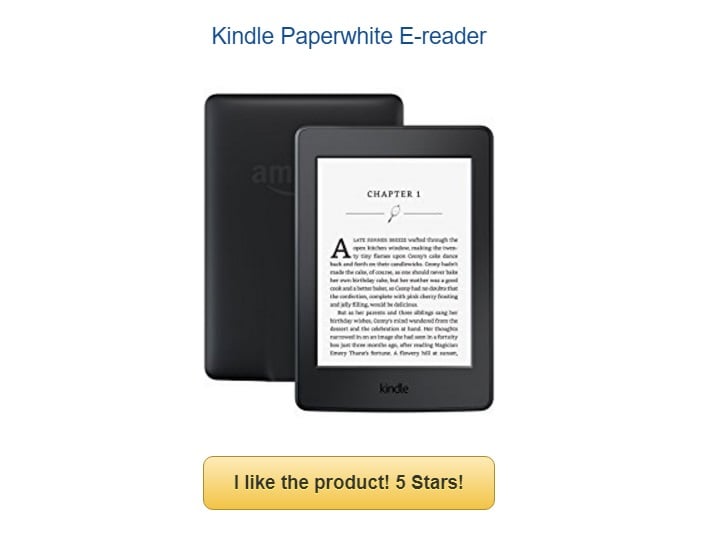 Along with that, it helps you, the seller, by providing email open rates that you can use to track your solicitation campaign's effectiveness. If you find that your open rate and click-through rate are poor, you can optimize your subject lines, your email copy, or your call to action to figure out the best high-converting combination.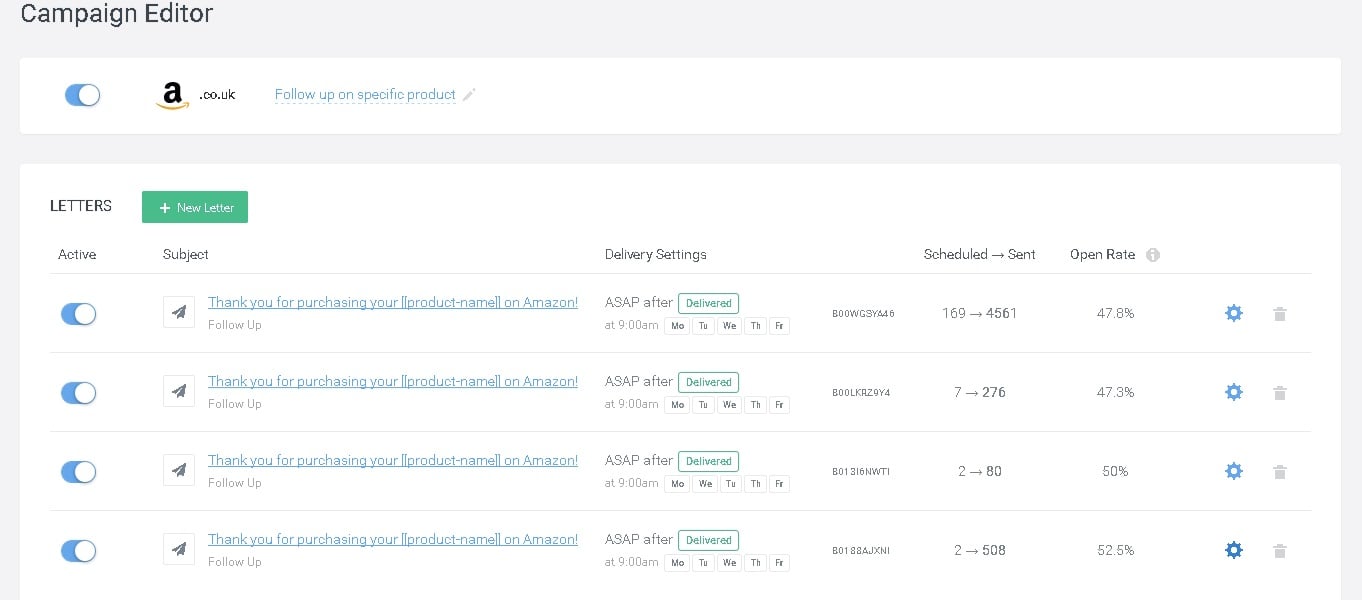 Then again, not all buyers are from the USA or an English speaking country. So how do you solicit feedback from them?
Well, Amazon email marketing software like SageMailer provides you with professionally written email templates in different languages. This way your audience always understands the message that you're trying to convey.
It's all about the timing
WHAT you say is important, but WHEN you say it is even more important. Send your emails at the wrong time, and your message is bound to get ignored or, worse, trashed. This said time management is important if you want many customers to give feedback.
SageMailer customizes the timing of sending the seller's email based on pre-set rules that take into consideration the type of your products and your customer demographic.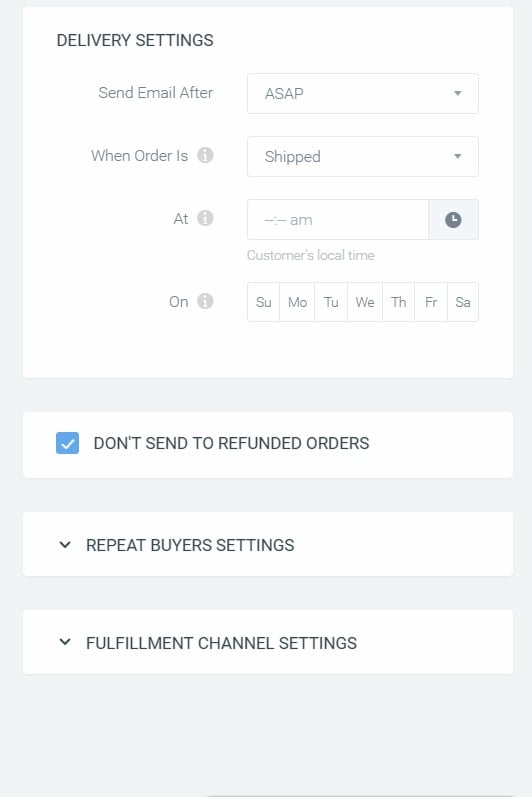 For example, let's say you sell hammers and nails. The buying patterns for both of these might be very different, even though they are used together. Your research might show that people who place an order for nails, already own a hammer. In the same vein, you might find that those who are buying a hammer, already own nails.
With Amazon email marketing tools like SageMailer, you can enable the SKU-specific campaign options that allow you to gather insights for each product family, which you can use when sending your buyer an email. For example, while contact buyer, you can send them a couple of educational emails before actually asking for a feedback. You can send them an owner's manual or other valuable information that would enrich their experience with your product. You can also include important warranty information which shows that you stand behind the quality of your product. All of this will help you get a positive feedback.
On the other hand, if your buyer has only purchased nails, you can request a feedback within a hour or two of delivery, because chances are you will catch them at the hot hour - which is the short window of time when your user is still delighted with their new purchase, attractive packaging, and rapid shipment.
How To Send Message Depending on SKU
Irrespective of whether they are positive or negative, Amazon product reviews are very valuable in many ways. While positive reviews contribute to a spurt in product sales, negative reviews provide sellers with a great deal of information as to how they can improve their Amazon products to enjoy better sales in future. However, the truth is that many people who use the Amazon marketplace to sell their products struggle to make an impact, especially with respect to the number of reviews.
Using an automated tool like SageMailer helps sellers to improve the chances of obtaining reviews from customers. SageMailer enables the sellers to send messages that are specific to their products. If you are a seller on Amazon, there are two ways in which you can accomplish this. One method involves email campaigns for specific products, while the other method makes use of SKU tags.
Why Should You Use Product-Specific Messaging
The use of product-specific messages works to your advantage in a number of scenarios. Some such situations are as follows:
New product sales
New packaging testing
New kit combination trial
Ensuring resolution of quality issues after incorporating changes to a product or packaging
To ensure a popular product continues to meet customer expectations
Many sellers have opined that they are able to elicit from their customers the inputs they badly need to continue building their businesses when they send product-specific messages. Such feedbacks from customers would be of immense help in tweaking or improving both the product and its packaging.
Product-Specific Messaging Through Email Campaigns
Email campaign settings provided by SageMailer allows you to include or exclude an email list of ASINs or SKUs when you send emails to specific products to your buyers. Furthermore, depending on the needs of your business, you can design the email to provide information about either one product or a set of products.

As part of your Amazon marketing strategy, you can use email campaigns to ask your customers to provide product reviews. For this purpose, all you have to do is set up an email marketing campaign focused on a specific product and then leave the rest to SageMailer. The Amazon feedback campaign will allow you to solicit the necessary number of reviews you need to grow your account.
When it comes to setting up an Amazon email marketing campaign, you can choose from one of the two options that are available to you. You can opt to use the ready-made campaign available with SageMailer or design one on your own.
One of the best email marketing tips is to specify as for when the email should be sent with reference to the date of purchase of the product. This is to say that the emails will be sent based on the settings you opt for when creating the campaign. This way, you can relax as you do not have to keep worrying about remembering to send an email after a prospect buys a product from you. SageMailer will work hard on your behalf to provide incredible bulk email service to your customers.
Product-Specific Messaging Using SKU Tags
SageMailer, as a bulk email service provider, makes available one more level of flexibility when you choose to launch an email campaign using ASIN/SKU. SageMailer enables you to include SKU tags into specific email feedback templates. This is to make sure that those customers who buy the specific SKUs see the customized messages that are specific to those SKUs.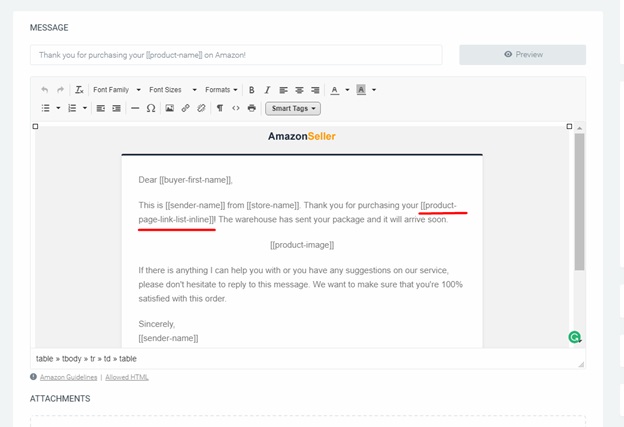 Is It Possible to Exclude an SKU In an Email Campaign?
In certain email campaigns, you may not want to include a specific SKU. This may be because you are already aware that your product or its packaging has a small issue. You might have already initiated action to rectify the issue. Therefore, it does not make sense to obtain more feedback till you have sorted out the issue. In such situations, you may want to leave out such SKUs while launching product-specific email campaigns. You can choose to include or exclude SKUs by entering the right SKU set.
In order to customize an Amazon SKU message campaign, you just have to choose the appropriate conditions that are listed below:
Orders containing SKU from Campaign Products section
Orders that contain specific amount of SKUs from Campaign Products section
Orders that contain specific SKUs
All that you have to do is copy and paste the relevant SKUs into the provided text box. It was never this easy to customizing interactions with your customers!
Amazon Email Campaigns That Convert
With SageMailer Email Campaigns, it's now much easier to reach out to your customers and make your interactions much more beneficial to your business. Email campaign system enables you to customize it in a way that you can choose the email content, the recipient's email address, and the time to send the emails. What's more, you'll be able to send as many emails as you want per order. However, you can also modify your email settings - as well as the audience - to achieve the most optimal results using a much lower number of emails.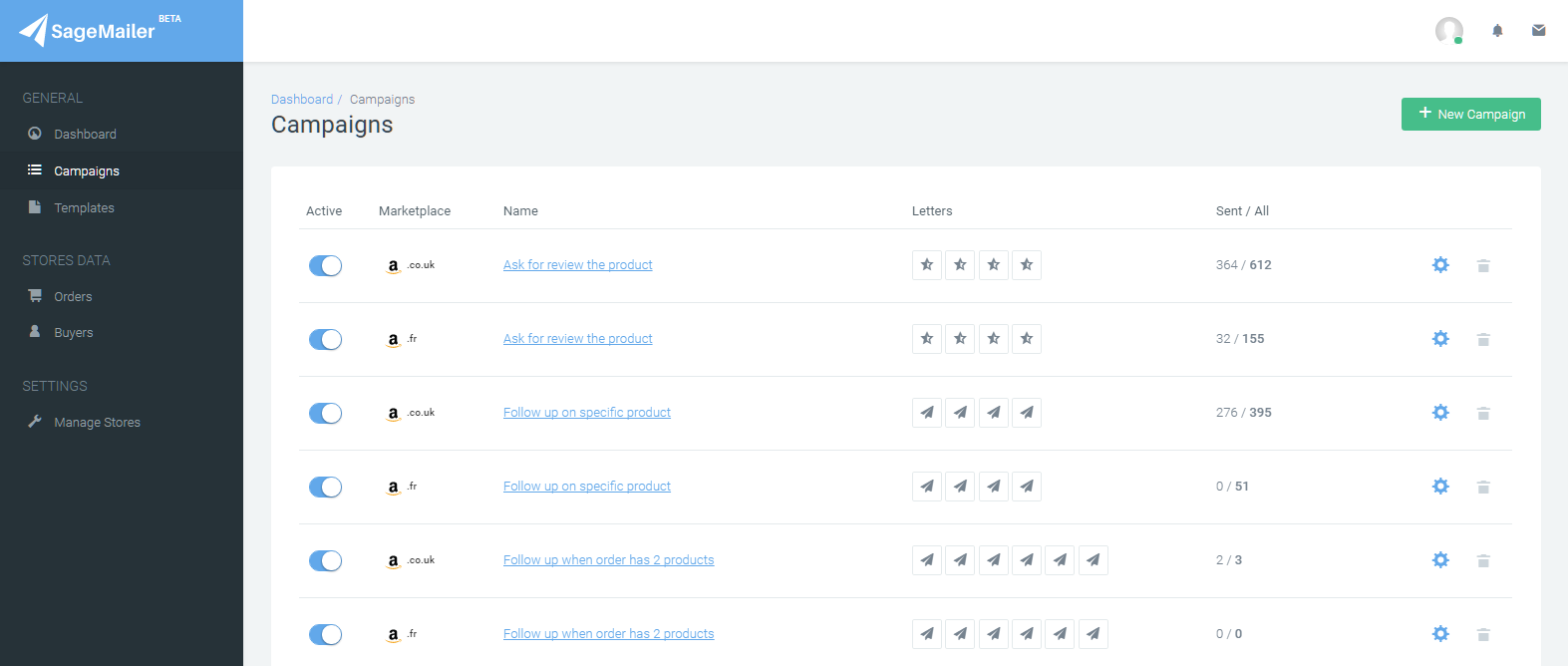 How you opt to customize and run your email campaign matters. If you're asking for feedback email sample that will bring your customer interactions to the next level, check them below:
Initial Seller Feedback Request (for Both FBA & Non-FBA)
Our experience with customers - as well as independent research - shows that the seller feedback solicitation is one of the most commonly sent emails. You can send this email a day or two after you've delivered your product to a customer. However, note that this isn't a delivery confirmation so it should not be framed as such. As a matter of fact, Amazon doesn't allow its users to send any stand-alone confirmation of delivery emails to customers.
Another thing to remember: Although shipment status isn't one of the reasons you're dispatching this email, it's okay to include delivery details here. You can also inquire from the buyer if the order met their expectations. Encourage the customer to also contact you whenever they have any concerns about the order. Actually, your willingness to open the right communication lines with your buyer at an early stage has the positive effect of nipping any negative feedback right in the bud. Lastly, as long as your customer is satisfied, you can request for positive feedback (including an easy-to-click link).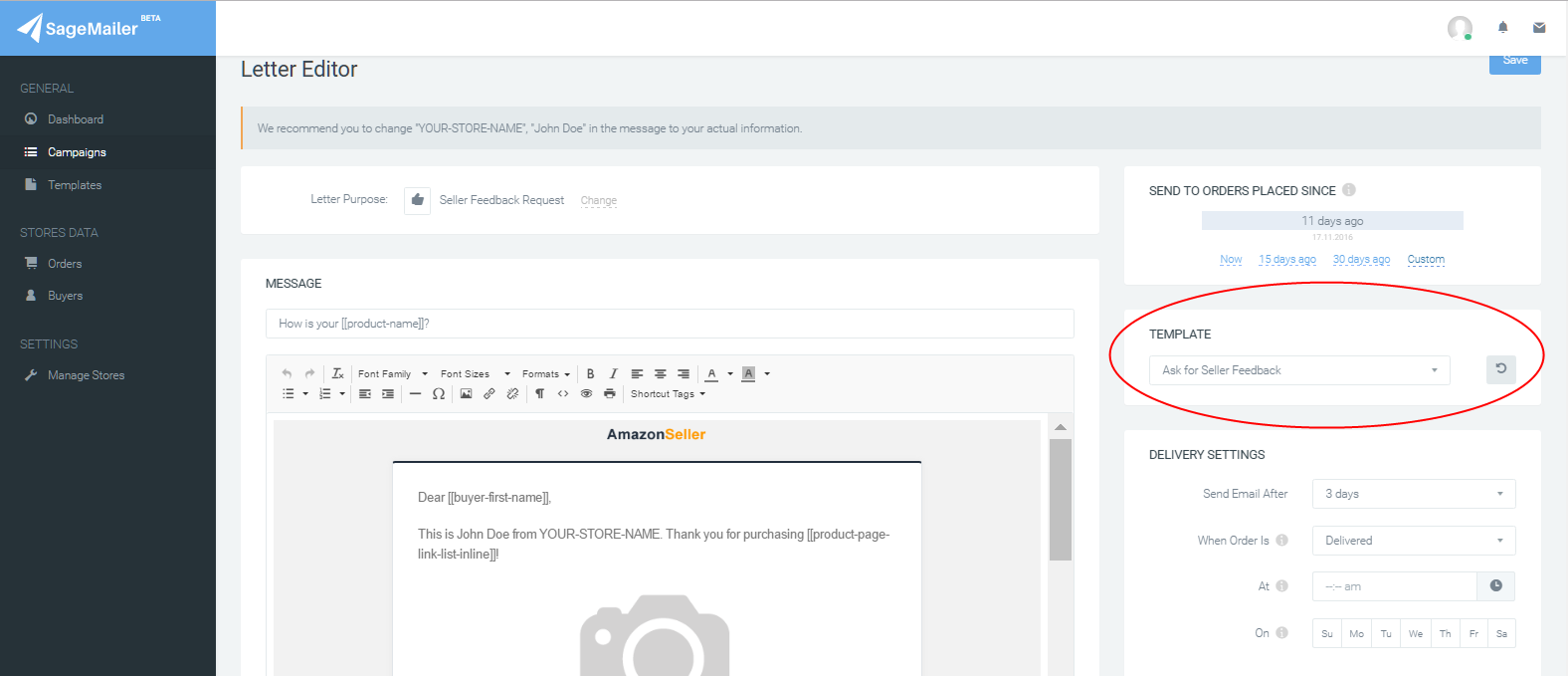 Remember to include the seller feedback link but not the product review one. When you're sure that all these email campaign rules are automated, it's now time to start sending your seller feedback solicitation requests to your buyers.
Follow-Up Seller Feedback Requests
Very few people go through every email they receive in their inboxes. That's why it's important to make follow-up or second seller feedback requests part of your email campaign in order to reach out to those customers who have not yet contacted you for seller feedback after the initial solicitation request email. This second solicitation email should be dispatched about 5-7 days after the initial one. You can opt to have a feedback link here as well. Most sellers do so but often leave out any product review links. And, as a rule, avoid sending this follow-up email to buyers who have already left seller feedback for you.
So, what about a Product Review Request?
In case a buyer leaves you positive feedback without a product review, then you can send this email. As you send a feedback request email for a product review to your customer, you also create a great opportunity to let them know that you still value their attention even if the previous order is already completed. This is a fantastic way to connect with your customers again. In fact, it tremendously increases your chances of securing a very positive product review. Our SageMailer email campaign system enables you to customize the process of dispatching your product review request emails such that they only go to those customers whom you've received positive seller feedback from.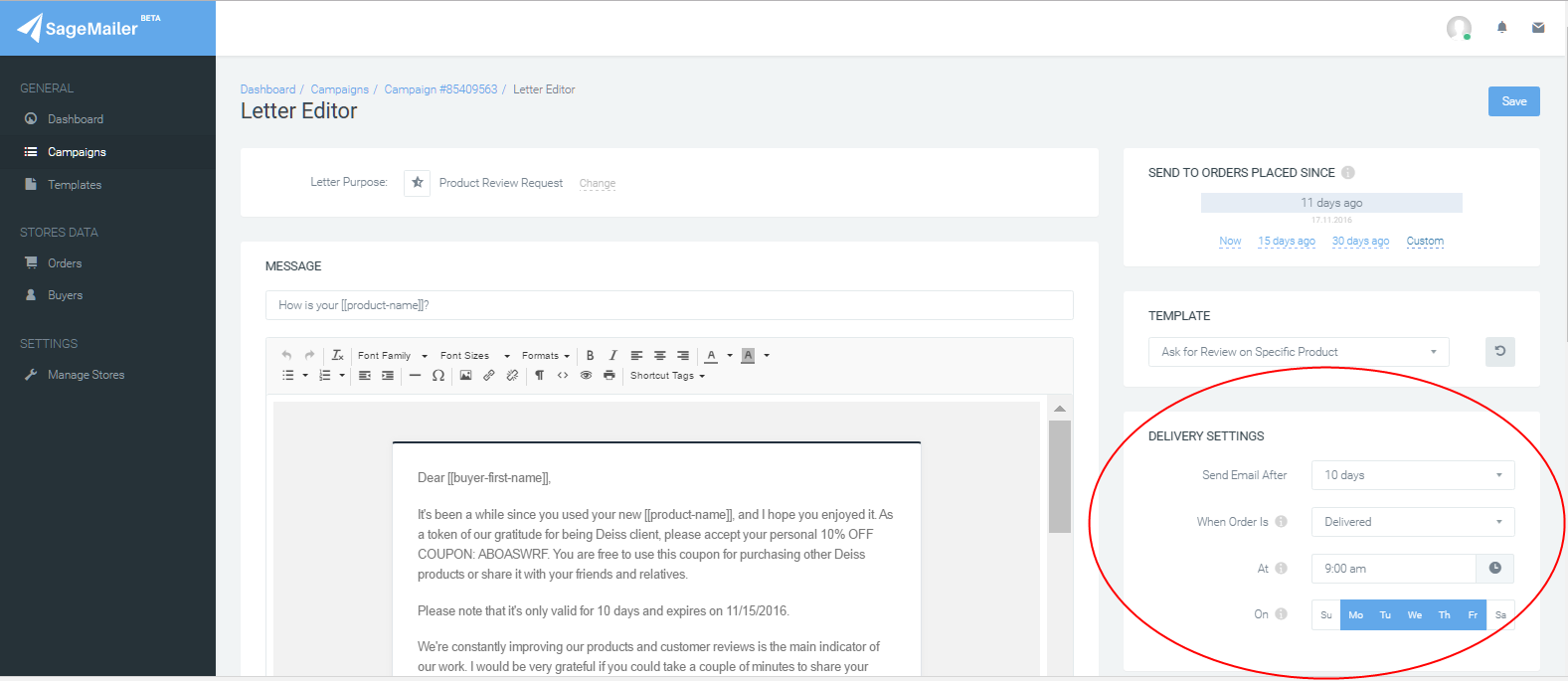 Thank You Emails
Thanking your repeat customers for continuing to support your business is a great idea. Indeed, a great customer service is one of the most crucial parts of all successful traders on Amazon. A heartfelt note of appreciation is one of the best ways of showing attention to your customers. When you have a chance to reach out to your loyal buyers and at least say thank you, why not to do it? The SageMailer Messaging system enables you to exclude repeated customers from your mailing list if you choose to. Or you could just opt to send appreciative messages only to those customers who've left positive feedback for you.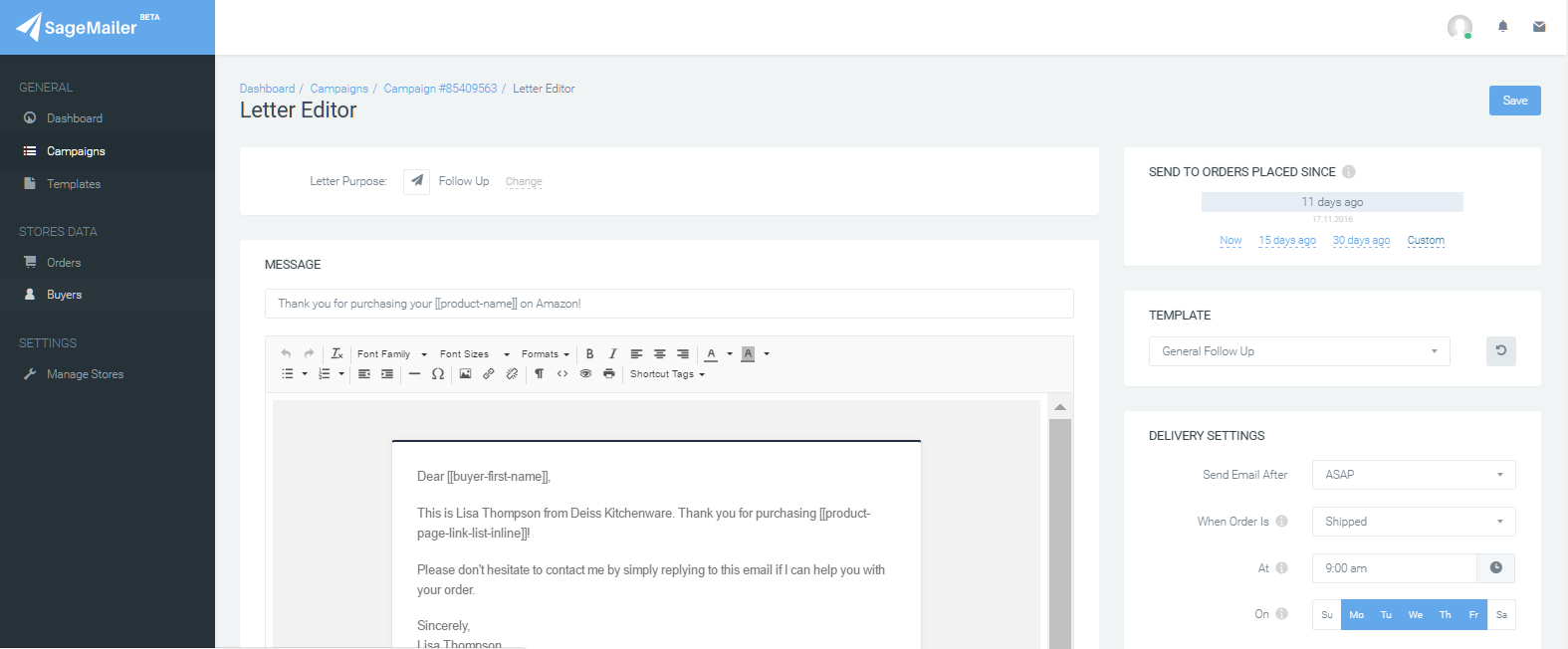 Personalization Techniques are the Key to Email Marketing for Amazon Sellers
Don't you feel loved and special when your friend shares a post or photo with you on social media or texts you a link? You are invariably spurred to find something funny or wonderful to share with them in return and reciprocate their gesture. Well, in the same way, even your customers like receiving a personalized message from you. The fact that you are adding a personal touch to an otherwise professional relationship is even more heartening to them.
Whether it's based on a personalized experience or a professional one, it all comes down to how you make the other person feel. While the perks of virtual communication are plenty, to begin with, it does make people feel like they are communicating with a faceless ghost. A wee bit of personal touch can go a long way towards enhancing connection, thereby motivating them to stick to your side rather than looking out for your competitors. It goes without saying that better connection with your customers translates into a better business relationship in the long run.
Manual Customization is Not Practical
Online sellers are adept at multitasking. They have refined their skills in almost every sphere, including CEO, sales, Amazon email marketing strategy, quality inspection, inventory clerk work, and customer service representation, to name a few. However, it is quite common for you to find yourself taking the help of translational skills to work on tasks that are simply beyond your area of expertise. That is, after all, the need of the hour as the face of eCommerce is rapidly changing day by day. Nevertheless, this is also one of the challenges and perks of managing a thriving online business. It is quite obvious then that knowing the right art of customer engagement is likely to fall outside your skill set.
Although it is possible to request feedback through Amazon's Seller Central dashboard, it's also pretty tedious and time-consuming. From a theoretical point of view, you can definitely personalize your messages individually, but you just cannot do that in scale unless you devote long hours for the task or hire somebody to handle it for you. Either way, you will end up investing a great deal of time and money in personalizing your solicitation messages manually.
SageMailer, as an email marketing automation, manages the personalization process automatically, without requiring you to raise even a finger.
Shortcut Tags Make The Job Easy for You
Custom email templates in SageMailer can be personalized in a manner to make your customers feel special and engaged in your business. Instead of using the same old generic "Dear Customer" greeting, create a custom email by using a more personal shortcut tag bearing the customer's name. Additionally, you can use shortcut tags to incorporate the image and name of the product they ordered from Amazon marketplace.
SageMailer simplifies the process of creating a personalized email. The shortcut tag that you add includes a popup window that appears along with the particular tag properties. You can preview the tag directly in that popup or in the email itself.
Here is a bird's eye look at all the information that SageMailer 's shortcut tags can produce for you:
Feedback
Feedback Link: It's a direct link to the Amazon feedback page where your buyers can leave feedback on the order. The feedback link is made of two components - the complete URL of the feedback page and a link saying "Leave Seller Feedback" that sends out a short and concise message to your customer, thereby encouraging them to review your product/service.
Feedback Link Short: It doesn't include the URL. It's just a link that says "Leave Seller Feedback" that directly funnels your customer to the Amazon feedback page where they can leave a review of your product.
Product Review
Item List and Product Review Link: The list of items purchased in the order along with appropriate links to leave a feedback
Product Review Link: A link to leave a review for the first product in an order. Other items in the same order are displayed on the Amazon review page itself
Product Review URL: The list of products purchased in the order along with the corresponding URL to help buyers leave a feedback rating for each of the items
Product Review URL Plain: The list of URL links for every product in the order but without a description of each item
Order Details
Amazon Order Link: Incorporates a link to view both the order and the order number on Amazon.com
Customer First Name: Includes the first name of your customer
Customer Full Name: Includes the first and the last name of your customer
Order Date: The date provided by Amazon for the order
Order ID: The specific number provided by Amazon for the order. (Amazon urges merchants to include this number during interaction with customers.)
Product
Product Page Link List: This is a list of items purchased in a particular order. Every item is included with a link to the relevant product page on Amazon.com.
Item List: This is a list of one to many items purchased in a particular order.
Get the most value for each request!
If you have made it your goal to solicit positive Amazon feedback, then you would benefit from signing up for SageMailer. It just takes a few minutes to sign up for a free account. Designing your feedback request campaign with this Amazon simple email service will give you a diverse range of options to test different messages, feedback request template designs and call to actions. And yes, you can also personalize when you ask your buyers to leave Amazon feedback.
Sign up for free email marketing software SageMailer trial today!